{"id":7356738601117,"title":"Auto Android Multimedia Radio Player For BMW E90 - E93 3 Series With GPS Navigation Bluetooth","handle":"auto-android-multimedia-radio-player-for-bmw-e90-3-series-with-gps-navigation-bluetooth","description":"\u003cdiv style=\"text-align: center;\" data-mce-fragment=\"1\" data-mce-style=\"text-align: center;\"\u003e\u003c\/div\u003e\n\u003cp style=\"text-align: center;\" data-mce-fragment=\"1\" data-mce-style=\"text-align: center;\"\u003e \u003c\/p\u003e\n\u003ch2 style=\"text-align: center;\" data-mce-fragment=\"1\" data-mce-style=\"text-align: center;\"\u003eESSGOO Android \u003cspan data-mce-fragment=\"1\"\u003eE93, E92, E91, E\u003c\/span\u003e90 radio for BMW stereo 3 series upgrade solution\u003c\/h2\u003e\n\u003cp style=\"text-align: center;\" data-mce-fragment=\"1\" data-mce-style=\"text-align: center;\"\u003e\u003cspan\u003eFor BMW 3 Series Car multimedia\u003c\/span\u003e\u003cbr\u003e\u003cspan\u003eBMW 3 Series E90, \u003c\/span\u003e\u003cspan\u003eE91, E92, E93 \u003cstrong\u003e(2006 2007 2008 2009 2010 2011 2012)\u003c\/strong\u003e\u003c\/span\u003e\u003c\/p\u003e\n\u003cdiv style=\"text-align: center;\" data-mce-fragment=\"1\" data-mce-style=\"text-align: center;\"\u003e\u003c\/div\u003e\n\u003cdiv style=\"text-align: center;\" data-mce-fragment=\"1\" data-mce-style=\"text-align: center;\"\u003e\u003cimg style=\"float: none;\" alt=\"\" src=\"https:\/\/cdn.shopifycdn.net\/s\/files\/1\/0566\/9483\/3309\/files\/2-1_fde2ef97-424b-4fbe-847e-ba84fb6ab32f_1024x1024.jpg?v=1649926194\" data-mce-fragment=\"1\" data-mce-src=\"https:\/\/cdn.shopifycdn.net\/s\/files\/1\/0566\/9483\/3309\/files\/2-1_fde2ef97-424b-4fbe-847e-ba84fb6ab32f_1024x1024.jpg?v=1649926194\" data-mce-style=\"float: none;\"\u003e\u003c\/div\u003e\n\u003cdiv style=\"text-align: center;\" data-mce-fragment=\"1\" data-mce-style=\"text-align: center;\"\u003e\u003c\/div\u003e\n\u003cdiv style=\"text-align: center;\" data-mce-fragment=\"1\" data-mce-style=\"text-align: center;\"\u003e\u003c\/div\u003e\n\u003cdiv style=\"text-align: center;\" data-mce-fragment=\"1\" data-mce-style=\"text-align: center;\"\u003e\u003c\/div\u003e\n\u003cp style=\"text-align: center;\" data-mce-fragment=\"1\" data-mce-style=\"text-align: center;\"\u003eThe FM radio supports tuning, with a total of 3 frequency bands (FM1-FM2-FM3), which can automatically search and store stations.\u003c\/p\u003e\n\u003cdiv style=\"text-align: center;\" data-mce-fragment=\"1\" data-mce-style=\"text-align: center;\"\u003e\u003cimg style=\"float: none;\" alt=\"FM Radio, Support FM Radio Tunning\" src=\"https:\/\/cdn.shopifycdn.net\/s\/files\/1\/0566\/9483\/3309\/files\/2-2_d7e1a47b-7245-4619-9138-bb96c0649d1f_1024x1024.jpg?v=1649926300\" data-mce-style=\"float: none;\" data-mce-fragment=\"1\" data-mce-src=\"https:\/\/cdn.shopifycdn.net\/s\/files\/1\/0566\/9483\/3309\/files\/2-2_d7e1a47b-7245-4619-9138-bb96c0649d1f_1024x1024.jpg?v=1649926300\"\u003e\u003c\/div\u003e\n\u003cdiv style=\"text-align: center;\" data-mce-fragment=\"1\" data-mce-style=\"text-align: center;\"\u003e\u003c\/div\u003e\n\u003cdiv style=\"text-align: center;\" data-mce-fragment=\"1\" data-mce-style=\"text-align: center;\"\u003e\u003c\/div\u003e\n\u003cdiv style=\"text-align: center;\" data-mce-fragment=\"1\" data-mce-style=\"text-align: center;\"\u003e\u003cbr\u003e\u003c\/div\u003e\n\u003cp style=\"text-align: center;\" data-mce-fragment=\"1\" data-mce-style=\"text-align: center;\"\u003eBuilt-in high-performance and stable Bluetooth, supports Bluetooth 4.2 high-speed transmission.\u003cbr\u003eYou can play Bluetooth music while talking hands-free, making it safer for you to talk while driving without any worries.\u003c\/p\u003e\n\u003cdiv style=\"text-align: center;\" data-mce-fragment=\"1\" data-mce-style=\"text-align: center;\"\u003e\u003cimg style=\"float: none;\" alt=\"Built-in high-performance stable Bluetooth\" src=\"https:\/\/cdn.shopifycdn.net\/s\/files\/1\/0566\/9483\/3309\/files\/2-3_bf9f249e-a01f-4e5a-b805-df247f9d2b1b_1024x1024.jpg?v=1649926339\" data-mce-style=\"float: none;\" data-mce-fragment=\"1\" data-mce-src=\"https:\/\/cdn.shopifycdn.net\/s\/files\/1\/0566\/9483\/3309\/files\/2-3_bf9f249e-a01f-4e5a-b805-df247f9d2b1b_1024x1024.jpg?v=1649926339\"\u003e\u003c\/div\u003e\n\u003cdiv style=\"text-align: center;\" data-mce-fragment=\"1\" data-mce-style=\"text-align: center;\"\u003e\u003c\/div\u003e\n\u003cdiv style=\"text-align: center;\" data-mce-fragment=\"1\" data-mce-style=\"text-align: center;\"\u003e\u003c\/div\u003e\n\u003cdiv style=\"text-align: center;\" data-mce-fragment=\"1\" data-mce-style=\"text-align: center;\"\u003e\u003c\/div\u003e\n\u003cdiv style=\"text-align: center;\" data-mce-fragment=\"1\" data-mce-style=\"text-align: center;\"\u003eBuilt-in WIFI module, can connect mobile phone hotspot or router, download and install apps, and watch TV or movies online.\u003c\/div\u003e\n\u003cdiv style=\"text-align: center;\" data-mce-fragment=\"1\" data-mce-style=\"text-align: center;\"\u003e\u003c\/div\u003e\n\u003cdiv style=\"text-align: center;\" data-mce-fragment=\"1\" data-mce-style=\"text-align: center;\"\u003e\u003cimg alt=\"Wireless Network Connection\" src=\"https:\/\/cdn.shopifycdn.net\/s\/files\/1\/0566\/9483\/3309\/files\/2-4_f1463694-4e4e-4e63-8fc7-e1ebd83122e9_1024x1024.jpg?v=1649926353\" style=\"float: none;\" data-mce-fragment=\"1\" data-mce-src=\"https:\/\/cdn.shopifycdn.net\/s\/files\/1\/0566\/9483\/3309\/files\/2-4_f1463694-4e4e-4e63-8fc7-e1ebd83122e9_1024x1024.jpg?v=1649926353\" data-mce-style=\"float: none;\"\u003e\u003c\/div\u003e\n\u003cdiv style=\"text-align: center;\" data-mce-fragment=\"1\" data-mce-style=\"text-align: center;\"\u003e\u003c\/div\u003e\n\u003cdiv style=\"text-align: center;\" data-mce-fragment=\"1\" data-mce-style=\"text-align: center;\"\u003e\u003c\/div\u003e\n\u003cdiv style=\"text-align: center;\" data-mce-fragment=\"1\" data-mce-style=\"text-align: center;\"\u003e\u003c\/div\u003e\n\u003cdiv style=\"text-align: center;\" data-mce-fragment=\"1\" data-mce-style=\"text-align: center;\"\u003eThe built-in navigation module supports the download of navigation maps in most countries, and supports multilingual voice broadcast and interface display.\u003c\/div\u003e\n\u003cdiv style=\"text-align: center;\" data-mce-fragment=\"1\" data-mce-style=\"text-align: center;\"\u003e\u003c\/div\u003e\n\u003cdiv style=\"text-align: center;\" data-mce-fragment=\"1\" data-mce-style=\"text-align: center;\"\u003e\u003cimg alt=\"GPS Naviagtion\" src=\"https:\/\/cdn.shopifycdn.net\/s\/files\/1\/0566\/9483\/3309\/files\/2-5_2597e982-2d55-4dd1-bc72-726945d5b24c_1024x1024.jpg?v=1649926378\" style=\"float: none;\" data-mce-fragment=\"1\" data-mce-src=\"https:\/\/cdn.shopifycdn.net\/s\/files\/1\/0566\/9483\/3309\/files\/2-5_2597e982-2d55-4dd1-bc72-726945d5b24c_1024x1024.jpg?v=1649926378\" data-mce-style=\"float: none;\"\u003e\u003c\/div\u003e\n\u003cdiv style=\"text-align: center;\" data-mce-fragment=\"1\" data-mce-style=\"text-align: center;\"\u003e\u003c\/div\u003e\n\u003cdiv style=\"text-align: center;\" data-mce-fragment=\"1\" data-mce-style=\"text-align: center;\"\u003e\u003c\/div\u003e\n\u003cdiv style=\"text-align: center;\" data-mce-fragment=\"1\" data-mce-style=\"text-align: center;\"\u003eMP5 can be connected to an Android mobile phone or IOS mobile phone mirroring through a USB data cable.\u003cbr\u003eAndroid phones can operate by touching the MP5 screen (except IOS phones).\u003c\/div\u003e\n\u003cdiv style=\"text-align: center;\" data-mce-fragment=\"1\" data-mce-style=\"text-align: center;\"\u003e\u003c\/div\u003e\n\u003cdiv style=\"text-align: center;\" data-mce-fragment=\"1\" data-mce-style=\"text-align: center;\"\u003e\u003cimg alt=\"Mirror Link with Phone\" src=\"https:\/\/cdn.shopifycdn.net\/s\/files\/1\/0566\/9483\/3309\/files\/2-6_1f2ec2bd-9f0a-4786-bd2a-98335ba6c6f1_1024x1024.jpg?v=1649926393\" style=\"float: none;\" data-mce-fragment=\"1\" data-mce-src=\"https:\/\/cdn.shopifycdn.net\/s\/files\/1\/0566\/9483\/3309\/files\/2-6_1f2ec2bd-9f0a-4786-bd2a-98335ba6c6f1_1024x1024.jpg?v=1649926393\" data-mce-style=\"float: none;\"\u003e\u003c\/div\u003e\n\u003cdiv style=\"text-align: center;\" data-mce-fragment=\"1\" data-mce-style=\"text-align: center;\"\u003e\u003c\/div\u003e\n\u003cdiv style=\"text-align: center;\" data-mce-fragment=\"1\" data-mce-style=\"text-align: center;\"\u003e\u003c\/div\u003e\n\u003cdiv style=\"text-align: center;\" data-mce-fragment=\"1\" data-mce-style=\"text-align: center;\"\u003eSupport 1080P video format playback, including MP4\/MP5\/RMVB\/RM\/VOB\/MOV\/3GP\/MPG\/AVI\/WMA, etc.\u003cbr\u003eLet you enjoy the journey.\u003c\/div\u003e\n\u003cdiv style=\"text-align: center;\" data-mce-fragment=\"1\" data-mce-style=\"text-align: center;\"\u003e\u003c\/div\u003e\n\u003cdiv style=\"text-align: center;\" data-mce-fragment=\"1\" data-mce-style=\"text-align: center;\"\u003e\u003cimg alt=\"1080P Video Playback\" src=\"https:\/\/cdn.shopifycdn.net\/s\/files\/1\/0566\/9483\/3309\/files\/2-7_037fbadd-3d44-4d66-b314-fae5a1303980_1024x1024.jpg?v=1649926409\" style=\"float: none;\" data-mce-fragment=\"1\" data-mce-src=\"https:\/\/cdn.shopifycdn.net\/s\/files\/1\/0566\/9483\/3309\/files\/2-7_037fbadd-3d44-4d66-b314-fae5a1303980_1024x1024.jpg?v=1649926409\" data-mce-style=\"float: none;\"\u003e\u003c\/div\u003e\n\u003cdiv style=\"text-align: center;\" data-mce-fragment=\"1\" data-mce-style=\"text-align: center;\"\u003e\u003c\/div\u003e\n\u003cdiv style=\"text-align: center;\" data-mce-fragment=\"1\" data-mce-style=\"text-align: center;\"\u003e\u003c\/div\u003e\n\u003cdiv style=\"text-align: center;\" data-mce-fragment=\"1\" data-mce-style=\"text-align: center;\"\u003e\u003c\/div\u003e\n\u003cdiv style=\"text-align: center;\" data-mce-fragment=\"1\" data-mce-style=\"text-align: center;\"\u003e\u003c\/div\u003e\n\u003cdiv style=\"text-align: center;\" data-mce-fragment=\"1\" data-mce-style=\"text-align: center;\"\u003eThe camera playback function supports the signal input of the reversing camera, making reversing more convenient and safer.\u003c\/div\u003e\n\u003cdiv style=\"text-align: center;\" data-mce-fragment=\"1\" data-mce-style=\"text-align: center;\"\u003e\u003c\/div\u003e\n\u003cdiv style=\"text-align: center;\" data-mce-fragment=\"1\" data-mce-style=\"text-align: center;\"\u003e\u003cimg style=\"float: none;\" alt=\"Revesring Camera Function\" src=\"https:\/\/cdn.shopifycdn.net\/s\/files\/1\/0566\/9483\/3309\/files\/2-8_fd2a1e57-c316-44c8-a048-39732364bc8a_1024x1024.jpg?v=1649926431\" data-mce-style=\"float: none;\" data-mce-fragment=\"1\" data-mce-src=\"https:\/\/cdn.shopifycdn.net\/s\/files\/1\/0566\/9483\/3309\/files\/2-8_fd2a1e57-c316-44c8-a048-39732364bc8a_1024x1024.jpg?v=1649926431\"\u003e\u003c\/div\u003e\n\u003cdiv style=\"text-align: center;\" data-mce-fragment=\"1\" data-mce-style=\"text-align: center;\"\u003e\u003c\/div\u003e\n\u003cdiv style=\"text-align: center;\" data-mce-fragment=\"1\" data-mce-style=\"text-align: center;\"\u003e\u003c\/div\u003e\n\u003cdiv style=\"text-align: center;\" data-mce-fragment=\"1\" data-mce-style=\"text-align: center;\"\u003e\u003c\/div\u003e\n\u003cdiv style=\"text-align: center;\" data-mce-fragment=\"1\" data-mce-style=\"text-align: center;\"\u003e\u003c\/div\u003e\n\u003cdiv style=\"text-align: center;\" data-mce-fragment=\"1\" data-mce-style=\"text-align: center;\"\u003e2 Rear USB Port \/ TF Card Slot, support U-Disk and TF Card data read, maximum support 128G capacity, you can listen to music or watch a movie on the journey.\u003c\/div\u003e\n\u003cdiv style=\"text-align: center;\" data-mce-fragment=\"1\" data-mce-style=\"text-align: center;\"\u003e\u003c\/div\u003e\n\u003cdiv style=\"text-align: center;\" data-mce-fragment=\"1\" data-mce-style=\"text-align: center;\"\u003e\u003cimg alt=\"USB \/ TF Card Playback\" src=\"https:\/\/cdn.shopifycdn.net\/s\/files\/1\/0566\/9483\/3309\/files\/2-9_1_1024x1024.jpg?v=1649926454\" style=\"float: none;\" data-mce-fragment=\"1\" data-mce-src=\"https:\/\/cdn.shopifycdn.net\/s\/files\/1\/0566\/9483\/3309\/files\/2-9_1_1024x1024.jpg?v=1649926454\"\u003e\u003c\/div\u003e\n\u003cdiv style=\"text-align: center;\" data-mce-fragment=\"1\" data-mce-style=\"text-align: center;\"\u003e\u003c\/div\u003e\n\u003cdiv style=\"text-align: center;\" data-mce-fragment=\"1\" data-mce-style=\"text-align: center;\"\u003e\u003c\/div\u003e\n\u003cdiv style=\"text-align: center;\" data-mce-fragment=\"1\" data-mce-style=\"text-align: center;\"\u003e\u003c\/div\u003e\n\u003cdiv style=\"text-align: center;\" data-mce-fragment=\"1\" data-mce-style=\"text-align: center;\"\u003e\u003c\/div\u003e\n\u003cdiv style=\"text-align: center;\" data-mce-fragment=\"1\" data-mce-style=\"text-align: center;\"\u003eThe MP5 System has built-in languages of many countries, you can freely switch the system language you need.\u003c\/div\u003e\n\u003cdiv style=\"text-align: center;\" data-mce-fragment=\"1\" data-mce-style=\"text-align: center;\"\u003e\u003c\/div\u003e\n\u003cdiv style=\"text-align: center;\" data-mce-fragment=\"1\" data-mce-style=\"text-align: center;\"\u003e\n\u003cimg alt=\"System Multi-language\" src=\"https:\/\/cdn.shopifycdn.net\/s\/files\/1\/0566\/9483\/3309\/files\/2-10_8543821b-bc0a-48ed-a006-87f0ccb1945e_1024x1024.jpg?v=1649926466\" style=\"float: none;\" data-mce-fragment=\"1\" data-mce-src=\"https:\/\/cdn.shopifycdn.net\/s\/files\/1\/0566\/9483\/3309\/files\/2-10_8543821b-bc0a-48ed-a006-87f0ccb1945e_1024x1024.jpg?v=1649926466\"\u003e\u003cimg alt=\"\" src=\"https:\/\/cdn.shopifycdn.net\/s\/files\/1\/0566\/9483\/3309\/files\/1-3_2edd7886-fc16-4ada-be91-09e640a82974_1024x1024.jpg?v=1649926486\" data-mce-fragment=\"1\" data-mce-src=\"https:\/\/cdn.shopifycdn.net\/s\/files\/1\/0566\/9483\/3309\/files\/1-3_2edd7886-fc16-4ada-be91-09e640a82974_1024x1024.jpg?v=1649926486\"\u003e\u003cimg alt=\"\" src=\"https:\/\/cdn.shopifycdn.net\/s\/files\/1\/0566\/9483\/3309\/files\/1-2_27a18e6b-34fb-4d72-a73e-eee2df8806f4_1024x1024.jpg?v=1649926505\" data-mce-fragment=\"1\" data-mce-src=\"https:\/\/cdn.shopifycdn.net\/s\/files\/1\/0566\/9483\/3309\/files\/1-2_27a18e6b-34fb-4d72-a73e-eee2df8806f4_1024x1024.jpg?v=1649926505\"\u003e\n\u003c\/div\u003e\n\u003cdiv style=\"text-align: center;\" data-mce-fragment=\"1\" data-mce-style=\"text-align: center;\"\u003e\u003c\/div\u003e\n\u003cdiv style=\"text-align: center;\" data-mce-fragment=\"1\" data-mce-style=\"text-align: center;\"\u003e\u003c\/div\u003e\n\u003ch2 style=\"text-align: left;\" data-mce-fragment=\"1\" data-mce-style=\"text-align: left;\"\u003eMore features:\u003c\/h2\u003e\n\u003cp\u003e\u003cstrong\u003eApplicable models:\u003c\/strong\u003e BMW E90 sedan (2006-2012), E91 station wagon (2006-2012), E92 Coupe (2006-2013), E93 convertible (2007-2013), (E90\/E92\/E93) M3 (2007-2012).\u003c\/p\u003e\n\u003cp\u003e\u003cstrong\u003eAdopt the latest Android 9.0 operating system:\u003c\/strong\u003e Car standard radio module: TDA6686 has the strong anti-interference ability and good radio signal reception. Power amplifier chip: TDA7851 High-fidelity, powerful sound.\u003c\/p\u003e\n\u003cp\u003e\u003cstrong\u003eRear-end redesign:\u003c\/strong\u003e With a newly designed heatsink and connector, we've maximized the Android unit's connection capabilities while keeping wire installation simple and uncluttered. Specially designed thickened aluminum radiator for efficient heat dissipation.\u003c\/p\u003e\n\u003cp\u003e\u003cstrong\u003eFeatures:\u003c\/strong\u003e Bluetooth call\/music, voice navigation, GPS, online map\/offline map navigation, wifi, multi-touch screen, built-in USB interface, built-in microphone, high-definition display, multi-language selection, steering wheel control, screen mirroring, reversing camera.\u003c\/p\u003e\n\u003cp\u003e \u003c\/p\u003e\n\u003ch2\u003eAccessories:\u003c\/h2\u003e\n\u003cp\u003e3 x ISO harness\u003cbr\u003e1 x USB cable\u003cbr\u003e1 x 3G\/WIFI cable\u003cbr\u003e1 x microphone cable\u003cbr\u003e1 x CANbus box\u003cbr\u003e1 x WiFi Antenna\u003cbr\u003e2 x RCA cables\u003cbr\u003e1 x GPS antenna\u003cbr\u003e1 x User Manual\u003cbr\u003e1 x Auto A\/C frame\u003cbr\u003e1 x Manual A\/C Frame\u003cbr\u003e1 x Iron bracket with screws\u003cbr\u003e1 x rear view camera\u003cbr\u003e1 x installation tool\u003c\/p\u003e\n\u003cp\u003e \u003c\/p\u003e","published_at":"2022-04-14T17:12:29+08:00","created_at":"2022-04-14T17:09:00+08:00","vendor":"ESSGOO","type":"机动车电子产品","tags":["BMW head unit","For BMW E90 3 Series"],"price":16000,"price_min":16000,"price_max":16000,"available":true,"price_varies":false,"compare_at_price":null,"compare_at_price_min":0,"compare_at_price_max":0,"compare_at_price_varies":false,"variants":[{"id":42218867884189,"title":"Default Title","option1":"Default Title","option2":null,"option3":null,"sku":"","requires_shipping":true,"taxable":true,"featured_image":null,"available":true,"name":"Auto Android Multimedia Radio Player For BMW E90 - E93 3 Series With GPS Navigation Bluetooth","public_title":null,"options":["Default Title"],"price":16000,"weight":0,"compare_at_price":null,"inventory_management":"shopify","barcode":"","requires_selling_plan":false,"selling_plan_allocations":[]}],"images":["\/\/essgoo.com\/cdn\/shop\/products\/1-1_67dc51f6-a850-4794-9acf-4964bd75fdea.jpg?v=1650943965","\/\/essgoo.com\/cdn\/shop\/products\/1-4_6de88cf8-d4d5-439f-8568-c19b7716d522.jpg?v=1650943967","\/\/essgoo.com\/cdn\/shop\/products\/1-5_53ae0808-d93c-4a05-ab84-b10905679e47.jpg?v=1650943969","\/\/essgoo.com\/cdn\/shop\/products\/1-7_039b7e01-9487-4063-b4aa-c8079d8504ba.jpg?v=1650943971"],"featured_image":"\/\/essgoo.com\/cdn\/shop\/products\/1-1_67dc51f6-a850-4794-9acf-4964bd75fdea.jpg?v=1650943965","options":["Title"],"media":[{"alt":"Auto Android Multimedia Radio Player For BMW E90 - E93 3 Series With GPS Navigation Bluetooth - | TRANSFORM, STARTS HERE | Easy . Economic . Energetic","id":24863840731293,"position":1,"preview_image":{"aspect_ratio":1.0,"height":800,"width":800,"src":"\/\/essgoo.com\/cdn\/shop\/products\/1-1_67dc51f6-a850-4794-9acf-4964bd75fdea.jpg?v=1650943965"},"aspect_ratio":1.0,"height":800,"media_type":"image","src":"\/\/essgoo.com\/cdn\/shop\/products\/1-1_67dc51f6-a850-4794-9acf-4964bd75fdea.jpg?v=1650943965","width":800},{"alt":"Auto Android Multimedia Radio Player For BMW E90 - E93 3 Series With GPS Navigation Bluetooth - | TRANSFORM, STARTS HERE | Easy . Economic . Energetic","id":24863840764061,"position":2,"preview_image":{"aspect_ratio":1.0,"height":800,"width":800,"src":"\/\/essgoo.com\/cdn\/shop\/products\/1-4_6de88cf8-d4d5-439f-8568-c19b7716d522.jpg?v=1650943967"},"aspect_ratio":1.0,"height":800,"media_type":"image","src":"\/\/essgoo.com\/cdn\/shop\/products\/1-4_6de88cf8-d4d5-439f-8568-c19b7716d522.jpg?v=1650943967","width":800},{"alt":"Auto Android Multimedia Radio Player For BMW E90 - E93 3 Series With GPS Navigation Bluetooth - | TRANSFORM, STARTS HERE | Easy . Economic . Energetic","id":24863840796829,"position":3,"preview_image":{"aspect_ratio":1.0,"height":800,"width":800,"src":"\/\/essgoo.com\/cdn\/shop\/products\/1-5_53ae0808-d93c-4a05-ab84-b10905679e47.jpg?v=1650943969"},"aspect_ratio":1.0,"height":800,"media_type":"image","src":"\/\/essgoo.com\/cdn\/shop\/products\/1-5_53ae0808-d93c-4a05-ab84-b10905679e47.jpg?v=1650943969","width":800},{"alt":"Auto Android Multimedia Radio Player For BMW E90 - E93 3 Series With GPS Navigation Bluetooth - | TRANSFORM, STARTS HERE | Easy . Economic . Energetic","id":24863840829597,"position":4,"preview_image":{"aspect_ratio":1.0,"height":800,"width":800,"src":"\/\/essgoo.com\/cdn\/shop\/products\/1-7_039b7e01-9487-4063-b4aa-c8079d8504ba.jpg?v=1650943971"},"aspect_ratio":1.0,"height":800,"media_type":"image","src":"\/\/essgoo.com\/cdn\/shop\/products\/1-7_039b7e01-9487-4063-b4aa-c8079d8504ba.jpg?v=1650943971","width":800}],"requires_selling_plan":false,"selling_plan_groups":[],"content":"\u003cdiv style=\"text-align: center;\" data-mce-fragment=\"1\" data-mce-style=\"text-align: center;\"\u003e\u003c\/div\u003e\n\u003cp style=\"text-align: center;\" data-mce-fragment=\"1\" data-mce-style=\"text-align: center;\"\u003e \u003c\/p\u003e\n\u003ch2 style=\"text-align: center;\" data-mce-fragment=\"1\" data-mce-style=\"text-align: center;\"\u003eESSGOO Android \u003cspan data-mce-fragment=\"1\"\u003eE93, E92, E91, E\u003c\/span\u003e90 radio for BMW stereo 3 series upgrade solution\u003c\/h2\u003e\n\u003cp style=\"text-align: center;\" data-mce-fragment=\"1\" data-mce-style=\"text-align: center;\"\u003e\u003cspan\u003eFor BMW 3 Series Car multimedia\u003c\/span\u003e\u003cbr\u003e\u003cspan\u003eBMW 3 Series E90, \u003c\/span\u003e\u003cspan\u003eE91, E92, E93 \u003cstrong\u003e(2006 2007 2008 2009 2010 2011 2012)\u003c\/strong\u003e\u003c\/span\u003e\u003c\/p\u003e\n\u003cdiv style=\"text-align: center;\" data-mce-fragment=\"1\" data-mce-style=\"text-align: center;\"\u003e\u003c\/div\u003e\n\u003cdiv style=\"text-align: center;\" data-mce-fragment=\"1\" data-mce-style=\"text-align: center;\"\u003e\u003cimg style=\"float: none;\" alt=\"\" src=\"https:\/\/cdn.shopifycdn.net\/s\/files\/1\/0566\/9483\/3309\/files\/2-1_fde2ef97-424b-4fbe-847e-ba84fb6ab32f_1024x1024.jpg?v=1649926194\" data-mce-fragment=\"1\" data-mce-src=\"https:\/\/cdn.shopifycdn.net\/s\/files\/1\/0566\/9483\/3309\/files\/2-1_fde2ef97-424b-4fbe-847e-ba84fb6ab32f_1024x1024.jpg?v=1649926194\" data-mce-style=\"float: none;\"\u003e\u003c\/div\u003e\n\u003cdiv style=\"text-align: center;\" data-mce-fragment=\"1\" data-mce-style=\"text-align: center;\"\u003e\u003c\/div\u003e\n\u003cdiv style=\"text-align: center;\" data-mce-fragment=\"1\" data-mce-style=\"text-align: center;\"\u003e\u003c\/div\u003e\n\u003cdiv style=\"text-align: center;\" data-mce-fragment=\"1\" data-mce-style=\"text-align: center;\"\u003e\u003c\/div\u003e\n\u003cp style=\"text-align: center;\" data-mce-fragment=\"1\" data-mce-style=\"text-align: center;\"\u003eThe FM radio supports tuning, with a total of 3 frequency bands (FM1-FM2-FM3), which can automatically search and store stations.\u003c\/p\u003e\n\u003cdiv style=\"text-align: center;\" data-mce-fragment=\"1\" data-mce-style=\"text-align: center;\"\u003e\u003cimg style=\"float: none;\" alt=\"FM Radio, Support FM Radio Tunning\" src=\"https:\/\/cdn.shopifycdn.net\/s\/files\/1\/0566\/9483\/3309\/files\/2-2_d7e1a47b-7245-4619-9138-bb96c0649d1f_1024x1024.jpg?v=1649926300\" data-mce-style=\"float: none;\" data-mce-fragment=\"1\" data-mce-src=\"https:\/\/cdn.shopifycdn.net\/s\/files\/1\/0566\/9483\/3309\/files\/2-2_d7e1a47b-7245-4619-9138-bb96c0649d1f_1024x1024.jpg?v=1649926300\"\u003e\u003c\/div\u003e\n\u003cdiv style=\"text-align: center;\" data-mce-fragment=\"1\" data-mce-style=\"text-align: center;\"\u003e\u003c\/div\u003e\n\u003cdiv style=\"text-align: center;\" data-mce-fragment=\"1\" data-mce-style=\"text-align: center;\"\u003e\u003c\/div\u003e\n\u003cdiv style=\"text-align: center;\" data-mce-fragment=\"1\" data-mce-style=\"text-align: center;\"\u003e\u003cbr\u003e\u003c\/div\u003e\n\u003cp style=\"text-align: center;\" data-mce-fragment=\"1\" data-mce-style=\"text-align: center;\"\u003eBuilt-in high-performance and stable Bluetooth, supports Bluetooth 4.2 high-speed transmission.\u003cbr\u003eYou can play Bluetooth music while talking hands-free, making it safer for you to talk while driving without any worries.\u003c\/p\u003e\n\u003cdiv style=\"text-align: center;\" data-mce-fragment=\"1\" data-mce-style=\"text-align: center;\"\u003e\u003cimg style=\"float: none;\" alt=\"Built-in high-performance stable Bluetooth\" src=\"https:\/\/cdn.shopifycdn.net\/s\/files\/1\/0566\/9483\/3309\/files\/2-3_bf9f249e-a01f-4e5a-b805-df247f9d2b1b_1024x1024.jpg?v=1649926339\" data-mce-style=\"float: none;\" data-mce-fragment=\"1\" data-mce-src=\"https:\/\/cdn.shopifycdn.net\/s\/files\/1\/0566\/9483\/3309\/files\/2-3_bf9f249e-a01f-4e5a-b805-df247f9d2b1b_1024x1024.jpg?v=1649926339\"\u003e\u003c\/div\u003e\n\u003cdiv style=\"text-align: center;\" data-mce-fragment=\"1\" data-mce-style=\"text-align: center;\"\u003e\u003c\/div\u003e\n\u003cdiv style=\"text-align: center;\" data-mce-fragment=\"1\" data-mce-style=\"text-align: center;\"\u003e\u003c\/div\u003e\n\u003cdiv style=\"text-align: center;\" data-mce-fragment=\"1\" data-mce-style=\"text-align: center;\"\u003e\u003c\/div\u003e\n\u003cdiv style=\"text-align: center;\" data-mce-fragment=\"1\" data-mce-style=\"text-align: center;\"\u003eBuilt-in WIFI module, can connect mobile phone hotspot or router, download and install apps, and watch TV or movies online.\u003c\/div\u003e\n\u003cdiv style=\"text-align: center;\" data-mce-fragment=\"1\" data-mce-style=\"text-align: center;\"\u003e\u003c\/div\u003e\n\u003cdiv style=\"text-align: center;\" data-mce-fragment=\"1\" data-mce-style=\"text-align: center;\"\u003e\u003cimg alt=\"Wireless Network Connection\" src=\"https:\/\/cdn.shopifycdn.net\/s\/files\/1\/0566\/9483\/3309\/files\/2-4_f1463694-4e4e-4e63-8fc7-e1ebd83122e9_1024x1024.jpg?v=1649926353\" style=\"float: none;\" data-mce-fragment=\"1\" data-mce-src=\"https:\/\/cdn.shopifycdn.net\/s\/files\/1\/0566\/9483\/3309\/files\/2-4_f1463694-4e4e-4e63-8fc7-e1ebd83122e9_1024x1024.jpg?v=1649926353\" data-mce-style=\"float: none;\"\u003e\u003c\/div\u003e\n\u003cdiv style=\"text-align: center;\" data-mce-fragment=\"1\" data-mce-style=\"text-align: center;\"\u003e\u003c\/div\u003e\n\u003cdiv style=\"text-align: center;\" data-mce-fragment=\"1\" data-mce-style=\"text-align: center;\"\u003e\u003c\/div\u003e\n\u003cdiv style=\"text-align: center;\" data-mce-fragment=\"1\" data-mce-style=\"text-align: center;\"\u003e\u003c\/div\u003e\n\u003cdiv style=\"text-align: center;\" data-mce-fragment=\"1\" data-mce-style=\"text-align: center;\"\u003eThe built-in navigation module supports the download of navigation maps in most countries, and supports multilingual voice broadcast and interface display.\u003c\/div\u003e\n\u003cdiv style=\"text-align: center;\" data-mce-fragment=\"1\" data-mce-style=\"text-align: center;\"\u003e\u003c\/div\u003e\n\u003cdiv style=\"text-align: center;\" data-mce-fragment=\"1\" data-mce-style=\"text-align: center;\"\u003e\u003cimg alt=\"GPS Naviagtion\" src=\"https:\/\/cdn.shopifycdn.net\/s\/files\/1\/0566\/9483\/3309\/files\/2-5_2597e982-2d55-4dd1-bc72-726945d5b24c_1024x1024.jpg?v=1649926378\" style=\"float: none;\" data-mce-fragment=\"1\" data-mce-src=\"https:\/\/cdn.shopifycdn.net\/s\/files\/1\/0566\/9483\/3309\/files\/2-5_2597e982-2d55-4dd1-bc72-726945d5b24c_1024x1024.jpg?v=1649926378\" data-mce-style=\"float: none;\"\u003e\u003c\/div\u003e\n\u003cdiv style=\"text-align: center;\" data-mce-fragment=\"1\" data-mce-style=\"text-align: center;\"\u003e\u003c\/div\u003e\n\u003cdiv style=\"text-align: center;\" data-mce-fragment=\"1\" data-mce-style=\"text-align: center;\"\u003e\u003c\/div\u003e\n\u003cdiv style=\"text-align: center;\" data-mce-fragment=\"1\" data-mce-style=\"text-align: center;\"\u003eMP5 can be connected to an Android mobile phone or IOS mobile phone mirroring through a USB data cable.\u003cbr\u003eAndroid phones can operate by touching the MP5 screen (except IOS phones).\u003c\/div\u003e\n\u003cdiv style=\"text-align: center;\" data-mce-fragment=\"1\" data-mce-style=\"text-align: center;\"\u003e\u003c\/div\u003e\n\u003cdiv style=\"text-align: center;\" data-mce-fragment=\"1\" data-mce-style=\"text-align: center;\"\u003e\u003cimg alt=\"Mirror Link with Phone\" src=\"https:\/\/cdn.shopifycdn.net\/s\/files\/1\/0566\/9483\/3309\/files\/2-6_1f2ec2bd-9f0a-4786-bd2a-98335ba6c6f1_1024x1024.jpg?v=1649926393\" style=\"float: none;\" data-mce-fragment=\"1\" data-mce-src=\"https:\/\/cdn.shopifycdn.net\/s\/files\/1\/0566\/9483\/3309\/files\/2-6_1f2ec2bd-9f0a-4786-bd2a-98335ba6c6f1_1024x1024.jpg?v=1649926393\" data-mce-style=\"float: none;\"\u003e\u003c\/div\u003e\n\u003cdiv style=\"text-align: center;\" data-mce-fragment=\"1\" data-mce-style=\"text-align: center;\"\u003e\u003c\/div\u003e\n\u003cdiv style=\"text-align: center;\" data-mce-fragment=\"1\" data-mce-style=\"text-align: center;\"\u003e\u003c\/div\u003e\n\u003cdiv style=\"text-align: center;\" data-mce-fragment=\"1\" data-mce-style=\"text-align: center;\"\u003eSupport 1080P video format playback, including MP4\/MP5\/RMVB\/RM\/VOB\/MOV\/3GP\/MPG\/AVI\/WMA, etc.\u003cbr\u003eLet you enjoy the journey.\u003c\/div\u003e\n\u003cdiv style=\"text-align: center;\" data-mce-fragment=\"1\" data-mce-style=\"text-align: center;\"\u003e\u003c\/div\u003e\n\u003cdiv style=\"text-align: center;\" data-mce-fragment=\"1\" data-mce-style=\"text-align: center;\"\u003e\u003cimg alt=\"1080P Video Playback\" src=\"https:\/\/cdn.shopifycdn.net\/s\/files\/1\/0566\/9483\/3309\/files\/2-7_037fbadd-3d44-4d66-b314-fae5a1303980_1024x1024.jpg?v=1649926409\" style=\"float: none;\" data-mce-fragment=\"1\" data-mce-src=\"https:\/\/cdn.shopifycdn.net\/s\/files\/1\/0566\/9483\/3309\/files\/2-7_037fbadd-3d44-4d66-b314-fae5a1303980_1024x1024.jpg?v=1649926409\" data-mce-style=\"float: none;\"\u003e\u003c\/div\u003e\n\u003cdiv style=\"text-align: center;\" data-mce-fragment=\"1\" data-mce-style=\"text-align: center;\"\u003e\u003c\/div\u003e\n\u003cdiv style=\"text-align: center;\" data-mce-fragment=\"1\" data-mce-style=\"text-align: center;\"\u003e\u003c\/div\u003e\n\u003cdiv style=\"text-align: center;\" data-mce-fragment=\"1\" data-mce-style=\"text-align: center;\"\u003e\u003c\/div\u003e\n\u003cdiv style=\"text-align: center;\" data-mce-fragment=\"1\" data-mce-style=\"text-align: center;\"\u003e\u003c\/div\u003e\n\u003cdiv style=\"text-align: center;\" data-mce-fragment=\"1\" data-mce-style=\"text-align: center;\"\u003eThe camera playback function supports the signal input of the reversing camera, making reversing more convenient and safer.\u003c\/div\u003e\n\u003cdiv style=\"text-align: center;\" data-mce-fragment=\"1\" data-mce-style=\"text-align: center;\"\u003e\u003c\/div\u003e\n\u003cdiv style=\"text-align: center;\" data-mce-fragment=\"1\" data-mce-style=\"text-align: center;\"\u003e\u003cimg style=\"float: none;\" alt=\"Revesring Camera Function\" src=\"https:\/\/cdn.shopifycdn.net\/s\/files\/1\/0566\/9483\/3309\/files\/2-8_fd2a1e57-c316-44c8-a048-39732364bc8a_1024x1024.jpg?v=1649926431\" data-mce-style=\"float: none;\" data-mce-fragment=\"1\" data-mce-src=\"https:\/\/cdn.shopifycdn.net\/s\/files\/1\/0566\/9483\/3309\/files\/2-8_fd2a1e57-c316-44c8-a048-39732364bc8a_1024x1024.jpg?v=1649926431\"\u003e\u003c\/div\u003e\n\u003cdiv style=\"text-align: center;\" data-mce-fragment=\"1\" data-mce-style=\"text-align: center;\"\u003e\u003c\/div\u003e\n\u003cdiv style=\"text-align: center;\" data-mce-fragment=\"1\" data-mce-style=\"text-align: center;\"\u003e\u003c\/div\u003e\n\u003cdiv style=\"text-align: center;\" data-mce-fragment=\"1\" data-mce-style=\"text-align: center;\"\u003e\u003c\/div\u003e\n\u003cdiv style=\"text-align: center;\" data-mce-fragment=\"1\" data-mce-style=\"text-align: center;\"\u003e\u003c\/div\u003e\n\u003cdiv style=\"text-align: center;\" data-mce-fragment=\"1\" data-mce-style=\"text-align: center;\"\u003e2 Rear USB Port \/ TF Card Slot, support U-Disk and TF Card data read, maximum support 128G capacity, you can listen to music or watch a movie on the journey.\u003c\/div\u003e\n\u003cdiv style=\"text-align: center;\" data-mce-fragment=\"1\" data-mce-style=\"text-align: center;\"\u003e\u003c\/div\u003e\n\u003cdiv style=\"text-align: center;\" data-mce-fragment=\"1\" data-mce-style=\"text-align: center;\"\u003e\u003cimg alt=\"USB \/ TF Card Playback\" src=\"https:\/\/cdn.shopifycdn.net\/s\/files\/1\/0566\/9483\/3309\/files\/2-9_1_1024x1024.jpg?v=1649926454\" style=\"float: none;\" data-mce-fragment=\"1\" data-mce-src=\"https:\/\/cdn.shopifycdn.net\/s\/files\/1\/0566\/9483\/3309\/files\/2-9_1_1024x1024.jpg?v=1649926454\"\u003e\u003c\/div\u003e\n\u003cdiv style=\"text-align: center;\" data-mce-fragment=\"1\" data-mce-style=\"text-align: center;\"\u003e\u003c\/div\u003e\n\u003cdiv style=\"text-align: center;\" data-mce-fragment=\"1\" data-mce-style=\"text-align: center;\"\u003e\u003c\/div\u003e\n\u003cdiv style=\"text-align: center;\" data-mce-fragment=\"1\" data-mce-style=\"text-align: center;\"\u003e\u003c\/div\u003e\n\u003cdiv style=\"text-align: center;\" data-mce-fragment=\"1\" data-mce-style=\"text-align: center;\"\u003e\u003c\/div\u003e\n\u003cdiv style=\"text-align: center;\" data-mce-fragment=\"1\" data-mce-style=\"text-align: center;\"\u003eThe MP5 System has built-in languages of many countries, you can freely switch the system language you need.\u003c\/div\u003e\n\u003cdiv style=\"text-align: center;\" data-mce-fragment=\"1\" data-mce-style=\"text-align: center;\"\u003e\u003c\/div\u003e\n\u003cdiv style=\"text-align: center;\" data-mce-fragment=\"1\" data-mce-style=\"text-align: center;\"\u003e\n\u003cimg alt=\"System Multi-language\" src=\"https:\/\/cdn.shopifycdn.net\/s\/files\/1\/0566\/9483\/3309\/files\/2-10_8543821b-bc0a-48ed-a006-87f0ccb1945e_1024x1024.jpg?v=1649926466\" style=\"float: none;\" data-mce-fragment=\"1\" data-mce-src=\"https:\/\/cdn.shopifycdn.net\/s\/files\/1\/0566\/9483\/3309\/files\/2-10_8543821b-bc0a-48ed-a006-87f0ccb1945e_1024x1024.jpg?v=1649926466\"\u003e\u003cimg alt=\"\" src=\"https:\/\/cdn.shopifycdn.net\/s\/files\/1\/0566\/9483\/3309\/files\/1-3_2edd7886-fc16-4ada-be91-09e640a82974_1024x1024.jpg?v=1649926486\" data-mce-fragment=\"1\" data-mce-src=\"https:\/\/cdn.shopifycdn.net\/s\/files\/1\/0566\/9483\/3309\/files\/1-3_2edd7886-fc16-4ada-be91-09e640a82974_1024x1024.jpg?v=1649926486\"\u003e\u003cimg alt=\"\" src=\"https:\/\/cdn.shopifycdn.net\/s\/files\/1\/0566\/9483\/3309\/files\/1-2_27a18e6b-34fb-4d72-a73e-eee2df8806f4_1024x1024.jpg?v=1649926505\" data-mce-fragment=\"1\" data-mce-src=\"https:\/\/cdn.shopifycdn.net\/s\/files\/1\/0566\/9483\/3309\/files\/1-2_27a18e6b-34fb-4d72-a73e-eee2df8806f4_1024x1024.jpg?v=1649926505\"\u003e\n\u003c\/div\u003e\n\u003cdiv style=\"text-align: center;\" data-mce-fragment=\"1\" data-mce-style=\"text-align: center;\"\u003e\u003c\/div\u003e\n\u003cdiv style=\"text-align: center;\" data-mce-fragment=\"1\" data-mce-style=\"text-align: center;\"\u003e\u003c\/div\u003e\n\u003ch2 style=\"text-align: left;\" data-mce-fragment=\"1\" data-mce-style=\"text-align: left;\"\u003eMore features:\u003c\/h2\u003e\n\u003cp\u003e\u003cstrong\u003eApplicable models:\u003c\/strong\u003e BMW E90 sedan (2006-2012), E91 station wagon (2006-2012), E92 Coupe (2006-2013), E93 convertible (2007-2013), (E90\/E92\/E93) M3 (2007-2012).\u003c\/p\u003e\n\u003cp\u003e\u003cstrong\u003eAdopt the latest Android 9.0 operating system:\u003c\/strong\u003e Car standard radio module: TDA6686 has the strong anti-interference ability and good radio signal reception. Power amplifier chip: TDA7851 High-fidelity, powerful sound.\u003c\/p\u003e\n\u003cp\u003e\u003cstrong\u003eRear-end redesign:\u003c\/strong\u003e With a newly designed heatsink and connector, we've maximized the Android unit's connection capabilities while keeping wire installation simple and uncluttered. Specially designed thickened aluminum radiator for efficient heat dissipation.\u003c\/p\u003e\n\u003cp\u003e\u003cstrong\u003eFeatures:\u003c\/strong\u003e Bluetooth call\/music, voice navigation, GPS, online map\/offline map navigation, wifi, multi-touch screen, built-in USB interface, built-in microphone, high-definition display, multi-language selection, steering wheel control, screen mirroring, reversing camera.\u003c\/p\u003e\n\u003cp\u003e \u003c\/p\u003e\n\u003ch2\u003eAccessories:\u003c\/h2\u003e\n\u003cp\u003e3 x ISO harness\u003cbr\u003e1 x USB cable\u003cbr\u003e1 x 3G\/WIFI cable\u003cbr\u003e1 x microphone cable\u003cbr\u003e1 x CANbus box\u003cbr\u003e1 x WiFi Antenna\u003cbr\u003e2 x RCA cables\u003cbr\u003e1 x GPS antenna\u003cbr\u003e1 x User Manual\u003cbr\u003e1 x Auto A\/C frame\u003cbr\u003e1 x Manual A\/C Frame\u003cbr\u003e1 x Iron bracket with screws\u003cbr\u003e1 x rear view camera\u003cbr\u003e1 x installation tool\u003c\/p\u003e\n\u003cp\u003e \u003c\/p\u003e"}
Auto Android Multimedia Radio Player For BMW E90 - E93 3 Series With GPS Navigation Bluetooth
ESSGOO Android 
E93, E92, E91, E

90 radio for BMW stereo 3 series upgrade solution

For BMW 3 Series Car multimedia
BMW 3 Series E90, E91, E92, E93 (2006 2007 2008 2009 2010 2011 2012)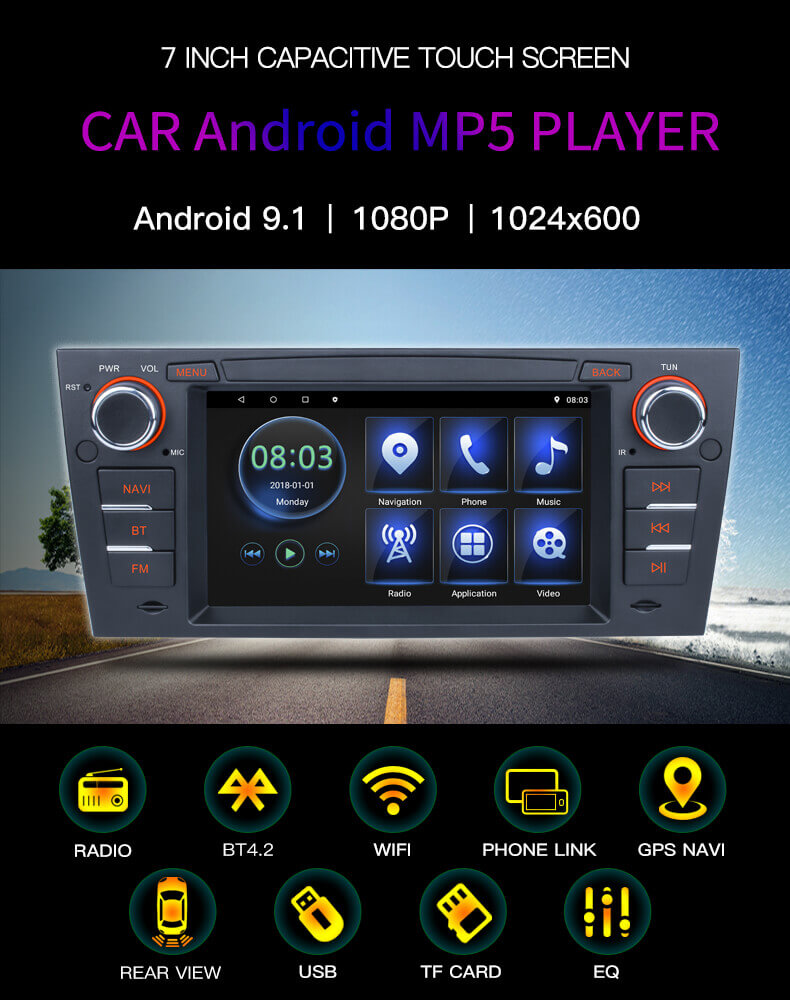 The FM radio supports tuning, with a total of 3 frequency bands (FM1-FM2-FM3), which can automatically search and store stations.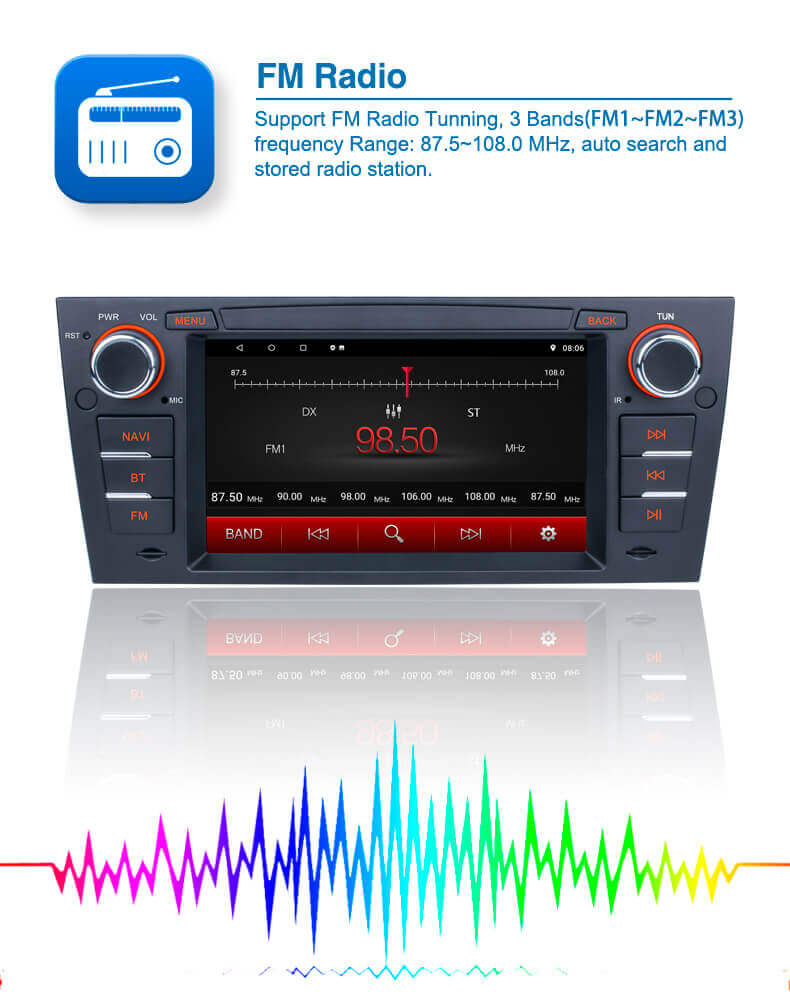 Built-in high-performance and stable Bluetooth, supports Bluetooth 4.2 high-speed transmission.
You can play Bluetooth music while talking hands-free, making it safer for you to talk while driving without any worries.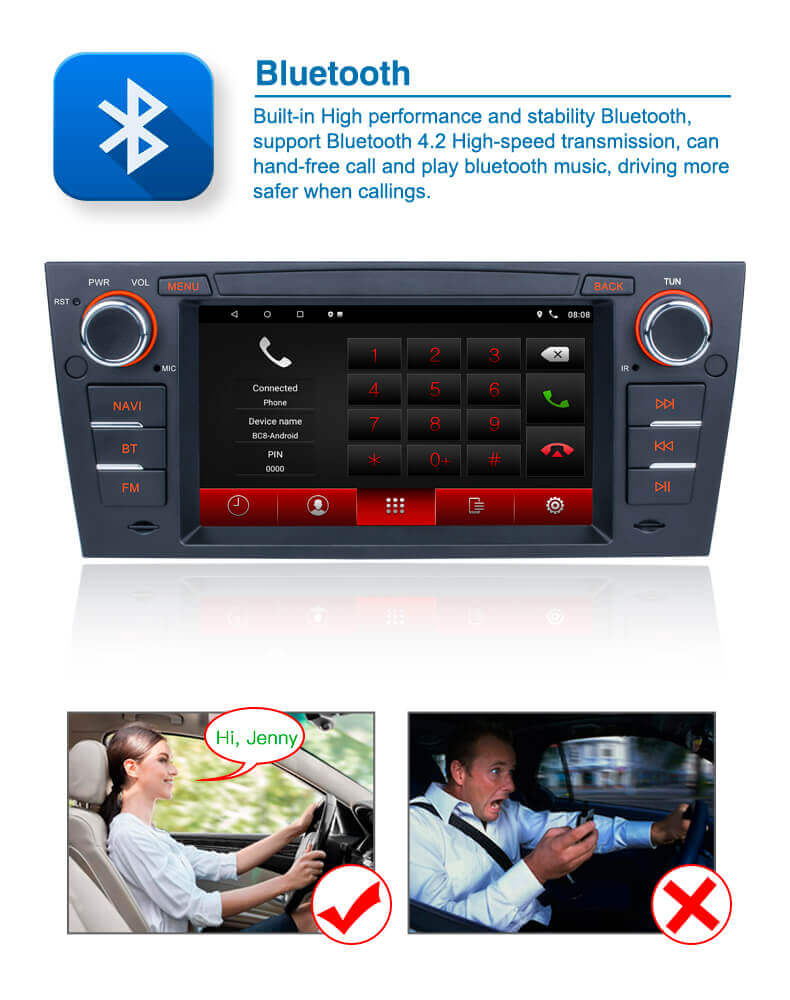 Built-in WIFI module, can connect mobile phone hotspot or router, download and install apps, and watch TV or movies online.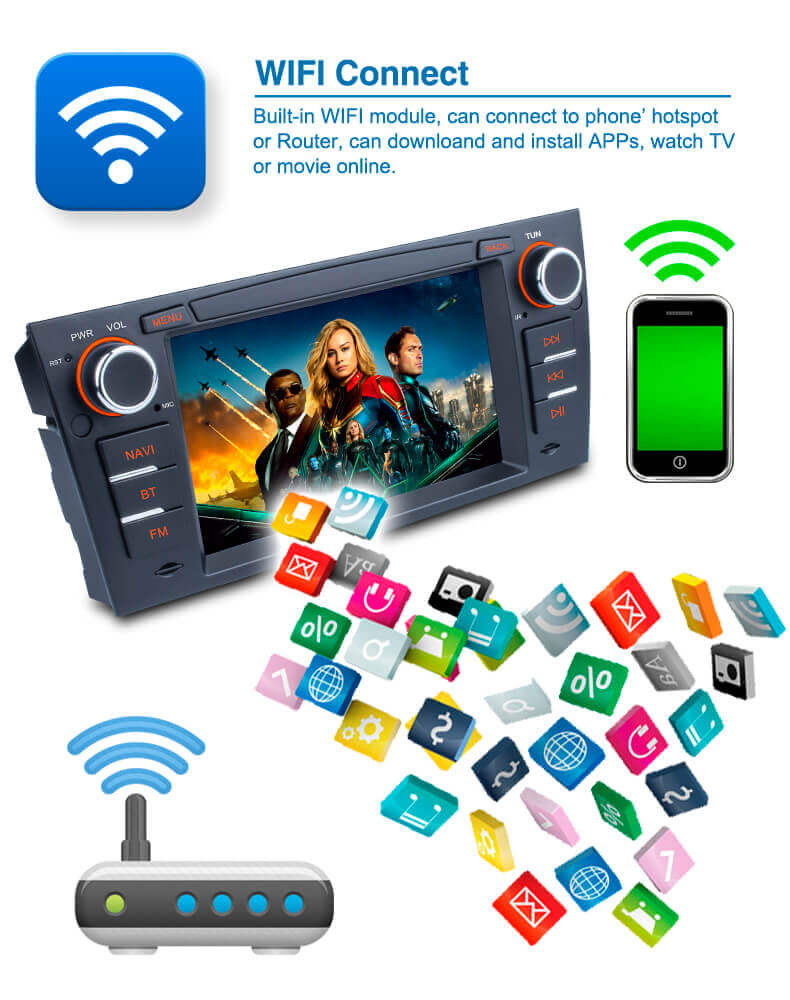 The built-in navigation module supports the download of navigation maps in most countries, and supports multilingual voice broadcast and interface display.
MP5 can be connected to an Android mobile phone or IOS mobile phone mirroring through a USB data cable.
Android phones can operate by touching the MP5 screen (except IOS phones).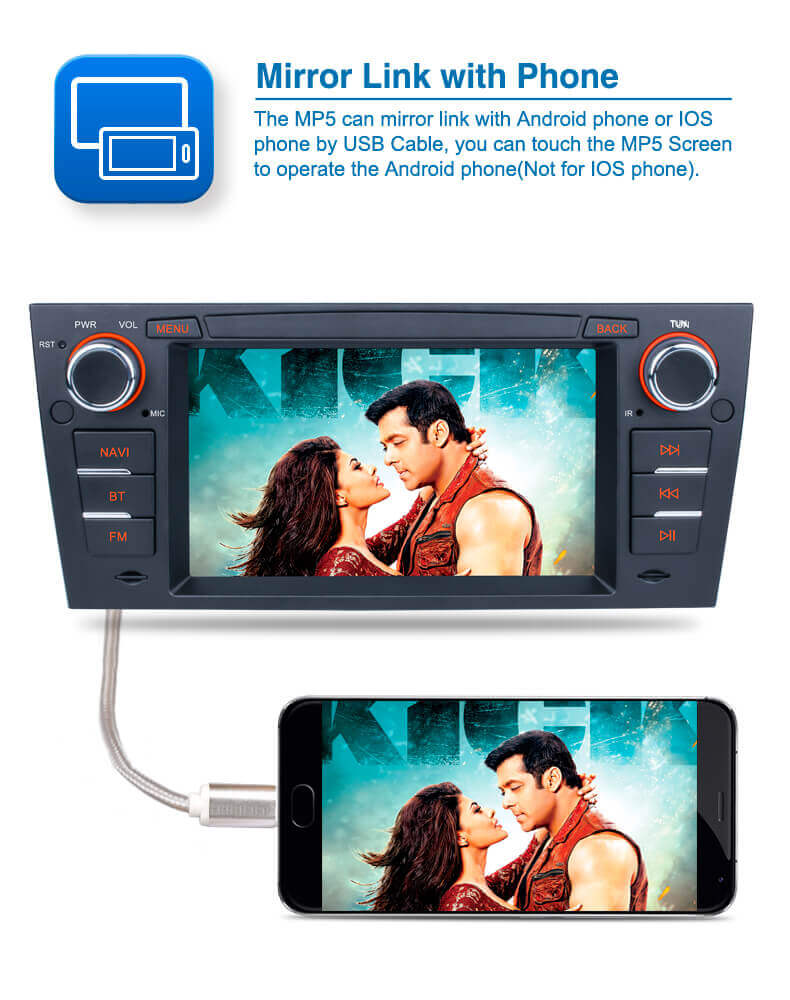 Support 1080P video format playback, including MP4/MP5/RMVB/RM/VOB/MOV/3GP/MPG/AVI/WMA, etc.
Let you enjoy the journey.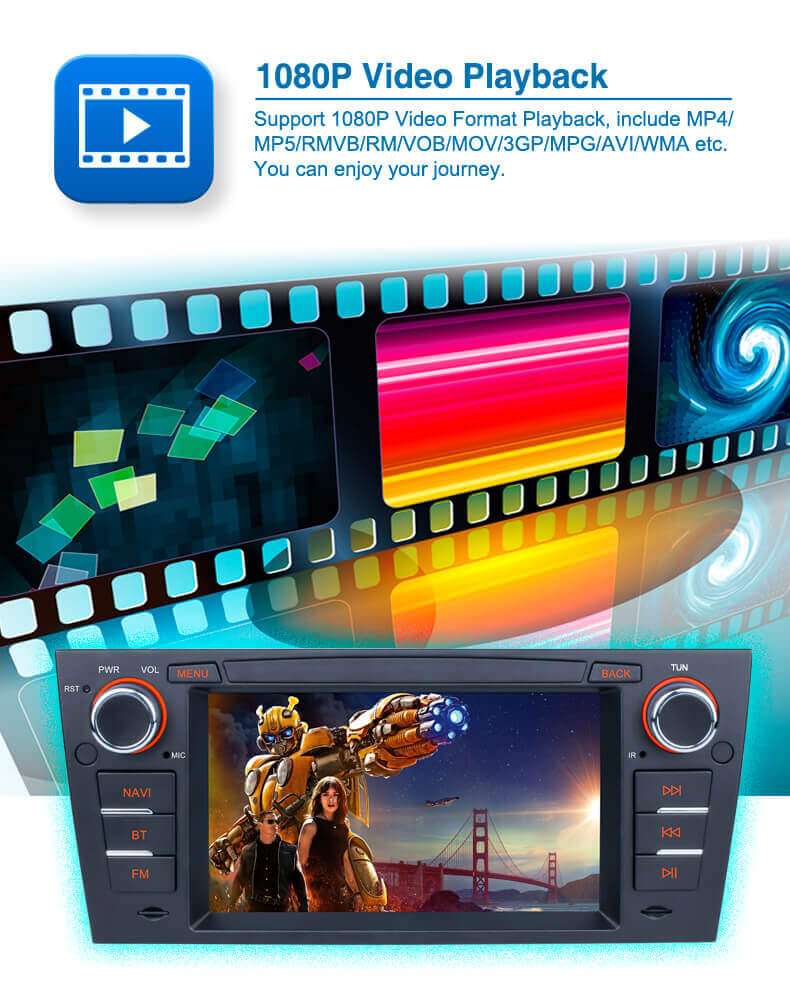 The camera playback function supports the signal input of the reversing camera, making reversing more convenient and safer.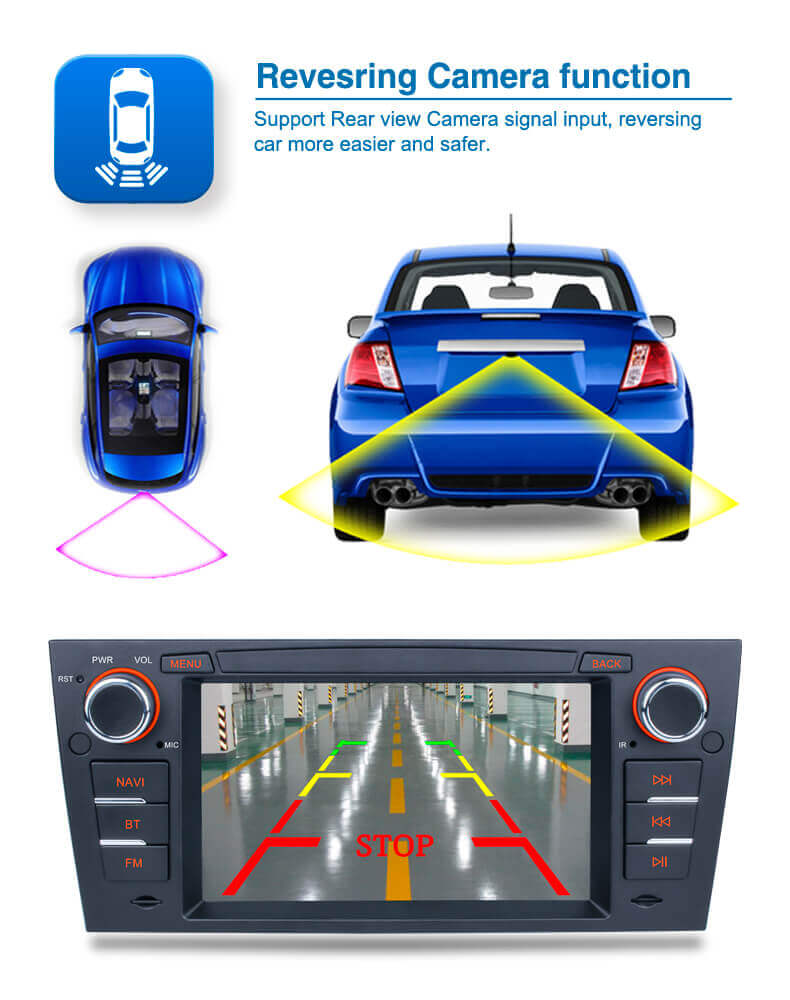 2 Rear USB Port / TF Card Slot, support U-Disk and TF Card data read, maximum support 128G capacity, you can listen to music or watch a movie on the journey.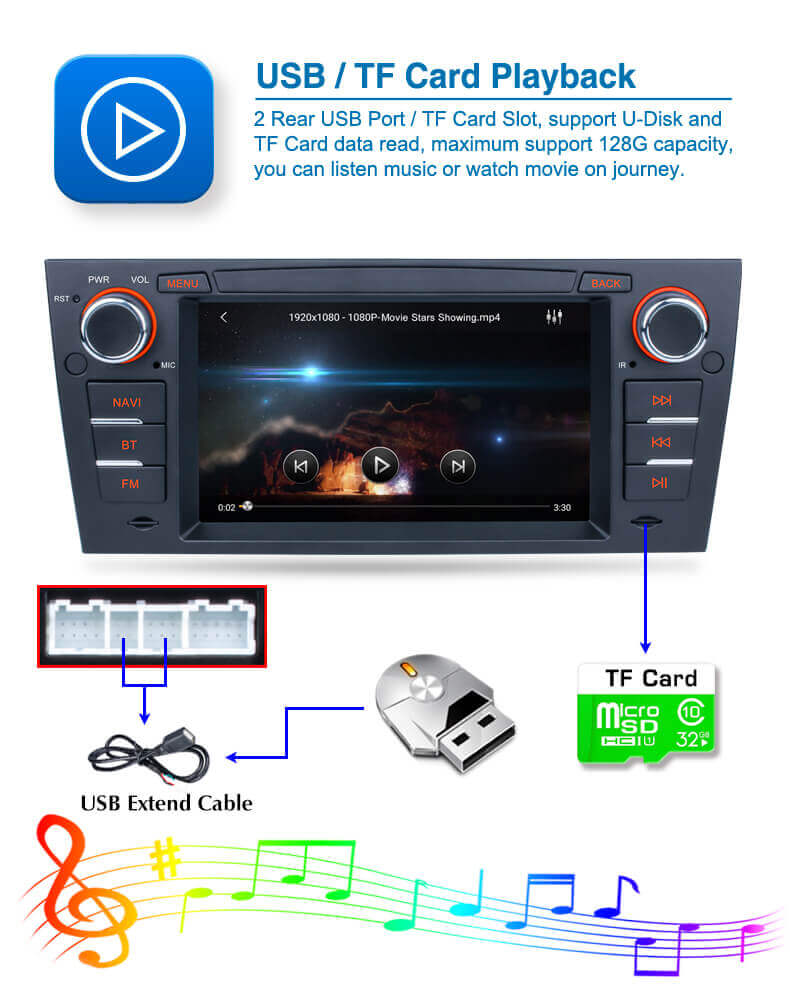 The MP5 System has built-in languages of many countries, you can freely switch the system language you need.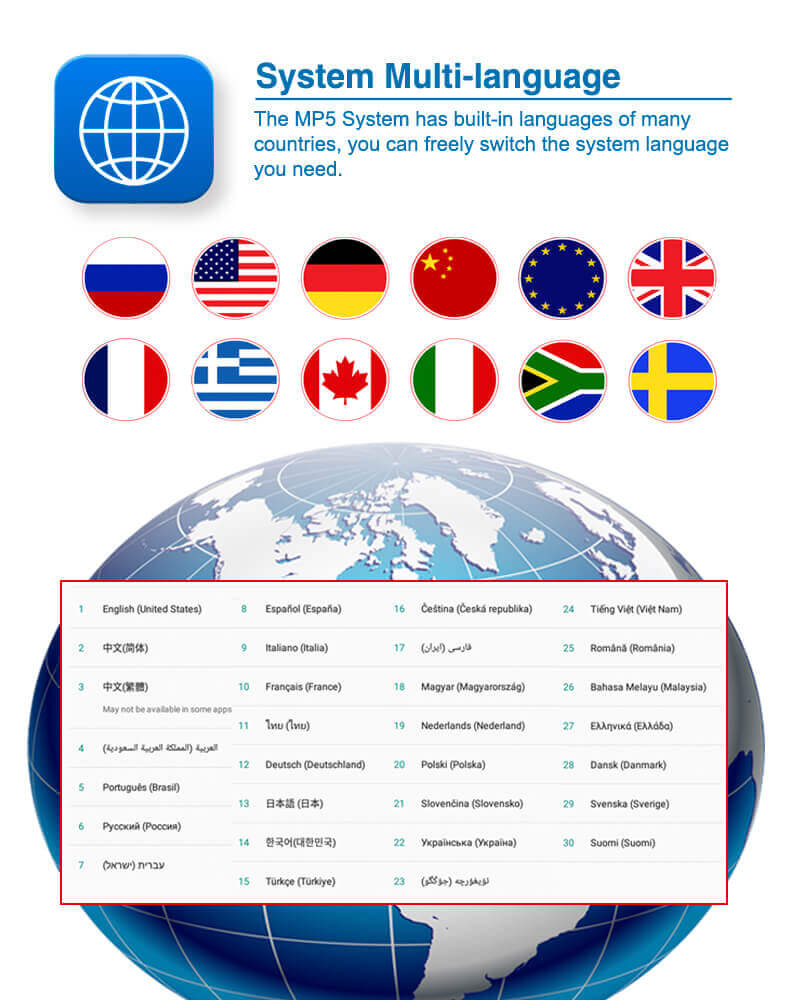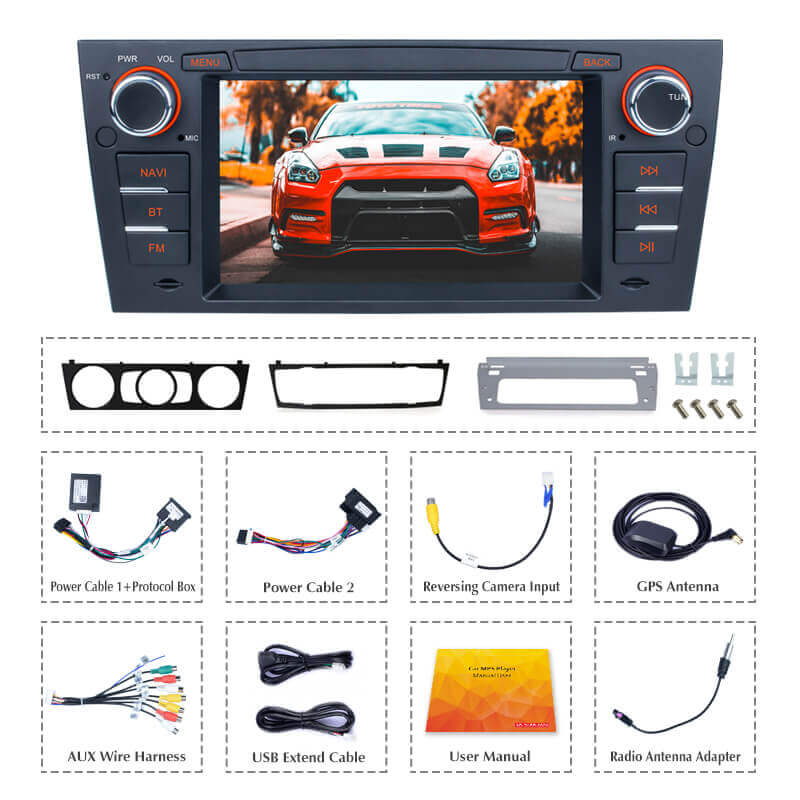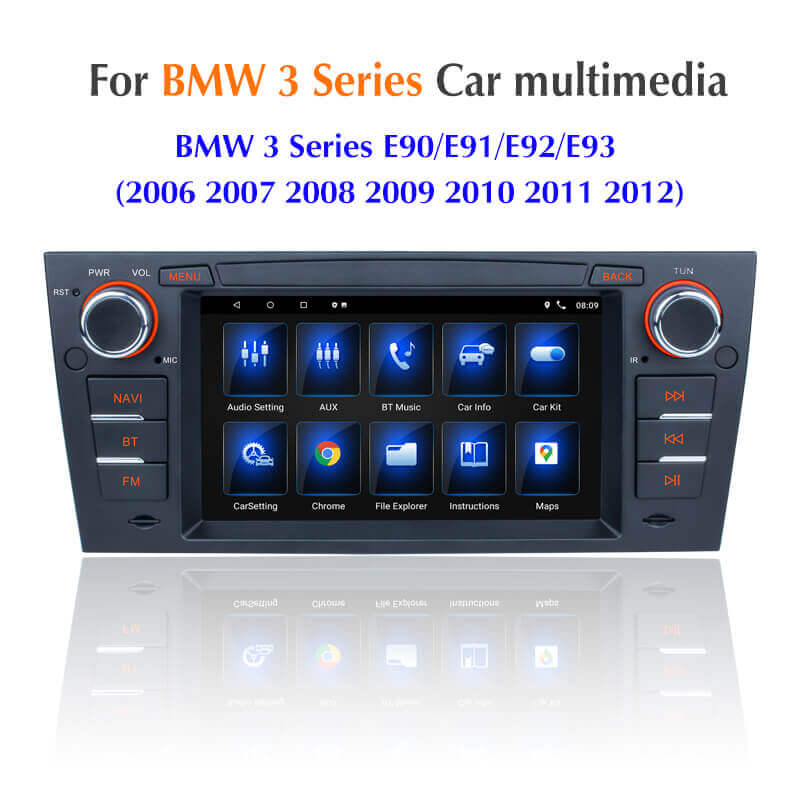 More features:
Applicable models: BMW E90 sedan (2006-2012), E91 station wagon (2006-2012), E92 Coupe (2006-2013), E93 convertible (2007-2013), (E90/E92/E93) M3 (2007-2012).
Adopt the latest Android 9.0 operating system: Car standard radio module: TDA6686 has the strong anti-interference ability and good radio signal reception. Power amplifier chip: TDA7851 High-fidelity, powerful sound.
Rear-end redesign: With a newly designed heatsink and connector, we've maximized the Android unit's connection capabilities while keeping wire installation simple and uncluttered. Specially designed thickened aluminum radiator for efficient heat dissipation.
Features: Bluetooth call/music, voice navigation, GPS, online map/offline map navigation, wifi, multi-touch screen, built-in USB interface, built-in microphone, high-definition display, multi-language selection, steering wheel control, screen mirroring, reversing camera.
Accessories:
3 x ISO harness
1 x USB cable
1 x 3G/WIFI cable
1 x microphone cable
1 x CANbus box
1 x WiFi Antenna
2 x RCA cables
1 x GPS antenna
1 x User Manual
1 x Auto A/C frame
1 x Manual A/C Frame
1 x Iron bracket with screws
1 x rear view camera
1 x installation tool
If you have any questions, please feel free to Contact our customer service team 📧

There are many product-related product ⭐ Reviews ⭐ at the bottom of the website for reference, and you are welcome to leave your thoughts to let other consumers understand ESSGOO better.
Share the ⭐ Reviews to Get 15% OFF Promo Code ;💳 And $10 Cashback  🤑
 ***
Which countries can we ship to? 

📦
Please don't underestimate ESSGOO, as long as the country where you have postal express service, our goods can be delivered to you; we have our own warehouses in Europe, America, and other places, more than ten overseas warehouses all over the world, and we also Cooperate with most of the express companies in the world, ESSGOO has a first-class warehousing and logistics team to ensure that the goods are delivered to you
Shipping Info  

🏎️
1.Most items are shipping free, you can check the description in the listing. Order will be shipped within 48 hours after payment made.
2.The shipping time is based on the shipping option, sometimes it may be delayed due to varied situations (such as holidays, war, weather, etc.), please contact us immediately if the delivery time exceeds estimated.


Time Schedule- 
🚀
Fast/Expedited Shipping 
| | |
| --- | --- |
| US/AU/UK/EU | 4-10 working days |
| Canada/Israel/ Azerbaijan / Russia/Maldives/ Eastern Europe/ Middle East | 7-18 working days |
| Brazil/Chile/South America | 7-18 working days |
| Western Europe/New Zealand | 8-12 working days |
The general delivery time of other regions or countries will be within 25 days.
Time Schedule-  
✈️
Standard Shipping 
Standard delivery service (Free shipping) is usually about 5-10 days slower than Expedited
--
I know your worries
0. How to install? ? I need tutorials!!
All products have installation instructions and instructions for use in your package.
If it's not enough, you can also watch our official

 

YouTube, there are many installation video tutorials~~
Or search 'install' in essgoo.com, or Click the 'Support'
For example this:  Car Stereo Installment Near You
1.Why Choose ESSGOO?
Brand ESSGOO was established in 2016 with great advantages in electronic products. More than that, the operating team has more than 11 years experiences on e-commerce.. We know exactly what the buyer concerns and worries. Making sure you will have a wonderful shopping experience by providing what you need and getting rid of what you worried about. It is no doubt to choose us with our high quality of product, good shipping way, and good customs support.
2.Can I change my shipping address after placing an order?
There is an opportunity to notify our customer service via email to change the delivery address within 2 hours after the order is generated.
3.How do I track my order?
1. Use your email to log in Account to view order information, logistics information, etc.
2. ESSGOO will send you emails at different stages of your order.
3. Feel free to contact our customer service, usually reply to your questions within 24 hours.
4.Will I be charged with customs and taxes?
ESSGOO uses 11 years of online experience and customer feedback to conclude that there will be no additional tariffs and related customs fees if you purchase items normally.
Unless you buy multiple high-priced products at the same time, you may need to pay additional fees.
5.What Do I Do If I Have Missing Items In My Order?
Please contact us immediately.
6.What if the item(s) I received are defective/incorrect/damaged?
Please contact us within 7 days from receiving your order if you received merchandise that is incorrect, missing, and/or defective. Please include your order number, photographs of the item(s) and all related references upon receiving your package. We will do our very best to resolve your case as soon as possible.
7.How do I return an item?
If you are not satisfied with the purchased item and want to return it, please contact us immediately after receiving the order, and provide your order number and the reason for the return. Our customer service team will review the return request and send further instructions after the return is approved.
For details, please refer to ESSGOO's
warranty information
and
refund policy
. All returns must be kept in original condition and packaged intact.
8.When will I receive my refund?
All refunds will be credited to your original form of payment. If you paid by credit or debit card, refunds will be sent to the card-issuing bank within 7-10 business days of receipt of the returned item or cancellation request. 
-