{"id":7354705838237,"title":"ESSGOO 1 Din 4.1'' Car Radio Audio Stereo MP5 Player With Bluetooth Music Movie","handle":"essgoo-1-din-4-1-car-radio-audio-stereo-mp5-player-with-bluetooth-music-movie","description":"\u003ch2 data-mce-fragment=\"1\" style=\"text-align: center;\" data-mce-style=\"text-align: center;\"\u003e1 Din 4.1\" Car RadioAudio Stereo MP5 Player With Bluetooth Music\u003c\/h2\u003e\n\u003cdiv data-mce-fragment=\"1\" style=\"text-align: center;\" data-mce-style=\"text-align: center;\"\u003e\u003cimg data-mce-fragment=\"1\" src=\"https:\/\/cdn.shopifycdn.net\/s\/files\/1\/0566\/9483\/3309\/files\/1_1d78ddf8-d8c6-4435-ba10-c700d7a0c6cf_1024x1024.jpg?v=1649756013\" alt=\"Autoradio 1 DIN\" style=\"float: none;\" data-mce-style=\"float: none;\" data-mce-src=\"https:\/\/cdn.shopifycdn.net\/s\/files\/1\/0566\/9483\/3309\/files\/1_1d78ddf8-d8c6-4435-ba10-c700d7a0c6cf_1024x1024.jpg?v=1649756013\"\u003e\u003c\/div\u003e\n\u003cdiv data-mce-fragment=\"1\" style=\"text-align: center;\" data-mce-style=\"text-align: center;\"\u003e\u003c\/div\u003e\n\u003cdiv data-mce-fragment=\"1\" style=\"text-align: center;\" data-mce-style=\"text-align: center;\"\u003e\u003cbr\u003e\u003c\/div\u003e\n\u003cdiv data-mce-fragment=\"1\" style=\"text-align: center;\" data-mce-style=\"text-align: center;\"\u003e\u003cbr\u003e\u003c\/div\u003e\n\u003cdiv data-mce-fragment=\"1\" style=\"text-align: center;\" data-mce-style=\"text-align: center;\"\u003e\u003c\/div\u003e\n\u003cdiv data-mce-fragment=\"1\" style=\"text-align: center;\" data-mce-style=\"text-align: center;\"\u003e\u003c\/div\u003e\n\u003cdiv data-mce-fragment=\"1\" style=\"text-align: center;\" data-mce-style=\"text-align: center;\"\u003eHands-free calling and music playback, listen to music stored on your phone or MP3 player through your car speakers. No copying of files, no cables.\u003c\/div\u003e\n\u003cdiv data-mce-fragment=\"1\" style=\"text-align: center;\" data-mce-style=\"text-align: center;\"\u003e\n\u003cimg data-mce-fragment=\"1\" style=\"float: none;\" src=\"https:\/\/cdn.shopifycdn.net\/s\/files\/1\/0566\/9483\/3309\/files\/2_0595906a-e05b-49ac-b038-0288cd681ccf_1024x1024.jpg?v=1649756041\" alt=\"Hands-free calling and music playback\" data-mce-src=\"https:\/\/cdn.shopifycdn.net\/s\/files\/1\/0566\/9483\/3309\/files\/2_0595906a-e05b-49ac-b038-0288cd681ccf_1024x1024.jpg?v=1649756041\"\u003e\u003cimg data-mce-fragment=\"1\" style=\"float: none;\" src=\"https:\/\/cdn.shopifycdn.net\/s\/files\/1\/0566\/9483\/3309\/files\/3_96b63f39-ca41-4da6-9755-c7491beb48af_1024x1024.jpg?v=1649756055\" alt=\"Hinteres Mikrofon \u0026amp; Subwoofer-Interface\" data-mce-src=\"https:\/\/cdn.shopifycdn.net\/s\/files\/1\/0566\/9483\/3309\/files\/3_96b63f39-ca41-4da6-9755-c7491beb48af_1024x1024.jpg?v=1649756055\"\u003e\u003cimg data-mce-fragment=\"1\" style=\"float: none;\" src=\"https:\/\/cdn.shopifycdn.net\/s\/files\/1\/0566\/9483\/3309\/files\/4_c7403ad2-f491-434c-b965-73f6461433a5_1024x1024.jpg?v=1649756068\" alt=\"FM Radio\" data-mce-src=\"https:\/\/cdn.shopifycdn.net\/s\/files\/1\/0566\/9483\/3309\/files\/4_c7403ad2-f491-434c-b965-73f6461433a5_1024x1024.jpg?v=1649756068\"\u003e\n\u003c\/div\u003e\n\u003cdiv data-mce-fragment=\"1\" style=\"text-align: center;\" data-mce-style=\"text-align: center;\"\u003e\u003c\/div\u003e\n\u003cdiv data-mce-fragment=\"1\" style=\"text-align: center;\" data-mce-style=\"text-align: center;\"\u003e\u003cbr\u003e\u003c\/div\u003e\n\u003cdiv data-mce-fragment=\"1\" style=\"text-align: center;\" data-mce-style=\"text-align: center;\"\u003eSteering wheel remote support, directly on ISO cable\u003c\/div\u003e\n\u003cdiv data-mce-fragment=\"1\" style=\"text-align: center;\" data-mce-style=\"text-align: center;\"\u003e\u003cimg data-mce-fragment=\"1\" style=\"float: none;\" src=\"https:\/\/cdn.shopifycdn.net\/s\/files\/1\/0566\/9483\/3309\/files\/5_0df95680-bea1-4337-9bed-9750ce54a5e3_1024x1024.jpg?v=1649756081\" alt=\"Steering wheel remote support\" data-mce-src=\"https:\/\/cdn.shopifycdn.net\/s\/files\/1\/0566\/9483\/3309\/files\/5_0df95680-bea1-4337-9bed-9750ce54a5e3_1024x1024.jpg?v=1649756081\"\u003e\u003c\/div\u003e\n\u003cdiv data-mce-fragment=\"1\" style=\"text-align: center;\" data-mce-style=\"text-align: center;\"\u003e\u003c\/div\u003e\n\u003cdiv data-mce-fragment=\"1\" style=\"text-align: center;\" data-mce-style=\"text-align: center;\"\u003e\u003c\/div\u003e\n\u003cdiv data-mce-fragment=\"1\" style=\"text-align: center;\" data-mce-style=\"text-align: center;\"\u003e\u003c\/div\u003e\n\u003cdiv data-mce-fragment=\"1\" style=\"text-align: center;\" data-mce-style=\"text-align: center;\"\u003e\u003c\/div\u003e\n\u003cdiv data-mce-fragment=\"1\" style=\"text-align: center;\" data-mce-style=\"text-align: center;\"\u003e\u003c\/div\u003e\n\u003cdiv data-mce-fragment=\"1\" style=\"text-align: center;\" data-mce-style=\"text-align: center;\"\u003e\u003cbr\u003e\u003c\/div\u003e\n\u003cdiv data-mce-fragment=\"1\" style=\"text-align: center;\" data-mce-style=\"text-align: center;\"\u003eMultimedia Systems, make your journey more relaxed\u003cbr\u003e\n\u003c\/div\u003e\n\u003cdiv data-mce-fragment=\"1\" style=\"text-align: center;\" data-mce-style=\"text-align: center;\"\u003e\u003c\/div\u003e\n\u003cdiv data-mce-fragment=\"1\" style=\"text-align: center;\" data-mce-style=\"text-align: center;\"\u003e\u003cimg data-mce-fragment=\"1\" style=\"float: none;\" src=\"https:\/\/cdn.shopifycdn.net\/s\/files\/1\/0566\/9483\/3309\/files\/6_06cd7a40-4efb-45d5-acd6-a5ec4ea8e9c1_1024x1024.jpg?v=1649756095\" alt=\"Multimedia System\" data-mce-src=\"https:\/\/cdn.shopifycdn.net\/s\/files\/1\/0566\/9483\/3309\/files\/6_06cd7a40-4efb-45d5-acd6-a5ec4ea8e9c1_1024x1024.jpg?v=1649756095\"\u003e\u003c\/div\u003e\n\u003cdiv data-mce-fragment=\"1\" style=\"text-align: center;\" data-mce-style=\"text-align: center;\"\u003e\u003c\/div\u003e\n\u003cdiv data-mce-fragment=\"1\" style=\"text-align: center;\" data-mce-style=\"text-align: center;\"\u003e\u003c\/div\u003e\n\u003cdiv data-mce-fragment=\"1\" style=\"text-align: center;\" data-mce-style=\"text-align: center;\"\u003e\u003c\/div\u003e\n\u003cdiv data-mce-fragment=\"1\" style=\"text-align: center;\" data-mce-style=\"text-align: center;\"\u003e\u003c\/div\u003e\n\u003cdiv data-mce-fragment=\"1\" style=\"text-align: center;\" data-mce-style=\"text-align: center;\"\u003e\u003cbr\u003e\u003c\/div\u003e\n\u003cdiv data-mce-fragment=\"1\" style=\"text-align: center;\" data-mce-style=\"text-align: center;\"\u003e\u003c\/div\u003e\n\u003cdiv data-mce-fragment=\"1\" style=\"text-align: center;\" data-mce-style=\"text-align: center;\"\u003eReversing camera connection,  make you safer\u003cbr\u003e\n\u003c\/div\u003e\n\u003cdiv data-mce-fragment=\"1\" style=\"text-align: center;\" data-mce-style=\"text-align: center;\"\u003e\u003cimg data-mce-fragment=\"1\" style=\"float: none;\" src=\"https:\/\/cdn.shopifycdn.net\/s\/files\/1\/0566\/9483\/3309\/files\/7.1_1024x1024.jpg?v=1649756112\" alt=\"Reversing camera connection\" data-mce-src=\"https:\/\/cdn.shopifycdn.net\/s\/files\/1\/0566\/9483\/3309\/files\/7.1_1024x1024.jpg?v=1649756112\"\u003e\u003c\/div\u003e\n\u003cdiv data-mce-fragment=\"1\" style=\"text-align: center;\" data-mce-style=\"text-align: center;\"\u003e\u003c\/div\u003e\n\u003cdiv data-mce-fragment=\"1\" style=\"text-align: center;\" data-mce-style=\"text-align: center;\"\u003e\u003c\/div\u003e\n\u003cdiv data-mce-fragment=\"1\" style=\"text-align: center;\" data-mce-style=\"text-align: center;\"\u003e\u003cbr\u003e\u003c\/div\u003e\n\u003cdiv data-mce-fragment=\"1\" style=\"text-align: center;\" data-mce-style=\"text-align: center;\"\u003e\u003c\/div\u003e\n\u003cdiv data-mce-fragment=\"1\" style=\"text-align: center;\" data-mce-style=\"text-align: center;\"\u003e\u003c\/div\u003e\n\u003cdiv data-mce-fragment=\"1\" style=\"text-align: center;\" data-mce-style=\"text-align: center;\"\u003e\u003c\/div\u003e\n\u003cdiv data-mce-fragment=\"1\" style=\"text-align: center;\" data-mce-style=\"text-align: center;\"\u003eFast charging, make you more convenient\u003c\/div\u003e\n\u003cdiv data-mce-fragment=\"1\" style=\"text-align: center;\" data-mce-style=\"text-align: center;\"\u003e\u003cimg data-mce-fragment=\"1\" style=\"float: none;\" src=\"https:\/\/cdn.shopifycdn.net\/s\/files\/1\/0566\/9483\/3309\/files\/8_bfcbf69c-0bd9-4352-b884-71281b098af0_1024x1024.jpg?v=1649756131\" alt=\"fast charging\" data-mce-src=\"https:\/\/cdn.shopifycdn.net\/s\/files\/1\/0566\/9483\/3309\/files\/8_bfcbf69c-0bd9-4352-b884-71281b098af0_1024x1024.jpg?v=1649756131\"\u003e\u003c\/div\u003e\n\u003cdiv data-mce-fragment=\"1\" style=\"text-align: center;\" data-mce-style=\"text-align: center;\"\u003e\u003c\/div\u003e\n\u003cdiv data-mce-fragment=\"1\" style=\"text-align: center;\" data-mce-style=\"text-align: center;\"\u003e\u003c\/div\u003e\n\u003cdiv data-mce-fragment=\"1\" style=\"text-align: center;\" data-mce-style=\"text-align: center;\"\u003e\u003c\/div\u003e\n\u003cdiv data-mce-fragment=\"1\" style=\"text-align: center;\" data-mce-style=\"text-align: center;\"\u003e\u003c\/div\u003e\n\u003cdiv data-mce-fragment=\"1\" style=\"text-align: center;\" data-mce-style=\"text-align: center;\"\u003e\u003c\/div\u003e\n\u003cdiv data-mce-fragment=\"1\" style=\"text-align: center;\" data-mce-style=\"text-align: center;\"\u003e\u003cbr\u003e\u003c\/div\u003e\n\u003cdiv data-mce-fragment=\"1\" style=\"text-align: center;\" data-mce-style=\"text-align: center;\"\u003e7 light colors can be freely adjusted to make you shine brighter in the dark\u003cbr\u003e\n\u003c\/div\u003e\n\u003cdiv data-mce-fragment=\"1\" style=\"text-align: center;\" data-mce-style=\"text-align: center;\"\u003e\n\u003cimg data-mce-fragment=\"1\" style=\"float: none;\" src=\"https:\/\/cdn.shopifycdn.net\/s\/files\/1\/0566\/9483\/3309\/files\/9_a3840f19-8e57-467f-955c-20cb26684af6_1024x1024.jpg?v=1649756335\" alt=\"7 lighting colors freely adjustable\" data-mce-src=\"https:\/\/cdn.shopifycdn.net\/s\/files\/1\/0566\/9483\/3309\/files\/9_a3840f19-8e57-467f-955c-20cb26684af6_1024x1024.jpg?v=1649756335\"\u003e\u003cimg data-mce-fragment=\"1\" style=\"float: none;\" src=\"https:\/\/cdn.shopifycdn.net\/s\/files\/1\/0566\/9483\/3309\/files\/10_a6188966-4ea6-4b4c-8327-8c8644205d55_1024x1024.jpg?v=1649756374\" alt=\"Detail image\" data-mce-src=\"https:\/\/cdn.shopifycdn.net\/s\/files\/1\/0566\/9483\/3309\/files\/10_a6188966-4ea6-4b4c-8327-8c8644205d55_1024x1024.jpg?v=1649756374\"\u003e\u003cimg data-mce-fragment=\"1\" src=\"https:\/\/cdn.shopifycdn.net\/s\/files\/1\/0566\/9483\/3309\/files\/11.1_1024x1024.jpg?v=1649756390\" alt=\"\" data-mce-src=\"https:\/\/cdn.shopifycdn.net\/s\/files\/1\/0566\/9483\/3309\/files\/11.1_1024x1024.jpg?v=1649756390\"\u003e\u003cimg data-mce-fragment=\"1\" src=\"https:\/\/cdn.shopifycdn.net\/s\/files\/1\/0566\/9483\/3309\/files\/12_433c854e-b4c4-4c13-80b1-db4d3424351f_1024x1024.jpg?v=1649756420\" alt=\"\" data-mce-src=\"https:\/\/cdn.shopifycdn.net\/s\/files\/1\/0566\/9483\/3309\/files\/12_433c854e-b4c4-4c13-80b1-db4d3424351f_1024x1024.jpg?v=1649756420\"\u003e\u003cbr\u003e\n\u003c\/div\u003e\n\u003cdiv data-mce-fragment=\"1\" style=\"text-align: center;\" data-mce-style=\"text-align: center;\"\u003e\u003c\/div\u003e\n\u003cdiv data-mce-fragment=\"1\" style=\"text-align: center;\" data-mce-style=\"text-align: center;\"\u003e\u003c\/div\u003e\n\u003cp data-mce-fragment=\"1\" style=\"text-align: center;\" data-mce-style=\"text-align: center;\"\u003e\u003cbr\u003e\u003c\/p\u003e\n\u003cp data-mce-fragment=\"1\" style=\"text-align: left;\" data-mce-style=\"text-align: center;\"\u003eWith a 3.8-inch IPS 2.5D capacitive touch screen, the ESSGOO MP5 player for cars can support multiple audio formats, including WMA\/MP3\/WAV\/OGG\/APE. It has USB and TF card slots to meet your music-playing needs. Furthermore, it supports freehand calling and BT music, which allows you to answer while driving or playing music lists at your own pace. In addition, it contains all the functions of an ordinary car stereo: steering wheel control function, clock function, mute function, EQ setting, 4 speaker balance adjustment, rearview camera input function (with camera), real subwoofer output, and a variety of sockets to adapt to a variety of scenarios.\u003c\/p\u003e\n\u003cp data-mce-fragment=\"1\" style=\"text-align: left;\" data-mce-style=\"text-align: center;\"\u003e \u003c\/p\u003e\n\u003ch2 data-mce-fragment=\"1\" style=\"text-align: left;\" data-mce-style=\"text-align: center;\"\u003eIn-vehicle entertainment solutions\u003c\/h2\u003e\n\u003cp data-mce-fragment=\"1\" style=\"text-align: left;\" data-mce-style=\"text-align: center;\"\u003eDo you want to enjoy a more realistic video experience?\u003cbr\u003eAre you tired of using old MP3 and MP4 players?\u003cbr\u003e\u003cbr\u003e\u003cstrong\u003eSolution:\u003c\/strong\u003e Our items are exclusively designed and produced to meet the needs of customers, with a dedicated design, strong compatibility, good sound quality, and a wide range of functions. \u003c\/p\u003e\n\u003cp data-mce-fragment=\"1\" style=\"text-align: left;\" data-mce-style=\"text-align: center;\"\u003eFor more: Easy installation, plug, and play!\u003c\/p\u003e\n\u003cp data-mce-fragment=\"1\" style=\"text-align: left;\" data-mce-style=\"text-align: center;\"\u003e \u003c\/p\u003e\n\u003ch2 data-mce-fragment=\"1\" style=\"text-align: left;\" data-mce-style=\"text-align: center;\"\u003eProduct Details Parameters\u003c\/h2\u003e\n\u003cp data-mce-fragment=\"1\" style=\"text-align: left;\" data-mce-style=\"text-align: center;\"\u003e1. 3.8-inch \u003cstrong\u003eIPS\u003c\/strong\u003e 2.5D Capacitive \u003cstrong\u003etouch screen\u003c\/strong\u003e \u003cbr\u003e2. 7 color button back light \u003cbr\u003e3. \u003cstrong\u003eTP-C\u003c\/strong\u003e function\u003cbr\u003e4. 2.5D Curved Glass\u003c\/p\u003e\n\u003cp data-mce-fragment=\"1\" style=\"text-align: left;\" data-mce-style=\"text-align: center;\"\u003e3. Support the Audio playback format of MP3\/WMA\/WAV\/FLAC\/APP etc\u003cbr\u003e4. Support the Video playback format of RMVB\/RM\/VOB\/MP4\/MOV\/AVI \/3GP etc\u003c\/p\u003e\n\u003cp data-mce-fragment=\"1\" style=\"text-align: left;\" data-mce-style=\"text-align: center;\"\u003e5. With Front USB2.0 port and TF card slot\u003cbr\u003e6. BT function, free hand call, and BT music\u003c\/p\u003e\n\u003cp data-mce-fragment=\"1\" style=\"text-align: left;\" data-mce-style=\"text-align: center;\"\u003e7.MOSFET Amplifier: \u003cstrong\u003e50Watts x 4\u003c\/strong\u003e max power output\u003c\/p\u003e\n\u003cp data-mce-fragment=\"1\" style=\"text-align: left;\" data-mce-style=\"text-align: center;\"\u003e8. FM range:\u003c\/p\u003e\n\u003cp data-mce-fragment=\"1\" style=\"text-align: left;\" data-mce-style=\"text-align: center;\"\u003e87.5~108.0MHz(EU)\u003cbr\u003e 87.5~107.9MHz(USA)\u003cbr\u003e 65.0~74.0MHz(RU)\u003cbr\u003e 76.0~90.0MHz(JP)\u003c\/p\u003e\n\u003cp data-mce-fragment=\"1\" style=\"text-align: left;\" data-mce-style=\"text-align: center;\"\u003e9. Full IR remote control\u003cbr\u003e10. Power off with auto-memory store function under radio or TF\/USB mode\u003cbr\u003e11. Clock function \u003cbr\u003e12. Mute function\u003c\/p\u003e\n\u003cp data-mce-fragment=\"1\" style=\"text-align: left;\" data-mce-style=\"text-align: center;\"\u003e13. EQ Setting\/4 Speaker Balance Adjust\u003c\/p\u003e\n\u003cp data-mce-fragment=\"1\" style=\"text-align: left;\" data-mce-style=\"text-align: center;\"\u003e14. Front AUX in function\u003cbr\u003e15. One-way Video output function \u003cbr\u003e16. Two RCA audio output function\u003cbr\u003e17. One-way video input function\u003c\/p\u003e\n\u003cp data-mce-fragment=\"1\" style=\"text-align: left;\" data-mce-style=\"text-align: center;\"\u003e18. Rear View Camera input function \u003cstrong\u003e(with camera)\u003c\/strong\u003e\u003c\/p\u003e\n\u003cp data-mce-fragment=\"1\" style=\"text-align: left;\" data-mce-style=\"text-align: center;\"\u003e19. Rear Microphone Input\u003c\/p\u003e\n\u003cp data-mce-fragment=\"1\" style=\"text-align: left;\" data-mce-style=\"text-align: center;\"\u003e20. Real \u003cstrong\u003eSubwoofer Output\u003c\/strong\u003e\u003cbr\u003e\u003c\/p\u003e\n\u003cp data-mce-fragment=\"1\" style=\"text-align: left;\" data-mce-style=\"text-align: center;\"\u003e21. Steering wheel control function\u003cbr\u003e22. \u003cstrong\u003eSteering wheel control\u003c\/strong\u003e remote\u003c\/p\u003e\n\u003cp data-mce-fragment=\"1\" style=\"text-align: left;\" data-mce-style=\"text-align: center;\"\u003e23.ISO Power Socket \u003cstrong\u003e(Plug and Play)\u003c\/strong\u003e\u003c\/p\u003e\n\u003cp data-mce-fragment=\"1\" style=\"text-align: left;\" data-mce-style=\"text-align: center;\"\u003e24. TWO USB PORT (one plays music, one supports phone \u003cstrong\u003efast charge\u003c\/strong\u003e)\u003c\/p\u003e\n\u003cp data-mce-fragment=\"1\" style=\"text-align: left;\" data-mce-style=\"text-align: center;\"\u003e21. OSD language:\u003cbr\u003eSpanish, Portuguese, Russian, Italian, German, French, Polish, Turkish, Czech, Traditional Chinese, Hungary, Japan, English, Chinese\u003c\/p\u003e","published_at":"2022-04-12T18:32:18+08:00","created_at":"2022-04-12T18:31:38+08:00","vendor":"ESSGOO","type":"Motor Vehicle A\/V Players \u0026 In-Dash Systems","tags":["fighter exterior"],"price":5700,"price_min":5700,"price_max":5700,"available":true,"price_varies":false,"compare_at_price":null,"compare_at_price_min":0,"compare_at_price_max":0,"compare_at_price_varies":false,"variants":[{"id":42211614097565,"title":"Default Title","option1":"Default Title","option2":null,"option3":null,"sku":"","requires_shipping":true,"taxable":true,"featured_image":null,"available":true,"name":"ESSGOO 1 Din 4.1'' Car Radio Audio Stereo MP5 Player With Bluetooth Music Movie","public_title":null,"options":["Default Title"],"price":5700,"weight":0,"compare_at_price":null,"inventory_management":"shopify","barcode":"","requires_selling_plan":false,"selling_plan_allocations":[]}],"images":["\/\/essgoo.com\/cdn\/shop\/products\/6391ace427ade714b70fb966024ae804.jpg?v=1650943995"],"featured_image":"\/\/essgoo.com\/cdn\/shop\/products\/6391ace427ade714b70fb966024ae804.jpg?v=1650943995","options":["Title"],"media":[{"alt":"ESSGOO 1 Din 4.1'' Car Radio Audio Stereo MP5 Player With Bluetooth Music Movie - | TRANSFORM, STARTS HERE | Easy . Economic . Energetic","id":24848674357405,"position":1,"preview_image":{"aspect_ratio":1.0,"height":1000,"width":1000,"src":"\/\/essgoo.com\/cdn\/shop\/products\/6391ace427ade714b70fb966024ae804.jpg?v=1650943995"},"aspect_ratio":1.0,"height":1000,"media_type":"image","src":"\/\/essgoo.com\/cdn\/shop\/products\/6391ace427ade714b70fb966024ae804.jpg?v=1650943995","width":1000}],"requires_selling_plan":false,"selling_plan_groups":[],"content":"\u003ch2 data-mce-fragment=\"1\" style=\"text-align: center;\" data-mce-style=\"text-align: center;\"\u003e1 Din 4.1\" Car RadioAudio Stereo MP5 Player With Bluetooth Music\u003c\/h2\u003e\n\u003cdiv data-mce-fragment=\"1\" style=\"text-align: center;\" data-mce-style=\"text-align: center;\"\u003e\u003cimg data-mce-fragment=\"1\" src=\"https:\/\/cdn.shopifycdn.net\/s\/files\/1\/0566\/9483\/3309\/files\/1_1d78ddf8-d8c6-4435-ba10-c700d7a0c6cf_1024x1024.jpg?v=1649756013\" alt=\"Autoradio 1 DIN\" style=\"float: none;\" data-mce-style=\"float: none;\" data-mce-src=\"https:\/\/cdn.shopifycdn.net\/s\/files\/1\/0566\/9483\/3309\/files\/1_1d78ddf8-d8c6-4435-ba10-c700d7a0c6cf_1024x1024.jpg?v=1649756013\"\u003e\u003c\/div\u003e\n\u003cdiv data-mce-fragment=\"1\" style=\"text-align: center;\" data-mce-style=\"text-align: center;\"\u003e\u003c\/div\u003e\n\u003cdiv data-mce-fragment=\"1\" style=\"text-align: center;\" data-mce-style=\"text-align: center;\"\u003e\u003cbr\u003e\u003c\/div\u003e\n\u003cdiv data-mce-fragment=\"1\" style=\"text-align: center;\" data-mce-style=\"text-align: center;\"\u003e\u003cbr\u003e\u003c\/div\u003e\n\u003cdiv data-mce-fragment=\"1\" style=\"text-align: center;\" data-mce-style=\"text-align: center;\"\u003e\u003c\/div\u003e\n\u003cdiv data-mce-fragment=\"1\" style=\"text-align: center;\" data-mce-style=\"text-align: center;\"\u003e\u003c\/div\u003e\n\u003cdiv data-mce-fragment=\"1\" style=\"text-align: center;\" data-mce-style=\"text-align: center;\"\u003eHands-free calling and music playback, listen to music stored on your phone or MP3 player through your car speakers. No copying of files, no cables.\u003c\/div\u003e\n\u003cdiv data-mce-fragment=\"1\" style=\"text-align: center;\" data-mce-style=\"text-align: center;\"\u003e\n\u003cimg data-mce-fragment=\"1\" style=\"float: none;\" src=\"https:\/\/cdn.shopifycdn.net\/s\/files\/1\/0566\/9483\/3309\/files\/2_0595906a-e05b-49ac-b038-0288cd681ccf_1024x1024.jpg?v=1649756041\" alt=\"Hands-free calling and music playback\" data-mce-src=\"https:\/\/cdn.shopifycdn.net\/s\/files\/1\/0566\/9483\/3309\/files\/2_0595906a-e05b-49ac-b038-0288cd681ccf_1024x1024.jpg?v=1649756041\"\u003e\u003cimg data-mce-fragment=\"1\" style=\"float: none;\" src=\"https:\/\/cdn.shopifycdn.net\/s\/files\/1\/0566\/9483\/3309\/files\/3_96b63f39-ca41-4da6-9755-c7491beb48af_1024x1024.jpg?v=1649756055\" alt=\"Hinteres Mikrofon \u0026amp; Subwoofer-Interface\" data-mce-src=\"https:\/\/cdn.shopifycdn.net\/s\/files\/1\/0566\/9483\/3309\/files\/3_96b63f39-ca41-4da6-9755-c7491beb48af_1024x1024.jpg?v=1649756055\"\u003e\u003cimg data-mce-fragment=\"1\" style=\"float: none;\" src=\"https:\/\/cdn.shopifycdn.net\/s\/files\/1\/0566\/9483\/3309\/files\/4_c7403ad2-f491-434c-b965-73f6461433a5_1024x1024.jpg?v=1649756068\" alt=\"FM Radio\" data-mce-src=\"https:\/\/cdn.shopifycdn.net\/s\/files\/1\/0566\/9483\/3309\/files\/4_c7403ad2-f491-434c-b965-73f6461433a5_1024x1024.jpg?v=1649756068\"\u003e\n\u003c\/div\u003e\n\u003cdiv data-mce-fragment=\"1\" style=\"text-align: center;\" data-mce-style=\"text-align: center;\"\u003e\u003c\/div\u003e\n\u003cdiv data-mce-fragment=\"1\" style=\"text-align: center;\" data-mce-style=\"text-align: center;\"\u003e\u003cbr\u003e\u003c\/div\u003e\n\u003cdiv data-mce-fragment=\"1\" style=\"text-align: center;\" data-mce-style=\"text-align: center;\"\u003eSteering wheel remote support, directly on ISO cable\u003c\/div\u003e\n\u003cdiv data-mce-fragment=\"1\" style=\"text-align: center;\" data-mce-style=\"text-align: center;\"\u003e\u003cimg data-mce-fragment=\"1\" style=\"float: none;\" src=\"https:\/\/cdn.shopifycdn.net\/s\/files\/1\/0566\/9483\/3309\/files\/5_0df95680-bea1-4337-9bed-9750ce54a5e3_1024x1024.jpg?v=1649756081\" alt=\"Steering wheel remote support\" data-mce-src=\"https:\/\/cdn.shopifycdn.net\/s\/files\/1\/0566\/9483\/3309\/files\/5_0df95680-bea1-4337-9bed-9750ce54a5e3_1024x1024.jpg?v=1649756081\"\u003e\u003c\/div\u003e\n\u003cdiv data-mce-fragment=\"1\" style=\"text-align: center;\" data-mce-style=\"text-align: center;\"\u003e\u003c\/div\u003e\n\u003cdiv data-mce-fragment=\"1\" style=\"text-align: center;\" data-mce-style=\"text-align: center;\"\u003e\u003c\/div\u003e\n\u003cdiv data-mce-fragment=\"1\" style=\"text-align: center;\" data-mce-style=\"text-align: center;\"\u003e\u003c\/div\u003e\n\u003cdiv data-mce-fragment=\"1\" style=\"text-align: center;\" data-mce-style=\"text-align: center;\"\u003e\u003c\/div\u003e\n\u003cdiv data-mce-fragment=\"1\" style=\"text-align: center;\" data-mce-style=\"text-align: center;\"\u003e\u003c\/div\u003e\n\u003cdiv data-mce-fragment=\"1\" style=\"text-align: center;\" data-mce-style=\"text-align: center;\"\u003e\u003cbr\u003e\u003c\/div\u003e\n\u003cdiv data-mce-fragment=\"1\" style=\"text-align: center;\" data-mce-style=\"text-align: center;\"\u003eMultimedia Systems, make your journey more relaxed\u003cbr\u003e\n\u003c\/div\u003e\n\u003cdiv data-mce-fragment=\"1\" style=\"text-align: center;\" data-mce-style=\"text-align: center;\"\u003e\u003c\/div\u003e\n\u003cdiv data-mce-fragment=\"1\" style=\"text-align: center;\" data-mce-style=\"text-align: center;\"\u003e\u003cimg data-mce-fragment=\"1\" style=\"float: none;\" src=\"https:\/\/cdn.shopifycdn.net\/s\/files\/1\/0566\/9483\/3309\/files\/6_06cd7a40-4efb-45d5-acd6-a5ec4ea8e9c1_1024x1024.jpg?v=1649756095\" alt=\"Multimedia System\" data-mce-src=\"https:\/\/cdn.shopifycdn.net\/s\/files\/1\/0566\/9483\/3309\/files\/6_06cd7a40-4efb-45d5-acd6-a5ec4ea8e9c1_1024x1024.jpg?v=1649756095\"\u003e\u003c\/div\u003e\n\u003cdiv data-mce-fragment=\"1\" style=\"text-align: center;\" data-mce-style=\"text-align: center;\"\u003e\u003c\/div\u003e\n\u003cdiv data-mce-fragment=\"1\" style=\"text-align: center;\" data-mce-style=\"text-align: center;\"\u003e\u003c\/div\u003e\n\u003cdiv data-mce-fragment=\"1\" style=\"text-align: center;\" data-mce-style=\"text-align: center;\"\u003e\u003c\/div\u003e\n\u003cdiv data-mce-fragment=\"1\" style=\"text-align: center;\" data-mce-style=\"text-align: center;\"\u003e\u003c\/div\u003e\n\u003cdiv data-mce-fragment=\"1\" style=\"text-align: center;\" data-mce-style=\"text-align: center;\"\u003e\u003cbr\u003e\u003c\/div\u003e\n\u003cdiv data-mce-fragment=\"1\" style=\"text-align: center;\" data-mce-style=\"text-align: center;\"\u003e\u003c\/div\u003e\n\u003cdiv data-mce-fragment=\"1\" style=\"text-align: center;\" data-mce-style=\"text-align: center;\"\u003eReversing camera connection,  make you safer\u003cbr\u003e\n\u003c\/div\u003e\n\u003cdiv data-mce-fragment=\"1\" style=\"text-align: center;\" data-mce-style=\"text-align: center;\"\u003e\u003cimg data-mce-fragment=\"1\" style=\"float: none;\" src=\"https:\/\/cdn.shopifycdn.net\/s\/files\/1\/0566\/9483\/3309\/files\/7.1_1024x1024.jpg?v=1649756112\" alt=\"Reversing camera connection\" data-mce-src=\"https:\/\/cdn.shopifycdn.net\/s\/files\/1\/0566\/9483\/3309\/files\/7.1_1024x1024.jpg?v=1649756112\"\u003e\u003c\/div\u003e\n\u003cdiv data-mce-fragment=\"1\" style=\"text-align: center;\" data-mce-style=\"text-align: center;\"\u003e\u003c\/div\u003e\n\u003cdiv data-mce-fragment=\"1\" style=\"text-align: center;\" data-mce-style=\"text-align: center;\"\u003e\u003c\/div\u003e\n\u003cdiv data-mce-fragment=\"1\" style=\"text-align: center;\" data-mce-style=\"text-align: center;\"\u003e\u003cbr\u003e\u003c\/div\u003e\n\u003cdiv data-mce-fragment=\"1\" style=\"text-align: center;\" data-mce-style=\"text-align: center;\"\u003e\u003c\/div\u003e\n\u003cdiv data-mce-fragment=\"1\" style=\"text-align: center;\" data-mce-style=\"text-align: center;\"\u003e\u003c\/div\u003e\n\u003cdiv data-mce-fragment=\"1\" style=\"text-align: center;\" data-mce-style=\"text-align: center;\"\u003e\u003c\/div\u003e\n\u003cdiv data-mce-fragment=\"1\" style=\"text-align: center;\" data-mce-style=\"text-align: center;\"\u003eFast charging, make you more convenient\u003c\/div\u003e\n\u003cdiv data-mce-fragment=\"1\" style=\"text-align: center;\" data-mce-style=\"text-align: center;\"\u003e\u003cimg data-mce-fragment=\"1\" style=\"float: none;\" src=\"https:\/\/cdn.shopifycdn.net\/s\/files\/1\/0566\/9483\/3309\/files\/8_bfcbf69c-0bd9-4352-b884-71281b098af0_1024x1024.jpg?v=1649756131\" alt=\"fast charging\" data-mce-src=\"https:\/\/cdn.shopifycdn.net\/s\/files\/1\/0566\/9483\/3309\/files\/8_bfcbf69c-0bd9-4352-b884-71281b098af0_1024x1024.jpg?v=1649756131\"\u003e\u003c\/div\u003e\n\u003cdiv data-mce-fragment=\"1\" style=\"text-align: center;\" data-mce-style=\"text-align: center;\"\u003e\u003c\/div\u003e\n\u003cdiv data-mce-fragment=\"1\" style=\"text-align: center;\" data-mce-style=\"text-align: center;\"\u003e\u003c\/div\u003e\n\u003cdiv data-mce-fragment=\"1\" style=\"text-align: center;\" data-mce-style=\"text-align: center;\"\u003e\u003c\/div\u003e\n\u003cdiv data-mce-fragment=\"1\" style=\"text-align: center;\" data-mce-style=\"text-align: center;\"\u003e\u003c\/div\u003e\n\u003cdiv data-mce-fragment=\"1\" style=\"text-align: center;\" data-mce-style=\"text-align: center;\"\u003e\u003c\/div\u003e\n\u003cdiv data-mce-fragment=\"1\" style=\"text-align: center;\" data-mce-style=\"text-align: center;\"\u003e\u003cbr\u003e\u003c\/div\u003e\n\u003cdiv data-mce-fragment=\"1\" style=\"text-align: center;\" data-mce-style=\"text-align: center;\"\u003e7 light colors can be freely adjusted to make you shine brighter in the dark\u003cbr\u003e\n\u003c\/div\u003e\n\u003cdiv data-mce-fragment=\"1\" style=\"text-align: center;\" data-mce-style=\"text-align: center;\"\u003e\n\u003cimg data-mce-fragment=\"1\" style=\"float: none;\" src=\"https:\/\/cdn.shopifycdn.net\/s\/files\/1\/0566\/9483\/3309\/files\/9_a3840f19-8e57-467f-955c-20cb26684af6_1024x1024.jpg?v=1649756335\" alt=\"7 lighting colors freely adjustable\" data-mce-src=\"https:\/\/cdn.shopifycdn.net\/s\/files\/1\/0566\/9483\/3309\/files\/9_a3840f19-8e57-467f-955c-20cb26684af6_1024x1024.jpg?v=1649756335\"\u003e\u003cimg data-mce-fragment=\"1\" style=\"float: none;\" src=\"https:\/\/cdn.shopifycdn.net\/s\/files\/1\/0566\/9483\/3309\/files\/10_a6188966-4ea6-4b4c-8327-8c8644205d55_1024x1024.jpg?v=1649756374\" alt=\"Detail image\" data-mce-src=\"https:\/\/cdn.shopifycdn.net\/s\/files\/1\/0566\/9483\/3309\/files\/10_a6188966-4ea6-4b4c-8327-8c8644205d55_1024x1024.jpg?v=1649756374\"\u003e\u003cimg data-mce-fragment=\"1\" src=\"https:\/\/cdn.shopifycdn.net\/s\/files\/1\/0566\/9483\/3309\/files\/11.1_1024x1024.jpg?v=1649756390\" alt=\"\" data-mce-src=\"https:\/\/cdn.shopifycdn.net\/s\/files\/1\/0566\/9483\/3309\/files\/11.1_1024x1024.jpg?v=1649756390\"\u003e\u003cimg data-mce-fragment=\"1\" src=\"https:\/\/cdn.shopifycdn.net\/s\/files\/1\/0566\/9483\/3309\/files\/12_433c854e-b4c4-4c13-80b1-db4d3424351f_1024x1024.jpg?v=1649756420\" alt=\"\" data-mce-src=\"https:\/\/cdn.shopifycdn.net\/s\/files\/1\/0566\/9483\/3309\/files\/12_433c854e-b4c4-4c13-80b1-db4d3424351f_1024x1024.jpg?v=1649756420\"\u003e\u003cbr\u003e\n\u003c\/div\u003e\n\u003cdiv data-mce-fragment=\"1\" style=\"text-align: center;\" data-mce-style=\"text-align: center;\"\u003e\u003c\/div\u003e\n\u003cdiv data-mce-fragment=\"1\" style=\"text-align: center;\" data-mce-style=\"text-align: center;\"\u003e\u003c\/div\u003e\n\u003cp data-mce-fragment=\"1\" style=\"text-align: center;\" data-mce-style=\"text-align: center;\"\u003e\u003cbr\u003e\u003c\/p\u003e\n\u003cp data-mce-fragment=\"1\" style=\"text-align: left;\" data-mce-style=\"text-align: center;\"\u003eWith a 3.8-inch IPS 2.5D capacitive touch screen, the ESSGOO MP5 player for cars can support multiple audio formats, including WMA\/MP3\/WAV\/OGG\/APE. It has USB and TF card slots to meet your music-playing needs. Furthermore, it supports freehand calling and BT music, which allows you to answer while driving or playing music lists at your own pace. In addition, it contains all the functions of an ordinary car stereo: steering wheel control function, clock function, mute function, EQ setting, 4 speaker balance adjustment, rearview camera input function (with camera), real subwoofer output, and a variety of sockets to adapt to a variety of scenarios.\u003c\/p\u003e\n\u003cp data-mce-fragment=\"1\" style=\"text-align: left;\" data-mce-style=\"text-align: center;\"\u003e \u003c\/p\u003e\n\u003ch2 data-mce-fragment=\"1\" style=\"text-align: left;\" data-mce-style=\"text-align: center;\"\u003eIn-vehicle entertainment solutions\u003c\/h2\u003e\n\u003cp data-mce-fragment=\"1\" style=\"text-align: left;\" data-mce-style=\"text-align: center;\"\u003eDo you want to enjoy a more realistic video experience?\u003cbr\u003eAre you tired of using old MP3 and MP4 players?\u003cbr\u003e\u003cbr\u003e\u003cstrong\u003eSolution:\u003c\/strong\u003e Our items are exclusively designed and produced to meet the needs of customers, with a dedicated design, strong compatibility, good sound quality, and a wide range of functions. \u003c\/p\u003e\n\u003cp data-mce-fragment=\"1\" style=\"text-align: left;\" data-mce-style=\"text-align: center;\"\u003eFor more: Easy installation, plug, and play!\u003c\/p\u003e\n\u003cp data-mce-fragment=\"1\" style=\"text-align: left;\" data-mce-style=\"text-align: center;\"\u003e \u003c\/p\u003e\n\u003ch2 data-mce-fragment=\"1\" style=\"text-align: left;\" data-mce-style=\"text-align: center;\"\u003eProduct Details Parameters\u003c\/h2\u003e\n\u003cp data-mce-fragment=\"1\" style=\"text-align: left;\" data-mce-style=\"text-align: center;\"\u003e1. 3.8-inch \u003cstrong\u003eIPS\u003c\/strong\u003e 2.5D Capacitive \u003cstrong\u003etouch screen\u003c\/strong\u003e \u003cbr\u003e2. 7 color button back light \u003cbr\u003e3. \u003cstrong\u003eTP-C\u003c\/strong\u003e function\u003cbr\u003e4. 2.5D Curved Glass\u003c\/p\u003e\n\u003cp data-mce-fragment=\"1\" style=\"text-align: left;\" data-mce-style=\"text-align: center;\"\u003e3. Support the Audio playback format of MP3\/WMA\/WAV\/FLAC\/APP etc\u003cbr\u003e4. Support the Video playback format of RMVB\/RM\/VOB\/MP4\/MOV\/AVI \/3GP etc\u003c\/p\u003e\n\u003cp data-mce-fragment=\"1\" style=\"text-align: left;\" data-mce-style=\"text-align: center;\"\u003e5. With Front USB2.0 port and TF card slot\u003cbr\u003e6. BT function, free hand call, and BT music\u003c\/p\u003e\n\u003cp data-mce-fragment=\"1\" style=\"text-align: left;\" data-mce-style=\"text-align: center;\"\u003e7.MOSFET Amplifier: \u003cstrong\u003e50Watts x 4\u003c\/strong\u003e max power output\u003c\/p\u003e\n\u003cp data-mce-fragment=\"1\" style=\"text-align: left;\" data-mce-style=\"text-align: center;\"\u003e8. FM range:\u003c\/p\u003e\n\u003cp data-mce-fragment=\"1\" style=\"text-align: left;\" data-mce-style=\"text-align: center;\"\u003e87.5~108.0MHz(EU)\u003cbr\u003e 87.5~107.9MHz(USA)\u003cbr\u003e 65.0~74.0MHz(RU)\u003cbr\u003e 76.0~90.0MHz(JP)\u003c\/p\u003e\n\u003cp data-mce-fragment=\"1\" style=\"text-align: left;\" data-mce-style=\"text-align: center;\"\u003e9. Full IR remote control\u003cbr\u003e10. Power off with auto-memory store function under radio or TF\/USB mode\u003cbr\u003e11. Clock function \u003cbr\u003e12. Mute function\u003c\/p\u003e\n\u003cp data-mce-fragment=\"1\" style=\"text-align: left;\" data-mce-style=\"text-align: center;\"\u003e13. EQ Setting\/4 Speaker Balance Adjust\u003c\/p\u003e\n\u003cp data-mce-fragment=\"1\" style=\"text-align: left;\" data-mce-style=\"text-align: center;\"\u003e14. Front AUX in function\u003cbr\u003e15. One-way Video output function \u003cbr\u003e16. Two RCA audio output function\u003cbr\u003e17. One-way video input function\u003c\/p\u003e\n\u003cp data-mce-fragment=\"1\" style=\"text-align: left;\" data-mce-style=\"text-align: center;\"\u003e18. Rear View Camera input function \u003cstrong\u003e(with camera)\u003c\/strong\u003e\u003c\/p\u003e\n\u003cp data-mce-fragment=\"1\" style=\"text-align: left;\" data-mce-style=\"text-align: center;\"\u003e19. Rear Microphone Input\u003c\/p\u003e\n\u003cp data-mce-fragment=\"1\" style=\"text-align: left;\" data-mce-style=\"text-align: center;\"\u003e20. Real \u003cstrong\u003eSubwoofer Output\u003c\/strong\u003e\u003cbr\u003e\u003c\/p\u003e\n\u003cp data-mce-fragment=\"1\" style=\"text-align: left;\" data-mce-style=\"text-align: center;\"\u003e21. Steering wheel control function\u003cbr\u003e22. \u003cstrong\u003eSteering wheel control\u003c\/strong\u003e remote\u003c\/p\u003e\n\u003cp data-mce-fragment=\"1\" style=\"text-align: left;\" data-mce-style=\"text-align: center;\"\u003e23.ISO Power Socket \u003cstrong\u003e(Plug and Play)\u003c\/strong\u003e\u003c\/p\u003e\n\u003cp data-mce-fragment=\"1\" style=\"text-align: left;\" data-mce-style=\"text-align: center;\"\u003e24. TWO USB PORT (one plays music, one supports phone \u003cstrong\u003efast charge\u003c\/strong\u003e)\u003c\/p\u003e\n\u003cp data-mce-fragment=\"1\" style=\"text-align: left;\" data-mce-style=\"text-align: center;\"\u003e21. OSD language:\u003cbr\u003eSpanish, Portuguese, Russian, Italian, German, French, Polish, Turkish, Czech, Traditional Chinese, Hungary, Japan, English, Chinese\u003c\/p\u003e"}
ESSGOO 1 Din 4.1'' Car Radio Audio Stereo MP5 Player With Bluetooth Music Movie
1 Din 4.1" Car RadioAudio Stereo MP5 Player With Bluetooth Music
Hands-free calling and music playback, listen to music stored on your phone or MP3 player through your car speakers. No copying of files, no cables.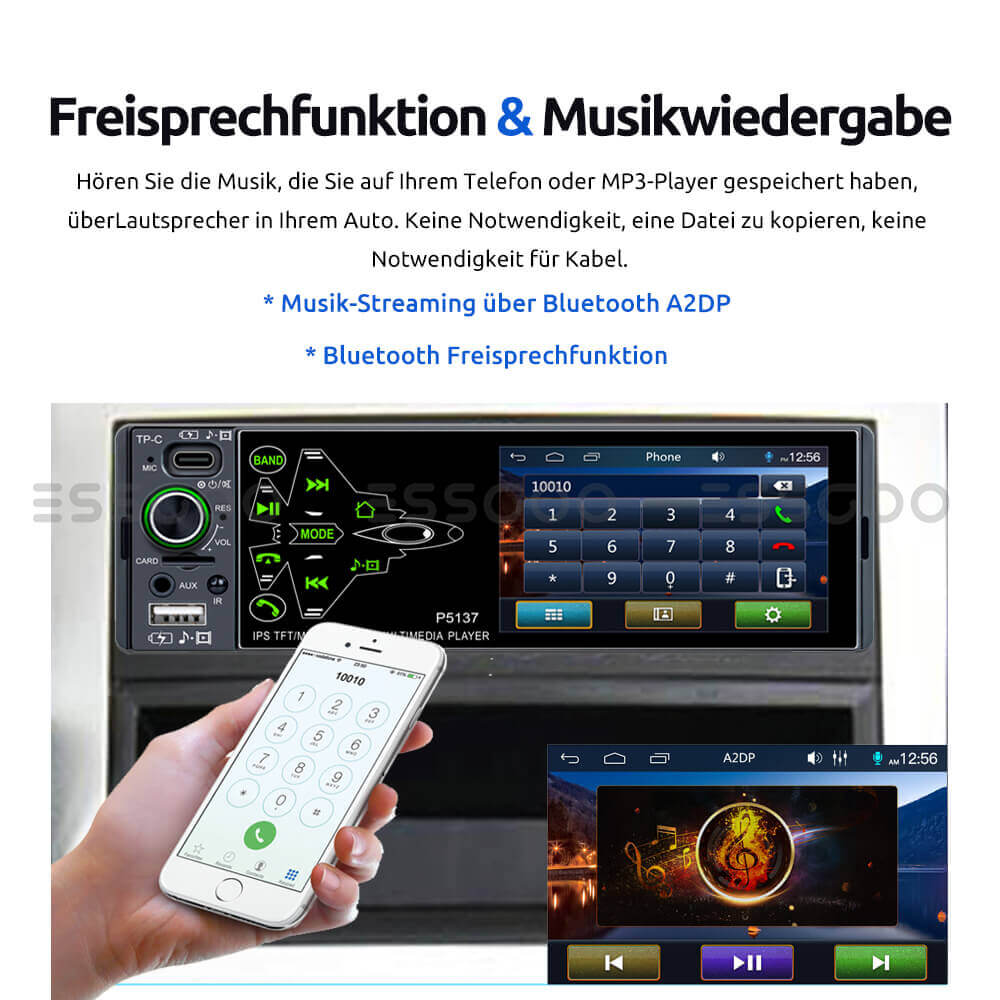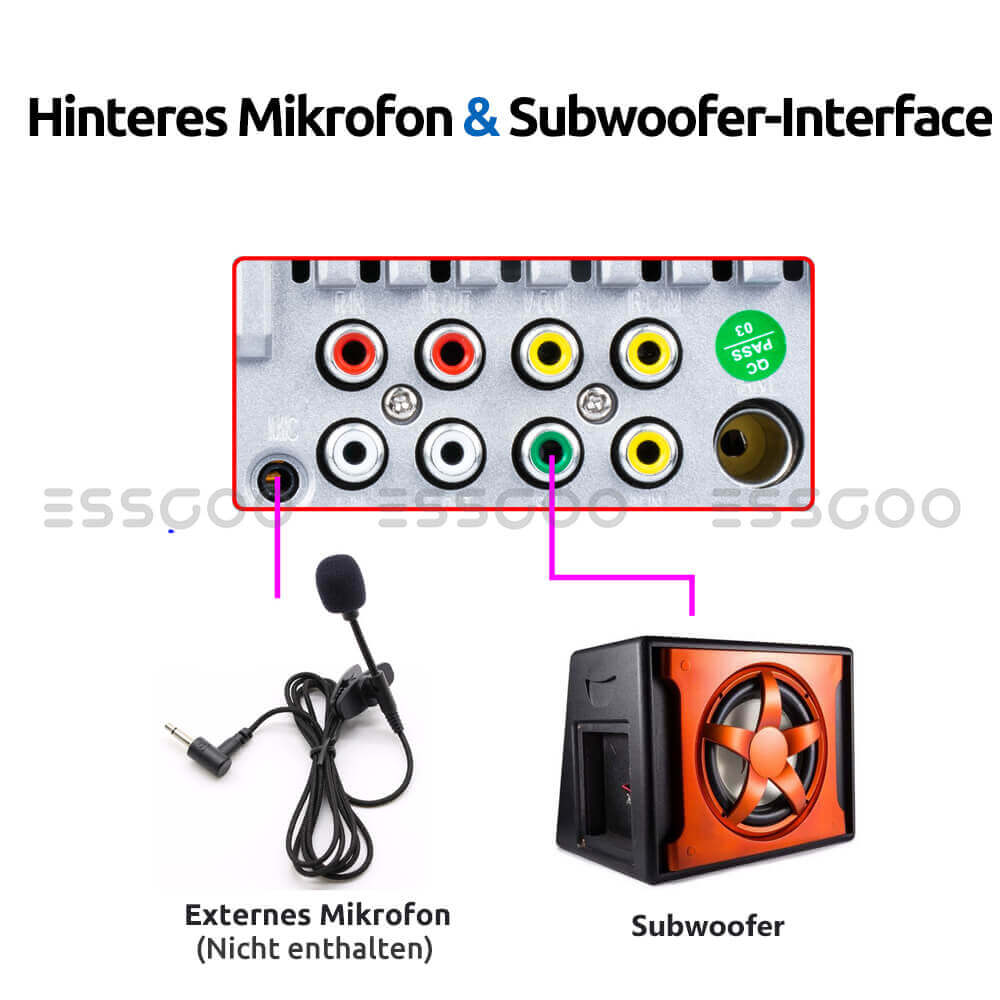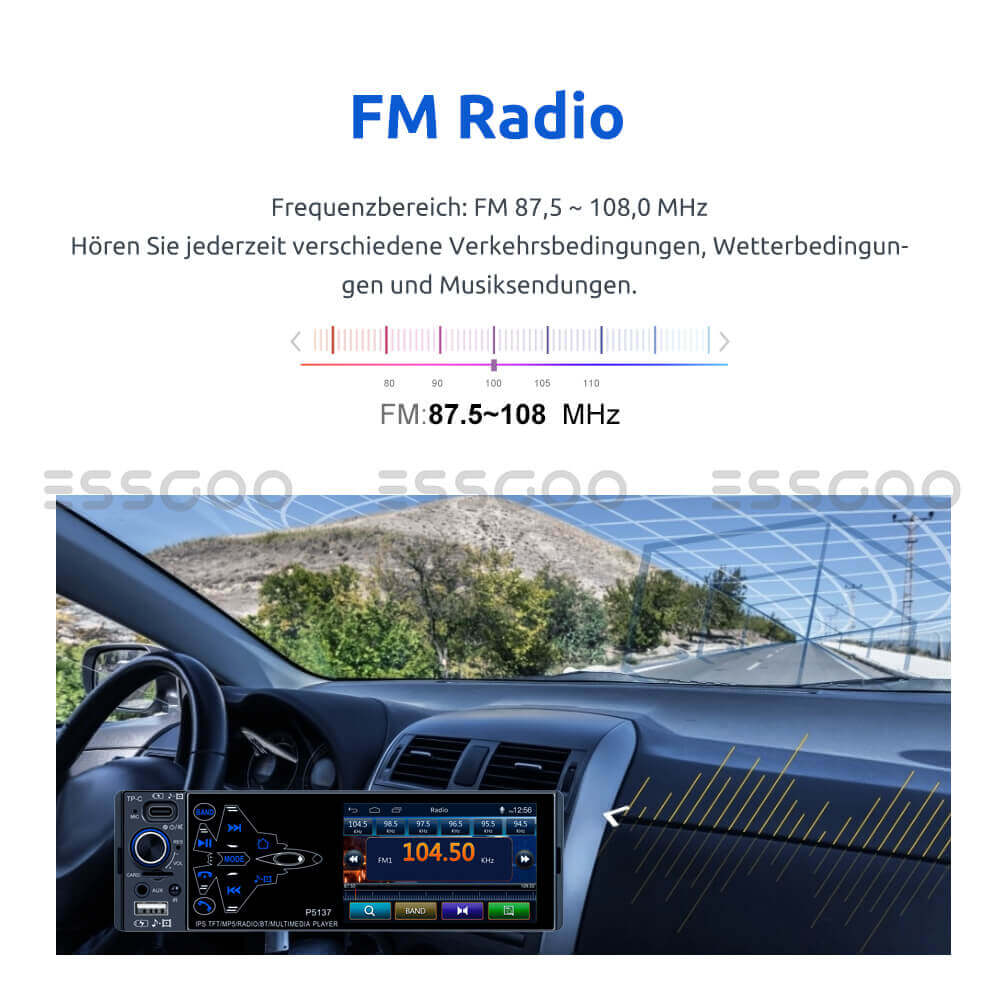 Steering wheel remote support, directly on ISO cable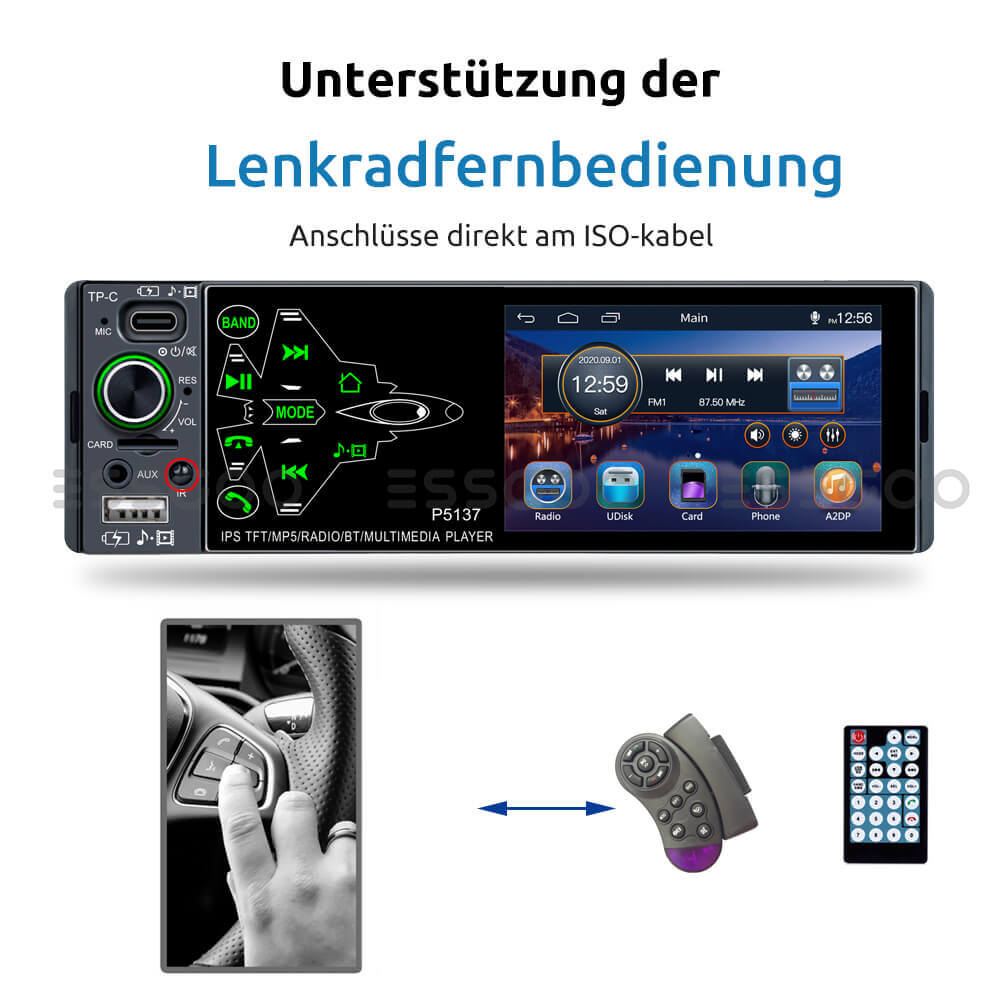 Multimedia Systems, make your journey more relaxed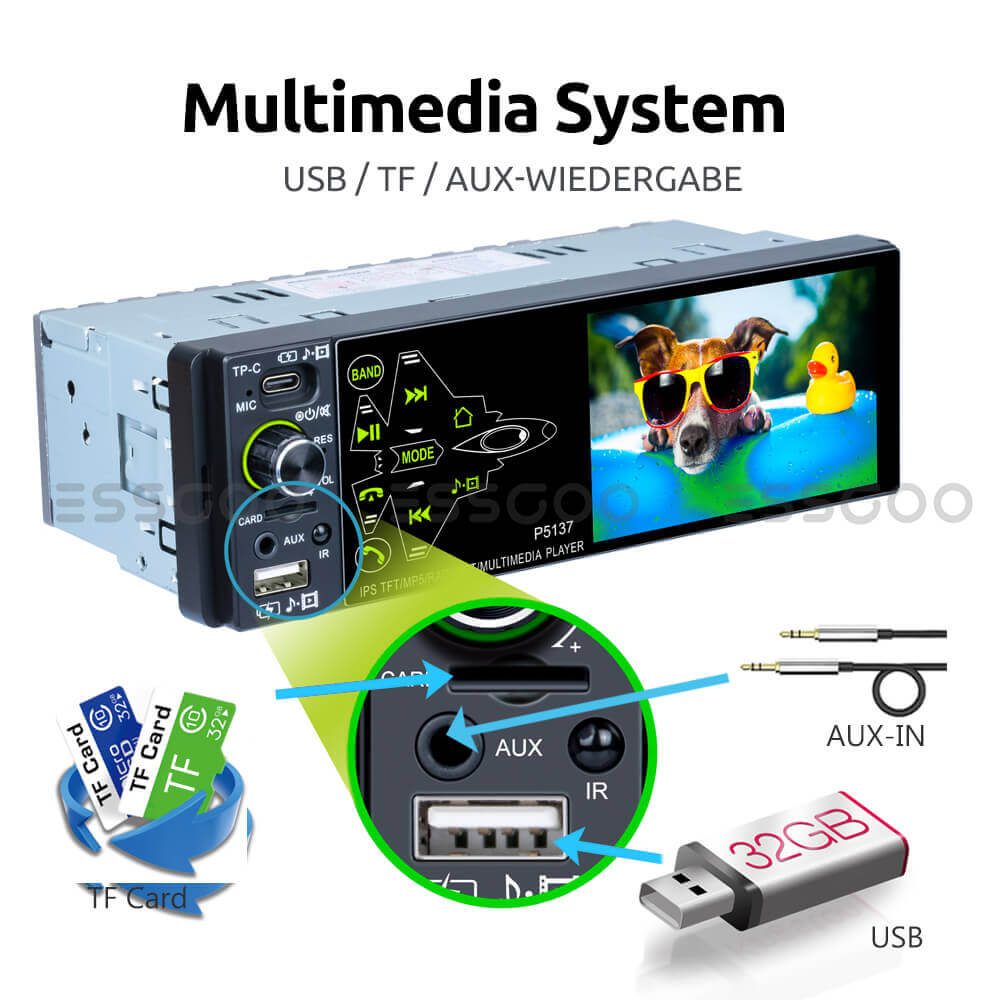 Reversing camera connection,  make you safer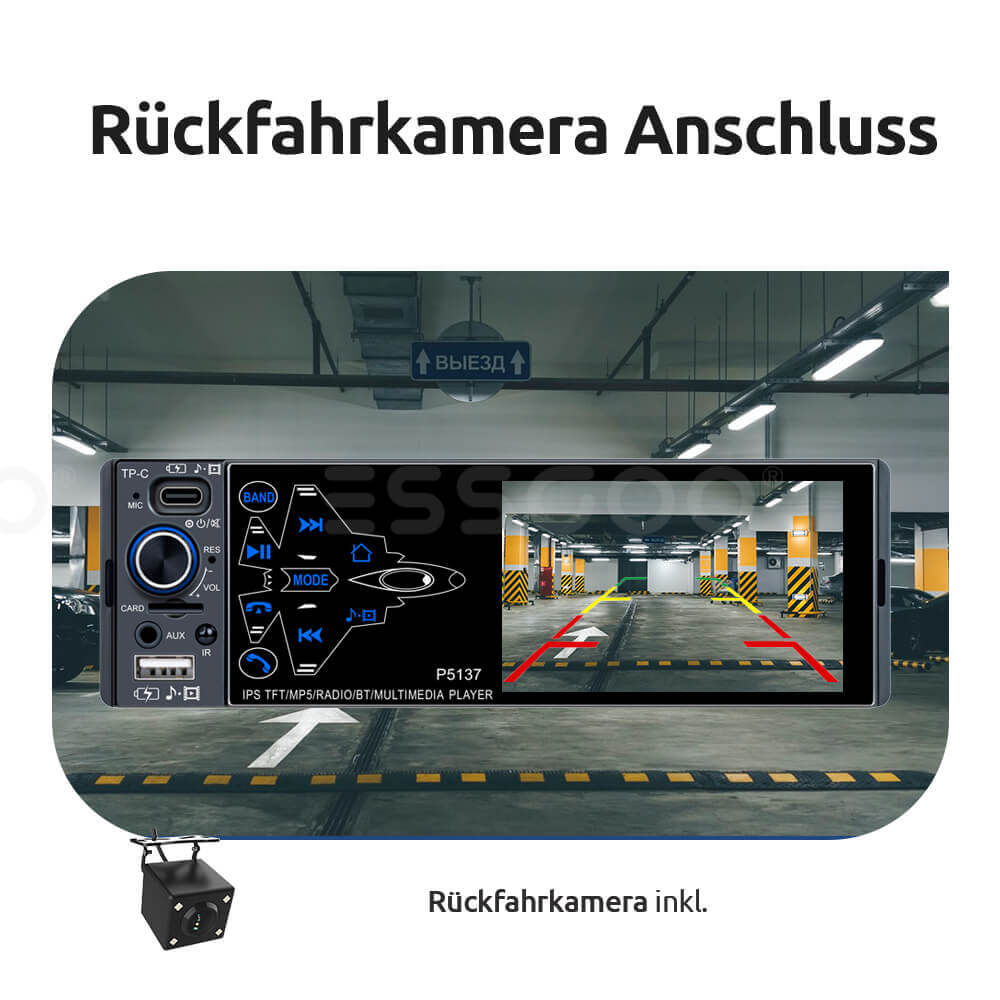 Fast charging, make you more convenient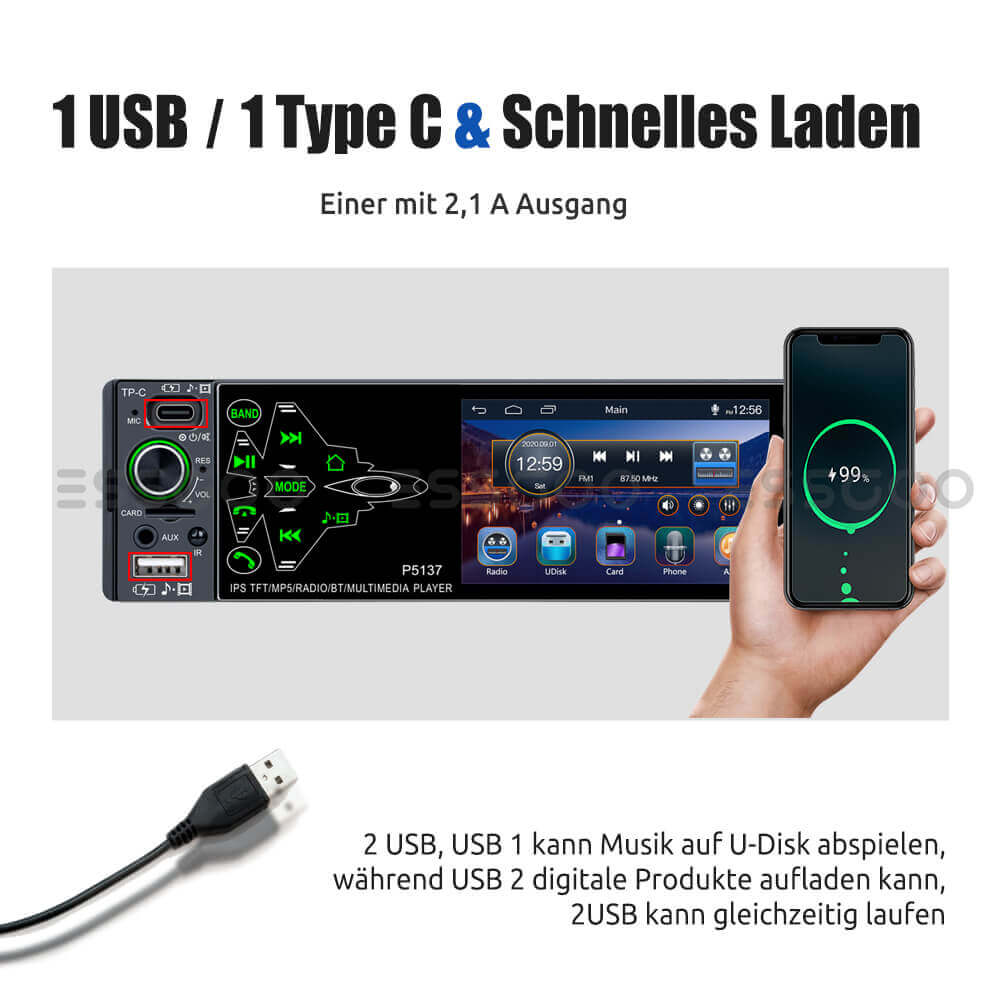 7 light colors can be freely adjusted to make you shine brighter in the dark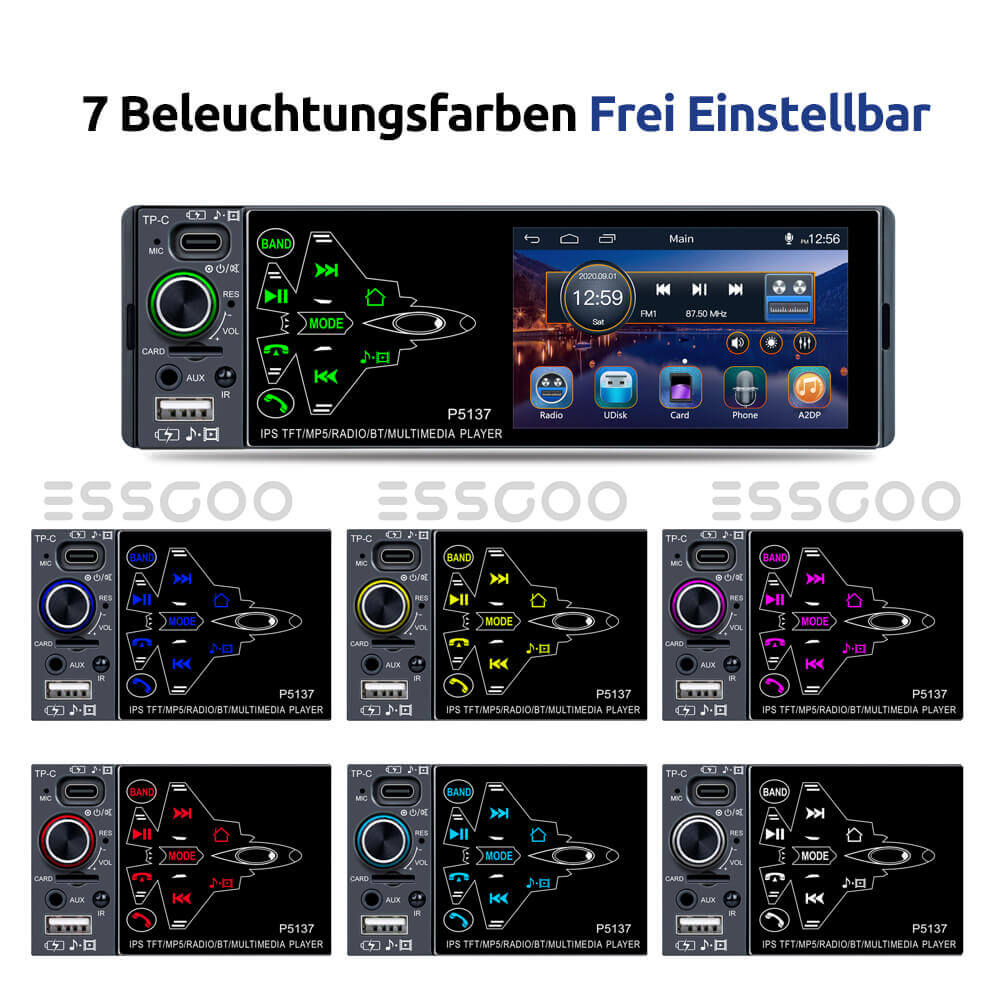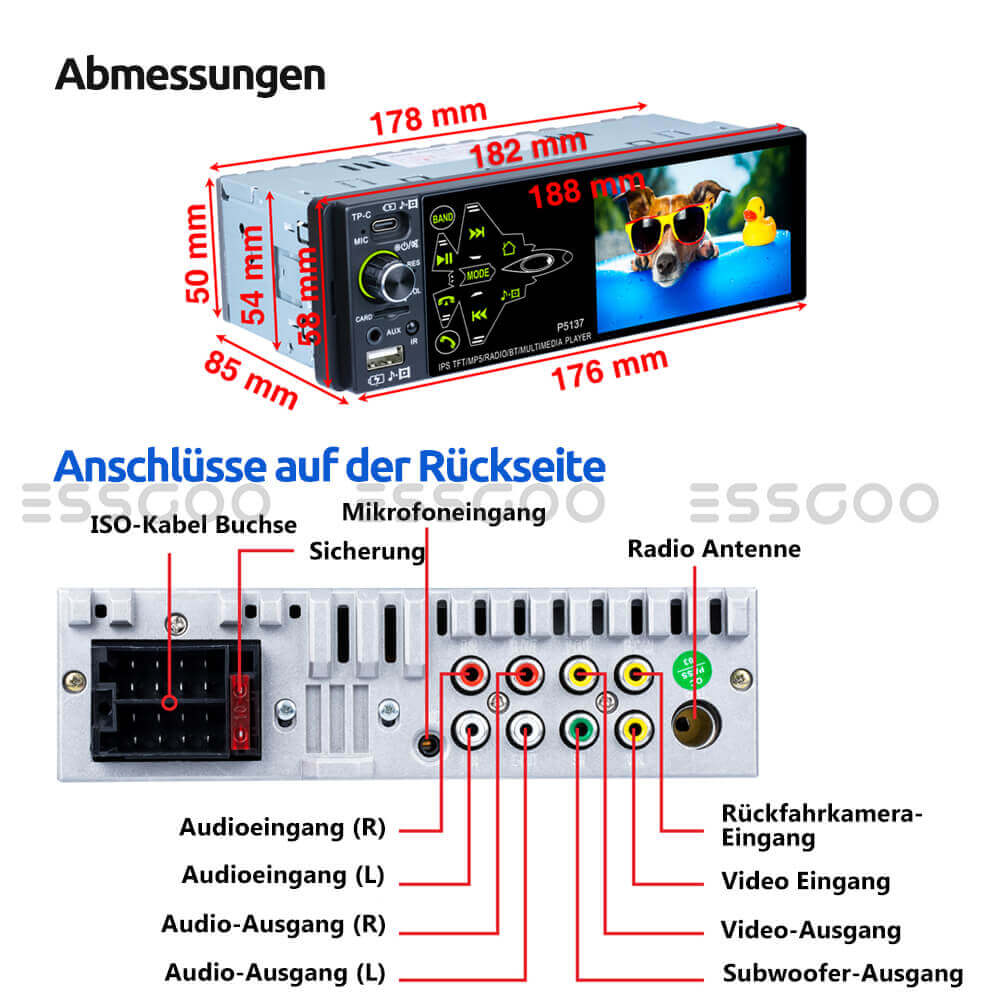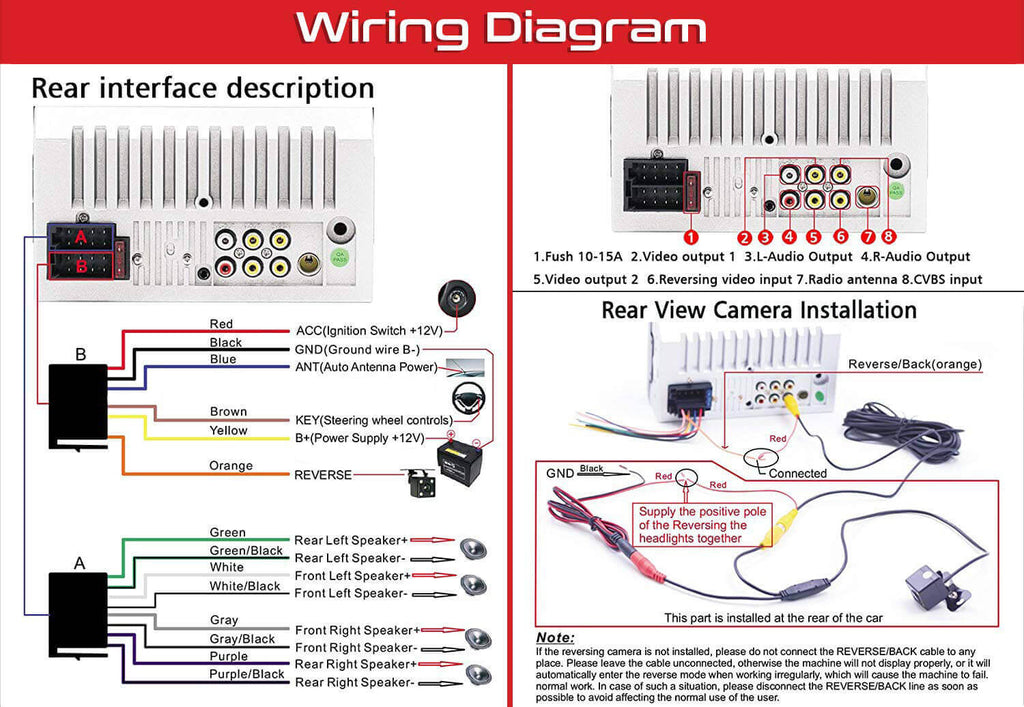 With a 3.8-inch IPS 2.5D capacitive touch screen, the ESSGOO MP5 player for cars can support multiple audio formats, including WMA/MP3/WAV/OGG/APE. It has USB and TF card slots to meet your music-playing needs. Furthermore, it supports freehand calling and BT music, which allows you to answer while driving or playing music lists at your own pace. In addition, it contains all the functions of an ordinary car stereo: steering wheel control function, clock function, mute function, EQ setting, 4 speaker balance adjustment, rearview camera input function (with camera), real subwoofer output, and a variety of sockets to adapt to a variety of scenarios.
In-vehicle entertainment solutions
Do you want to enjoy a more realistic video experience?
Are you tired of using old MP3 and MP4 players?

Solution: Our items are exclusively designed and produced to meet the needs of customers, with a dedicated design, strong compatibility, good sound quality, and a wide range of functions. 
For more: Easy installation, plug, and play!
Product Details Parameters
1. 3.8-inch IPS 2.5D Capacitive touch screen
2. 7 color button back light
3. TP-C function
4. 2.5D Curved Glass
3. Support the Audio playback format of MP3/WMA/WAV/FLAC/APP etc
4. Support the Video playback format of RMVB/RM/VOB/MP4/MOV/AVI /3GP etc
5. With Front USB2.0 port and TF card slot
6. BT function, free hand call, and BT music
7.MOSFET Amplifier: 50Watts x 4 max power output
8. FM range:
87.5~108.0MHz(EU)
87.5~107.9MHz(USA)
65.0~74.0MHz(RU)
76.0~90.0MHz(JP)
9. Full IR remote control
10. Power off with auto-memory store function under radio or TF/USB mode
11. Clock function
12. Mute function
13. EQ Setting/4 Speaker Balance Adjust
14. Front AUX in function
15. One-way Video output function
16. Two RCA audio output function
17. One-way video input function
18. Rear View Camera input function (with camera)
19. Rear Microphone Input
20. Real Subwoofer Output

21. Steering wheel control function
22. Steering wheel control remote
23.ISO Power Socket (Plug and Play)
24. TWO USB PORT (one plays music, one supports phone fast charge)
21. OSD language:
Spanish, Portuguese, Russian, Italian, German, French, Polish, Turkish, Czech, Traditional Chinese, Hungary, Japan, English, Chinese
If you have any questions, please feel free to Contact our customer service team 📧

There are many product-related product ⭐ Reviews ⭐ at the bottom of the website for reference, and you are welcome to leave your thoughts to let other consumers understand ESSGOO better.
Share the ⭐ Reviews to Get 15% OFF Promo Code ;💳 And $10 Cashback  🤑
 ***
Which countries can we ship to? 

📦
Please don't underestimate ESSGOO, as long as the country where you have postal express service, our goods can be delivered to you; we have our own warehouses in Europe, America, and other places, more than ten overseas warehouses all over the world, and we also Cooperate with most of the express companies in the world, ESSGOO has a first-class warehousing and logistics team to ensure that the goods are delivered to you
Shipping Info  

🏎️
1.Most items are shipping free, you can check the description in the listing. Order will be shipped within 48 hours after payment made.
2.The shipping time is based on the shipping option, sometimes it may be delayed due to varied situations (such as holidays, war, weather, etc.), please contact us immediately if the delivery time exceeds estimated.


Time Schedule- 
🚀
Fast/Expedited Shipping 
| | |
| --- | --- |
| US/AU/UK/EU | 4-10 working days |
| Canada/Israel/ Azerbaijan / Russia/Maldives/ Eastern Europe/ Middle East | 7-18 working days |
| Brazil/Chile/South America | 7-18 working days |
| Western Europe/New Zealand | 8-12 working days |
The general delivery time of other regions or countries will be within 25 days.
Time Schedule-  
✈️
Standard Shipping 
Standard delivery service (Free shipping) is usually about 5-10 days slower than Expedited
--
I know your worries
0. How to install? ? I need tutorials!!
All products have installation instructions and instructions for use in your package.
If it's not enough, you can also watch our official

 

YouTube, there are many installation video tutorials~~
Or search 'install' in essgoo.com, or Click the 'Support'
For example this:  Car Stereo Installment Near You
1.Why Choose ESSGOO?
Brand ESSGOO was established in 2016 with great advantages in electronic products. More than that, the operating team has more than 11 years experiences on e-commerce.. We know exactly what the buyer concerns and worries. Making sure you will have a wonderful shopping experience by providing what you need and getting rid of what you worried about. It is no doubt to choose us with our high quality of product, good shipping way, and good customs support.
2.Can I change my shipping address after placing an order?
There is an opportunity to notify our customer service via email to change the delivery address within 2 hours after the order is generated.
3.How do I track my order?
1. Use your email to log in Account to view order information, logistics information, etc.
2. ESSGOO will send you emails at different stages of your order.
3. Feel free to contact our customer service, usually reply to your questions within 24 hours.
4.Will I be charged with customs and taxes?
ESSGOO uses 11 years of online experience and customer feedback to conclude that there will be no additional tariffs and related customs fees if you purchase items normally.
Unless you buy multiple high-priced products at the same time, you may need to pay additional fees.
5.What Do I Do If I Have Missing Items In My Order?
Please contact us immediately.
6.What if the item(s) I received are defective/incorrect/damaged?
Please contact us within 7 days from receiving your order if you received merchandise that is incorrect, missing, and/or defective. Please include your order number, photographs of the item(s) and all related references upon receiving your package. We will do our very best to resolve your case as soon as possible.
7.How do I return an item?
If you are not satisfied with the purchased item and want to return it, please contact us immediately after receiving the order, and provide your order number and the reason for the return. Our customer service team will review the return request and send further instructions after the return is approved.
For details, please refer to ESSGOO's
warranty information
and
refund policy
. All returns must be kept in original condition and packaged intact.
8.When will I receive my refund?
All refunds will be credited to your original form of payment. If you paid by credit or debit card, refunds will be sent to the card-issuing bank within 7-10 business days of receipt of the returned item or cancellation request. 
-