{"id":6808387879069,"title":"ESSGOO AR7002 | Car Stereo Android 9.1 with Universal Radio System GPS Sat Nav WiFi","handle":"essgoo-ar7003-7-car-stereo-android-radio-gps-navi-wifi-for-vw-golf-5-passat-jetta-polo","description":"\u003cdiv style=\"text-align: center;\" data-mce-style=\"text-align: center;\" data-mce-fragment=\"1\"\u003e\u003cimg style=\"float: none;\" alt=\"\" src=\"https:\/\/cdn.shopify.com\/s\/files\/1\/0566\/9483\/3309\/files\/9070_01_2048x2048.jpg?v=1625038214\" data-mce-src=\"https:\/\/cdn.shopify.com\/s\/files\/1\/0566\/9483\/3309\/files\/9070_01_2048x2048.jpg?v=1625038214\" data-mce-style=\"float: none;\" data-mce-fragment=\"1\"\u003e\u003c\/div\u003e\n\u003cdiv style=\"text-align: center;\" data-mce-style=\"text-align: center;\"\u003e\u003cimg style=\"float: none;\" alt=\"\" src=\"https:\/\/cdn.shopify.com\/s\/files\/1\/0566\/9483\/3309\/files\/9070_04_2048x2048.jpg?v=1625038230\" data-mce-style=\"float: none;\"\u003e\u003c\/div\u003e\n\u003ch2 style=\"text-align: center;\" data-mce-style=\"text-align: center;\"\u003e\u003cspan style=\"color: #000000;\" data-mce-style=\"color: #000000;\"\u003e\u003cbr\u003e\u003c\/span\u003e\u003c\/h2\u003e\n\u003ch2 style=\"text-align: center;\" data-mce-style=\"text-align: center;\"\u003e\u003cspan style=\"color: #000000;\" data-mce-style=\"color: #000000;\"\u003eSWC \u0026amp; Key Operation\u003c\/span\u003e\u003c\/h2\u003e\n\u003ch4 style=\"text-align: center;\" data-mce-style=\"text-align: center;\"\u003e\u003cspan style=\"color: #000000;\" data-mce-style=\"color: #000000;\"\u003e\u003cstrong\u003eAll function keys can be reset until it perfectly matches your usage habits; the damping of the physical keys is clear and the sound is pleasant.\u003c\/strong\u003e\u003c\/span\u003e\u003c\/h4\u003e\n\u003cdiv style=\"text-align: center;\" data-mce-style=\"text-align: center;\"\u003e\u003cspan style=\"color: #00aaff;\" data-mce-style=\"color: #00aaff;\"\u003e\u003cstrong\u003e\u003c\/strong\u003e\u003c\/span\u003e\u003c\/div\u003e\n\u003cdiv style=\"text-align: center;\" data-mce-style=\"text-align: center;\"\u003e\u003cimg style=\"float: none;\" alt=\"\" src=\"https:\/\/cdn.shopify.com\/s\/files\/1\/0566\/9483\/3309\/files\/9070_07_2048x2048.jpg?v=1625038249\" data-mce-style=\"float: none;\"\u003e\u003c\/div\u003e\n\u003cdiv style=\"text-align: center;\" data-mce-style=\"text-align: center;\"\u003e\u003c\/div\u003e\n\u003cdiv style=\"text-align: center;\" data-mce-style=\"text-align: center;\"\u003e\u003c\/div\u003e\n\u003cdiv style=\"text-align: center;\" data-mce-style=\"text-align: center;\"\u003e\u003c\/div\u003e\n\u003cdiv style=\"text-align: center;\" data-mce-style=\"text-align: center;\"\u003e\u003c\/div\u003e\n\u003cdiv style=\"text-align: center;\" data-mce-style=\"text-align: center;\"\u003e\u003c\/div\u003e\n\u003cp style=\"text-align: center;\" data-mce-style=\"text-align: center;\"\u003e \u003c\/p\u003e\n\u003ch2 style=\"text-align: center;\" data-mce-style=\"text-align: center;\"\u003eHigh precision navigation\u003c\/h2\u003e\n\u003cdiv style=\"text-align: center;\" data-mce-style=\"text-align: center;\"\u003e\u003cstrong\u003eEquipped with the latest signal receiver, which can shorten the error within 5 meters; support offline and online voice navigation; the combination of large screen and speakers can highlight the driving pleasure\u003c\/strong\u003e\u003c\/div\u003e\n\u003cdiv style=\"text-align: center;\" data-mce-style=\"text-align: center;\"\u003e\u003c\/div\u003e\n\u003cdiv style=\"text-align: center;\" data-mce-style=\"text-align: center;\"\u003e\u003cimg style=\"float: none;\" alt=\"\" src=\"https:\/\/cdn.shopify.com\/s\/files\/1\/0566\/9483\/3309\/files\/9070_11_2048x2048.jpg?v=1625038271\" data-mce-style=\"float: none;\"\u003e\u003c\/div\u003e\n\u003ch2 style=\"text-align: center;\" data-mce-style=\"text-align: center;\"\u003e\u003cspan style=\"color: #000000;\" data-mce-style=\"color: #000000;\"\u003e\u003cbr\u003e\u003c\/span\u003e\u003c\/h2\u003e\n\u003ch2 style=\"text-align: center;\" data-mce-style=\"text-align: center;\"\u003e\u003cspan style=\"color: #000000;\" data-mce-style=\"color: #000000;\"\u003eA7 4-Core CPU\u003c\/span\u003e\u003c\/h2\u003e\n\u003ch4 style=\"text-align: center;\" data-mce-style=\"text-align: center;\"\u003e\u003cspan style=\"color: #000000;\" data-mce-style=\"color: #000000;\"\u003eAll 4 chips use the latest 28nm\/40nm process\u003cbr data-mce-fragment=\"1\"\u003eIt not only pays attention to high performance, but also ensures moderate power consumption, and maintains low temperature, low noise and high life.\u003c\/span\u003e\u003c\/h4\u003e\n\u003cdiv style=\"text-align: center;\" data-mce-style=\"text-align: center;\"\u003e\u003cimg style=\"float: none;\" alt=\"\" src=\"https:\/\/cdn.shopify.com\/s\/files\/1\/0566\/9483\/3309\/files\/9070_14_2048x2048.jpg?v=1625038296\" data-mce-style=\"float: none;\"\u003e\u003c\/div\u003e\n\u003cdiv style=\"text-align: center;\" data-mce-style=\"text-align: center;\"\u003e\u003cbr\u003e\u003c\/div\u003e\n\u003cdiv style=\"text-align: center;\" data-mce-style=\"text-align: center;\"\u003e\u003c\/div\u003e\n\u003cdiv style=\"text-align: center;\" data-mce-style=\"text-align: center;\"\u003e\u003c\/div\u003e\n\u003cdiv style=\"text-align: center;\" data-mce-style=\"text-align: center;\"\u003e\u003c\/div\u003e\n\u003cdiv style=\"text-align: center;\" data-mce-style=\"text-align: center;\"\u003e\u003c\/div\u003e\n\u003cdiv style=\"text-align: center;\" data-mce-style=\"text-align: center;\"\u003e\u003c\/div\u003e\n\u003ch2 style=\"text-align: center;\" data-mce-style=\"text-align: center;\"\u003eInternet Connection\u003c\/h2\u003e\n\u003cp style=\"text-align: center;\" data-mce-style=\"text-align: center;\"\u003e\u003cstrong\u003eAfter connecting to the network, you can use the voice function (such as Google voice), and the information query on the road is more convenient and safe.\u003c\/strong\u003e\u003cbr\u003e\u003cstrong\u003eComes with bluetooth and wifi signal receiver, making your connection with the vehicle more stable.\u003c\/strong\u003e\u003c\/p\u003e\n\u003cdiv style=\"text-align: center;\" data-mce-style=\"text-align: center;\"\u003e\u003c\/div\u003e\n\u003cdiv style=\"text-align: center;\" data-mce-style=\"text-align: center;\"\u003e\u003cimg style=\"float: none;\" alt=\"\" src=\"https:\/\/cdn.shopify.com\/s\/files\/1\/0566\/9483\/3309\/files\/9070_17_2048x2048.jpg?v=1625038320\" data-mce-style=\"float: none;\"\u003e\u003c\/div\u003e\n\u003cdiv style=\"text-align: center;\" data-mce-style=\"text-align: center;\"\u003e\u003c\/div\u003e\n\u003cdiv style=\"text-align: center;\" data-mce-style=\"text-align: center;\"\u003e\u003c\/div\u003e\n\u003cdiv style=\"text-align: center;\" data-mce-style=\"text-align: center;\"\u003e\u003c\/div\u003e\n\u003cdiv style=\"text-align: center;\" data-mce-style=\"text-align: center;\"\u003e\u003c\/div\u003e\n\u003cdiv style=\"text-align: center;\" data-mce-style=\"text-align: center;\"\u003e\u003c\/div\u003e\n\u003cp style=\"text-align: center;\" data-mce-style=\"text-align: center;\"\u003e \u003c\/p\u003e\n\u003ch2 style=\"text-align: center;\" data-mce-style=\"text-align: center;\"\u003eHighly Compatible Video Output and Input\u003c\/h2\u003e\n\u003cdiv style=\"text-align: center;\" data-mce-style=\"text-align: center;\"\u003e\u003cstrong\u003eIt can be matched with the original camera; it can also use the reversing camera and driving recorder provided by ESSGOO; the assistance of the two devices can make it easier for you.\u003c\/strong\u003e\u003c\/div\u003e\n\u003cdiv style=\"text-align: center;\" data-mce-style=\"text-align: center;\"\u003e\u003cimg style=\"float: none;\" alt=\"\" src=\"https:\/\/cdn.shopify.com\/s\/files\/1\/0566\/9483\/3309\/files\/9070_20_2048x2048.jpg?v=1625038344\" data-mce-style=\"float: none;\"\u003e\u003c\/div\u003e\n\u003cdiv style=\"text-align: center;\" data-mce-style=\"text-align: center;\"\u003e\u003cimg style=\"float: none;\" alt=\"\" src=\"https:\/\/cdn.shopify.com\/s\/files\/1\/0566\/9483\/3309\/files\/9070_25_2048x2048.jpg?v=1625038368\" data-mce-style=\"float: none;\"\u003e\u003c\/div\u003e\n\u003ch2 style=\"text-align: center;\" data-mce-style=\"text-align: center;\"\u003e\u003cspan style=\"color: #000000;\" data-mce-style=\"color: #000000;\"\u003eMirrorLink\u003c\/span\u003e\u003c\/h2\u003e\n\u003ch4 style=\"text-align: center;\" data-mce-style=\"text-align: center;\"\u003e\u003cspan style=\"color: #00aaff; font-size: 14px;\" data-mce-style=\"color: #00aaff; font-size: 14px;\"\u003e\u003cspan style=\"color: #000000;\" data-mce-style=\"color: #000000;\"\u003eThe phone screen is projected to the car player\u003c\/span\u003e\u003c\/span\u003e\u003c\/h4\u003e\n\u003cdiv style=\"text-align: start;\" data-mce-style=\"text-align: start;\"\u003e\u003cimg src=\"https:\/\/cdn.shopify.com\/s\/files\/1\/0566\/9483\/3309\/files\/icon_pg_480x480.jpg?v=1625039131\" alt=\"\" style=\"display: block; margin-left: auto; margin-right: auto;\" data-mce-style=\"display: block; margin-left: auto; margin-right: auto;\" data-mce-src=\"https:\/\/cdn.shopify.com\/s\/files\/1\/0566\/9483\/3309\/files\/icon_pg_480x480.jpg?v=1625039131\" data-mce-fragment=\"1\"\u003e\u003c\/div\u003e\n\u003ch4 style=\"text-align: center;\" data-mce-style=\"text-align: center;\"\u003e\n\u003cspan style=\"color: #000000;\" data-mce-style=\"color: #000000;\"\u003eiPhone support WiFi projection screen,\u003cbr\u003e\u003c\/span\u003eit Can put the phone screen to the player\u003c\/h4\u003e\n\u003ch4 style=\"text-align: start;\" data-mce-style=\"text-align: start;\"\u003e\n\u003cspan style=\"color: #000000;\" data-mce-style=\"color: #000000;\"\u003e--\u003c\/span\u003e\u003cstrong\u003e\u003c\/strong\u003e\n\u003c\/h4\u003e\n\u003cdiv style=\"text-align: start;\" data-mce-style=\"text-align: start;\"\u003e\u003cstrong\u003e\u003cimg src=\"https:\/\/cdn.shopify.com\/s\/files\/1\/0566\/9483\/3309\/files\/icon_an_480x480.jpg?v=1625039156\" alt=\"\" style=\"display: block; margin-left: auto; margin-right: auto;\" data-mce-style=\"display: block; margin-left: auto; margin-right: auto;\" data-mce-src=\"https:\/\/cdn.shopify.com\/s\/files\/1\/0566\/9483\/3309\/files\/icon_an_480x480.jpg?v=1625039156\" data-mce-fragment=\"1\"\u003e\u003c\/strong\u003e\u003c\/div\u003e\n\u003ch4 style=\"text-align: center;\" data-mce-style=\"text-align: center;\"\u003e\n\u003cspan style=\"color: #000000;\" data-mce-style=\"color: #000000;\"\u003e\u003cstrong\u003eAndroid support USB\/WiFiprojection screen and when the USB cable is connected, \u003cbr\u003e\u003c\/strong\u003e\u003c\/span\u003e\u003cspan style=\"color: #000000;\" data-mce-style=\"color: #000000;\"\u003e\u003cstrong\u003eit can be controlled on the mobile phone and car screen\u003c\/strong\u003e\u003c\/span\u003e\n\u003c\/h4\u003e\n\u003cdiv style=\"text-align: center;\" data-mce-style=\"text-align: center;\"\u003e\u003cimg style=\"float: none;\" src=\"https:\/\/cdn.shopify.com\/s\/files\/1\/0566\/9483\/3309\/files\/9070_30_2048x2048.jpg?v=1625038410\" width=\"2048x2048\" height=\"2048x2048\" data-mce-style=\"float: none;\"\u003e\u003c\/div\u003e\n\u003ch2 style=\"text-align: center;\" data-mce-style=\"text-align: center;\"\u003eBasic parameters\u003c\/h2\u003e\n\u003cdiv style=\"text-align: center;\" data-mce-style=\"text-align: center;\"\u003e\u003cimg style=\"float: none;\" alt=\"\" src=\"https:\/\/cdn.shopify.com\/s\/files\/1\/0566\/9483\/3309\/files\/9070_26_2048x2048.jpg?v=1625038426\" data-mce-style=\"float: none;\"\u003e\u003c\/div\u003e\n\u003ch2 style=\"text-align: center;\" data-mce-style=\"text-align: center;\"\u003e\u003cspan style=\"color: #000000;\" data-mce-style=\"color: #000000;\"\u003eProduct Accessories (attached)\u003c\/span\u003e\u003c\/h2\u003e\n\u003cdiv style=\"text-align: center;\" data-mce-style=\"text-align: center;\"\u003e\n\u003cimg style=\"float: none;\" src=\"https:\/\/cdn.shopify.com\/s\/files\/1\/0566\/9483\/3309\/files\/9070_30-11_2048x2048.jpg?v=1625038447\" width=\"2048x2048\" height=\"2048x2048\" data-mce-style=\"float: none;\"\u003e \u003c\/div\u003e\n\u003ch2\u003e\u003cstrong\u003eFeatures Of AR7003 Car Radio:\u003c\/strong\u003e\u003c\/h2\u003e\n\u003cp\u003e1. Radio (FM)\u003cbr\u003e2. Supports reading USB flash drives (audio\/video\/picture)\u003cbr\u003e3. AUX function\u003cbr\u003e4. Bluetooth function\u003cbr\u003e5. RCA audio output can be connected to a subwoofer\u003cbr\u003e6. Rear view input function\u003cbr\u003e7. Video input function\u003cbr\u003e8. Original car steering wheel learning function\u003cbr\u003e9. Dash cam input function\u003cbr\u003e10. WIFI Internet\u003cbr\u003e11. GPS navigation\u003cbr\u003e12. Mobile phone interconnection (for iPhone\/Android phones)\u003cbr\u003e13. Free install apps\u003cbr\u003e14. Integrate original car functions\u003cbr\u003e15. EQ channel\u003c\/p\u003e\n\u003cp\u003e \u003c\/p\u003e\n\u003ch2\u003e\u003cstrong\u003eSpecifications:\u003c\/strong\u003e\u003c\/h2\u003e\n\u003cul\u003e\n\u003cli\u003eSystem: Android 9.1\u003c\/li\u003e\n\u003cli\u003eScreen model: HD 7-inch TouchScreen\u003c\/li\u003e\n\u003cli\u003eCPU: A7 1.3GHZ x 4\u003c\/li\u003e\n\u003cli\u003e\u003cstrong\u003eMemory: 2GB (RAM)+32GB (ROM)\u003c\/strong\u003e\u003c\/li\u003e\n\u003cli\u003eRadio Frequency: FM 87.5M-108M\u003c\/li\u003e\n\u003cli\u003eOperation method: touch screen, steering wheel and physical buttons\u003c\/li\u003e\n\u003cli\u003eRDS: YES\u003c\/li\u003e\n\u003cli\u003eMirror Link: YES\u003c\/li\u003e\n\u003cli\u003eWireless WIFI: \u003cspan data-mce-fragment=\"1\"\u003eYES\u003c\/span\u003e\n\u003c\/li\u003e\n\u003cli\u003eBluetooth: \u003cspan data-mce-fragment=\"1\"\u003eYES\u003c\/span\u003e\n\u003c\/li\u003e\n\u003cli\u003eReset button: \u003cspan data-mce-fragment=\"1\"\u003eYES\u003c\/span\u003e\n\u003c\/li\u003e\n\u003cli\u003e\u003cspan data-mce-fragment=\"1\"\u003eMulti-screen control: YES\u003c\/span\u003e\u003c\/li\u003e\n\u003cli\u003e\u003cspan data-mce-fragment=\"1\"\u003eBuilt-in microphone: YES\u003c\/span\u003e\u003c\/li\u003e\n\u003cli\u003eSpeaker Output Power: 4 x 45W\u003c\/li\u003e\n\u003cli\u003eUSB: 2 rear tail line USB\u003c\/li\u003e\n\u003cli\u003eAudio, Image, Format: Android Compatible Formats\u003c\/li\u003e\n\u003cli\u003eLanguages: \u003cspan data-mce-fragment=\"1\"\u003eAndroid Compatible Languages\u003c\/span\u003e\n\u003c\/li\u003e\n\u003cli\u003e\u003cspan data-mce-fragment=\"1\"\u003eWorking temperature: -11 ~ +59 degrees\u003c\/span\u003e\u003c\/li\u003e\n\u003cli\u003eWorking Voltage: For VW\u003c\/li\u003e\n\u003cli\u003eInstallation size: Dedicated size for VW\u003c\/li\u003e\n\u003c\/ul\u003e\n\u003cp style=\"text-align: left;\" data-mce-style=\"text-align: left;\"\u003e\u003cbr\u003e\u003c\/p\u003e\n\u003cp style=\"text-align: left;\" data-mce-style=\"text-align: left;\"\u003e \u003c\/p\u003e\n\u003cdiv style=\"text-align: center;\"\u003e\u003cimg style=\"float: none;\" alt=\"\" src=\"https:\/\/cdn.shopifycdn.net\/s\/files\/1\/0566\/9483\/3309\/files\/Model-Compatibility_1024x1024.jpg?v=1653965699\"\u003e\u003c\/div\u003e\n\u003cdiv style=\"text-align: left;\" data-mce-style=\"text-align: left;\"\u003e\u003cspan\u003e\u003cbr\u003e\u003c\/span\u003e\u003c\/div\u003e\n\u003cdiv style=\"text-align: left;\" data-mce-style=\"text-align: left;\"\u003e\u003cspan\u003e\u003c\/span\u003e\u003c\/div\u003e\n\u003cdiv style=\"text-align: left;\" data-mce-style=\"text-align: left;\"\u003e\u003cspan\u003e\u003c\/span\u003e\u003c\/div\u003e\n\u003ch3 style=\"text-align: left;\" data-mce-style=\"text-align: left;\"\u003e\n\u003cspan\u003e\u003cbr\u003e\u003c\/span\u003e\u003cspan\u003ePackage Included:\u003c\/span\u003e\n\u003c\/h3\u003e\n\u003cdiv style=\"text-align: left;\" data-mce-style=\"text-align: left;\"\u003e1 x VW Android Media Player\u003cbr\u003e1 x GPS antenna\u003cbr\u003e1 x power harness new VW harness style\u003cbr\u003e1 x harness power style VW harness old\u003cbr\u003e1 x CANBUS\u003cbr\u003e1 x Radio antenna adapter\u003cbr\u003e2 x USB adapter\u003cbr\u003e1 x Camera Input\u003cbr\u003e1 x RCA input \/ output\u003cbr\u003e1 x User Manual\u003c\/div\u003e\n\u003cdiv style=\"text-align: left;\" data-mce-style=\"text-align: left;\"\u003e\u003cspan\u003e\u003c\/span\u003e\u003c\/div\u003e\n\u003cdiv style=\"text-align: center;\" data-mce-style=\"text-align: center;\"\u003e\u003cbr\u003e\u003c\/div\u003e\n\u003cdiv style=\"text-align: center;\" data-mce-style=\"text-align: center;\"\u003e\u003c\/div\u003e\n\u003cdiv style=\"text-align: center;\" data-mce-style=\"text-align: center;\"\u003e\u003c\/div\u003e\n\u003cdiv style=\"text-align: center;\" data-mce-style=\"text-align: center;\"\u003e\u003cimg src=\"https:\/\/cdn.shopify.com\/s\/files\/1\/0566\/9483\/3309\/files\/9021A__11_2048x2048.jpg?v=1625654082\"\u003e\u003c\/div\u003e\n\u003cdiv style=\"text-align: center;\" data-mce-style=\"text-align: center;\"\u003e\u003c\/div\u003e\n\u003cdiv style=\"text-align: left;\" data-mce-style=\"text-align: left;\"\u003e\u003cspan\u003e\u003c\/span\u003e\u003c\/div\u003e\n\u003cdiv style=\"text-align: left;\" data-mce-style=\"text-align: left;\"\u003e\u003cspan\u003e\u003c\/span\u003e\u003c\/div\u003e","published_at":"2021-06-30T15:47:45+08:00","created_at":"2021-06-30T15:37:10+08:00","vendor":"ESSGOO","type":"","tags":["Car Radio"],"price":14300,"price_min":14300,"price_max":16500,"available":true,"price_varies":true,"compare_at_price":null,"compare_at_price_min":0,"compare_at_price_max":0,"compare_at_price_varies":false,"variants":[{"id":40590259421341,"title":"Standard","option1":"Standard","option2":null,"option3":null,"sku":"","requires_shipping":true,"taxable":true,"featured_image":null,"available":true,"name":"ESSGOO AR7002 | Car Stereo Android 9.1 with Universal Radio System GPS Sat Nav WiFi - Standard","public_title":"Standard","options":["Standard"],"price":14300,"weight":0,"compare_at_price":null,"inventory_management":"shopify","barcode":"","requires_selling_plan":false,"selling_plan_allocations":[],"quantity_rule":{"min":1,"max":null,"increment":1}},{"id":40590259454109,"title":"With Reversing camera","option1":"With Reversing camera","option2":null,"option3":null,"sku":"","requires_shipping":true,"taxable":true,"featured_image":null,"available":true,"name":"ESSGOO AR7002 | Car Stereo Android 9.1 with Universal Radio System GPS Sat Nav WiFi - With Reversing camera","public_title":"With Reversing camera","options":["With Reversing camera"],"price":15500,"weight":0,"compare_at_price":null,"inventory_management":"shopify","barcode":"","requires_selling_plan":false,"selling_plan_allocations":[],"quantity_rule":{"min":1,"max":null,"increment":1}},{"id":42400632897693,"title":"Standard with ADAS DVR Dashcam","option1":"Standard with ADAS DVR Dashcam","option2":null,"option3":null,"sku":"","requires_shipping":true,"taxable":true,"featured_image":null,"available":true,"name":"ESSGOO AR7002 | Car Stereo Android 9.1 with Universal Radio System GPS Sat Nav WiFi - Standard with ADAS DVR Dashcam","public_title":"Standard with ADAS DVR Dashcam","options":["Standard with ADAS DVR Dashcam"],"price":16500,"weight":0,"compare_at_price":null,"inventory_management":"shopify","barcode":"","requires_selling_plan":false,"selling_plan_allocations":[],"quantity_rule":{"min":1,"max":null,"increment":1}}],"images":["\/\/cdn.shopify.com\/s\/files\/1\/0566\/9483\/3309\/products\/3034a1133efe01daba919094b70c6310.jpg?v=1628818218","\/\/cdn.shopify.com\/s\/files\/1\/0566\/9483\/3309\/products\/03187cfe8fbdb84aa703090166f2833d.jpg?v=1628818219","\/\/cdn.shopify.com\/s\/files\/1\/0566\/9483\/3309\/products\/1FM_RDS.jpg?v=1628818220","\/\/cdn.shopify.com\/s\/files\/1\/0566\/9483\/3309\/products\/2.jpg?v=1628818220"],"featured_image":"\/\/cdn.shopify.com\/s\/files\/1\/0566\/9483\/3309\/products\/3034a1133efe01daba919094b70c6310.jpg?v=1628818218","options":["Collocation"],"media":[{"alt":"ESSGOO AR7003 | Car Stereo Android 9.1 with Universal Radio System GPS Sat Nav WiFi - | TRANSFORM, STARTS HERE | Easy . Economic . Energetic","id":21820943827101,"position":1,"preview_image":{"aspect_ratio":1.0,"height":1000,"width":1000,"src":"https:\/\/cdn.shopify.com\/s\/files\/1\/0566\/9483\/3309\/products\/3034a1133efe01daba919094b70c6310.jpg?v=1628818218"},"aspect_ratio":1.0,"height":1000,"media_type":"image","src":"https:\/\/cdn.shopify.com\/s\/files\/1\/0566\/9483\/3309\/products\/3034a1133efe01daba919094b70c6310.jpg?v=1628818218","width":1000},{"alt":"ESSGOO AR7003 | Car Stereo Android 9.1 with Universal Radio System GPS Sat Nav WiFi - | TRANSFORM, STARTS HERE | Easy . Economic . Energetic","id":21806229684381,"position":2,"preview_image":{"aspect_ratio":1.0,"height":1000,"width":1000,"src":"https:\/\/cdn.shopify.com\/s\/files\/1\/0566\/9483\/3309\/products\/03187cfe8fbdb84aa703090166f2833d.jpg?v=1628818219"},"aspect_ratio":1.0,"height":1000,"media_type":"image","src":"https:\/\/cdn.shopify.com\/s\/files\/1\/0566\/9483\/3309\/products\/03187cfe8fbdb84aa703090166f2833d.jpg?v=1628818219","width":1000},{"alt":"ESSGOO AR7003 | Car Stereo Android 9.1 with Universal Radio System GPS Sat Nav WiFi - | TRANSFORM, STARTS HERE | Easy . Economic . Energetic","id":21820900409501,"position":3,"preview_image":{"aspect_ratio":1.0,"height":1000,"width":1000,"src":"https:\/\/cdn.shopify.com\/s\/files\/1\/0566\/9483\/3309\/products\/1FM_RDS.jpg?v=1628818220"},"aspect_ratio":1.0,"height":1000,"media_type":"image","src":"https:\/\/cdn.shopify.com\/s\/files\/1\/0566\/9483\/3309\/products\/1FM_RDS.jpg?v=1628818220","width":1000},{"alt":"ESSGOO AR7003 | Car Stereo Android 9.1 with Universal Radio System GPS Sat Nav WiFi - | TRANSFORM, STARTS HERE | Easy . Economic . Energetic","id":21820900442269,"position":4,"preview_image":{"aspect_ratio":1.0,"height":1000,"width":1000,"src":"https:\/\/cdn.shopify.com\/s\/files\/1\/0566\/9483\/3309\/products\/2.jpg?v=1628818220"},"aspect_ratio":1.0,"height":1000,"media_type":"image","src":"https:\/\/cdn.shopify.com\/s\/files\/1\/0566\/9483\/3309\/products\/2.jpg?v=1628818220","width":1000}],"requires_selling_plan":false,"selling_plan_groups":[],"content":"\u003cdiv style=\"text-align: center;\" data-mce-style=\"text-align: center;\" data-mce-fragment=\"1\"\u003e\u003cimg style=\"float: none;\" alt=\"\" src=\"https:\/\/cdn.shopify.com\/s\/files\/1\/0566\/9483\/3309\/files\/9070_01_2048x2048.jpg?v=1625038214\" data-mce-src=\"https:\/\/cdn.shopify.com\/s\/files\/1\/0566\/9483\/3309\/files\/9070_01_2048x2048.jpg?v=1625038214\" data-mce-style=\"float: none;\" data-mce-fragment=\"1\"\u003e\u003c\/div\u003e\n\u003cdiv style=\"text-align: center;\" data-mce-style=\"text-align: center;\"\u003e\u003cimg style=\"float: none;\" alt=\"\" src=\"https:\/\/cdn.shopify.com\/s\/files\/1\/0566\/9483\/3309\/files\/9070_04_2048x2048.jpg?v=1625038230\" data-mce-style=\"float: none;\"\u003e\u003c\/div\u003e\n\u003ch2 style=\"text-align: center;\" data-mce-style=\"text-align: center;\"\u003e\u003cspan style=\"color: #000000;\" data-mce-style=\"color: #000000;\"\u003e\u003cbr\u003e\u003c\/span\u003e\u003c\/h2\u003e\n\u003ch2 style=\"text-align: center;\" data-mce-style=\"text-align: center;\"\u003e\u003cspan style=\"color: #000000;\" data-mce-style=\"color: #000000;\"\u003eSWC \u0026amp; Key Operation\u003c\/span\u003e\u003c\/h2\u003e\n\u003ch4 style=\"text-align: center;\" data-mce-style=\"text-align: center;\"\u003e\u003cspan style=\"color: #000000;\" data-mce-style=\"color: #000000;\"\u003e\u003cstrong\u003eAll function keys can be reset until it perfectly matches your usage habits; the damping of the physical keys is clear and the sound is pleasant.\u003c\/strong\u003e\u003c\/span\u003e\u003c\/h4\u003e\n\u003cdiv style=\"text-align: center;\" data-mce-style=\"text-align: center;\"\u003e\u003cspan style=\"color: #00aaff;\" data-mce-style=\"color: #00aaff;\"\u003e\u003cstrong\u003e\u003c\/strong\u003e\u003c\/span\u003e\u003c\/div\u003e\n\u003cdiv style=\"text-align: center;\" data-mce-style=\"text-align: center;\"\u003e\u003cimg style=\"float: none;\" alt=\"\" src=\"https:\/\/cdn.shopify.com\/s\/files\/1\/0566\/9483\/3309\/files\/9070_07_2048x2048.jpg?v=1625038249\" data-mce-style=\"float: none;\"\u003e\u003c\/div\u003e\n\u003cdiv style=\"text-align: center;\" data-mce-style=\"text-align: center;\"\u003e\u003c\/div\u003e\n\u003cdiv style=\"text-align: center;\" data-mce-style=\"text-align: center;\"\u003e\u003c\/div\u003e\n\u003cdiv style=\"text-align: center;\" data-mce-style=\"text-align: center;\"\u003e\u003c\/div\u003e\n\u003cdiv style=\"text-align: center;\" data-mce-style=\"text-align: center;\"\u003e\u003c\/div\u003e\n\u003cdiv style=\"text-align: center;\" data-mce-style=\"text-align: center;\"\u003e\u003c\/div\u003e\n\u003cp style=\"text-align: center;\" data-mce-style=\"text-align: center;\"\u003e \u003c\/p\u003e\n\u003ch2 style=\"text-align: center;\" data-mce-style=\"text-align: center;\"\u003eHigh precision navigation\u003c\/h2\u003e\n\u003cdiv style=\"text-align: center;\" data-mce-style=\"text-align: center;\"\u003e\u003cstrong\u003eEquipped with the latest signal receiver, which can shorten the error within 5 meters; support offline and online voice navigation; the combination of large screen and speakers can highlight the driving pleasure\u003c\/strong\u003e\u003c\/div\u003e\n\u003cdiv style=\"text-align: center;\" data-mce-style=\"text-align: center;\"\u003e\u003c\/div\u003e\n\u003cdiv style=\"text-align: center;\" data-mce-style=\"text-align: center;\"\u003e\u003cimg style=\"float: none;\" alt=\"\" src=\"https:\/\/cdn.shopify.com\/s\/files\/1\/0566\/9483\/3309\/files\/9070_11_2048x2048.jpg?v=1625038271\" data-mce-style=\"float: none;\"\u003e\u003c\/div\u003e\n\u003ch2 style=\"text-align: center;\" data-mce-style=\"text-align: center;\"\u003e\u003cspan style=\"color: #000000;\" data-mce-style=\"color: #000000;\"\u003e\u003cbr\u003e\u003c\/span\u003e\u003c\/h2\u003e\n\u003ch2 style=\"text-align: center;\" data-mce-style=\"text-align: center;\"\u003e\u003cspan style=\"color: #000000;\" data-mce-style=\"color: #000000;\"\u003eA7 4-Core CPU\u003c\/span\u003e\u003c\/h2\u003e\n\u003ch4 style=\"text-align: center;\" data-mce-style=\"text-align: center;\"\u003e\u003cspan style=\"color: #000000;\" data-mce-style=\"color: #000000;\"\u003eAll 4 chips use the latest 28nm\/40nm process\u003cbr data-mce-fragment=\"1\"\u003eIt not only pays attention to high performance, but also ensures moderate power consumption, and maintains low temperature, low noise and high life.\u003c\/span\u003e\u003c\/h4\u003e\n\u003cdiv style=\"text-align: center;\" data-mce-style=\"text-align: center;\"\u003e\u003cimg style=\"float: none;\" alt=\"\" src=\"https:\/\/cdn.shopify.com\/s\/files\/1\/0566\/9483\/3309\/files\/9070_14_2048x2048.jpg?v=1625038296\" data-mce-style=\"float: none;\"\u003e\u003c\/div\u003e\n\u003cdiv style=\"text-align: center;\" data-mce-style=\"text-align: center;\"\u003e\u003cbr\u003e\u003c\/div\u003e\n\u003cdiv style=\"text-align: center;\" data-mce-style=\"text-align: center;\"\u003e\u003c\/div\u003e\n\u003cdiv style=\"text-align: center;\" data-mce-style=\"text-align: center;\"\u003e\u003c\/div\u003e\n\u003cdiv style=\"text-align: center;\" data-mce-style=\"text-align: center;\"\u003e\u003c\/div\u003e\n\u003cdiv style=\"text-align: center;\" data-mce-style=\"text-align: center;\"\u003e\u003c\/div\u003e\n\u003cdiv style=\"text-align: center;\" data-mce-style=\"text-align: center;\"\u003e\u003c\/div\u003e\n\u003ch2 style=\"text-align: center;\" data-mce-style=\"text-align: center;\"\u003eInternet Connection\u003c\/h2\u003e\n\u003cp style=\"text-align: center;\" data-mce-style=\"text-align: center;\"\u003e\u003cstrong\u003eAfter connecting to the network, you can use the voice function (such as Google voice), and the information query on the road is more convenient and safe.\u003c\/strong\u003e\u003cbr\u003e\u003cstrong\u003eComes with bluetooth and wifi signal receiver, making your connection with the vehicle more stable.\u003c\/strong\u003e\u003c\/p\u003e\n\u003cdiv style=\"text-align: center;\" data-mce-style=\"text-align: center;\"\u003e\u003c\/div\u003e\n\u003cdiv style=\"text-align: center;\" data-mce-style=\"text-align: center;\"\u003e\u003cimg style=\"float: none;\" alt=\"\" src=\"https:\/\/cdn.shopify.com\/s\/files\/1\/0566\/9483\/3309\/files\/9070_17_2048x2048.jpg?v=1625038320\" data-mce-style=\"float: none;\"\u003e\u003c\/div\u003e\n\u003cdiv style=\"text-align: center;\" data-mce-style=\"text-align: center;\"\u003e\u003c\/div\u003e\n\u003cdiv style=\"text-align: center;\" data-mce-style=\"text-align: center;\"\u003e\u003c\/div\u003e\n\u003cdiv style=\"text-align: center;\" data-mce-style=\"text-align: center;\"\u003e\u003c\/div\u003e\n\u003cdiv style=\"text-align: center;\" data-mce-style=\"text-align: center;\"\u003e\u003c\/div\u003e\n\u003cdiv style=\"text-align: center;\" data-mce-style=\"text-align: center;\"\u003e\u003c\/div\u003e\n\u003cp style=\"text-align: center;\" data-mce-style=\"text-align: center;\"\u003e \u003c\/p\u003e\n\u003ch2 style=\"text-align: center;\" data-mce-style=\"text-align: center;\"\u003eHighly Compatible Video Output and Input\u003c\/h2\u003e\n\u003cdiv style=\"text-align: center;\" data-mce-style=\"text-align: center;\"\u003e\u003cstrong\u003eIt can be matched with the original camera; it can also use the reversing camera and driving recorder provided by ESSGOO; the assistance of the two devices can make it easier for you.\u003c\/strong\u003e\u003c\/div\u003e\n\u003cdiv style=\"text-align: center;\" data-mce-style=\"text-align: center;\"\u003e\u003cimg style=\"float: none;\" alt=\"\" src=\"https:\/\/cdn.shopify.com\/s\/files\/1\/0566\/9483\/3309\/files\/9070_20_2048x2048.jpg?v=1625038344\" data-mce-style=\"float: none;\"\u003e\u003c\/div\u003e\n\u003cdiv style=\"text-align: center;\" data-mce-style=\"text-align: center;\"\u003e\u003cimg style=\"float: none;\" alt=\"\" src=\"https:\/\/cdn.shopify.com\/s\/files\/1\/0566\/9483\/3309\/files\/9070_25_2048x2048.jpg?v=1625038368\" data-mce-style=\"float: none;\"\u003e\u003c\/div\u003e\n\u003ch2 style=\"text-align: center;\" data-mce-style=\"text-align: center;\"\u003e\u003cspan style=\"color: #000000;\" data-mce-style=\"color: #000000;\"\u003eMirrorLink\u003c\/span\u003e\u003c\/h2\u003e\n\u003ch4 style=\"text-align: center;\" data-mce-style=\"text-align: center;\"\u003e\u003cspan style=\"color: #00aaff; font-size: 14px;\" data-mce-style=\"color: #00aaff; font-size: 14px;\"\u003e\u003cspan style=\"color: #000000;\" data-mce-style=\"color: #000000;\"\u003eThe phone screen is projected to the car player\u003c\/span\u003e\u003c\/span\u003e\u003c\/h4\u003e\n\u003cdiv style=\"text-align: start;\" data-mce-style=\"text-align: start;\"\u003e\u003cimg src=\"https:\/\/cdn.shopify.com\/s\/files\/1\/0566\/9483\/3309\/files\/icon_pg_480x480.jpg?v=1625039131\" alt=\"\" style=\"display: block; margin-left: auto; margin-right: auto;\" data-mce-style=\"display: block; margin-left: auto; margin-right: auto;\" data-mce-src=\"https:\/\/cdn.shopify.com\/s\/files\/1\/0566\/9483\/3309\/files\/icon_pg_480x480.jpg?v=1625039131\" data-mce-fragment=\"1\"\u003e\u003c\/div\u003e\n\u003ch4 style=\"text-align: center;\" data-mce-style=\"text-align: center;\"\u003e\n\u003cspan style=\"color: #000000;\" data-mce-style=\"color: #000000;\"\u003eiPhone support WiFi projection screen,\u003cbr\u003e\u003c\/span\u003eit Can put the phone screen to the player\u003c\/h4\u003e\n\u003ch4 style=\"text-align: start;\" data-mce-style=\"text-align: start;\"\u003e\n\u003cspan style=\"color: #000000;\" data-mce-style=\"color: #000000;\"\u003e--\u003c\/span\u003e\u003cstrong\u003e\u003c\/strong\u003e\n\u003c\/h4\u003e\n\u003cdiv style=\"text-align: start;\" data-mce-style=\"text-align: start;\"\u003e\u003cstrong\u003e\u003cimg src=\"https:\/\/cdn.shopify.com\/s\/files\/1\/0566\/9483\/3309\/files\/icon_an_480x480.jpg?v=1625039156\" alt=\"\" style=\"display: block; margin-left: auto; margin-right: auto;\" data-mce-style=\"display: block; margin-left: auto; margin-right: auto;\" data-mce-src=\"https:\/\/cdn.shopify.com\/s\/files\/1\/0566\/9483\/3309\/files\/icon_an_480x480.jpg?v=1625039156\" data-mce-fragment=\"1\"\u003e\u003c\/strong\u003e\u003c\/div\u003e\n\u003ch4 style=\"text-align: center;\" data-mce-style=\"text-align: center;\"\u003e\n\u003cspan style=\"color: #000000;\" data-mce-style=\"color: #000000;\"\u003e\u003cstrong\u003eAndroid support USB\/WiFiprojection screen and when the USB cable is connected, \u003cbr\u003e\u003c\/strong\u003e\u003c\/span\u003e\u003cspan style=\"color: #000000;\" data-mce-style=\"color: #000000;\"\u003e\u003cstrong\u003eit can be controlled on the mobile phone and car screen\u003c\/strong\u003e\u003c\/span\u003e\n\u003c\/h4\u003e\n\u003cdiv style=\"text-align: center;\" data-mce-style=\"text-align: center;\"\u003e\u003cimg style=\"float: none;\" src=\"https:\/\/cdn.shopify.com\/s\/files\/1\/0566\/9483\/3309\/files\/9070_30_2048x2048.jpg?v=1625038410\" width=\"2048x2048\" height=\"2048x2048\" data-mce-style=\"float: none;\"\u003e\u003c\/div\u003e\n\u003ch2 style=\"text-align: center;\" data-mce-style=\"text-align: center;\"\u003eBasic parameters\u003c\/h2\u003e\n\u003cdiv style=\"text-align: center;\" data-mce-style=\"text-align: center;\"\u003e\u003cimg style=\"float: none;\" alt=\"\" src=\"https:\/\/cdn.shopify.com\/s\/files\/1\/0566\/9483\/3309\/files\/9070_26_2048x2048.jpg?v=1625038426\" data-mce-style=\"float: none;\"\u003e\u003c\/div\u003e\n\u003ch2 style=\"text-align: center;\" data-mce-style=\"text-align: center;\"\u003e\u003cspan style=\"color: #000000;\" data-mce-style=\"color: #000000;\"\u003eProduct Accessories (attached)\u003c\/span\u003e\u003c\/h2\u003e\n\u003cdiv style=\"text-align: center;\" data-mce-style=\"text-align: center;\"\u003e\n\u003cimg style=\"float: none;\" src=\"https:\/\/cdn.shopify.com\/s\/files\/1\/0566\/9483\/3309\/files\/9070_30-11_2048x2048.jpg?v=1625038447\" width=\"2048x2048\" height=\"2048x2048\" data-mce-style=\"float: none;\"\u003e \u003c\/div\u003e\n\u003ch2\u003e\u003cstrong\u003eFeatures Of AR7003 Car Radio:\u003c\/strong\u003e\u003c\/h2\u003e\n\u003cp\u003e1. Radio (FM)\u003cbr\u003e2. Supports reading USB flash drives (audio\/video\/picture)\u003cbr\u003e3. AUX function\u003cbr\u003e4. Bluetooth function\u003cbr\u003e5. RCA audio output can be connected to a subwoofer\u003cbr\u003e6. Rear view input function\u003cbr\u003e7. Video input function\u003cbr\u003e8. Original car steering wheel learning function\u003cbr\u003e9. Dash cam input function\u003cbr\u003e10. WIFI Internet\u003cbr\u003e11. GPS navigation\u003cbr\u003e12. Mobile phone interconnection (for iPhone\/Android phones)\u003cbr\u003e13. Free install apps\u003cbr\u003e14. Integrate original car functions\u003cbr\u003e15. EQ channel\u003c\/p\u003e\n\u003cp\u003e \u003c\/p\u003e\n\u003ch2\u003e\u003cstrong\u003eSpecifications:\u003c\/strong\u003e\u003c\/h2\u003e\n\u003cul\u003e\n\u003cli\u003eSystem: Android 9.1\u003c\/li\u003e\n\u003cli\u003eScreen model: HD 7-inch TouchScreen\u003c\/li\u003e\n\u003cli\u003eCPU: A7 1.3GHZ x 4\u003c\/li\u003e\n\u003cli\u003e\u003cstrong\u003eMemory: 2GB (RAM)+32GB (ROM)\u003c\/strong\u003e\u003c\/li\u003e\n\u003cli\u003eRadio Frequency: FM 87.5M-108M\u003c\/li\u003e\n\u003cli\u003eOperation method: touch screen, steering wheel and physical buttons\u003c\/li\u003e\n\u003cli\u003eRDS: YES\u003c\/li\u003e\n\u003cli\u003eMirror Link: YES\u003c\/li\u003e\n\u003cli\u003eWireless WIFI: \u003cspan data-mce-fragment=\"1\"\u003eYES\u003c\/span\u003e\n\u003c\/li\u003e\n\u003cli\u003eBluetooth: \u003cspan data-mce-fragment=\"1\"\u003eYES\u003c\/span\u003e\n\u003c\/li\u003e\n\u003cli\u003eReset button: \u003cspan data-mce-fragment=\"1\"\u003eYES\u003c\/span\u003e\n\u003c\/li\u003e\n\u003cli\u003e\u003cspan data-mce-fragment=\"1\"\u003eMulti-screen control: YES\u003c\/span\u003e\u003c\/li\u003e\n\u003cli\u003e\u003cspan data-mce-fragment=\"1\"\u003eBuilt-in microphone: YES\u003c\/span\u003e\u003c\/li\u003e\n\u003cli\u003eSpeaker Output Power: 4 x 45W\u003c\/li\u003e\n\u003cli\u003eUSB: 2 rear tail line USB\u003c\/li\u003e\n\u003cli\u003eAudio, Image, Format: Android Compatible Formats\u003c\/li\u003e\n\u003cli\u003eLanguages: \u003cspan data-mce-fragment=\"1\"\u003eAndroid Compatible Languages\u003c\/span\u003e\n\u003c\/li\u003e\n\u003cli\u003e\u003cspan data-mce-fragment=\"1\"\u003eWorking temperature: -11 ~ +59 degrees\u003c\/span\u003e\u003c\/li\u003e\n\u003cli\u003eWorking Voltage: For VW\u003c\/li\u003e\n\u003cli\u003eInstallation size: Dedicated size for VW\u003c\/li\u003e\n\u003c\/ul\u003e\n\u003cp style=\"text-align: left;\" data-mce-style=\"text-align: left;\"\u003e\u003cbr\u003e\u003c\/p\u003e\n\u003cp style=\"text-align: left;\" data-mce-style=\"text-align: left;\"\u003e \u003c\/p\u003e\n\u003cdiv style=\"text-align: center;\"\u003e\u003cimg style=\"float: none;\" alt=\"\" src=\"https:\/\/cdn.shopifycdn.net\/s\/files\/1\/0566\/9483\/3309\/files\/Model-Compatibility_1024x1024.jpg?v=1653965699\"\u003e\u003c\/div\u003e\n\u003cdiv style=\"text-align: left;\" data-mce-style=\"text-align: left;\"\u003e\u003cspan\u003e\u003cbr\u003e\u003c\/span\u003e\u003c\/div\u003e\n\u003cdiv style=\"text-align: left;\" data-mce-style=\"text-align: left;\"\u003e\u003cspan\u003e\u003c\/span\u003e\u003c\/div\u003e\n\u003cdiv style=\"text-align: left;\" data-mce-style=\"text-align: left;\"\u003e\u003cspan\u003e\u003c\/span\u003e\u003c\/div\u003e\n\u003ch3 style=\"text-align: left;\" data-mce-style=\"text-align: left;\"\u003e\n\u003cspan\u003e\u003cbr\u003e\u003c\/span\u003e\u003cspan\u003ePackage Included:\u003c\/span\u003e\n\u003c\/h3\u003e\n\u003cdiv style=\"text-align: left;\" data-mce-style=\"text-align: left;\"\u003e1 x VW Android Media Player\u003cbr\u003e1 x GPS antenna\u003cbr\u003e1 x power harness new VW harness style\u003cbr\u003e1 x harness power style VW harness old\u003cbr\u003e1 x CANBUS\u003cbr\u003e1 x Radio antenna adapter\u003cbr\u003e2 x USB adapter\u003cbr\u003e1 x Camera Input\u003cbr\u003e1 x RCA input \/ output\u003cbr\u003e1 x User Manual\u003c\/div\u003e\n\u003cdiv style=\"text-align: left;\" data-mce-style=\"text-align: left;\"\u003e\u003cspan\u003e\u003c\/span\u003e\u003c\/div\u003e\n\u003cdiv style=\"text-align: center;\" data-mce-style=\"text-align: center;\"\u003e\u003cbr\u003e\u003c\/div\u003e\n\u003cdiv style=\"text-align: center;\" data-mce-style=\"text-align: center;\"\u003e\u003c\/div\u003e\n\u003cdiv style=\"text-align: center;\" data-mce-style=\"text-align: center;\"\u003e\u003c\/div\u003e\n\u003cdiv style=\"text-align: center;\" data-mce-style=\"text-align: center;\"\u003e\u003cimg src=\"https:\/\/cdn.shopify.com\/s\/files\/1\/0566\/9483\/3309\/files\/9021A__11_2048x2048.jpg?v=1625654082\"\u003e\u003c\/div\u003e\n\u003cdiv style=\"text-align: center;\" data-mce-style=\"text-align: center;\"\u003e\u003c\/div\u003e\n\u003cdiv style=\"text-align: left;\" data-mce-style=\"text-align: left;\"\u003e\u003cspan\u003e\u003c\/span\u003e\u003c\/div\u003e\n\u003cdiv style=\"text-align: left;\" data-mce-style=\"text-align: left;\"\u003e\u003cspan\u003e\u003c\/span\u003e\u003c\/div\u003e"}
ESSGOO AR7002 | Car Stereo Android 9.1 with Universal Radio System GPS Sat Nav WiFi


SWC & Key Operation
All function keys can be reset until it perfectly matches your usage habits; the damping of the physical keys is clear and the sound is pleasant.
High precision navigation
Equipped with the latest signal receiver, which can shorten the error within 5 meters; support offline and online voice navigation; the combination of large screen and speakers can highlight the driving pleasure


A7 4-Core CPU
All 4 chips use the latest 28nm/40nm process
It not only pays attention to high performance, but also ensures moderate power consumption, and maintains low temperature, low noise and high life.
Internet Connection
After connecting to the network, you can use the voice function (such as Google voice), and the information query on the road is more convenient and safe.
Comes with bluetooth and wifi signal receiver, making your connection with the vehicle more stable.
Highly Compatible Video Output and Input
It can be matched with the original camera; it can also use the reversing camera and driving recorder provided by ESSGOO; the assistance of the two devices can make it easier for you.
MirrorLink
The phone screen is projected to the car player
iPhone support WiFi projection screen,
it Can put the phone screen to the player
--
Android support USB/WiFiprojection screen and when the USB cable is connected,
it can be controlled on the mobile phone and car screen
Basic parameters
Product Accessories (attached)
Features Of AR7003 Car Radio:
1. Radio (FM)
2. Supports reading USB flash drives (audio/video/picture)
3. AUX function
4. Bluetooth function
5. RCA audio output can be connected to a subwoofer
6. Rear view input function
7. Video input function
8. Original car steering wheel learning function
9. Dash cam input function
10. WIFI Internet
11. GPS navigation
12. Mobile phone interconnection (for iPhone/Android phones)
13. Free install apps
14. Integrate original car functions
15. EQ channel
Specifications:
System: Android 9.1
Screen model: HD 7-inch TouchScreen
CPU: A7 1.3GHZ x 4
Memory: 2GB (RAM)+32GB (ROM)
Radio Frequency: FM 87.5M-108M
Operation method: touch screen, steering wheel and physical buttons
RDS: YES
Mirror Link: YES
Wireless WIFI:

YES

Bluetooth: 

YES

Reset button:

YES

Multi-screen control: YES

Built-in microphone: YES

Speaker Output Power: 4 x 45W
USB: 2 rear tail line USB
Audio, Image, Format: Android Compatible Formats
Languages: 

Android Compatible Languages

Working temperature: -11 ~ +59 degrees

Working Voltage: For VW
Installation size: Dedicated size for VW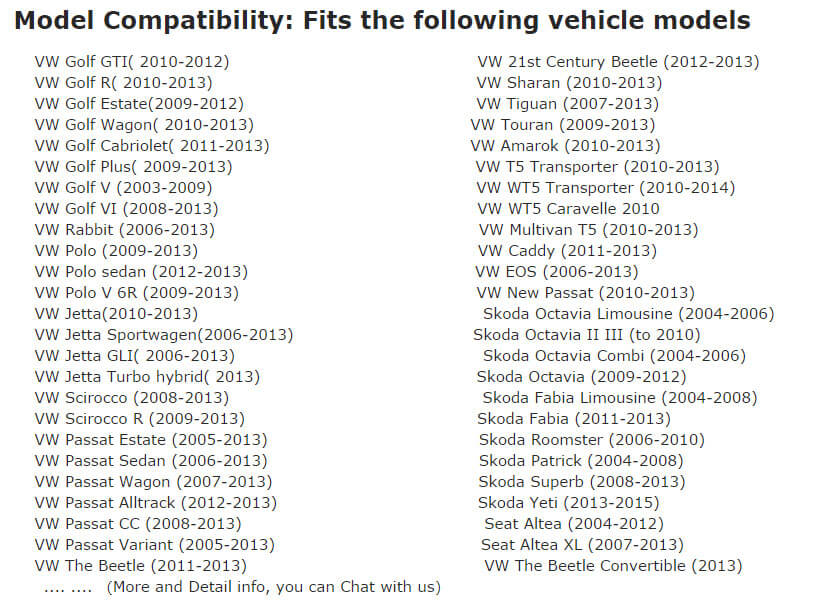 Package Included:
1 x VW Android Media Player
1 x GPS antenna
1 x power harness new VW harness style
1 x harness power style VW harness old
1 x CANBUS
1 x Radio antenna adapter
2 x USB adapter
1 x Camera Input
1 x RCA input / output
1 x User Manual
If you have any questions, please feel free to Contact our customer service team 📧

There are many product-related product ⭐ Reviews ⭐ at the bottom of the website for reference, and you are welcome to leave your thoughts to let other consumers understand ESSGOO better.
Share the ⭐ Reviews to Get 15% OFF Promo Code ;💳 And $10 Cashback  🤑
 ***
Which countries can we ship to? 

📦
Please don't underestimate ESSGOO, as long as the country where you have postal express service, our goods can be delivered to you; we have our own warehouses in Europe, America, and other places, more than ten overseas warehouses all over the world, and we also Cooperate with most of the express companies in the world, ESSGOO has a first-class warehousing and logistics team to ensure that the goods are delivered to you
Shipping Info  

🏎️
1.Most items are shipping free, you can check the description in the listing. Order will be shipped within 48 hours after payment made.
2.The shipping time is based on the shipping option, sometimes it may be delayed due to varied situations (such as holidays, war, weather, etc.), please contact us immediately if the delivery time exceeds estimated.


Time Schedule- 
🚀
Fast/Expedited Shipping 
| | |
| --- | --- |
| US/AU/UK/EU | 4-10 working days |
| Canada/Israel/ Azerbaijan / Russia/Maldives/ Eastern Europe/ Middle East | 7-18 working days |
| Brazil/Chile/South America | 7-18 working days |
| Western Europe/New Zealand | 8-12 working days |
The general delivery time of other regions or countries will be within 25 days.
Time Schedule-  
✈️
Standard Shipping 
Standard delivery service (Free shipping) is usually about 5-10 days slower than Expedited
--
I know your worries
0. How to install? ? I need tutorials!!
All products have installation instructions and instructions for use in your package.
If it's not enough, you can also watch our official

 

YouTube, there are many installation video tutorials~~
Or search 'install' in essgoo.com, or Click the 'Support'
For example this:  Car Stereo Installment Near You
1.Why Choose ESSGOO?
Brand ESSGOO was established in 2016 with great advantages in electronic products. More than that, the operating team has more than 11 years experiences on e-commerce.. We know exactly what the buyer concerns and worries. Making sure you will have a wonderful shopping experience by providing what you need and getting rid of what you worried about. It is no doubt to choose us with our high quality of product, good shipping way, and good customs support.
2.Can I change my shipping address after placing an order?
There is an opportunity to notify our customer service via email to change the delivery address within 2 hours after the order is generated.
3.How do I track my order?
1. Use your email to log in Account to view order information, logistics information, etc.
2. ESSGOO will send you emails at different stages of your order.
3. Feel free to contact our customer service, usually reply to your questions within 24 hours.
4.Will I be charged with customs and taxes?
ESSGOO uses 11 years of online experience and customer feedback to conclude that there will be no additional tariffs and related customs fees if you purchase items normally.
Unless you buy multiple high-priced products at the same time, you may need to pay additional fees.
5.What Do I Do If I Have Missing Items In My Order?
Please contact us immediately.
6.What if the item(s) I received are defective/incorrect/damaged?
Please contact us within 7 days from receiving your order if you received merchandise that is incorrect, missing, and/or defective. Please include your order number, photographs of the item(s) and all related references upon receiving your package. We will do our very best to resolve your case as soon as possible.
7.How do I return an item?
If you are not satisfied with the purchased item and want to return it, please contact us immediately after receiving the order, and provide your order number and the reason for the return. Our customer service team will review the return request and send further instructions after the return is approved.
For details, please refer to ESSGOO's
warranty information
and
refund policy
. All returns must be kept in original condition and packaged intact.
8.When will I receive my refund?
All refunds will be credited to your original form of payment. If you paid by credit or debit card, refunds will be sent to the card-issuing bank within 7-10 business days of receipt of the returned item or cancellation request. 
-