{"id":8486379323678,"title":"ESSGOO | Car Stereo for BMW 3 Series E90 E91 E92 E93, Wireless Carplay\u0026Android Auto With Steering Wheel Controls","handle":"essgoo-car-stereo-for-bmw-3-series-e90-e91-e92-e93-wireless-carplay-android-auto-with-steering-wheel-controls","description":"\u003ch2 style=\"text-align: center;\"\u003eUpgrade Your BMW 3 Series With The Advanced Bluetooth Car Stereo\u003c\/h2\u003e\n\u003cp\u003e \u003c\/p\u003e\n\u003cp\u003eElevate your driving experience with the advanced Bluetooth car stereo specifically designed for BMW 3 Series E90, E91, E92, and E93 models. This double din car stereo is packed with features including a backup camera, Wireless Carplay \u0026amp; Android Auto compatibility, Steering Wheel Controls, a variety of optional UI interfaces, support for AI Voice Control, Android 12 integration, Mirror Link functionality, and a 9-inch HD IPS Display. Transform your BMW 3 Series and enjoy a seamless and immersive in-car entertainment experience.\u003c\/p\u003e\n\u003cp\u003eStay connected and entertained with Wireless Carplay \u0026amp; Android Auto. Connect your smartphone via Bluetooth and effortlessly access your favorite apps, make hands-free calls, and navigate with ease.\u003c\/p\u003e\n\u003cp\u003eKeep your focus on the road and control your audio settings with the handy Steering Wheel Controls. Adjust the volume, switch tracks, and manage audio sources without distractions.\u003c\/p\u003e\n\u003cp\u003eChoose from a range of optional UI interfaces to customize the display and match your personal style preferences, delivering a sleek and vibrant user-friendly interface.\u003c\/p\u003e\n\u003cp\u003eExperience crisp visuals and vibrant colors on the 9-inch HD IPS Display, providing a captivating and immersive in-car entertainment experience.\u003c\/p\u003e\n\u003cp\u003eThe car stereo also offers AI Voice Control, allowing you to control various functions using voice commands, ensuring a safer and more convenient driving experience.\u003c\/p\u003e\n\u003cp\u003eWith Android 12 integration and Mirror Link functionality, you can seamlessly connect your compatible devices and access their features directly on the car stereo's display.\u003c\/p\u003e\n\u003cp\u003eDesigned with BMW 3 Series E90, E91, E92, and E93 models in mind, this car stereo ensures seamless integration into your vehicle's interior. It is brought to you by ESSGOO, a reputable brand known for exceptional car audio products.\u003c\/p\u003e\n\u003cp\u003eWith ample 2+32G storage capacity, you can store your favorite music, podcasts, and media files for endless entertainment during your journeys.\u003c\/p\u003e\n\u003cp style=\"text-align: center;\"\u003e \u003c\/p\u003e\n\u003cdiv style=\"text-align: center;\"\u003e\u003cimg style=\"float: none;\" alt=\"car stereo double din\" src=\"https:\/\/cdn.shopifycdn.net\/s\/files\/1\/0566\/9483\/3309\/files\/1_daf14e7a-f74a-4432-84f0-2c4b0ee0e48f_1024x1024.jpg?v=1689217676\"\u003e\u003c\/div\u003e\n\u003cp style=\"text-align: center;\"\u003e \u003c\/p\u003e\n\u003cp style=\"text-align: center;\"\u003e\u003cimg alt=\"wifi\" src=\"https:\/\/cdn.shopifycdn.net\/s\/files\/1\/0566\/9483\/3309\/files\/2_c36bed95-be8c-417c-8719-6d346395dc99_1024x1024.jpg?v=1689217778\"\u003e\u003c\/p\u003e\n\u003cp style=\"text-align: center;\"\u003e \u003c\/p\u003e\n\u003cp style=\"text-align: center;\"\u003e\u003cimg alt=\"Mirror Link\" src=\"https:\/\/cdn.shopifycdn.net\/s\/files\/1\/0566\/9483\/3309\/files\/3_45fe0a6a-8132-4ecf-b846-001e75fd9c27_1024x1024.jpg?v=1689217798\"\u003e\u003c\/p\u003e\n\u003cp style=\"text-align: center;\"\u003e \u003c\/p\u003e\n\u003cp style=\"text-align: center;\"\u003e\u003cimg alt=\"hifi\" src=\"https:\/\/cdn.shopifycdn.net\/s\/files\/1\/0566\/9483\/3309\/files\/4_b2881f15-1ff5-4200-afc0-1980e104443f_1024x1024.jpg?v=1689217831\"\u003e\u003c\/p\u003e\n\u003cp style=\"text-align: center;\"\u003e \u003c\/p\u003e\n\u003cp style=\"text-align: center;\"\u003e\u003cimg alt=\"Support Al Voice Control\" src=\"https:\/\/cdn.shopifycdn.net\/s\/files\/1\/0566\/9483\/3309\/files\/5_72e6bc60-8bc4-4e77-b808-a31fa010153d_1024x1024.jpg?v=1689217857\"\u003e\u003c\/p\u003e\n\u003cp style=\"text-align: center;\"\u003e \u003c\/p\u003e\n\u003cp style=\"text-align: center;\"\u003e\u003cimg alt=\"gps\" src=\"https:\/\/cdn.shopifycdn.net\/s\/files\/1\/0566\/9483\/3309\/files\/7_bd75a988-fa42-418b-a3ac-b9cfd6c53e1a_1024x1024.jpg?v=1689217888\"\u003e\u003c\/p\u003e\n\u003cp style=\"text-align: center;\"\u003e \u003c\/p\u003e\n\u003cp style=\"text-align: center;\"\u003e\u003cimg alt=\"GPS\" src=\"https:\/\/cdn.shopifycdn.net\/s\/files\/1\/0566\/9483\/3309\/files\/8_fea127b7-400c-464d-af4a-a253aa27b910_1024x1024.jpg?v=1689217910\"\u003e\u003c\/p\u003e\n\u003cp style=\"text-align: center;\"\u003e\u003cimg alt=\"Bluetooth\" src=\"https:\/\/cdn.shopifycdn.net\/s\/files\/1\/0566\/9483\/3309\/files\/9_3fc6ac1b-d3b6-46f2-a340-3d4ce9db2a37_1024x1024.jpg?v=1689217932\"\u003e\u003c\/p\u003e\n\u003cp style=\"text-align: center;\"\u003e \u003c\/p\u003e\n\u003cp style=\"text-align: center;\"\u003e\u003cimg alt=\"Bluetooth\" src=\"https:\/\/cdn.shopifycdn.net\/s\/files\/1\/0566\/9483\/3309\/files\/10_3fa8263a-484b-4732-bf3f-f12f88099528_1024x1024.jpg?v=1689217955\"\u003e\u003c\/p\u003e\n\u003cp style=\"text-align: center;\"\u003e \u003c\/p\u003e\n\u003cp style=\"text-align: center;\"\u003e\u003cimg alt=\"FM\/RDS RADIO\" src=\"https:\/\/cdn.shopifycdn.net\/s\/files\/1\/0566\/9483\/3309\/files\/11_a47faa4b-5bf7-43f7-9f20-72d532a329c7_1024x1024.jpg?v=1689217981\"\u003e\u003c\/p\u003e\n\u003cp style=\"text-align: center;\"\u003e \u003c\/p\u003e\n\u003cp style=\"text-align: center;\"\u003e\u003cimg alt=\"FM\/RDS RADIO\" src=\"https:\/\/cdn.shopifycdn.net\/s\/files\/1\/0566\/9483\/3309\/files\/12_210f2ba5-1c7c-4df1-bc3f-a5c97957888a_1024x1024.jpg?v=1689218025\"\u003e\u003c\/p\u003e\n\u003cp style=\"text-align: center;\"\u003e\u003cimg alt=\"Steering Wheel Controls\" src=\"https:\/\/cdn.shopifycdn.net\/s\/files\/1\/0566\/9483\/3309\/files\/13_509a21e0-8f1f-48c0-8842-b552a446bca9_1024x1024.jpg?v=1689218049\"\u003e\u003c\/p\u003e\n\u003cp style=\"text-align: center;\"\u003e \u003c\/p\u003e\n\u003cp style=\"text-align: center;\"\u003e\u003cimg alt=\"backup camera\" src=\"https:\/\/cdn.shopifycdn.net\/s\/files\/1\/0566\/9483\/3309\/files\/14_682cf0f3-6e7a-4362-8b45-f80dab31f49f_1024x1024.jpg?v=1689218069\"\u003e\u003c\/p\u003e\n\u003cp style=\"text-align: center;\"\u003e \u003c\/p\u003e\n\u003cp style=\"text-align: center;\"\u003e\u003cimg alt=\"backup camera\" src=\"https:\/\/cdn.shopifycdn.net\/s\/files\/1\/0566\/9483\/3309\/files\/15_3c91e18e-9423-4f35-8ba2-98b3cc528d74_1024x1024.jpg?v=1689218105\"\u003e\u003c\/p\u003e\n\u003cp style=\"text-align: center;\"\u003e\u003cimg alt=\"DAB\" src=\"https:\/\/cdn.shopifycdn.net\/s\/files\/1\/0566\/9483\/3309\/files\/16_6554101a-6752-42e2-8a51-fd89bb633b2f_1024x1024.jpg?v=1689218125\"\u003e\u003c\/p\u003e\n\u003cp style=\"text-align: center;\"\u003e\u003cimg alt=\"DAB\" src=\"https:\/\/cdn.shopifycdn.net\/s\/files\/1\/0566\/9483\/3309\/files\/17_bda20bce-9774-4c12-83b6-a843954096f1_1024x1024.jpg?v=1689218153\"\u003e\u003c\/p\u003e\n\u003cp style=\"text-align: center;\"\u003e\u003cimg alt=\"Android 12.0\" src=\"https:\/\/cdn.shopifycdn.net\/s\/files\/1\/0566\/9483\/3309\/files\/17-1_1024x1024.jpg?v=1689218170\"\u003e\u003c\/p\u003e\n\u003cp style=\"text-align: center;\"\u003e \u003c\/p\u003e\n\u003cp style=\"text-align: center;\"\u003e\u003cimg alt=\"Upgrade\" src=\"https:\/\/cdn.shopifycdn.net\/s\/files\/1\/0566\/9483\/3309\/files\/18_4422f313-b47d-4d8f-9dd4-d5312dc7cb0c_1024x1024.jpg?v=1689218196\"\u003e\u003c\/p\u003e\n\u003cp style=\"text-align: center;\"\u003e \u003c\/p\u003e\n\u003cp style=\"text-align: center;\"\u003e\u003cimg alt=\"Tips for Installation\" src=\"https:\/\/cdn.shopifycdn.net\/s\/files\/1\/0566\/9483\/3309\/files\/19_871ef373-01b1-46df-bca0-322c40a3b5f5_1024x1024.jpg?v=1689218219\"\u003e\u003c\/p\u003e\n\u003cp style=\"text-align: center;\"\u003e\u003cimg alt=\"Purchase Notice\" src=\"https:\/\/cdn.shopifycdn.net\/s\/files\/1\/0566\/9483\/3309\/files\/20_2b2cbe97-f82a-4059-a30a-f7cd48a9e6b7_1024x1024.jpg?v=1689218244\"\u003e\u003c\/p\u003e\n\u003cp style=\"text-align: center;\"\u003e \u003c\/p\u003e\n\u003ch2\u003e\u003cstrong\u003eFeatures:\u003c\/strong\u003e\u003c\/h2\u003e\n\u003cp\u003e \u003c\/p\u003e\n\u003col\u003e\n\u003cli\u003eCar Stereo for BMW 3 Series E90 E91 E92 E93\u003c\/li\u003e\n\u003cli\u003e9-inch 2-Din HD car radio MP5 player with wireless carplay\u0026amp;android auto\u003c\/li\u003e\n\u003cli\u003eSupport Radio function and built-in AUX input.\u003c\/li\u003e\n\u003cli\u003eSupport rear view camera input function.\u003c\/li\u003e\n\u003cli\u003e24-hour digital display clock and date.\u003c\/li\u003e\n\u003cli\u003eCan charge for mobile phones or other USB devices.\u003c\/li\u003e\n\u003cli\u003eSupport multiple sound effects adjusting.\u003c\/li\u003e\n\u003cli\u003eSupport Al Voice Control\u003c\/li\u003e\n\u003c\/ol\u003e\n\u003cp style=\"text-align: center;\"\u003e \u003c\/p\u003e\n\u003ch2\u003e\u003cspan\u003e\u003cstrong\u003eProduct Parameters:\u003c\/strong\u003e\u003c\/span\u003e\u003c\/h2\u003e\n\u003cp\u003e \u003c\/p\u003e\n\u003cp\u003eResolution: 1024*600\u003c\/p\u003e\n\u003cp\u003eNetwork: WiFi\u003c\/p\u003e\n\u003cp\u003eNumber of CPU \u0026amp; Chips: A7 1.3GHz x 4, Quad Core\u003c\/p\u003e\n\u003cp\u003eSystem: Android 12.0\u003c\/p\u003e\n\u003cp\u003eVideo memory and memory: 2+32\u003c\/p\u003e\n\u003cp\u003eAmplifier IC: 7388\u003c\/p\u003e\n\u003cp\u003eRadio IC: MTK8227\u003c\/p\u003e\n\u003cp\u003eDSP: ST7729 HIFI\u003c\/p\u003e\n\u003cp\u003eCarplay: Wireless\u003c\/p\u003e\n\u003cp\u003eAndroid Auto: Wireless\u003c\/p\u003e\n\u003cp\u003eAHD camera: support\u003c\/p\u003e\n\u003cp\u003eRadiofrequency: FM\u003c\/p\u003e\n\u003cp\u003eRDS: support\u003c\/p\u003e\n\u003cp\u003eButton color: white\/colorful optional\u003c\/p\u003e\n\u003cp\u003eOBD: optional\u003c\/p\u003e\n\u003cp\u003eAdas dvr: optional\u003c\/p\u003e\n\u003cp\u003eUSB: dual USB\u003c\/p\u003e\n\u003cp\u003eSplit screen: support\u003c\/p\u003e\n\u003cp\u003eHiFi: ST7729 HIFI\u003c\/p\u003e\n\u003cp\u003eEQ section: 32 sections\u003c\/p\u003e\n\u003cp\u003eBluetooth: MT6625 4.0\u003c\/p\u003e\n\u003cp\u003eMirror connection: support\u003c\/p\u003e\n\u003cp\u003eAudio format: MP3, WMA, AAC, RM, FALC, WAV\u003c\/p\u003e\n\u003cp\u003eVideo Format: MPEG -1\/2\/4, H264, H263, VCI, RV, RMVB, DivX, Sorenson SparK, Spark, VP8, AVS Stream\u003c\/p\u003e\n\u003cp\u003ePhoto format: JPG \/ BMP \/ JEPG \/ GIF \/ PNG\u003c\/p\u003e\n\u003cp\u003eLanguage: Multilingual\u003c\/p\u003e\n\u003cp\u003eNumber of theme UIs: 27 sets\u003c\/p\u003e\n\u003cp\u003ePower: 50*4\u003c\/p\u003e\n\u003cp\u003eVoltage: 9-16V\u003c\/p\u003e\n\u003cp\u003eGPS\/GNSS\/GSNS\/BDS: GPS+Glonss\u003c\/p\u003e\n\u003cp\u003e \u003c\/p\u003e\n\u003ch2\u003e\u003cstrong\u003ePackage Contents:\u003c\/strong\u003e\u003c\/h2\u003e\n\u003cp\u003e \u003c\/p\u003e\n\u003cp\u003e1* Android Car Stereo Player\u003c\/p\u003e\n\u003cp\u003e1* Power Cable\u003c\/p\u003e\n\u003cp\u003e1* Power Cable\u003c\/p\u003e\n\u003cp\u003e1* GPS Antenna\u003c\/p\u003e\n\u003cp\u003e1* Camera Input\u003c\/p\u003e\n\u003cp\u003e1* Instruction manual\u003c\/p\u003e\n\u003cp\u003e1* RCA Input\/Output\u003c\/p\u003e\n\u003cp\u003e2* USB Cable\u003c\/p\u003e\n\u003cp\u003e1* Canbus Box\u003c\/p\u003e\n\u003cp\u003e1* Frame Kit\u003c\/p\u003e\n\u003cp\u003e1* AHD Rear View Camera\u003c\/p\u003e\n\u003cp\u003e \u003c\/p\u003e","published_at":"2023-07-13T11:02:12+08:00","created_at":"2023-07-13T11:02:12+08:00","vendor":"ESSGOO","type":"car stereo","tags":[],"price":16550,"price_min":16550,"price_max":17550,"available":true,"price_varies":true,"compare_at_price":null,"compare_at_price_min":0,"compare_at_price_max":0,"compare_at_price_varies":false,"variants":[{"id":45769537061150,"title":"Standard","option1":"Standard","option2":null,"option3":null,"sku":"G020067101B","requires_shipping":true,"taxable":true,"featured_image":null,"available":true,"name":"ESSGOO | Car Stereo for BMW 3 Series E90 E91 E92 E93, Wireless Carplay\u0026Android Auto With Steering Wheel Controls - Standard","public_title":"Standard","options":["Standard"],"price":16550,"weight":0,"compare_at_price":null,"inventory_management":"shopify","barcode":"","requires_selling_plan":false,"selling_plan_allocations":[]},{"id":45769537093918,"title":"With Reversing camera","option1":"With Reversing camera","option2":null,"option3":null,"sku":"G020067101B","requires_shipping":true,"taxable":true,"featured_image":null,"available":true,"name":"ESSGOO | Car Stereo for BMW 3 Series E90 E91 E92 E93, Wireless Carplay\u0026Android Auto With Steering Wheel Controls - With Reversing camera","public_title":"With Reversing camera","options":["With Reversing camera"],"price":17550,"weight":0,"compare_at_price":null,"inventory_management":"shopify","barcode":"","requires_selling_plan":false,"selling_plan_allocations":[]}],"images":["\/\/essgoo.com\/cdn\/shop\/files\/1_86fb9a94-c21e-4cab-bb4b-62a1a6522e71.jpg?v=1689217336","\/\/essgoo.com\/cdn\/shop\/files\/2.1_d4c37cc7-58c4-4199-96c7-0f48d80ec2b9.jpg?v=1689217335","\/\/essgoo.com\/cdn\/shop\/files\/3_8f5a44b8-cb7f-4863-bc9d-e43db2d47f6e.jpg?v=1689217335","\/\/essgoo.com\/cdn\/shop\/files\/4.2_6e2a6cd0-dbf9-4506-aa7b-2455b2111eca.jpg?v=1689217334","\/\/essgoo.com\/cdn\/shop\/files\/5_785e8dc4-687a-4289-9609-68a61c25a1ea.jpg?v=1689217334","\/\/essgoo.com\/cdn\/shop\/files\/10_32e2c427-6cfa-4988-bb24-3eaf9ae76d72.jpg?v=1689217334","\/\/essgoo.com\/cdn\/shop\/files\/11-AHD.jpg?v=1689217335"],"featured_image":"\/\/essgoo.com\/cdn\/shop\/files\/1_86fb9a94-c21e-4cab-bb4b-62a1a6522e71.jpg?v=1689217336","options":["Collocation"],"media":[{"alt":null,"id":34747608236318,"position":1,"preview_image":{"aspect_ratio":1.0,"height":1600,"width":1600,"src":"\/\/essgoo.com\/cdn\/shop\/files\/1_86fb9a94-c21e-4cab-bb4b-62a1a6522e71.jpg?v=1689217336"},"aspect_ratio":1.0,"height":1600,"media_type":"image","src":"\/\/essgoo.com\/cdn\/shop\/files\/1_86fb9a94-c21e-4cab-bb4b-62a1a6522e71.jpg?v=1689217336","width":1600},{"alt":null,"id":34747608269086,"position":2,"preview_image":{"aspect_ratio":1.0,"height":1000,"width":1000,"src":"\/\/essgoo.com\/cdn\/shop\/files\/2.1_d4c37cc7-58c4-4199-96c7-0f48d80ec2b9.jpg?v=1689217335"},"aspect_ratio":1.0,"height":1000,"media_type":"image","src":"\/\/essgoo.com\/cdn\/shop\/files\/2.1_d4c37cc7-58c4-4199-96c7-0f48d80ec2b9.jpg?v=1689217335","width":1000},{"alt":null,"id":34747608301854,"position":3,"preview_image":{"aspect_ratio":1.0,"height":1600,"width":1600,"src":"\/\/essgoo.com\/cdn\/shop\/files\/3_8f5a44b8-cb7f-4863-bc9d-e43db2d47f6e.jpg?v=1689217335"},"aspect_ratio":1.0,"height":1600,"media_type":"image","src":"\/\/essgoo.com\/cdn\/shop\/files\/3_8f5a44b8-cb7f-4863-bc9d-e43db2d47f6e.jpg?v=1689217335","width":1600},{"alt":null,"id":34747608334622,"position":4,"preview_image":{"aspect_ratio":1.0,"height":1600,"width":1600,"src":"\/\/essgoo.com\/cdn\/shop\/files\/4.2_6e2a6cd0-dbf9-4506-aa7b-2455b2111eca.jpg?v=1689217334"},"aspect_ratio":1.0,"height":1600,"media_type":"image","src":"\/\/essgoo.com\/cdn\/shop\/files\/4.2_6e2a6cd0-dbf9-4506-aa7b-2455b2111eca.jpg?v=1689217334","width":1600},{"alt":null,"id":34747608367390,"position":5,"preview_image":{"aspect_ratio":1.0,"height":1600,"width":1600,"src":"\/\/essgoo.com\/cdn\/shop\/files\/5_785e8dc4-687a-4289-9609-68a61c25a1ea.jpg?v=1689217334"},"aspect_ratio":1.0,"height":1600,"media_type":"image","src":"\/\/essgoo.com\/cdn\/shop\/files\/5_785e8dc4-687a-4289-9609-68a61c25a1ea.jpg?v=1689217334","width":1600},{"alt":null,"id":34747608400158,"position":6,"preview_image":{"aspect_ratio":1.0,"height":1600,"width":1600,"src":"\/\/essgoo.com\/cdn\/shop\/files\/10_32e2c427-6cfa-4988-bb24-3eaf9ae76d72.jpg?v=1689217334"},"aspect_ratio":1.0,"height":1600,"media_type":"image","src":"\/\/essgoo.com\/cdn\/shop\/files\/10_32e2c427-6cfa-4988-bb24-3eaf9ae76d72.jpg?v=1689217334","width":1600},{"alt":null,"id":34747608432926,"position":7,"preview_image":{"aspect_ratio":1.0,"height":1600,"width":1600,"src":"\/\/essgoo.com\/cdn\/shop\/files\/11-AHD.jpg?v=1689217335"},"aspect_ratio":1.0,"height":1600,"media_type":"image","src":"\/\/essgoo.com\/cdn\/shop\/files\/11-AHD.jpg?v=1689217335","width":1600}],"requires_selling_plan":false,"selling_plan_groups":[],"content":"\u003ch2 style=\"text-align: center;\"\u003eUpgrade Your BMW 3 Series With The Advanced Bluetooth Car Stereo\u003c\/h2\u003e\n\u003cp\u003e \u003c\/p\u003e\n\u003cp\u003eElevate your driving experience with the advanced Bluetooth car stereo specifically designed for BMW 3 Series E90, E91, E92, and E93 models. This double din car stereo is packed with features including a backup camera, Wireless Carplay \u0026amp; Android Auto compatibility, Steering Wheel Controls, a variety of optional UI interfaces, support for AI Voice Control, Android 12 integration, Mirror Link functionality, and a 9-inch HD IPS Display. Transform your BMW 3 Series and enjoy a seamless and immersive in-car entertainment experience.\u003c\/p\u003e\n\u003cp\u003eStay connected and entertained with Wireless Carplay \u0026amp; Android Auto. Connect your smartphone via Bluetooth and effortlessly access your favorite apps, make hands-free calls, and navigate with ease.\u003c\/p\u003e\n\u003cp\u003eKeep your focus on the road and control your audio settings with the handy Steering Wheel Controls. Adjust the volume, switch tracks, and manage audio sources without distractions.\u003c\/p\u003e\n\u003cp\u003eChoose from a range of optional UI interfaces to customize the display and match your personal style preferences, delivering a sleek and vibrant user-friendly interface.\u003c\/p\u003e\n\u003cp\u003eExperience crisp visuals and vibrant colors on the 9-inch HD IPS Display, providing a captivating and immersive in-car entertainment experience.\u003c\/p\u003e\n\u003cp\u003eThe car stereo also offers AI Voice Control, allowing you to control various functions using voice commands, ensuring a safer and more convenient driving experience.\u003c\/p\u003e\n\u003cp\u003eWith Android 12 integration and Mirror Link functionality, you can seamlessly connect your compatible devices and access their features directly on the car stereo's display.\u003c\/p\u003e\n\u003cp\u003eDesigned with BMW 3 Series E90, E91, E92, and E93 models in mind, this car stereo ensures seamless integration into your vehicle's interior. It is brought to you by ESSGOO, a reputable brand known for exceptional car audio products.\u003c\/p\u003e\n\u003cp\u003eWith ample 2+32G storage capacity, you can store your favorite music, podcasts, and media files for endless entertainment during your journeys.\u003c\/p\u003e\n\u003cp style=\"text-align: center;\"\u003e \u003c\/p\u003e\n\u003cdiv style=\"text-align: center;\"\u003e\u003cimg style=\"float: none;\" alt=\"car stereo double din\" src=\"https:\/\/cdn.shopifycdn.net\/s\/files\/1\/0566\/9483\/3309\/files\/1_daf14e7a-f74a-4432-84f0-2c4b0ee0e48f_1024x1024.jpg?v=1689217676\"\u003e\u003c\/div\u003e\n\u003cp style=\"text-align: center;\"\u003e \u003c\/p\u003e\n\u003cp style=\"text-align: center;\"\u003e\u003cimg alt=\"wifi\" src=\"https:\/\/cdn.shopifycdn.net\/s\/files\/1\/0566\/9483\/3309\/files\/2_c36bed95-be8c-417c-8719-6d346395dc99_1024x1024.jpg?v=1689217778\"\u003e\u003c\/p\u003e\n\u003cp style=\"text-align: center;\"\u003e \u003c\/p\u003e\n\u003cp style=\"text-align: center;\"\u003e\u003cimg alt=\"Mirror Link\" src=\"https:\/\/cdn.shopifycdn.net\/s\/files\/1\/0566\/9483\/3309\/files\/3_45fe0a6a-8132-4ecf-b846-001e75fd9c27_1024x1024.jpg?v=1689217798\"\u003e\u003c\/p\u003e\n\u003cp style=\"text-align: center;\"\u003e \u003c\/p\u003e\n\u003cp style=\"text-align: center;\"\u003e\u003cimg alt=\"hifi\" src=\"https:\/\/cdn.shopifycdn.net\/s\/files\/1\/0566\/9483\/3309\/files\/4_b2881f15-1ff5-4200-afc0-1980e104443f_1024x1024.jpg?v=1689217831\"\u003e\u003c\/p\u003e\n\u003cp style=\"text-align: center;\"\u003e \u003c\/p\u003e\n\u003cp style=\"text-align: center;\"\u003e\u003cimg alt=\"Support Al Voice Control\" src=\"https:\/\/cdn.shopifycdn.net\/s\/files\/1\/0566\/9483\/3309\/files\/5_72e6bc60-8bc4-4e77-b808-a31fa010153d_1024x1024.jpg?v=1689217857\"\u003e\u003c\/p\u003e\n\u003cp style=\"text-align: center;\"\u003e \u003c\/p\u003e\n\u003cp style=\"text-align: center;\"\u003e\u003cimg alt=\"gps\" src=\"https:\/\/cdn.shopifycdn.net\/s\/files\/1\/0566\/9483\/3309\/files\/7_bd75a988-fa42-418b-a3ac-b9cfd6c53e1a_1024x1024.jpg?v=1689217888\"\u003e\u003c\/p\u003e\n\u003cp style=\"text-align: center;\"\u003e \u003c\/p\u003e\n\u003cp style=\"text-align: center;\"\u003e\u003cimg alt=\"GPS\" src=\"https:\/\/cdn.shopifycdn.net\/s\/files\/1\/0566\/9483\/3309\/files\/8_fea127b7-400c-464d-af4a-a253aa27b910_1024x1024.jpg?v=1689217910\"\u003e\u003c\/p\u003e\n\u003cp style=\"text-align: center;\"\u003e\u003cimg alt=\"Bluetooth\" src=\"https:\/\/cdn.shopifycdn.net\/s\/files\/1\/0566\/9483\/3309\/files\/9_3fc6ac1b-d3b6-46f2-a340-3d4ce9db2a37_1024x1024.jpg?v=1689217932\"\u003e\u003c\/p\u003e\n\u003cp style=\"text-align: center;\"\u003e \u003c\/p\u003e\n\u003cp style=\"text-align: center;\"\u003e\u003cimg alt=\"Bluetooth\" src=\"https:\/\/cdn.shopifycdn.net\/s\/files\/1\/0566\/9483\/3309\/files\/10_3fa8263a-484b-4732-bf3f-f12f88099528_1024x1024.jpg?v=1689217955\"\u003e\u003c\/p\u003e\n\u003cp style=\"text-align: center;\"\u003e \u003c\/p\u003e\n\u003cp style=\"text-align: center;\"\u003e\u003cimg alt=\"FM\/RDS RADIO\" src=\"https:\/\/cdn.shopifycdn.net\/s\/files\/1\/0566\/9483\/3309\/files\/11_a47faa4b-5bf7-43f7-9f20-72d532a329c7_1024x1024.jpg?v=1689217981\"\u003e\u003c\/p\u003e\n\u003cp style=\"text-align: center;\"\u003e \u003c\/p\u003e\n\u003cp style=\"text-align: center;\"\u003e\u003cimg alt=\"FM\/RDS RADIO\" src=\"https:\/\/cdn.shopifycdn.net\/s\/files\/1\/0566\/9483\/3309\/files\/12_210f2ba5-1c7c-4df1-bc3f-a5c97957888a_1024x1024.jpg?v=1689218025\"\u003e\u003c\/p\u003e\n\u003cp style=\"text-align: center;\"\u003e\u003cimg alt=\"Steering Wheel Controls\" src=\"https:\/\/cdn.shopifycdn.net\/s\/files\/1\/0566\/9483\/3309\/files\/13_509a21e0-8f1f-48c0-8842-b552a446bca9_1024x1024.jpg?v=1689218049\"\u003e\u003c\/p\u003e\n\u003cp style=\"text-align: center;\"\u003e \u003c\/p\u003e\n\u003cp style=\"text-align: center;\"\u003e\u003cimg alt=\"backup camera\" src=\"https:\/\/cdn.shopifycdn.net\/s\/files\/1\/0566\/9483\/3309\/files\/14_682cf0f3-6e7a-4362-8b45-f80dab31f49f_1024x1024.jpg?v=1689218069\"\u003e\u003c\/p\u003e\n\u003cp style=\"text-align: center;\"\u003e \u003c\/p\u003e\n\u003cp style=\"text-align: center;\"\u003e\u003cimg alt=\"backup camera\" src=\"https:\/\/cdn.shopifycdn.net\/s\/files\/1\/0566\/9483\/3309\/files\/15_3c91e18e-9423-4f35-8ba2-98b3cc528d74_1024x1024.jpg?v=1689218105\"\u003e\u003c\/p\u003e\n\u003cp style=\"text-align: center;\"\u003e\u003cimg alt=\"DAB\" src=\"https:\/\/cdn.shopifycdn.net\/s\/files\/1\/0566\/9483\/3309\/files\/16_6554101a-6752-42e2-8a51-fd89bb633b2f_1024x1024.jpg?v=1689218125\"\u003e\u003c\/p\u003e\n\u003cp style=\"text-align: center;\"\u003e\u003cimg alt=\"DAB\" src=\"https:\/\/cdn.shopifycdn.net\/s\/files\/1\/0566\/9483\/3309\/files\/17_bda20bce-9774-4c12-83b6-a843954096f1_1024x1024.jpg?v=1689218153\"\u003e\u003c\/p\u003e\n\u003cp style=\"text-align: center;\"\u003e\u003cimg alt=\"Android 12.0\" src=\"https:\/\/cdn.shopifycdn.net\/s\/files\/1\/0566\/9483\/3309\/files\/17-1_1024x1024.jpg?v=1689218170\"\u003e\u003c\/p\u003e\n\u003cp style=\"text-align: center;\"\u003e \u003c\/p\u003e\n\u003cp style=\"text-align: center;\"\u003e\u003cimg alt=\"Upgrade\" src=\"https:\/\/cdn.shopifycdn.net\/s\/files\/1\/0566\/9483\/3309\/files\/18_4422f313-b47d-4d8f-9dd4-d5312dc7cb0c_1024x1024.jpg?v=1689218196\"\u003e\u003c\/p\u003e\n\u003cp style=\"text-align: center;\"\u003e \u003c\/p\u003e\n\u003cp style=\"text-align: center;\"\u003e\u003cimg alt=\"Tips for Installation\" src=\"https:\/\/cdn.shopifycdn.net\/s\/files\/1\/0566\/9483\/3309\/files\/19_871ef373-01b1-46df-bca0-322c40a3b5f5_1024x1024.jpg?v=1689218219\"\u003e\u003c\/p\u003e\n\u003cp style=\"text-align: center;\"\u003e\u003cimg alt=\"Purchase Notice\" src=\"https:\/\/cdn.shopifycdn.net\/s\/files\/1\/0566\/9483\/3309\/files\/20_2b2cbe97-f82a-4059-a30a-f7cd48a9e6b7_1024x1024.jpg?v=1689218244\"\u003e\u003c\/p\u003e\n\u003cp style=\"text-align: center;\"\u003e \u003c\/p\u003e\n\u003ch2\u003e\u003cstrong\u003eFeatures:\u003c\/strong\u003e\u003c\/h2\u003e\n\u003cp\u003e \u003c\/p\u003e\n\u003col\u003e\n\u003cli\u003eCar Stereo for BMW 3 Series E90 E91 E92 E93\u003c\/li\u003e\n\u003cli\u003e9-inch 2-Din HD car radio MP5 player with wireless carplay\u0026amp;android auto\u003c\/li\u003e\n\u003cli\u003eSupport Radio function and built-in AUX input.\u003c\/li\u003e\n\u003cli\u003eSupport rear view camera input function.\u003c\/li\u003e\n\u003cli\u003e24-hour digital display clock and date.\u003c\/li\u003e\n\u003cli\u003eCan charge for mobile phones or other USB devices.\u003c\/li\u003e\n\u003cli\u003eSupport multiple sound effects adjusting.\u003c\/li\u003e\n\u003cli\u003eSupport Al Voice Control\u003c\/li\u003e\n\u003c\/ol\u003e\n\u003cp style=\"text-align: center;\"\u003e \u003c\/p\u003e\n\u003ch2\u003e\u003cspan\u003e\u003cstrong\u003eProduct Parameters:\u003c\/strong\u003e\u003c\/span\u003e\u003c\/h2\u003e\n\u003cp\u003e \u003c\/p\u003e\n\u003cp\u003eResolution: 1024*600\u003c\/p\u003e\n\u003cp\u003eNetwork: WiFi\u003c\/p\u003e\n\u003cp\u003eNumber of CPU \u0026amp; Chips: A7 1.3GHz x 4, Quad Core\u003c\/p\u003e\n\u003cp\u003eSystem: Android 12.0\u003c\/p\u003e\n\u003cp\u003eVideo memory and memory: 2+32\u003c\/p\u003e\n\u003cp\u003eAmplifier IC: 7388\u003c\/p\u003e\n\u003cp\u003eRadio IC: MTK8227\u003c\/p\u003e\n\u003cp\u003eDSP: ST7729 HIFI\u003c\/p\u003e\n\u003cp\u003eCarplay: Wireless\u003c\/p\u003e\n\u003cp\u003eAndroid Auto: Wireless\u003c\/p\u003e\n\u003cp\u003eAHD camera: support\u003c\/p\u003e\n\u003cp\u003eRadiofrequency: FM\u003c\/p\u003e\n\u003cp\u003eRDS: support\u003c\/p\u003e\n\u003cp\u003eButton color: white\/colorful optional\u003c\/p\u003e\n\u003cp\u003eOBD: optional\u003c\/p\u003e\n\u003cp\u003eAdas dvr: optional\u003c\/p\u003e\n\u003cp\u003eUSB: dual USB\u003c\/p\u003e\n\u003cp\u003eSplit screen: support\u003c\/p\u003e\n\u003cp\u003eHiFi: ST7729 HIFI\u003c\/p\u003e\n\u003cp\u003eEQ section: 32 sections\u003c\/p\u003e\n\u003cp\u003eBluetooth: MT6625 4.0\u003c\/p\u003e\n\u003cp\u003eMirror connection: support\u003c\/p\u003e\n\u003cp\u003eAudio format: MP3, WMA, AAC, RM, FALC, WAV\u003c\/p\u003e\n\u003cp\u003eVideo Format: MPEG -1\/2\/4, H264, H263, VCI, RV, RMVB, DivX, Sorenson SparK, Spark, VP8, AVS Stream\u003c\/p\u003e\n\u003cp\u003ePhoto format: JPG \/ BMP \/ JEPG \/ GIF \/ PNG\u003c\/p\u003e\n\u003cp\u003eLanguage: Multilingual\u003c\/p\u003e\n\u003cp\u003eNumber of theme UIs: 27 sets\u003c\/p\u003e\n\u003cp\u003ePower: 50*4\u003c\/p\u003e\n\u003cp\u003eVoltage: 9-16V\u003c\/p\u003e\n\u003cp\u003eGPS\/GNSS\/GSNS\/BDS: GPS+Glonss\u003c\/p\u003e\n\u003cp\u003e \u003c\/p\u003e\n\u003ch2\u003e\u003cstrong\u003ePackage Contents:\u003c\/strong\u003e\u003c\/h2\u003e\n\u003cp\u003e \u003c\/p\u003e\n\u003cp\u003e1* Android Car Stereo Player\u003c\/p\u003e\n\u003cp\u003e1* Power Cable\u003c\/p\u003e\n\u003cp\u003e1* Power Cable\u003c\/p\u003e\n\u003cp\u003e1* GPS Antenna\u003c\/p\u003e\n\u003cp\u003e1* Camera Input\u003c\/p\u003e\n\u003cp\u003e1* Instruction manual\u003c\/p\u003e\n\u003cp\u003e1* RCA Input\/Output\u003c\/p\u003e\n\u003cp\u003e2* USB Cable\u003c\/p\u003e\n\u003cp\u003e1* Canbus Box\u003c\/p\u003e\n\u003cp\u003e1* Frame Kit\u003c\/p\u003e\n\u003cp\u003e1* AHD Rear View Camera\u003c\/p\u003e\n\u003cp\u003e \u003c\/p\u003e"}
ESSGOO | Car Stereo for BMW 3 Series E90 E91 E92 E93, Wireless Carplay&Android Auto With Steering Wheel Controls
Upgrade Your BMW 3 Series With The Advanced Bluetooth Car Stereo
Elevate your driving experience with the advanced Bluetooth car stereo specifically designed for BMW 3 Series E90, E91, E92, and E93 models. This double din car stereo is packed with features including a backup camera, Wireless Carplay & Android Auto compatibility, Steering Wheel Controls, a variety of optional UI interfaces, support for AI Voice Control, Android 12 integration, Mirror Link functionality, and a 9-inch HD IPS Display. Transform your BMW 3 Series and enjoy a seamless and immersive in-car entertainment experience.
Stay connected and entertained with Wireless Carplay & Android Auto. Connect your smartphone via Bluetooth and effortlessly access your favorite apps, make hands-free calls, and navigate with ease.
Keep your focus on the road and control your audio settings with the handy Steering Wheel Controls. Adjust the volume, switch tracks, and manage audio sources without distractions.
Choose from a range of optional UI interfaces to customize the display and match your personal style preferences, delivering a sleek and vibrant user-friendly interface.
Experience crisp visuals and vibrant colors on the 9-inch HD IPS Display, providing a captivating and immersive in-car entertainment experience.
The car stereo also offers AI Voice Control, allowing you to control various functions using voice commands, ensuring a safer and more convenient driving experience.
With Android 12 integration and Mirror Link functionality, you can seamlessly connect your compatible devices and access their features directly on the car stereo's display.
Designed with BMW 3 Series E90, E91, E92, and E93 models in mind, this car stereo ensures seamless integration into your vehicle's interior. It is brought to you by ESSGOO, a reputable brand known for exceptional car audio products.
With ample 2+32G storage capacity, you can store your favorite music, podcasts, and media files for endless entertainment during your journeys.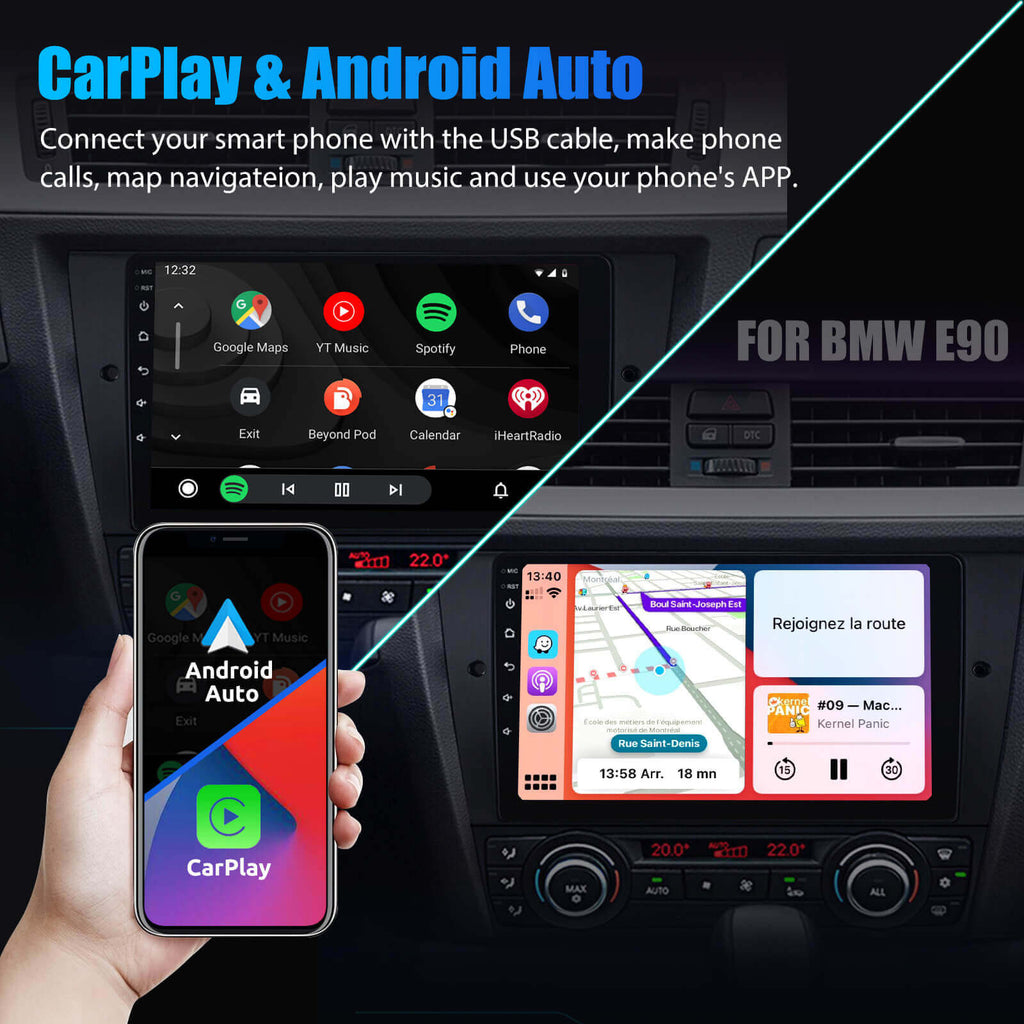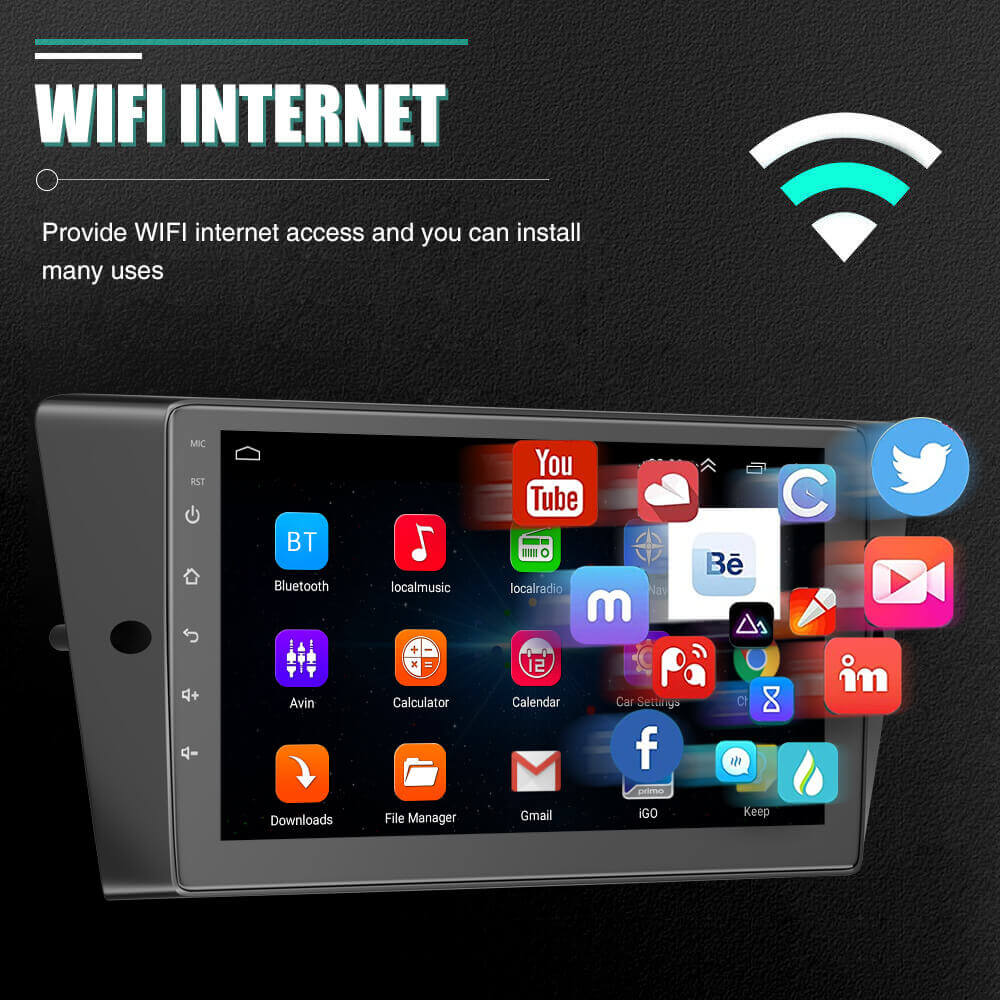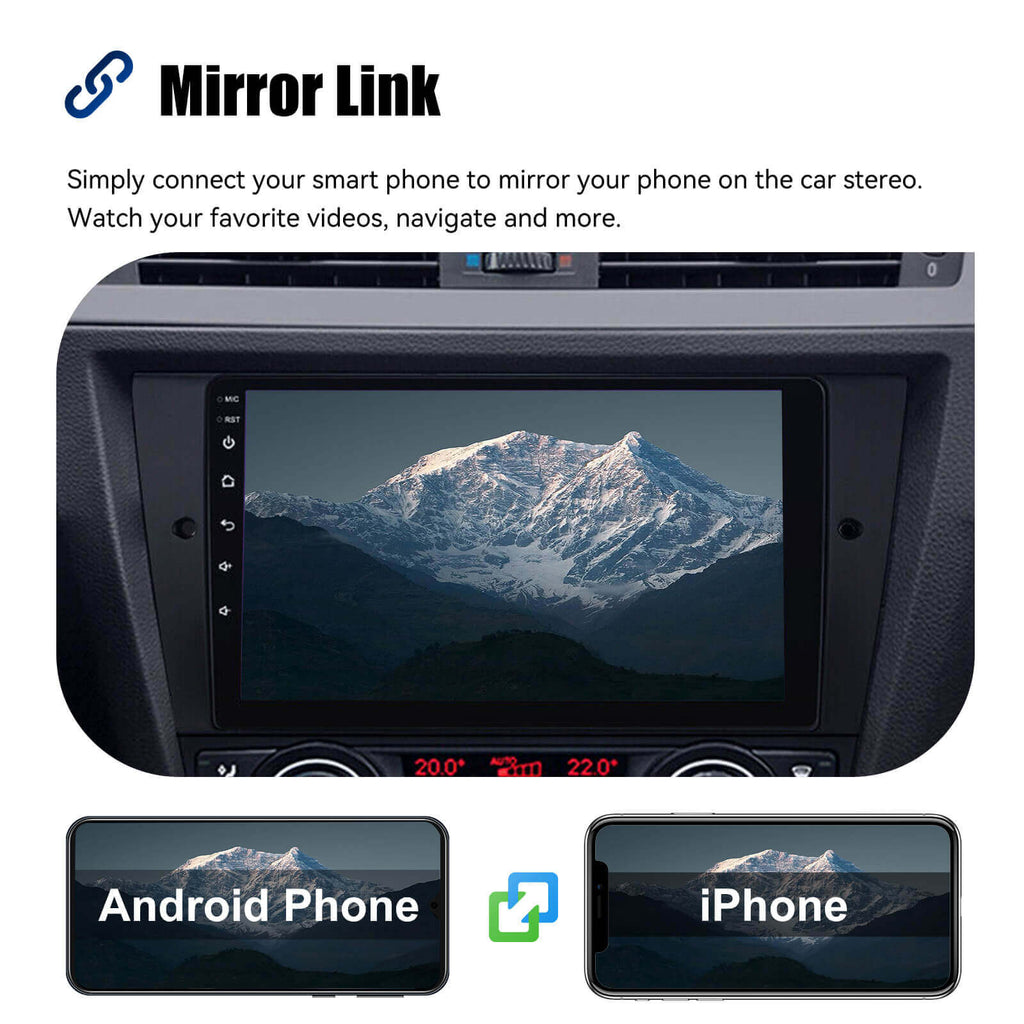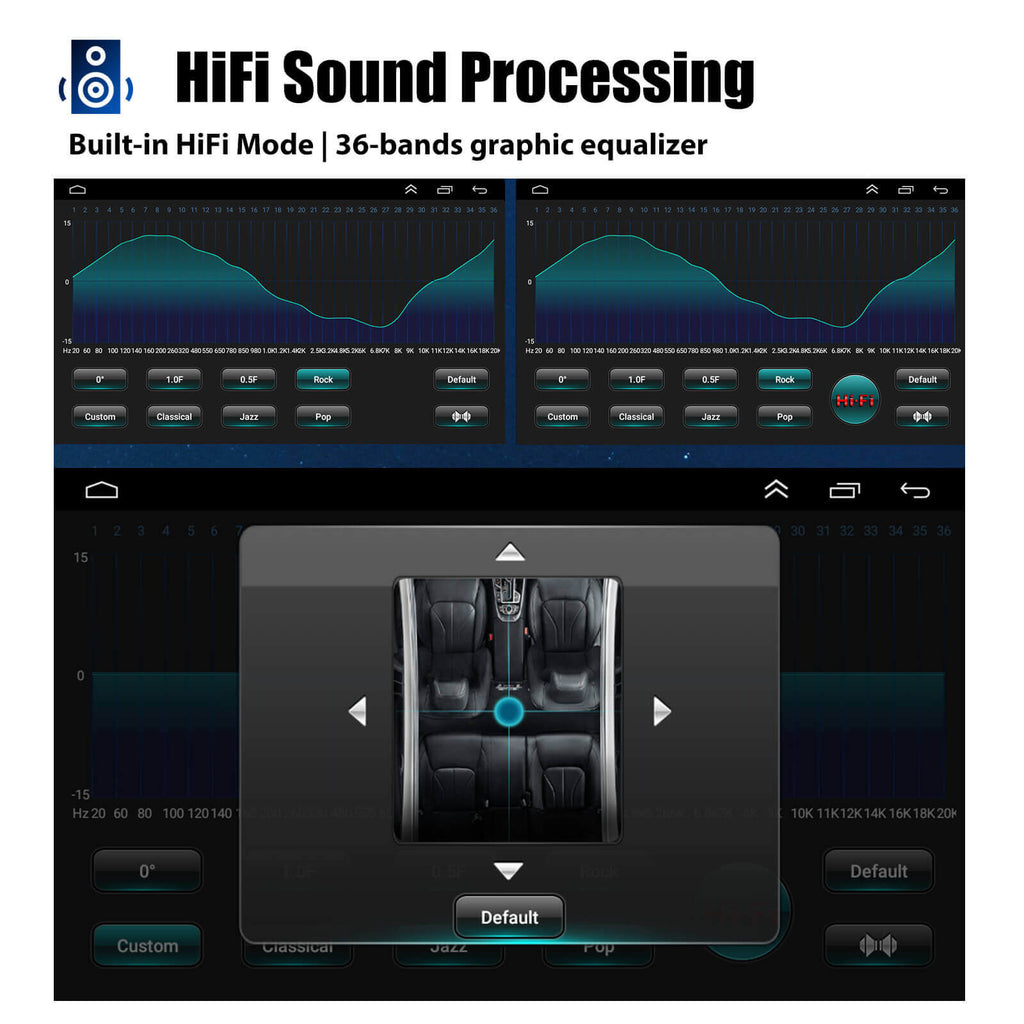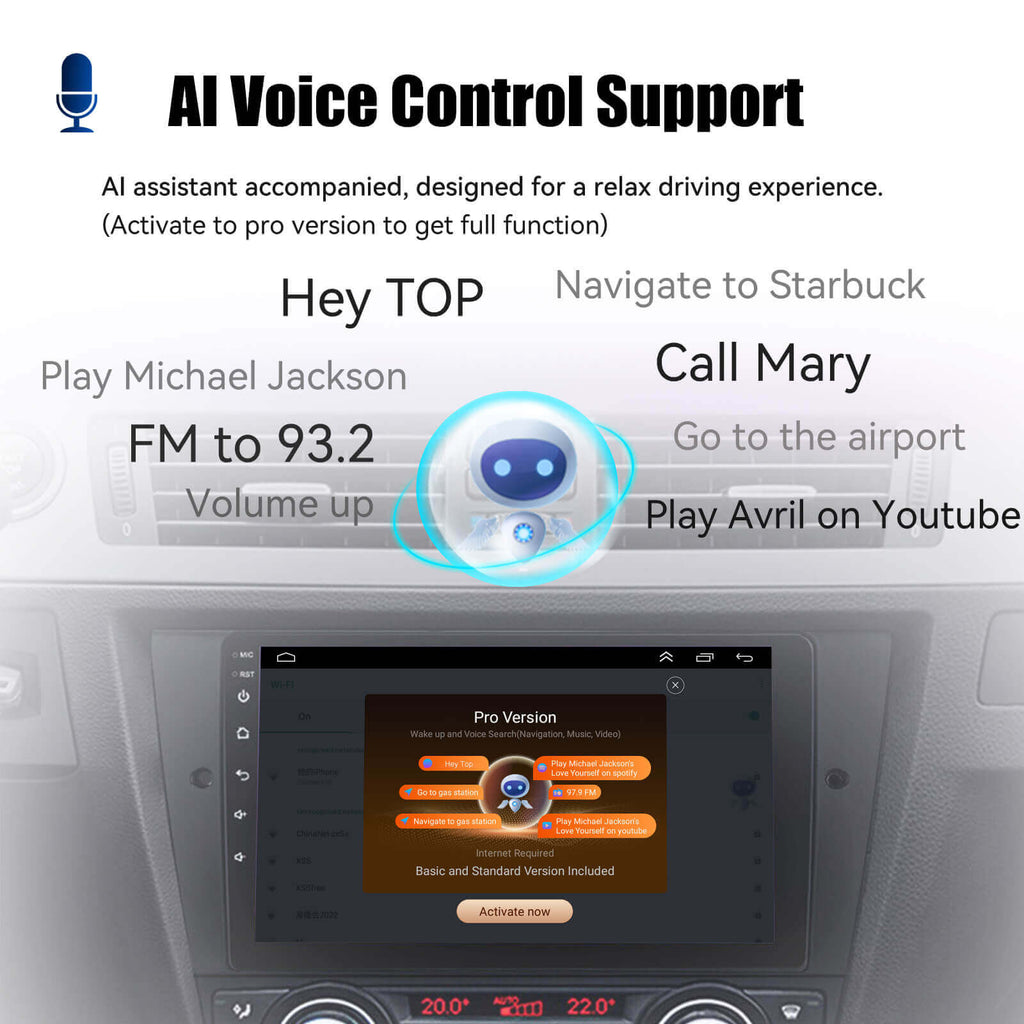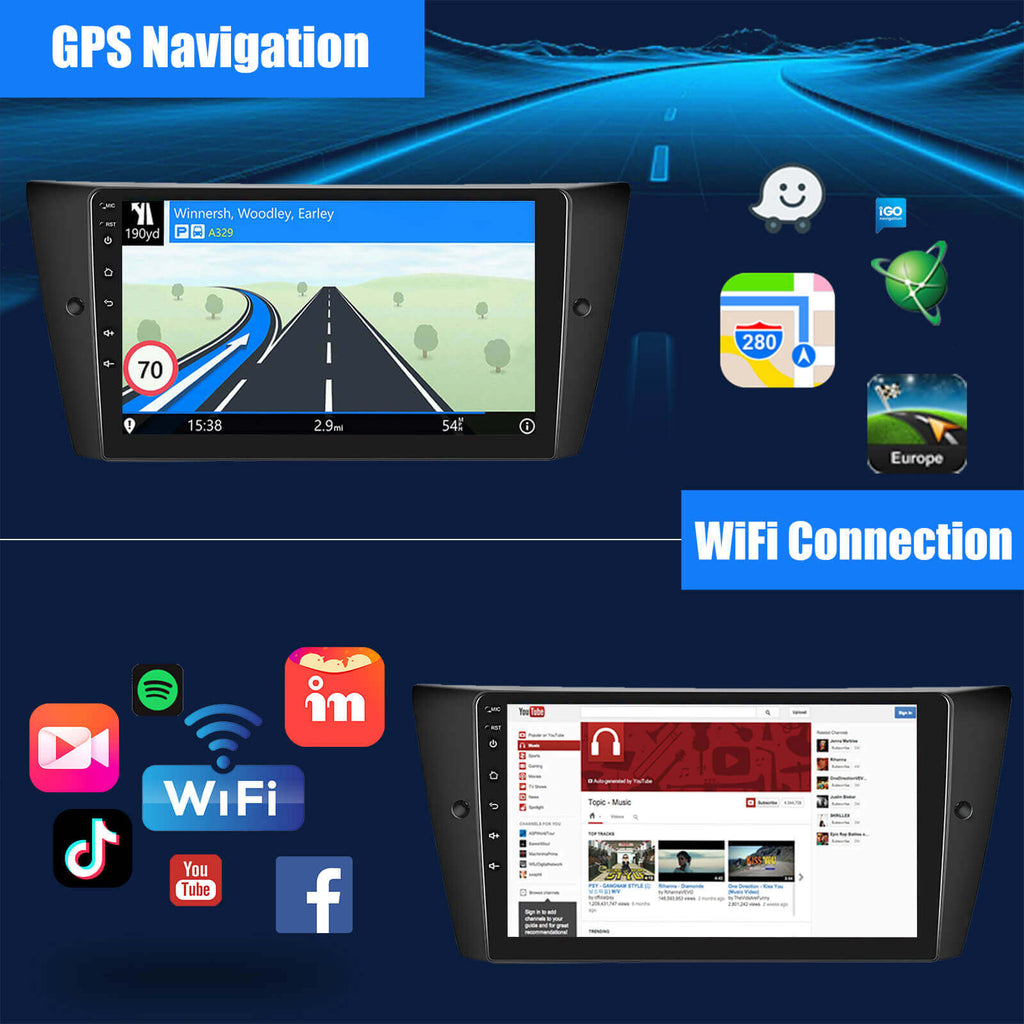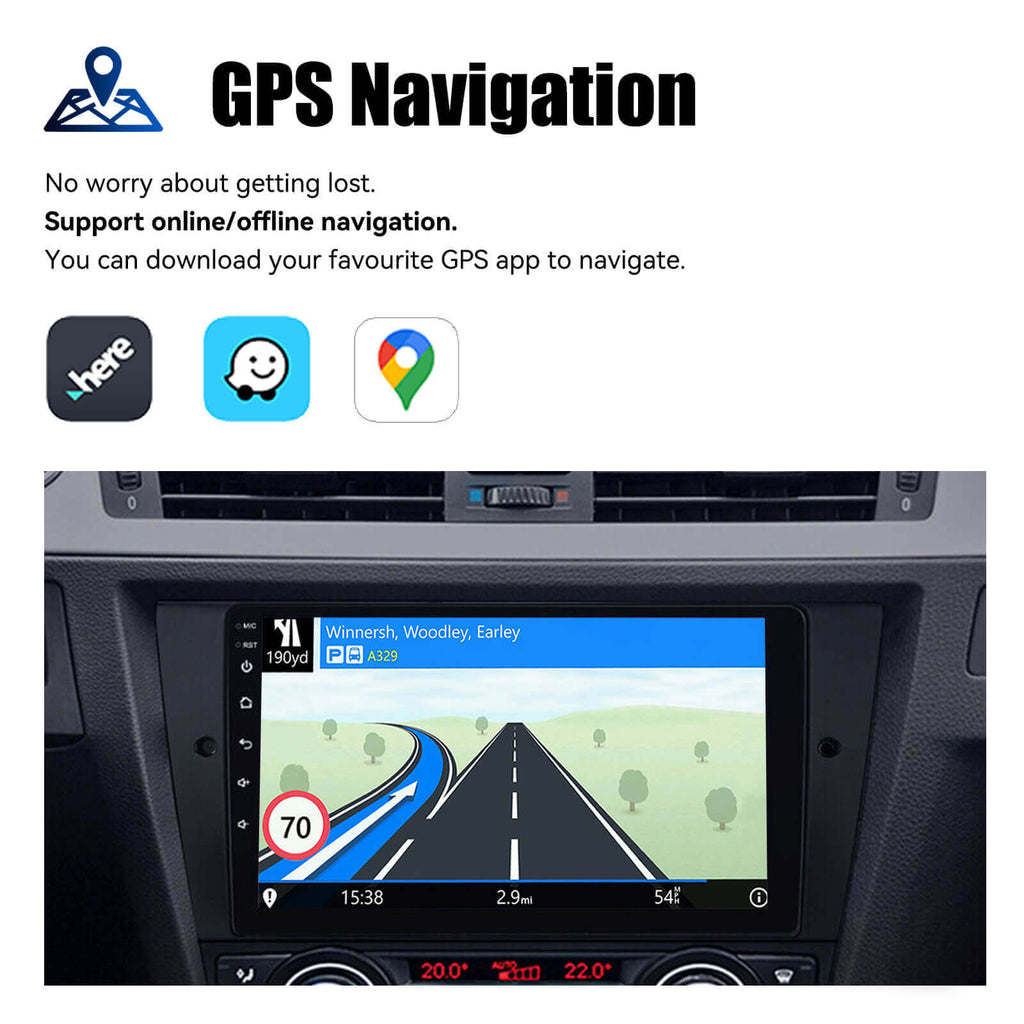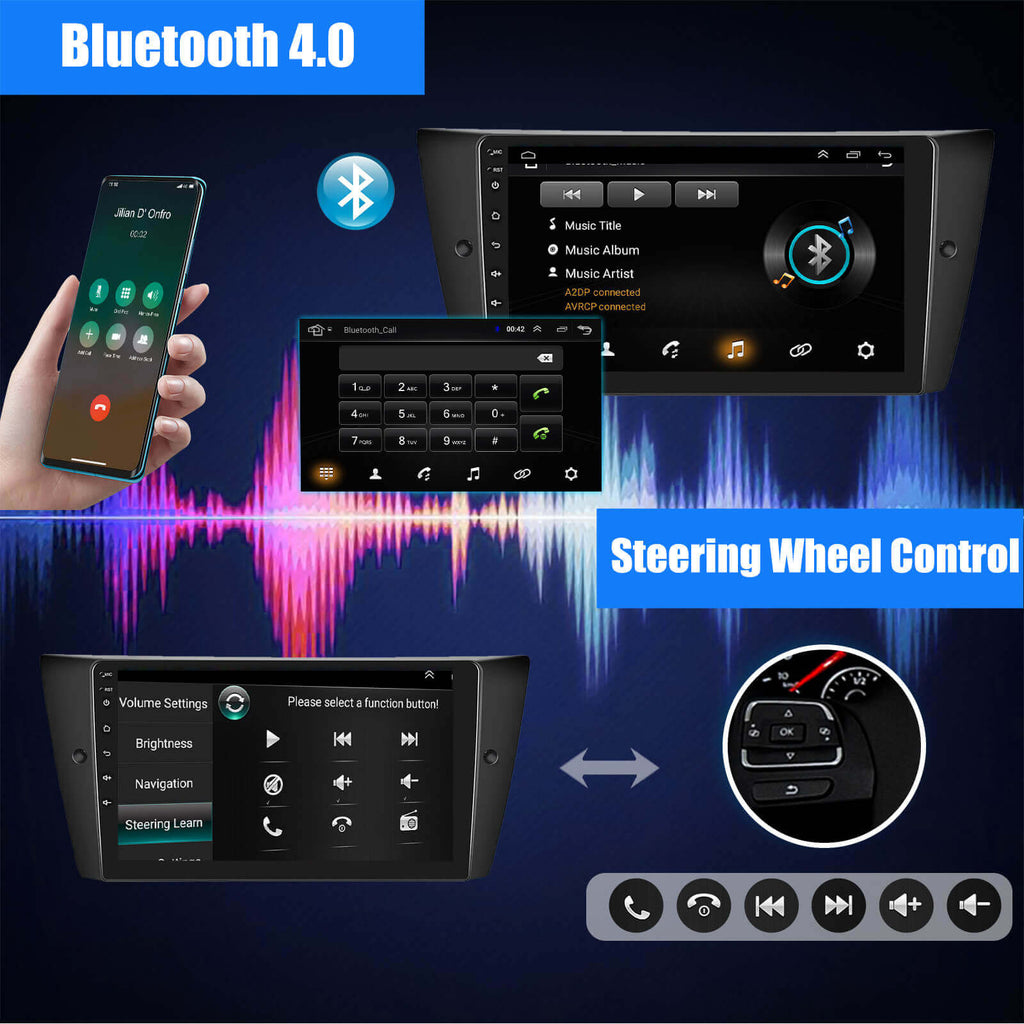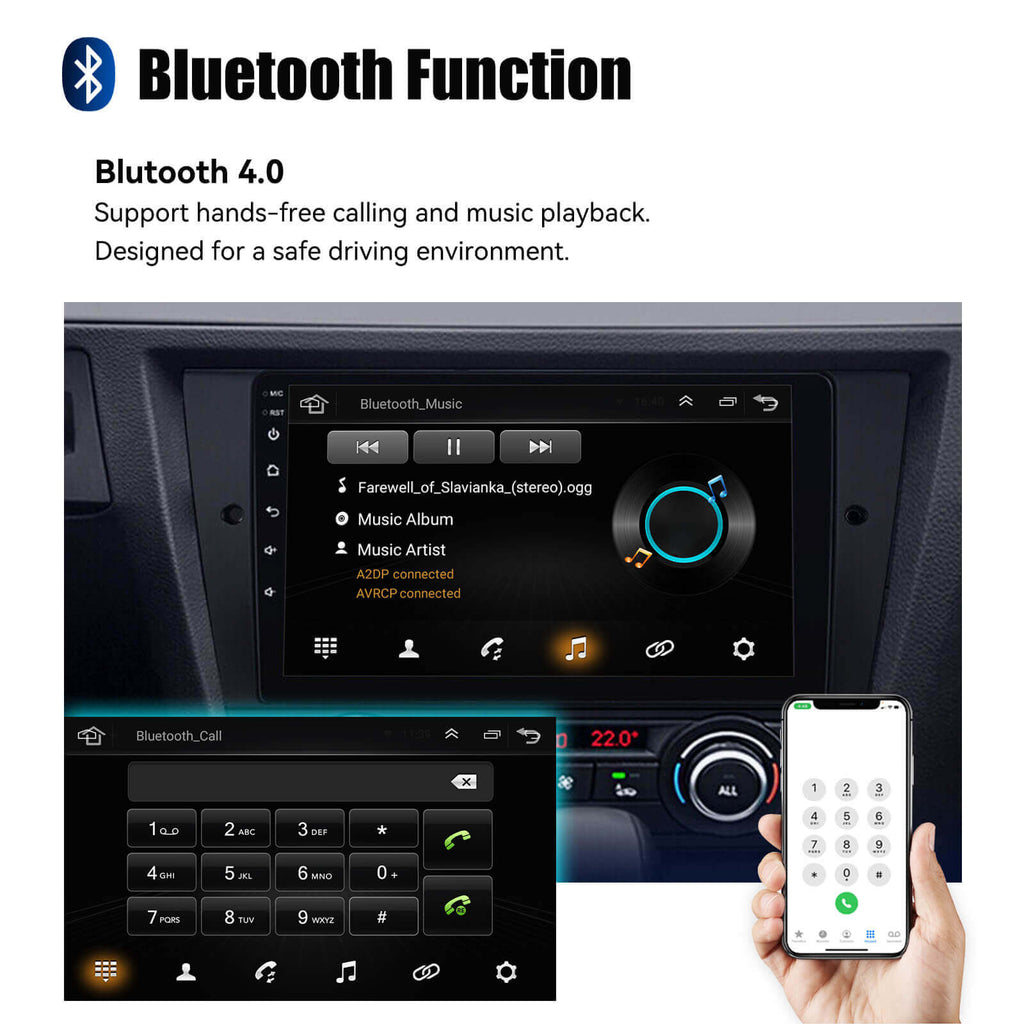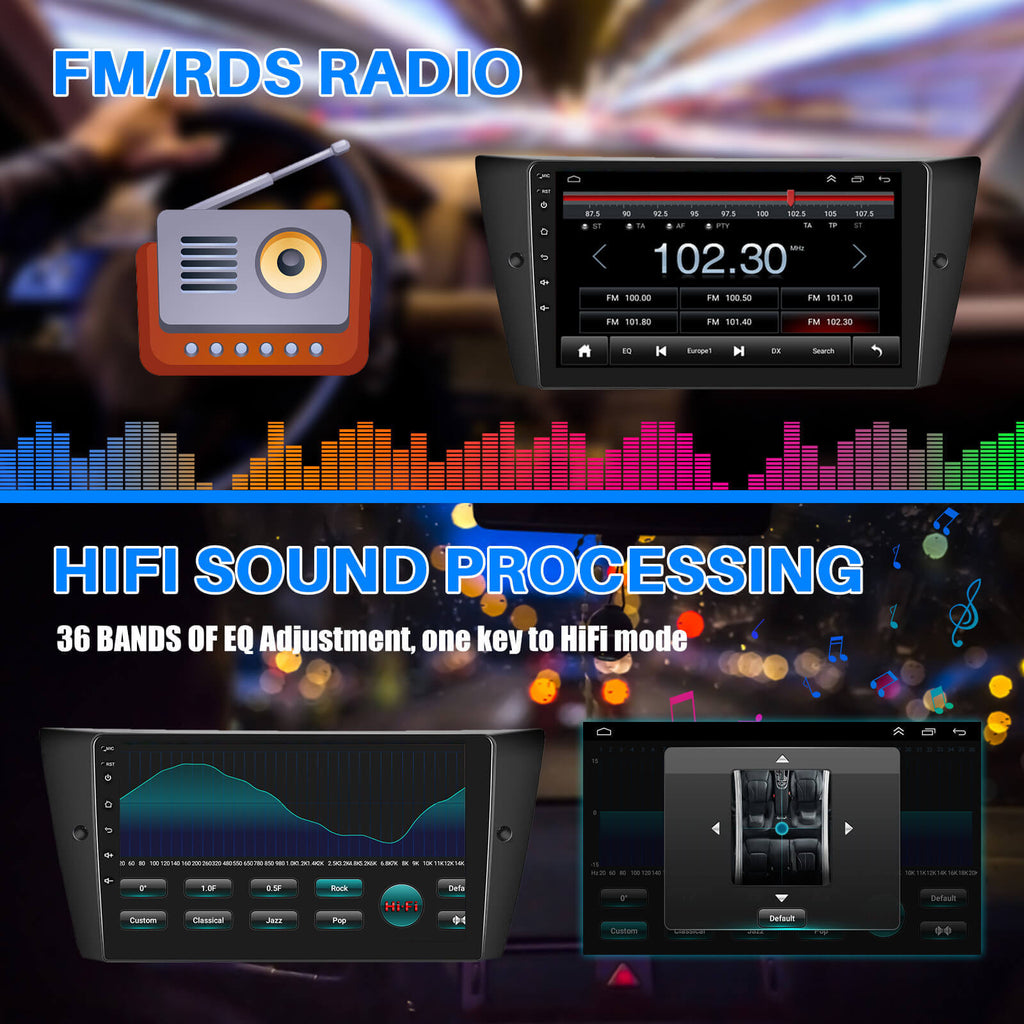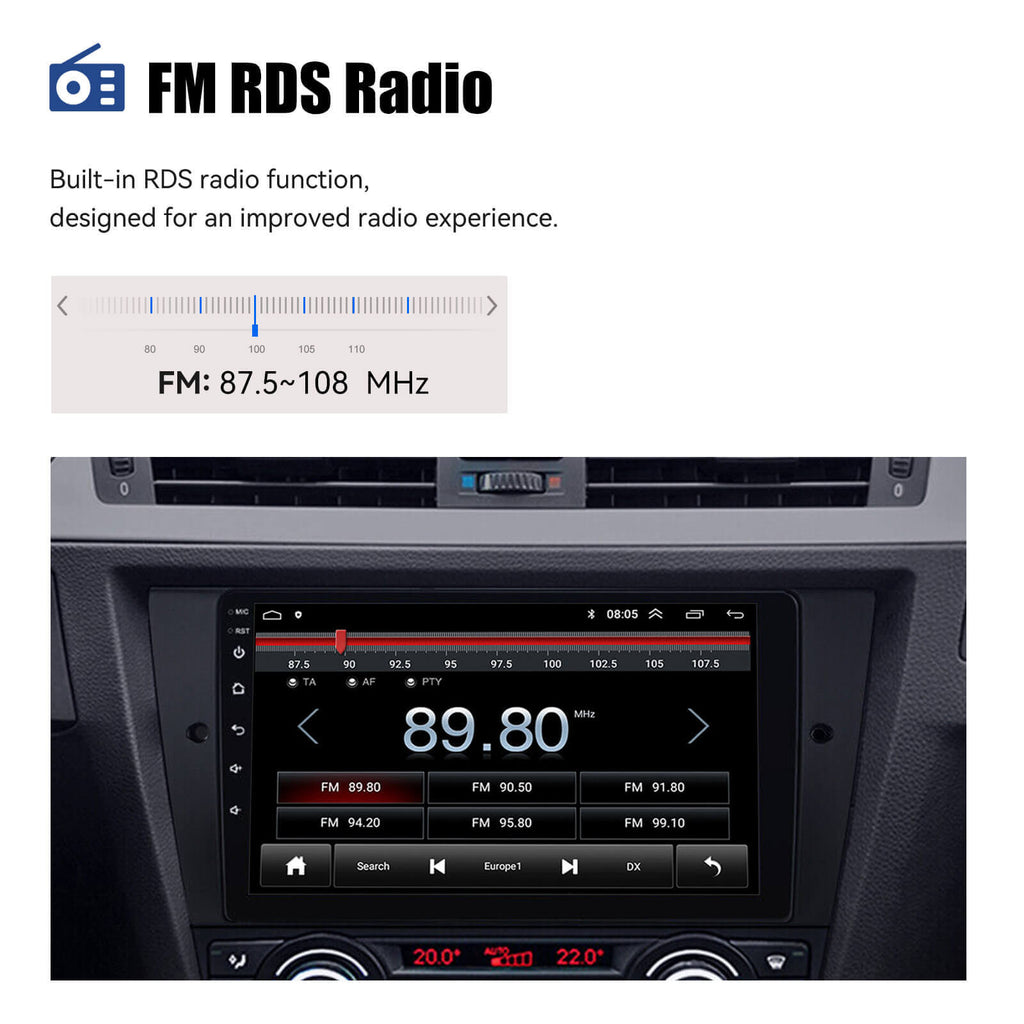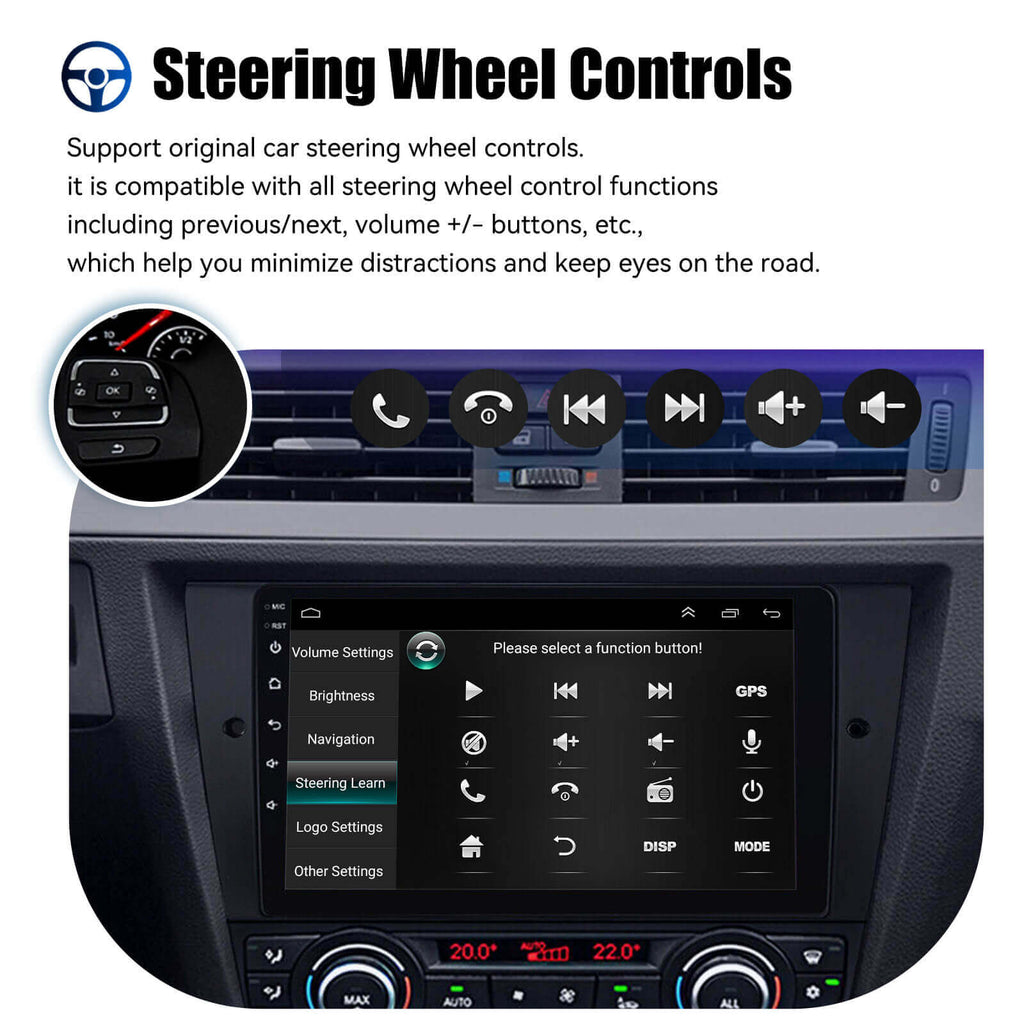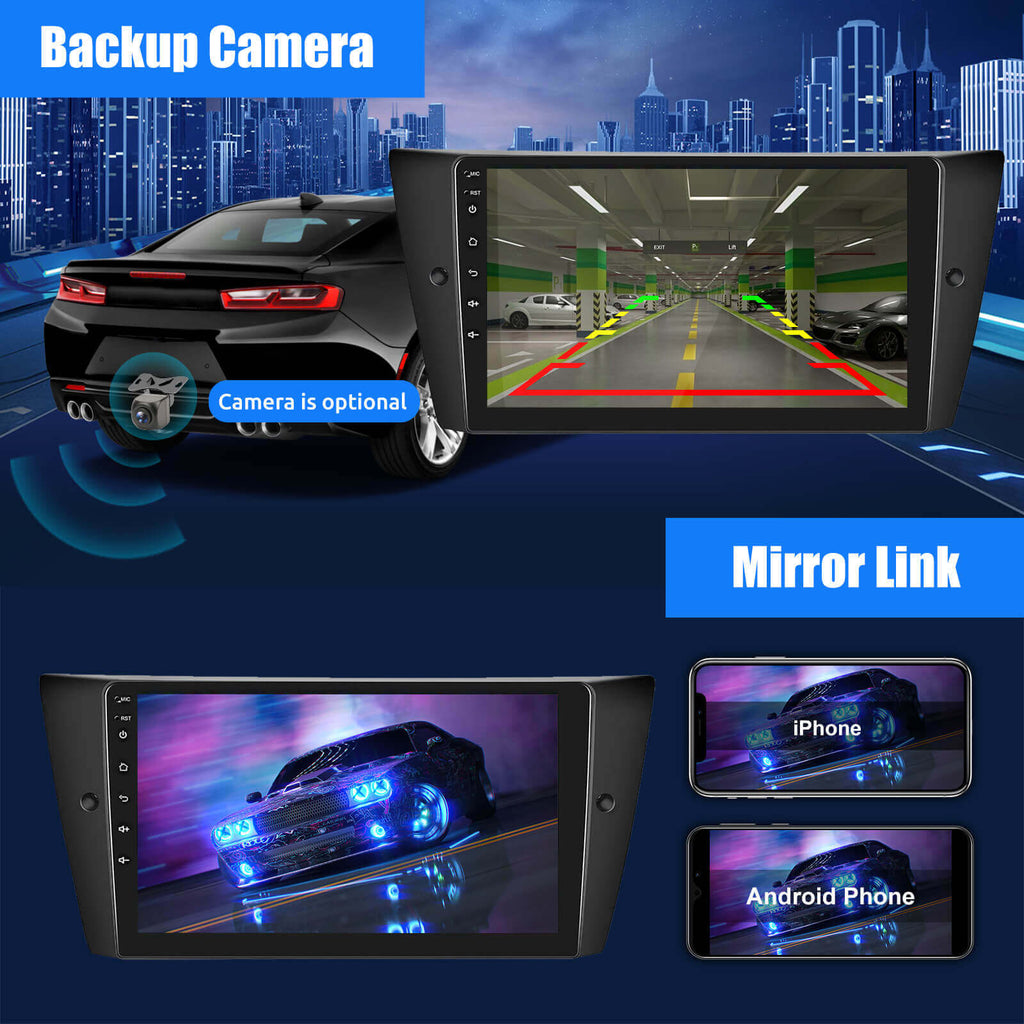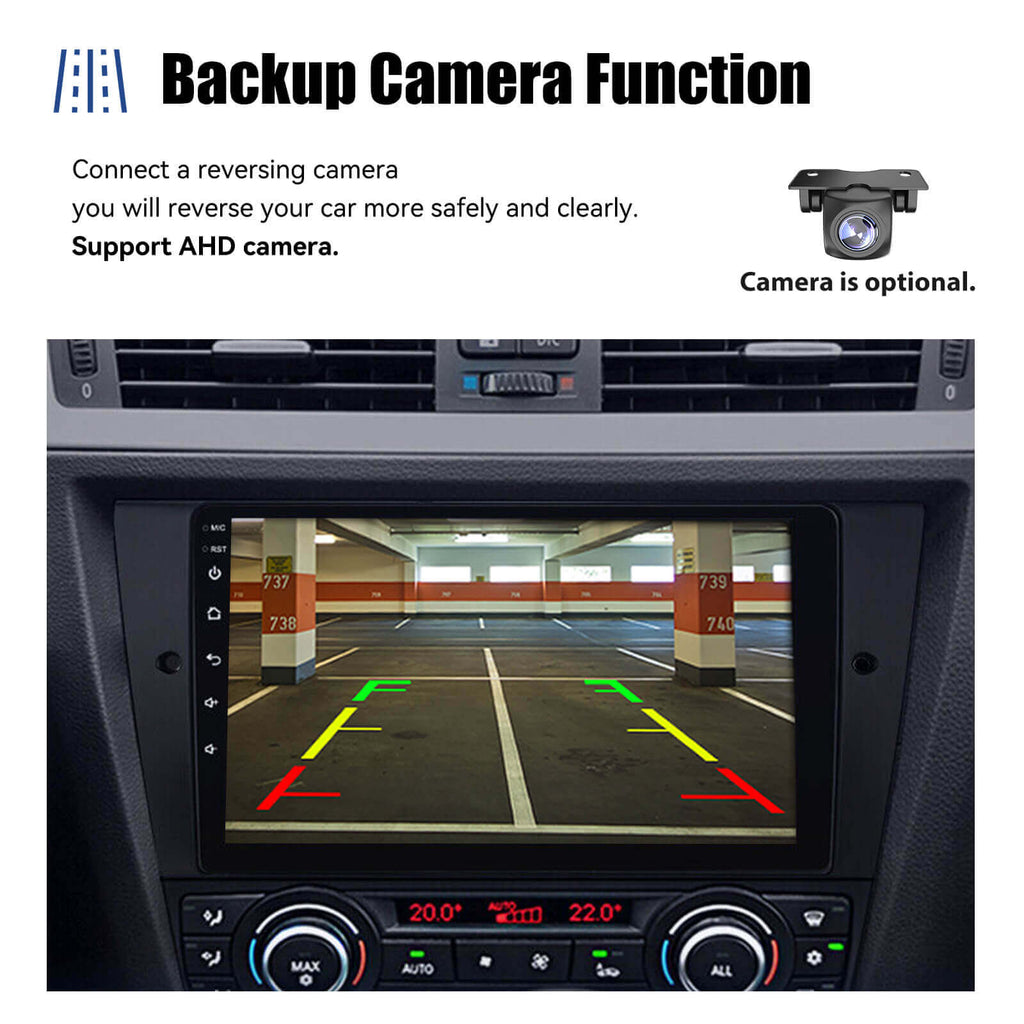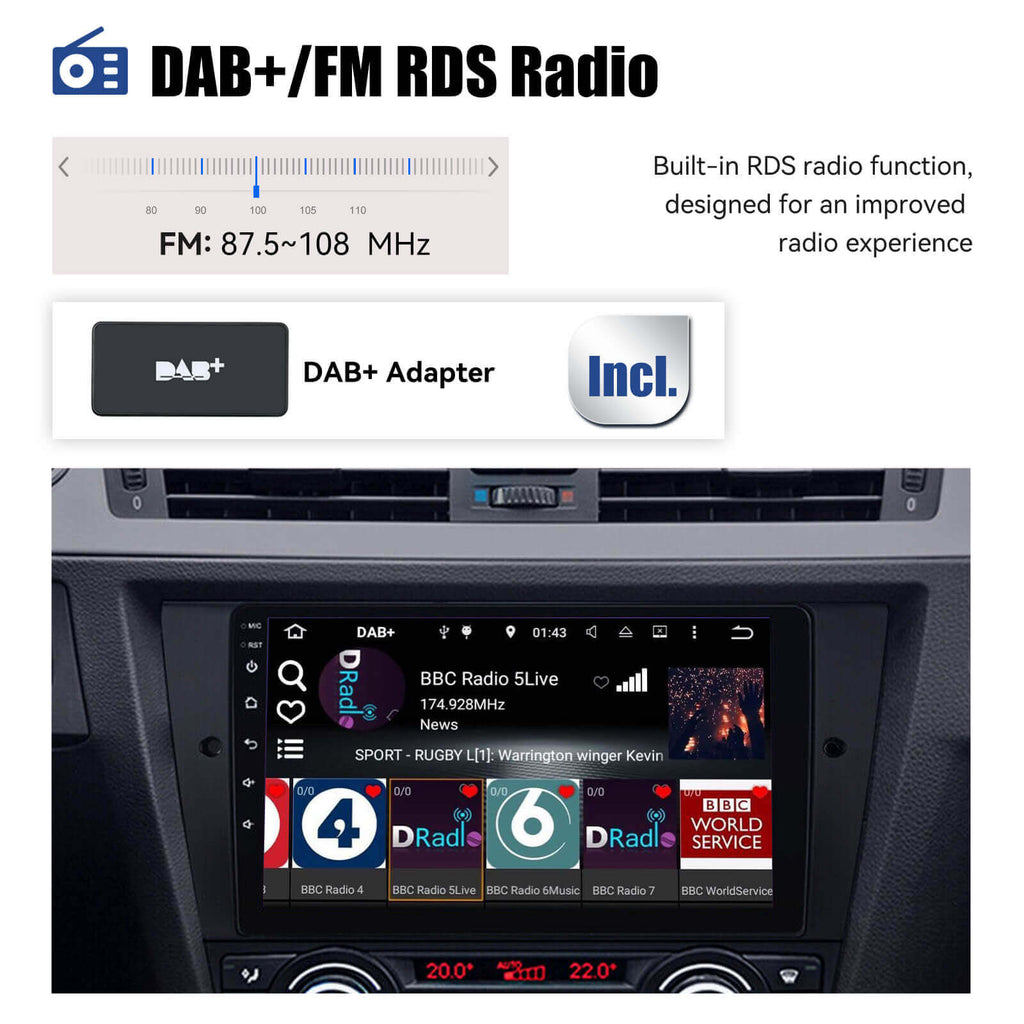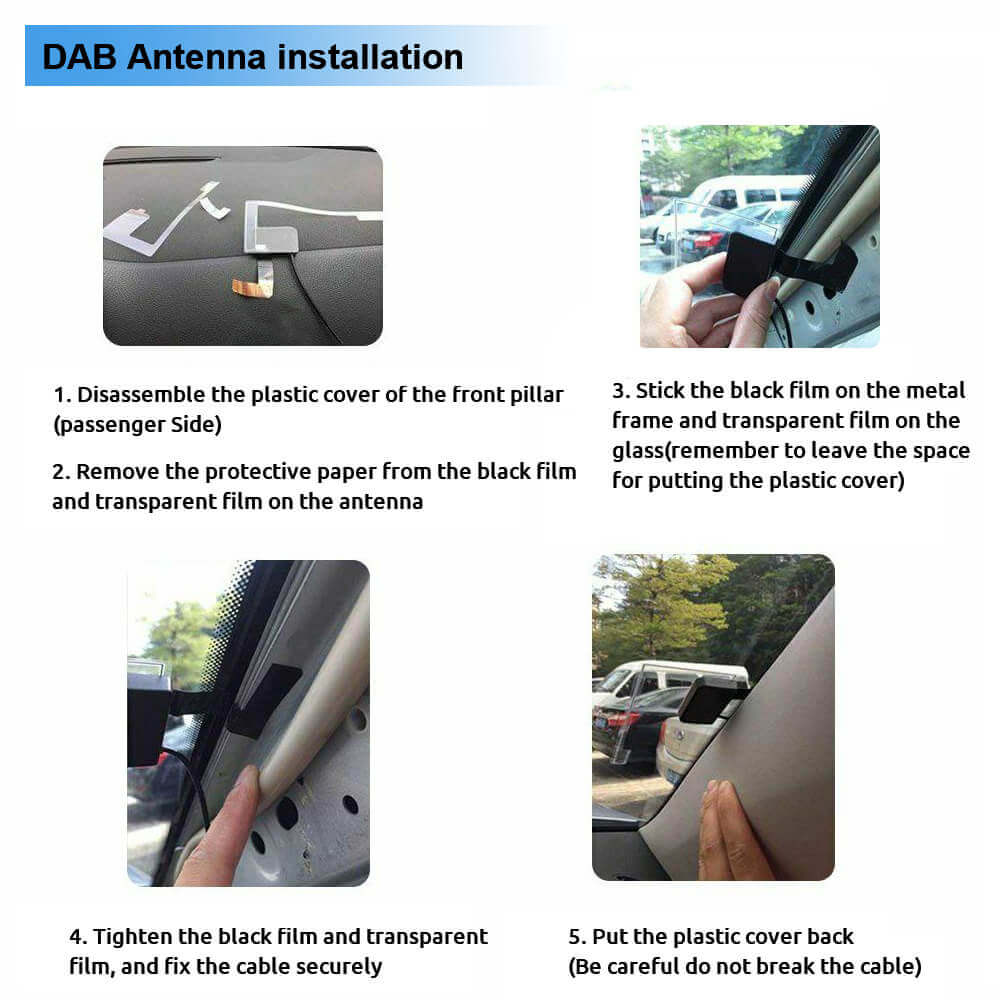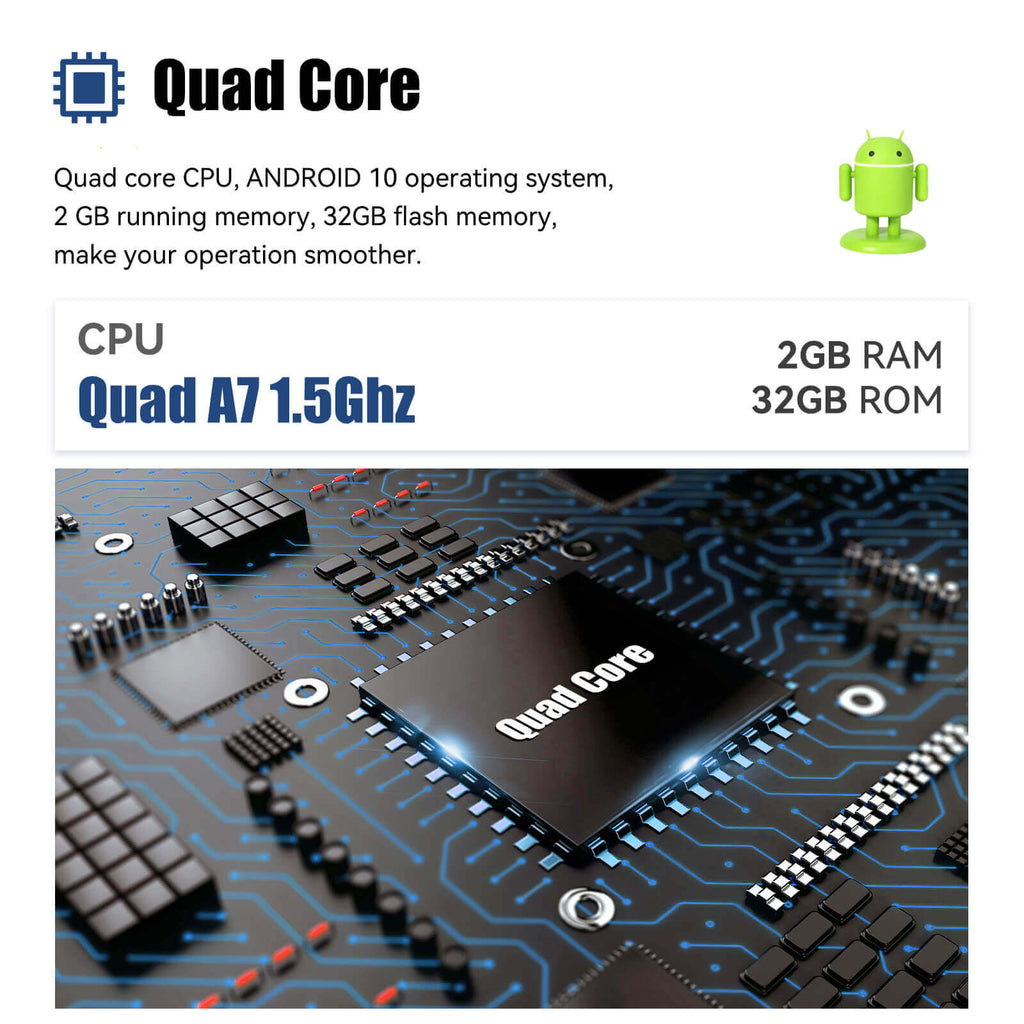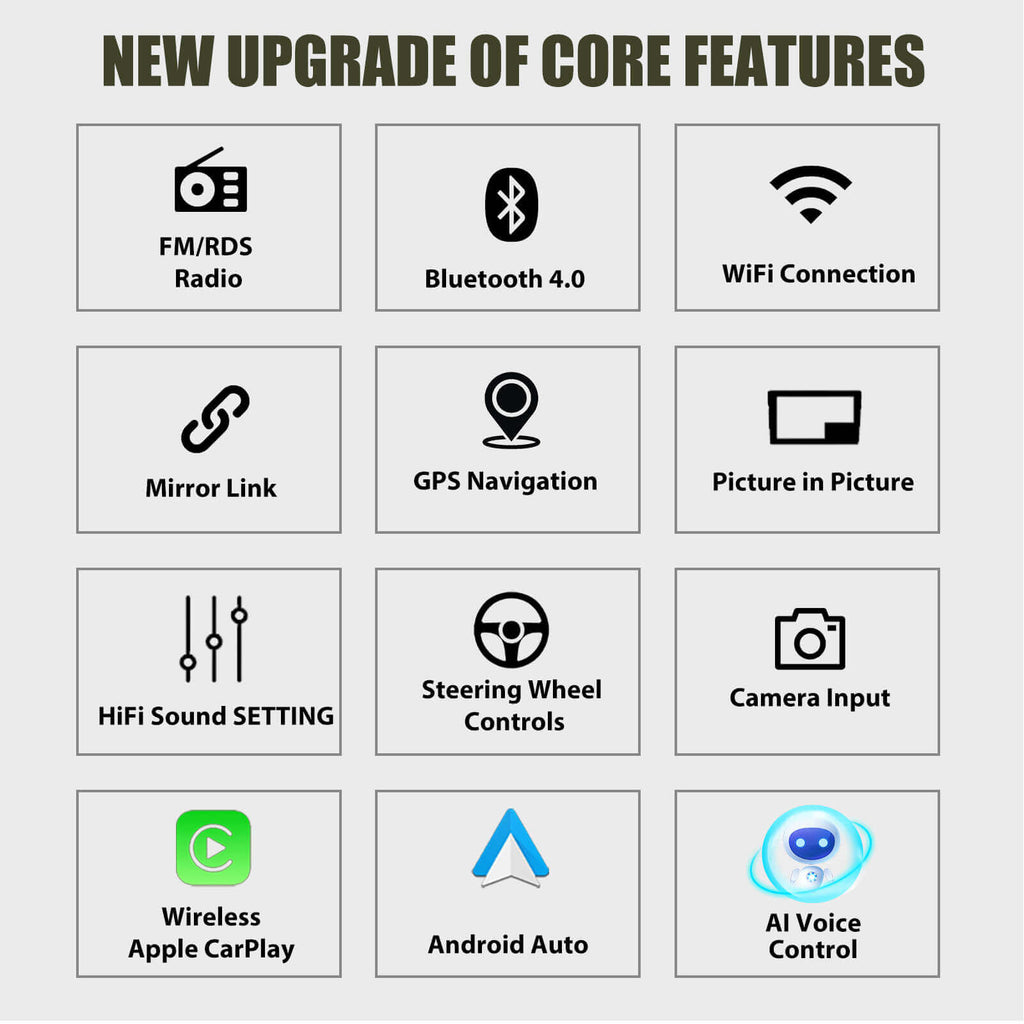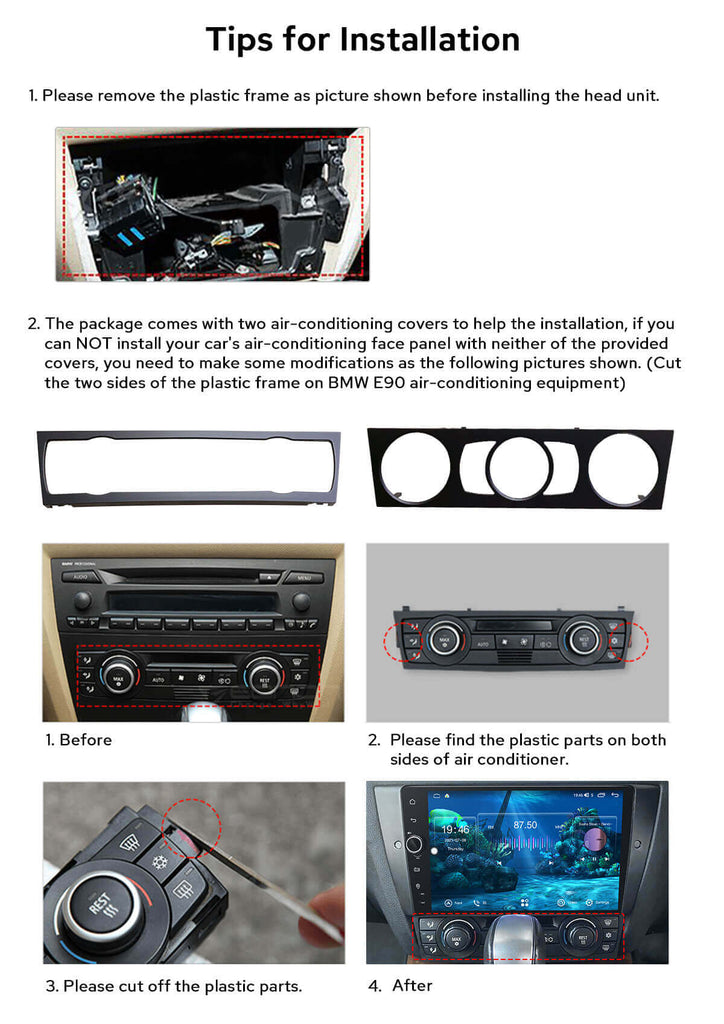 Features:
Car Stereo for BMW 3 Series E90 E91 E92 E93
9-inch 2-Din HD car radio MP5 player with wireless carplay&android auto
Support Radio function and built-in AUX input.
Support rear view camera input function.
24-hour digital display clock and date.
Can charge for mobile phones or other USB devices.
Support multiple sound effects adjusting.
Support Al Voice Control
Product Parameters:
Resolution: 1024*600
Network: WiFi
Number of CPU & Chips: A7 1.3GHz x 4, Quad Core
System: Android 12.0
Video memory and memory: 2+32
Amplifier IC: 7388
Radio IC: MTK8227
DSP: ST7729 HIFI
Carplay: Wireless
Android Auto: Wireless
AHD camera: support
Radiofrequency: FM
RDS: support
Button color: white/colorful optional
OBD: optional
Adas dvr: optional
USB: dual USB
Split screen: support
HiFi: ST7729 HIFI
EQ section: 32 sections
Bluetooth: MT6625 4.0
Mirror connection: support
Audio format: MP3, WMA, AAC, RM, FALC, WAV
Video Format: MPEG -1/2/4, H264, H263, VCI, RV, RMVB, DivX, Sorenson SparK, Spark, VP8, AVS Stream
Photo format: JPG / BMP / JEPG / GIF / PNG
Language: Multilingual
Number of theme UIs: 27 sets
Power: 50*4
Voltage: 9-16V
GPS/GNSS/GSNS/BDS: GPS+Glonss
Package Contents:
1* Android Car Stereo Player
1* Power Cable
1* Power Cable
1* GPS Antenna
1* Camera Input
1* Instruction manual
1* RCA Input/Output
2* USB Cable
1* Canbus Box
1* Frame Kit
1* AHD Rear View Camera
If you have any questions, please feel free to Contact our customer service team 📧

There are many product-related product ⭐ Reviews ⭐ at the bottom of the website for reference, and you are welcome to leave your thoughts to let other consumers understand ESSGOO better.
Share the ⭐ Reviews to Get 15% OFF Promo Code ;💳 And $10 Cashback  🤑
 ***
Which countries can we ship to? 

📦
Please don't underestimate ESSGOO, as long as the country where you have postal express service, our goods can be delivered to you; we have our own warehouses in Europe, America, and other places, more than ten overseas warehouses all over the world, and we also Cooperate with most of the express companies in the world, ESSGOO has a first-class warehousing and logistics team to ensure that the goods are delivered to you
Shipping Info  

🏎️
1.Most items are shipping free, you can check the description in the listing. Order will be shipped within 48 hours after payment made.
2.The shipping time is based on the shipping option, sometimes it may be delayed due to varied situations (such as holidays, war, weather, etc.), please contact us immediately if the delivery time exceeds estimated.


Time Schedule- 
🚀
Fast/Expedited Shipping 
| | |
| --- | --- |
| US/AU/UK/EU | 4-10 working days |
| Canada/Israel/ Azerbaijan / Russia/Maldives/ Eastern Europe/ Middle East | 7-18 working days |
| Brazil/Chile/South America | 7-18 working days |
| Western Europe/New Zealand | 8-12 working days |
The general delivery time of other regions or countries will be within 25 days.
Time Schedule-  
✈️
Standard Shipping 
Standard delivery service (Free shipping) is usually about 5-10 days slower than Expedited
--
I know your worries
0. How to install? ? I need tutorials!!
All products have installation instructions and instructions for use in your package.
If it's not enough, you can also watch our official

 

YouTube, there are many installation video tutorials~~
Or search 'install' in essgoo.com, or Click the 'Support'
For example this:  Car Stereo Installment Near You
1.Why Choose ESSGOO?
Brand ESSGOO was established in 2016 with great advantages in electronic products. More than that, the operating team has more than 11 years experiences on e-commerce.. We know exactly what the buyer concerns and worries. Making sure you will have a wonderful shopping experience by providing what you need and getting rid of what you worried about. It is no doubt to choose us with our high quality of product, good shipping way, and good customs support.
2.Can I change my shipping address after placing an order?
There is an opportunity to notify our customer service via email to change the delivery address within 2 hours after the order is generated.
3.How do I track my order?
1. Use your email to log in Account to view order information, logistics information, etc.
2. ESSGOO will send you emails at different stages of your order.
3. Feel free to contact our customer service, usually reply to your questions within 24 hours.
4.Will I be charged with customs and taxes?
ESSGOO uses 11 years of online experience and customer feedback to conclude that there will be no additional tariffs and related customs fees if you purchase items normally.
Unless you buy multiple high-priced products at the same time, you may need to pay additional fees.
5.What Do I Do If I Have Missing Items In My Order?
Please contact us immediately.
6.What if the item(s) I received are defective/incorrect/damaged?
Please contact us within 7 days from receiving your order if you received merchandise that is incorrect, missing, and/or defective. Please include your order number, photographs of the item(s) and all related references upon receiving your package. We will do our very best to resolve your case as soon as possible.
7.How do I return an item?
If you are not satisfied with the purchased item and want to return it, please contact us immediately after receiving the order, and provide your order number and the reason for the return. Our customer service team will review the return request and send further instructions after the return is approved.
For details, please refer to ESSGOO's
warranty information
and
refund policy
. All returns must be kept in original condition and packaged intact.
8.When will I receive my refund?
All refunds will be credited to your original form of payment. If you paid by credit or debit card, refunds will be sent to the card-issuing bank within 7-10 business days of receipt of the returned item or cancellation request. 
-