Audio Quality Evaluation
Audio Quality Evaluation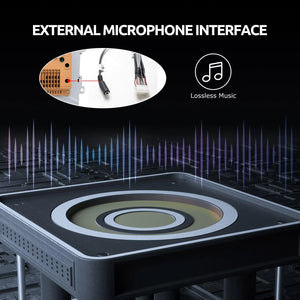 Even if a head unit has a lot of extra capabilities, it won't be fun to use if when you crank it up, it crackles like a 1910s phonograph.
Most Android vehicle stereos have a peak power output of roughly 50 watts or an RMS power output of 25 watts (which relates to how much power the stereo can handle for extended periods of time). If you want a louder sound, choose a unit with a greater RMS power, such as 40 watts.
It's crucial to remember that the head unit is only one component of a car's audio system. You may need to upgrade other components of your sound system in order to enhance your audio output.
Screen Resolution
Android car stereos are frequently utilized as multimedia centers in automobiles, giving entertainment choices such as YouTube and DVD compatibility. Screen resolution is critical in this profession. If you want to take full benefit of 4K material, opt for a high-resolution vehicle radio.
Consider options such as brightness adjustment and adjustable-angled displays, which can assist reduce glare when driving in direct sunlight. These features can ensure that you can continue to use your navigation system without interruption.
Connectivity Options
Connectivity is a key feature to consider when choosing an android car stereo. Options like Bluetooth and USB inputs allow for hands-free calling and app access on the stereo.
Intuitive Display
Unresponsive screens can be a danger while driving, and clicking through multiple menus can be distracting. Therefore, it's important to look for a car stereo with an intuitive display. A touchscreen can provide greater control, but make sure there are buttons at the base of the stereo for easy access to features like volume, voice calls, and the radio.
Installation
Installing an android car stereo can be made easy with the use of adaptors and wiring harnesses. However, it's important to ensure that the system is compatible with your vehicle before beginning the installation process. While smaller, slimmer head-units may be easier to install, compatibility is the most important factor to consider.
Drive Disc
If you still have a CD collection and want to listen to it in your car, you might consider getting a car radio with a disc drive. While CD and DVD compatibility is becoming less popular, it is still available on some car stereos. This is excellent for entertaining children on long rides or simply listening to CDs in the vehicle.
GPS Navigation Built-In
Do you always use Google Maps to get to your destination? When you lose 4G access, it might be stressful, but with built-in GPS navigation on an Android car stereo, you won't have to worry about remembering your phone or data coverage.
Many stereos come with North American maps pre-loaded, while others offer free worldwide maps. In-built GPS systems can make navigation a stress-free experience.
Support for a Reversing Camera
Did you believe that reversing cameras were only available as a premium option on the most recent models? A reversing camera may be installed in any car that has a suitable head unit.
Although it is uncommon for an Android car radio to have a reversing camera, checking for systems with rear camera connectors provides you the option to update later. Consider this option, particularly if you wish to prevent the unpleasant sound of a collision. You may also seek for vehicle stereos that already feature backup cameras.
Conclusion
If you own an Android device, an Android car stereo is a good option. It is compatible with Android Auto. The majority of the vehicle stereos on this list are also Apple CarPlay compatible, so iPhone users may pick from them as well.
Upgrading your vehicle sound may appear scary, but it is not difficult, even for novice DIYers. You can easily install a new stereo with the proper wiring harness and schematic. And a new Android car audio might give you the impression that you have a new car without having to drive to the showroom.