How Did Carplay Stereos Arise and Develop?
How Did Carplay Stereos Arise and Develop?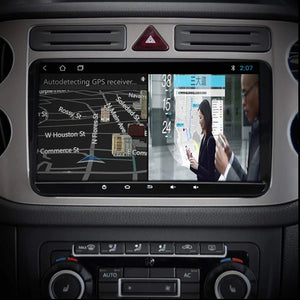 The touchscreen receiver is one of the most coveted elements in a car. It was formerly considered a luxury gimmick, but with today's automobiles depending more on digital technology, touchscreen receivers have become a necessity. Do you know how the carplay stereo came to be? How did it become a requirement on the road today?
The disadvantages of a self-contained system
Although many models now have a navigation system, most automobile owners prefer to use their mobile phones for navigation while driving because the system that comes with the vehicle does not operate properly, owing to two factors:For starters, the automobile navigation system is inaccurate.Car navigation systems must typically be pre-loaded into a memory card and rarely come with automatic upgrades. If a car owner travels to a recently constructed road or a remote region, depending on the auto navigation system may result in a loss of direction and a lot of difficulties. Some older models simply cannot be upgraded with the original navigation system.
Second, the surgery is inconvenient.In order to save money, automobile dealers often don't put much consideration into the in-car technology. Many folks are disappointed when they receive their automobile!The resolution of the centre touch screen is too low and the response time is slow, as well as the voice recognition function which is inaccurate and too inefficient to record.
The introduction of CarPlay
Think about it for a minute. It would be fantastic if there was something that merged mobile phone capabilities with the in-car system, allowing individuals to use the strong mobile phone software features while also taking advantage of the in-car system's enormous screen. Indeed, Apple was concerned about this issue as early as 2013, when it launched the iOS in the Car (carplay) program, which essentially implies that CarPlay audio is the mapping of the iPhone's phone, messaging, navigation, music, and podcasts to the in-car multimedia console.CarPlay in-car system has been developed from 2013 So far, all you need now is to connect a carplay module between your phone and the in-car multimedia to achieve the same screen.With CarPlay, you don't have to pick up your phone at all, you can use Siri to make or reply to calls, and the same goes for text messages, which can be read by voice and replied to by voice or text.In addition, with CarPlay installed in the car, you can also operate the maps installed on your phone directly on the car screen, either manually or by voice, saving traffic if you use offline maps; and play online music, all of which can be controlled by voice to avoid distractions and accidents while driving.
It uses Linux, and has a large private touchscreen and 2 rear USB inputs and supports different plastic frames. And with carplay, you can answer important calls and messages completely while driving and enjoy a safer, more relaxed driving experience. We are your best car audio manufacturer and supplier, We not only have enough professional design and production capabilities to meet your ODM and OEM orders, but also have stable and advantageous supply chain resources to ensure that each of your car stereo orders has a stable and competitive price.
Who wouldn't want to upgrade their car and enjoy a better driving experience? Contact us now and tell me the type of carplay you want and you will receive details and a quote.