Keep your car's factory features when installing a new car audio
Keep your car's factory features when installing a new car audio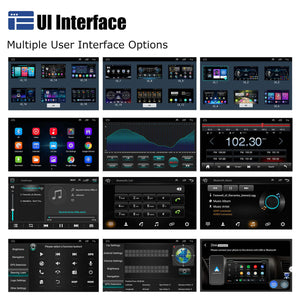 In this post, we'll show you how to use the iDatalink Maestro to install a new stereo while retaining critical original features. Continue reading for more information.
Upgrading your vehicle's auto radio can be a tricky balance. On the one hand, you could wish to upgrade your audio system and add exciting new capabilities that you don't have currently, such as Apple CarPlay or Android AutoTM.
On the other side, you might not want to give up useful factory features that will be lost if you replace a radio. And if you own a vehicle with a sophisticated "infotainment" system, such as Ford's SYNC®, Chrysler's UConnect, or GM's OnStar, you might be curious in what happens when you change stereos.
Many of your favorite factory features can be saved with the right car radio interface.
The Maestro wire connectors from iDatalink remove some of the guesswork out of installing a new car stereo. By allowing you to connect a new stereo into your factory wiring, you may keep many of the factory features you've grown accustomed to while also expanding your sound system and adding the most up-to-date infotainment options available. By the way, it's probably less expensive than upgrading to a "premium" sound system from a dealer.
iDatalink can provide certain additional features not available in the original arrangement, such as onscreen engine gauges in action.
So, how does the Maestro function?
The Maestro seamlessly transfers data between your vehicle and the radio. Essentially, it speaks the language of your vehicle, allowing a factory system to interact with your new receiver and vice versa.
Voice commands, Bluetooth connectivity, steering wheel controls, and even your backup camera will work flawlessly alongside aftermarket features such as an HD RadioTM tuner, Garmin navigation, Apple CarPlay, and Android Auto. In select vehicles, touchscreen access to information such as tire pressure, battery voltage, check engine codes, and more allows you to remain on top of what's going on with your vehicle.
Three elements are required to make it work:
An iDatalink compliant receiver – many popular brands, including Kenwood, Pioneer, Sony, Alpine, and JVC, provide compatible stereos.
You'll be able to enjoy the benefits of an aftermarket touchscreen receiver while keeping many of your favorite factory features.
Remember that new stereos often have superior audio circuitry and options to combine amplifiers to help improve the quality of your music even more, so add this to the list of advantages. And, best of all, if you purchase the Maestro package along with a new receiver, we will give you a substantial discount.
Tips and assistance from a Crutchfield expert on setup
Darren, Crutchfield's Vehicle Integration Buyer and vehicle guru, explains his years of experience installing the Maestro in this video.
Is it possible to feel enthused about wiring?
If you ask Darren, he will unequivocally say "yes!" He clearly enjoys his work, especially when dealing with excellent interface options such as the iDatalink Maestro. Here's what he had to say about it: 
"iDatalink's approach to stereo integration impresses me." It's really solution-oriented. They provide the ability to keep and improve numerous factory features that customers have grown to expect. Onscreen performance meters, climate controls, parking gridlines for backup cameras, and car diagnostics are just a few examples. Crutchfield is the number one iDatalink dealer."
"Basically, you update (also known as "flash") the software in the Maestro RR module." You connect it to your computer's USB port and enter your vehicle details on the iDatalink website. After that, connect the remaining wires for the speakers and electricity and attach the harness into the serial port on a compatible radio. The Maestro seamlessly transfers data between your vehicle and the radio. That is how it may provide the characteristics I stated earlier. That's awesome!"
Darren, you said it perfectly. And things get much better for the Maestro RR2. You can now use Bluetooth to connect the RR2 to your phone and flash the module right on your workstation in a matter of minutes. You can also flash the module after connecting the Maestro RR2 to the car-specific harness and your vehicle's wiring harness – no need to start your vehicle. Furthermore, you won't have to remove the radio from the dash to flash the module underneath it if you wish to make adjustments or update software later. This is a huge time saver!
iDatalink provides useful flashing movies for their modules, such as this one for the Maestro RR2. After flashing your Maestro module, make sure to obtain iDatalink's Installation Guide. This tutorial is vehicle-specific and will show you what to do with each wire.
JR and his stereo system
J.R., a Crutchfield Advisor, trainer, and social media host, was interviewed about the stereo installation in his 2020 Subaru Crosstrek. He was apprehensive that by replacing the radio, he would lose the Subaru-specific features he cherished. J.R. used the iDatalink Maestro RR2 interface module to connect his Sony XAV-9500ES digital multimedia radio to his Crosstrek. The RR2 allowed him to keep the vehicle's settings menu (which other interfaces would have removed), steering wheel audio controls, and backup camera.
The module is being flashed.
J.R. wirelessly flashed the module's software with his smartphone over Bluetooth, sitting on the workbench, with the module powered by a USB cord plugged into an AC outlet. It took approximately five minutes. He stated that he would have been forced to use the factory radio if Sony's interoperability with iDatalink and the ability to retain critical vehicle features had not been available.
Purchase your iDatalink solution.
iDatalink is constantly expanding their programming compatibility with new vehicles and features. They also sell dash kits to go with their interfaces. Simply choose an iDatalink serial port receiver and utilize Crutchfield's vehicle picker to check whether we have an iDatalink solution for you.
If you have any questions regarding installing a new audio to your vehicle, please phone or talk with one of our expert Advisors. They would gladly assist you in selecting the best option for your vehicle.
ESSGOO
As a brand dedicated to providing smart, economic and easy-to-install auto parts,our goal is to creatively transform and enrich the in-car experience for drivers and passengers.
We strive to answer the demand of driving experience in all aspects,while making the trip more convenient, safer and comfortable by innovative auto products.
In the future, cars will become a mobile living space,ESSGOO will continuously pursue the concept of innovation and excellence,and this has driven us to research and develop higher quality, distinctive and enhanced product series,so as to become the global preferred brand to improve the quality of mobile life."Whether the transform is big or small,it will bring more vitality and energy to life."
Transform, Starts Here!