The benefits of installing a touchscreen stereo in your vehicle
The benefits of installing a touchscreen stereo in your vehicle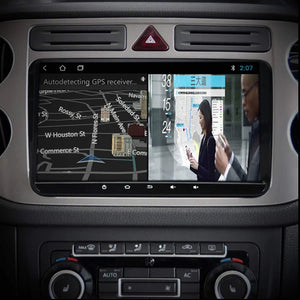 What is the appeal of touchscreen stereos? This essay will go through the advantages, cool factor, and safety concerns of huge stereo screens.
Why would you install a huge touchscreen stereo in your car? Fantastic looks are a terrific beginning point, but a big screen stereo can provide so much more. You can see all of the information you need at a glance, allowing you to get your eyes back on the road more quickly. You'll also have access to expansion options like as smartphone integration, navigation, and additional cameras.
There are three types of touchscreen receivers:
In-dash receivers that are double-sized (4" tall), the most popular style space-saving, 2"-tall receivers with flip-out screens
the rapidly expanding class of "floating" touchscreen receivers
However, it is all about the screen real estate and what it can display. The wide display and touchscreen controls make it simpler to use the stereo. Let's go over some tips for making the most of your touchscreen receiver.
Excellent, large display and phone support
It's far easier to view a wide screen as your receiver's display than the single-line displays of standard car stereos. You can immediately check what's on TV, who's on the phone, and where you're headed.
Many of these receivers include Apple CarPlayTM and Android AutoTM features, which simulate your smartphone experience right on the receiver's touchscreen display - ideal for keeping your phone out of your hand.
For added security, install a camera (or cameras).
A backup or rear-view camera can assist your touchscreen stereo become a helpful tool for remaining safe when backing up and avoiding accidents. Its wide field of view shows much more of what's behind you than a mirror, including places that your vehicle's body obscures. Many contemporary stereos now include various camera ports, allowing you to integrate factory cameras or add aftermarket cameras for regions such as your side view, all of which are displayed on the touchscreen display.
GPS navigation on the screen
Are we almost there? Touchscreen stereos with GPS navigation provide tremendous convenience and assistance. If you don't want to pay extra for built-in navigation and future map updates, seek for a touchscreen stereo that supports Apple CarPlay or Android Auto. Both of these alternatives rely on your smartphone to access navigation programs like Waze and Google Maps. They look fantastic on the huge display of the stereo.
Larger touchscreen displays also allow you to see and alter your sound settings more clearly.
Display that may be customized and is informational
In addition to the music and caller information displayed on the screen, many touchscreen receivers allow you to change the background and layout. So you may not only make a personal statement with the style of your dash, but you can also organize the functions you use the most.
When you're seeking for the optimum sound, you may easily navigate a receiver's tone controls (when parked). We also provide iDatalink Maestro interfaces for a variety of automobiles, which can display vehicle diagnostics in your vehicle depending on the receiver you select. In some automobiles, it may even incorporate climate controls.
Before you hit the road, spend some time adjusting your touchscreen receiver.
Concerned about the safety of touchscreen displays?
Customers have expressed concern that touchscreen receivers are a distraction rather than an aid. And, hey, we understand; we're on the road as well. Here are some tips for utilizing them securely (as well as other things you may not have known about):
Before you drive, adjust your screen settings. Some individuals will hit the road and try to alter the settings on the fly after installing and turning on a new receiver (which we perfectly understand). Simply put, no. In reality, most touchscreen stereos will not allow you to view the menus while driving.
Before you start your vehicle:
Configure the display to your liking. This contains controls for contrast, backlighting, dimming, and changeable color. Yes, you may reset them later if necessary...while you're parked.
Set the functions you use the most for quick access before you hit the road.
Please contact us if you have any issues regarding configuring your receiver. When you buy from Crutchfield, you get lifelong tech support, which includes assistance with setting up and figuring out the controls.
Examine the owner's manual. Yes, we are aware...I had to say it.
Turn off the monitor. A lively display may pique your interest, but you may turn it off when not required.
To turn on and off the touchscreen display on this Kenwood, use the slider.
There is normally a one or two button sequence that can totally and rapidly disable the display. The audio is still operational, so your music will continue to play and navigation apps will continue to direct you. When you touch it, it will instantly switch back on.
Acquaint yourself with the controls. Many people have pointed out that there are no "muscle memory" buttons or knobs on touchscreen receivers that can be touched without looking, which is an excellent point. However, many versions do offer convenient knobs or easily accessible toggle buttons for volume control or other crucial adjustments. Some of the knobs are multi-functional and can be used for more than simply volume.
Gesture Control by JVC
JVC has a function called "Gesture Control" that allows for simple, rapid adjustments that are less distracting.
Some receiver manufacturers provide simple "no-look" controls on the display itself. JVC's "Gesture Control" feature, for example, allows you to swipe the touchscreen display to the right for track ahead, left for track back, and a circular motion to alter the volume - all while keeping your eyes on the road.
Maintain control of the steering wheel. Why not utilize these factory controls with a new receiver if you're already comfortable with them? Steering wheel control (SWC) adapters are available for a wide range of cars and receivers. In many circumstances, you can actually program extra functionalities into your controls that you'd use more frequently.
Adapter for steering wheel controls
I keep my hands on the wheel when pausing a song or turning up the level because my OEM steering wheel controls are linked to my touchscreen stereo.
For instance, I programmed a "Pause" button on my steering wheel controls to easily stop the music without having to look for the screen. It helps me keep my eyes on tight drive-thru lanes.
Use voice controls like as Siri and Google Assistant. While chatting to your stereo may seem strange at first, they may really assist you obtain information on the fly without much interruption. Learn more about automobile voice control.
Incorporate a compatible remote control. Many touchscreen receivers are compatible with a portable remote control. It is sometimes included, and sometimes it is optional. For example, once he mastered the layout of the remote buttons, my Dad enjoyed using the remote to control his stereo without having to look at or touch it. This came from someone who wondered, "Why do I need a remote control for my car stereo?"
Understand your state's driving rules. It's a good idea to contact your local government to find out what the rules are for using smartphones and touchscreen displays. Check read our article on phone safety in the automobile.
It's definitely worth a look.
Whatever you pick, the sophistication of a touchscreen receiver makes it entertaining to use and quite useful. To determine which stereos will fit your vehicle, use our easy vehicle picker tool. And our Advisors are accessible by phone or chat to assist you in selecting the best touchscreen receiver for your needs.
ESSGOO
As a brand dedicated to providing smart, economic and easy-to-install auto parts,our goal is to creatively transform and enrich the in-car experience for drivers and passengers.
We strive to answer the demand of driving experience in all aspects,while making the trip more convenient, safer and comfortable by innovative auto products.
In the future, cars will become a mobile living space,ESSGOO will continuously pursue the concept of innovation and excellence,and this has driven us to research and develop higher quality, distinctive and enhanced product series,so as to become the global preferred brand to improve the quality of mobile life."Whether the transform is big or small,it will bring more vitality and energy to life."
Transform, Starts Here!