Toyota Highlander Radio Upgrade Stereo Replacement
Toyota Highlander Radio Upgrade Stereo Replacement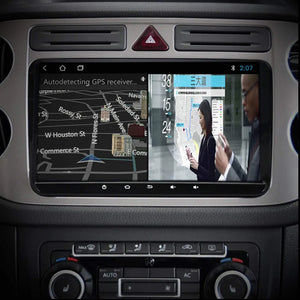 The factory radio for a Toyota Highlander from the model years 2008 to 2014 is inferior to an aftermarket radio upgrade and Android head unit. The outdated Highlander radio could have issues and is only partially functional. Usually, there is only a radio and a CD player. Some Toyota Highlanders are equipped with an out-of-date factory navigation system. The cost and complexity of updating the navigational charts are also prohibitive.
What then is the improvement for the radio in the Toyota Highlander?
Don't panic; an aftermarket Android head unit may now be installed in place of the Toyota Highlander's stock radio. Many contemporary features are offered by the Highlander radio replacement, which you will like.
First off, the Android head unit for the Toyota Highlander has a sizable 10.1′′ HD crisp screen, enables touch, and is simple to use. You can view movies or HD videos in the car if it has a big HD screen. It's fantastic for navigation system displays as well.
Toyota Highlander Replacement Radio
The Toyota Highlander aftermarket navigation system has built-in navigation and supports Google, Waze, IGo, and Sygic maps, which are the most widely used maps worldwide. We offer the most recent IGo or Sygic maps that have been installed in your nation. In addition, future updates to the maps from DVDGPSNAV will be simple and free.
Second, a music app, USB drive, SD card, and Apple CarPlay/Android Auto can all be used to play music on the new Toyota Highlander radio upgrade. You have a lot of possibilities. Lossless music, HD 1080P, and 4K video playback are also supported. For music and movies, you no longer need to purchase or burn CDs. There is also an Apple CarPlay connection option. You may link your Android-powered phone to Android Auto as well.
Apple Carplay in a Toyota Highlander
Upgraded Apple Carplay in the Toyota Highlander
Thirdly, you may connect a Toyota Highlander backup camera with this Toyota Highlander radio replacement in addition to a navigation system and numerous music/video playing. The reverse camera video presentation is supported by the huge screen. Once you shift into reverse, a camera image will automatically appear on the screen.
Highlights of this Toyota Highlander Android head unit's most recent upgrade to the Android 12 operating system are shown below.
Android radio for the Toyota Highlander
Does my car's Toyota Highlander radio fit and function?
Typically, this Toyota highlander radio suits models from the 2008 to 2014 model years, JBL amplifier included. In order to support the factory-installed JBL amplifier on your Toyota Highlander, you will need to use a different power cord with a CAN-BUS decoder. For us to check, you may also email a photo of your car's dashboard.
No modifications to the factory dashboard or cables are required for installation; simply remove the existing radio and then connect the new connectors to the factory ones. Installing this new aftermarket head unit should be simple if the stock Toyota highlander radio can be taken out.
We also have a 10.1" Android head unit that would fit a Toyota Highlander from the 2015–2018 model years; check it out below:
It has the same features and specs as the Toyota Highlander radio replacement for models from 2007 to 2014.
What are the costs and purchasing options?
The price of shipping depends on your nation. Send us your shipping address, and we'll figure out the cost of delivery for you.
Please email us the details of your automobile so we can verify whether our unit suits it. Please provide the specific make, model, and year of your car, as well as the dashboard and whether or not your Highlander has a JBL amplifier.
We will send you an invoice to confirm the order after receiving confirmation of your car's information.
All of our goods are covered by a premium, three-year guarantee. Please contact us if you have any questions or requests, and we will try to assist you.
ESSGOO
As a brand dedicated to providing smart, economic and easy-to-install auto parts,
our goal is to creatively transform and enrich the in-car experience for drivers and passengers.
We strive to answer the demand of driving experience in all aspects,
while making the trip more convenient, safer and comfortable by innovative auto products.
In the future, cars will become a mobile living space,
ESSGOO will continuously pursue the concept of innovation and excellence,and this has driven us to research and develop higher quality, distinctive and enhanced product series,
so as to become the global preferred brand to improve the quality of mobile life.
"Whether the transform is big or small,it will bring more vitality and energy to life."
Transform, Starts Here!