How to Enable Wireless Apple CarPlay?
How to Enable Wireless Apple CarPlay?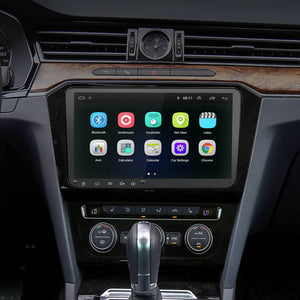 While a firmware upgrade may bring wireless functionality, you will almost certainly require a new head unit or a less-than-ideal adaptor.
Make the initial connection via a Lightning cable, then enable future wireless connections.
Once in pairing mode, go to your phone's Settings > General > CarPlay and pick your car.
Is there no CarPlay? Check for firmware upgrades, upgrade your head unit, or experiment with a wireless adaptor.
This article describes how to make Apple CarPlay wireless, including wirelessly connecting to your vehicle's built-in CarPlay and adding wireless connectivity if your vehicle does not currently support it.
Apple
How to Make Use of Wireless CarPlay
Apple CarPlay is a mirroring program that reflects your phone's screen onto the infotainment system screen in your vehicle. You cannot utilize CarPlay if your vehicle does not support it. If your vehicle supports CarPlay, it may allow cable, wifi, or both connections.
In vehicles that offer both wired and wireless connections, you can usually connect your phone using a Lightning cable to initiate the connection and then use it in either wired or wireless mode in the future. In some circumstances, the wifi feature must be manually enabled.
If your vehicle supports wireless CarPlay, follow these steps to get started:
Make sure your vehicle's stereo is in Bluetooth or wireless mode by pressing and holding the voice command button on the steering wheel.
If you have problems, review your owner's handbook. You may also need to set it into pairing mode using a vehicle-specific technique.
Check that your phone's Wi-Fi and Bluetooth are both turned on.
Select your car by going to Settings > General > CarPlay.
How to Enable Wireless Apple CarPlay
Wireless CarPlay requires a few things to function properly. A touchscreen infotainment system that supports CarPlay, Bluetooth, and a dual-band Wi-Fi router is required for the car. Wireless CarPlay is not a possibility if it lacks any of these features.
There are a few methods to add wireless CarPlay to a vehicle that doesn't already have it, but it's rarely as easy as flicking a switch.
Here are some methods for making Apple CarPlay wireless:
Firmware update: Contact the manufacturer or your local dealer to see whether a firmware upgrade is available or expected. Most automobiles do not have dual-band Wi-Fi routers, thus this is typically not an option.
Although an aftermarket head unit is the ideal method to add wireless CarPlay to your vehicle, it is not always a possibility. Check to see whether your car has any aftermarket head systems that enable wireless CarPlay.
Wireless adapter: While this is the most convenient option to enable wireless CarPlay, it is not always reliable. Because these dongles are not Apple-certified, they pose compatibility and security problems.
With a Firmware Update, You Can Add Wireless CarPlay
Wireless CarPlay isn't normally included in firmware updates, but it's quite easy to find out whether yours is an exception. You may do your own research and search the internet for firmware upgrades for your car, or you can contact the manufacturer or a local dealer.
To begin your investigation, go to your preferred search engine and type in the year, make, and model of your vehicle, followed by "wireless CarPlay firmware update."
Because it necessitates specific hardware, this sort of capability is rarely enabled with a firmware update. If your vehicle lacks a dual-band wifi network, no firmware upgrade will help.
The most typical case in which this is an option is when a car comes equipped with wireless CarPlay but does not operate with subsequent versions of iOS. In such a case, the car manufacturer may offer new firmware to correct the issue.
How to Use an Aftermarket Head Unit to Add Wireless CarPlay
The head unit, often known as a stereo, receiver, or radio, is a component of your car's infotainment system that supports CarPlay.
If you can replace the original head unit with one that supports wireless CarPlay, you'll be able to utilize CarPlay wirelessly in your vehicle.
This isn't always a possibility because many contemporary car head units aren't easily changeable. Instead of an easily detachable modular device, many current vehicles feature highly integrated head units and displays that manage climate settings and other tasks. If such is the case with your car, this may not be an option.
The simplest method to find out whether this is a possibility is to visit a vehicle audio website such as Crutchfield or Sonic Electronix. Sites like these allow you to enter the year, make, and model of your car and then identify components that are compatible with that vehicle.
If you discover a wireless CarPlay head unit that works with your vehicle, you'll need to remove and replace the old one. If you choose to handle the task yourself, you'll need some tools such as screwdrivers, Torx drivers, pry tools, and a soldering iron, although most car audio dealers provide that service for a price.
How to Use a Wireless Adapter to Add Wireless CarPlay
Wireless CarPlay adapters provide wireless connection in automobiles that do not already have it. Your vehicle must have wired CarPlay for this to operate. The adapter connects to your vehicle using the same USB connector used for wired CarPlay, and then you connect your iPhone wirelessly to the adaptor.
This plug-and-play solution can introduce wireless CarPlay to automobiles that would not have it otherwise, but it has certain drawbacks. Because Apple does not support this technique of connecting wirelessly to CarPlay, these adapters are not Apple-certified. That is not to say that all of these adapters are terrible, but there is no formal inspection or certification to screen out the defective ones.
Users have reported stuttering audio and Bluetooth connection concerns. Some adapters, for example, need re-pairing every time you get in your car, whereas wireless CarPlay is designed to rejoin instantly.Some security concerns stem from the unofficial nature of these adapters since Apple doesn't authorize them and may be based on old, outdated, less secure versions of CarPlay.