The benefits of installing a touchscreen radio in your vehicle
The benefits of installing a touchscreen radio in your vehicle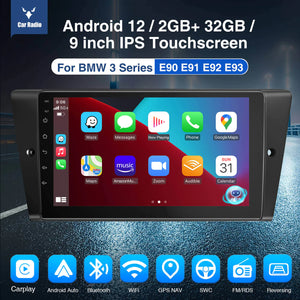 What is the appeal of touchscreen stereos? This essay will go through the advantages, cool factor, and safety issues of huge stereo screens.
Why would you install a huge touchscreen radio in your car? Fantastic aesthetics are a terrific beginning point, but a big screen stereo can provide so much more. You can view all of the information you need at a glance, allowing you to get your eyes back on the road more quickly. You'll also have access to expansion options like as smartphone connectivity, navigation, and extra cameras.
There are three types of touchscreen receivers:
In-dash receivers that are double-sized (4" tall), the most popular style space-saving, 2"-tall receivers with flip-out screens
the rapidly expanding class of "floating" touchscreen receivers
However, it is all about the screen real estate and what it can display. The wide display and touchscreen controls make it simpler to use the stereo. Let's go through some tips for making the most of your touchscreen receiver.
Excellent, large display and phone support
It's far simpler to view a wide screen as your receiver's display than the single-line displays of standard vehicle stereos. You can immediately check what's on TV, who's on the phone, and where you're headed.
Many of these receivers offer the functionality of Apple CarPlay™ and Android Auto™, which emulate your smartphone experience right on the receiver's touchscreen display – great for keeping your phone out of your hand.
Adding a rear-view camera to your touchscreen stereo provides a better, wider view of what's behind you.
Add a camera (or cameras) for safety
A rear-view or backup camera can help make your touchscreen stereo a valuable tool for staying safe while backing up and to help avoid accidents. Its wide field of view offers a whole lot more of what's behind you than using your mirror, including areas that your vehicle's body blocks from view. Many new stereos also offer multiple camera inputs, so you can incorporate factory cameras or add aftermarket cameras for areas like your side view – all viewable on the touchscreen display.
Onscreen GPS navigation
Are we there yet? Touchscreen stereos with built-in GPS navigation offer incredible convenience and assistance. But if you don't want to spend the extra money for built-in navigatIion on and future map updates, look for a touchscreen stereo that has Apple CarPlay or Android Auto. Both of these options get your smartphone involved to use navigation apps, such as Google Maps. They appear beautifully on the stereo's large display.
Larger touchscreen displays also let you clearly see and adjust your sound settings quickly.
Customizable and informative display
In addition to the music and caller info that you can see on the display, many touchscreen receivers let you customize the background and layout. So not only can you make a personal statement on the look in your dash, but you can organize the functions that you use the most.
When you're looking for that perfect sound, you can dive into a receiver's tone controls and see them clearly (while parked). We also offer Maestro interfaces for many vehicles that can show off vehicle diagnostics in your vehicle, depending on the receiver you choose. It can even include climate controls in some vehicles.
Take some time to make adjustments on your touchscreen receiver before you hit the road.