Which car stereo is best for you—a single din or a double din?
Which car stereo is best for you—a single din or a double din?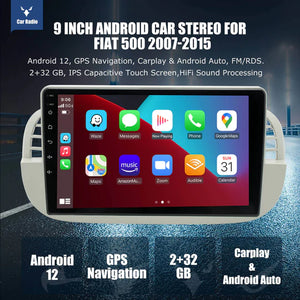 It's critical to be aware that in-dash head units exist in a variety of sizes. You have two options to choose from when it comes to these DIN sizes: single-DIN and double-DIN. Let's examine the differences between the two in more detail.
WHAT SIZE IS DIN?
The acronym "DIN" refers for the German Institute for Standardization, or Deutsches Institut für Normung. This Berlin-based organization creates and upholds countless standard measurements that are used throughout the automotive, engineering, and technological industries.
The word "DIN size," as it is commonly used in North America, refers to the chassis size of a car stereo.
When looking for a car audio, you'll come across two primary DIN sizes:
Single-DIN: A single-DIN automobile stereo measures seven inches in width and two inches in height. A single-DIN model of the Sony head unit is depicted in the article's header image.
Double-DIN: Both the single-DIN and double-DIN vehicle radio models are seven inches wide. However, a double-DIN stereo is twice as tall as a single-DIN unit at four inches. This article's body contains a picture of a double-DIN stereo.
PROS AND CONS OF SINGLE-DIN VERSUS DOUBLE-DIN
One-DIN head units provide the following benefits and drawbacks:
Installation is comparatively simple for single-DIN units.
They may be a cost-effective yet considerable improvement over a damaged or old-fashioned car audio. They might have features like a Bluetooth audio wireless connection or an auxiliary input connector.
Because single-DIN devices are rather small, there isn't much space for controllers. The shortage of space may make the controls challenging to reach and operate in various situations.
Single-DIN stereos typically lack a touchscreen. Some devices have a fold-out touchscreen, however these are more expensive and scarce.
Let's now examine the benefits and drawbacks of double-DIN stereos:
Stereos with double DINs have extra control space. Due to the additional space, controls on double-DIN machines are frequently more accessible and user-friendly than those on single-DIN units.
Due to their larger size, double-DIN stereos can accommodate touchscreens while single-DIN stereos cannot, unless the touchscreen is a foldout model, as was previously indicated. A touchscreen stereo has a number of noteworthy advantages. Touchscreen stereos typically have displays that are simpler to read and tend to be easier to use than stereos without screens. Furthermore, they provide improved phone integration. A rearview camera, on-screen GPS navigation, Apple CarPlay, and Android Auto are additional features that certain touchscreen stereos can have. Single-DIN head units rarely come with these functions.
Installing double-DIN stereos is more challenging than installing head units without screens.
The cost of double-DIN units will be higher than that of single-DIN units.
What DIN size is used by my car?
Double DIN versus single DIN? Before investing in a car stereo, you must decide which is best for you.Vehicles that can fit double-DIN head units typically can also fit single-DIN models. The opposite isn't always true, either, as double-DIN stereos don't always fit in vehicles designed for single-DIN systems.
Sometimes, by examining the panel that contains the stereo controls, you may determine which size would be best for your car. You have a single-DIN if the short two-inch one is present. Utilizing an internet lookup tool is the simplest approach to determine whether a unit's DIN size is compatible with your car. You must enter the make, model, and year of your automobile in order for these tools to tell you whether it can accommodate a single-DIN stereo, a double-DIN unit, or both.
A high-quality aftermarket radio can significantly improve your driving experience. You will be able to select the stereo that best suits your needs now that you are aware of the differences between single-DIN and double-DIN head units.
For basic maintenance and repairs, you may rely on one of our 17,000 NAPA AutoCare shops or browse all the vehicle stereos and accessories offered on NAPA Online. Visit your neighborhood NAPA AUTO PARTS store to speak with a qualified professional for more details on single-DIN vs. double-DIN head units.
ESSGOO
As a brand dedicated to providing smart, economic and easy-to-install auto parts,
our goal is to creatively transform and enrich the in-car experience for drivers and passengers.
We strive to answer the demand of driving experience in all aspects,
while making the trip more convenient, safer and comfortable by innovative auto products.
In the future, cars will become a mobile living space,
ESSGOO will continuously pursue the concept of innovation and excellence,and this has driven us to research and develop higher quality, distinctive and enhanced product series,
so as to become the global preferred brand to improve the quality of mobile life.
"Whether the transform is big or small,it will bring more vitality and energy to life."
Transform, Starts Here!