7 Things to Think About When Purchasing a Car Stereo
7 Things to Think About When Purchasing a Car Stereo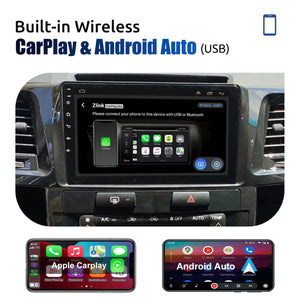 Upgrading your vehicle radio is an excellent opportunity to include new features and create a more visually appealing automobile interface, not to mention improved sound quality and a more pleasurable driving experience. Because there are so many possibilities, this decision isn't as straightforward as you believe. Let us simplify the process so you can feel much more secure about purchasing a vehicle radio.
1.Sources of audio
The first thing you should look for when purchasing a vehicle radio is that it supports all types of playback formats.
There are several formats into which audio data can be encoded these days. The quality of an audio file is determined by the format. While MP3 and AAC provide standard quality, other formats like as ALAC, WAV, and FLAC, among others, provide high-resolution, superior sound quality. As a result, ensure that the vehicle radio you select supports all of the playback formats. Also, ensure that your car stereo can support various sorts of audio sources, such as CD/DVD, radio, USB, AUX, Bluetooth, SD card, or Smartphone.
2.Integration of Apps and Smartphones
Nowadays, every client seeks a device that can be linked with and work in tandem with their smartphone. As a result, it is critical to ensure that the aftermarket radio you select includes that capability. One of the most popular recent developments is smartphone connectivity with Apple CarPlay and Android Auto. This greatly simplifies driving and allows you to effortlessly handle your smartphone via the head unit for a more smooth and safer driving experience. Pioneer was the first brand in India to introduce this game-changing technology, and it is now focused on Wireless Apple CarPlay and Wireless Android Mirroring to take things to the next level.
3.Radio and local satellite
Many individuals like listening to the radio while driving. Radio is also a terrific way to acquire short news updates and remain up to speed on current events. Traditional radios are being rapidly replaced by digital radios. Not only do these radios have better sound quality, but they also have some really helpful features, such as the ability to play songs directly from your Spotify digital collection, so you can listen to music suited to your tastes without having to take your eyes off the road.
4.Navigation with GPS
When you're in a new place, a GPS system allows you to focus on the road and navigate to your destination without having to stop at every street corner and ask a local for directions. Many aftermarket stereos include integrated GPS systems, but you don't have to pay extra for it. With the growing popularity of smartphone connectivity, you may utilize GPS navigation on your vehicle audio via Apple CarPlay or Android Auto.
5.Controls and Physical Dimensions
Market radios are typically available in two standardized sizes: single din (2"x7") and double din (4"x7").
Single din radios have always had buttons and a simple appearance and feel. Nonetheless, they can be jam-packed with features in terms of functionality and add-on capabilities. A double din, on the other hand, often features a touch screen and enables services like as GPS, DVD playback, and others.
In certain circumstances, a single din or double din radio may be a straight replacement for your car, however in others, a vehicle specific dash kit may be required for smooth installation.
Whether you have business needs that require tending to or you just want to kick back and enjoy a movie or a TV series, or whether you want to facilitate easy online learning for your kids – all the tasks can be accomplished with one, simple device.
While collecting input from your music sources is one of the head unit's functions, another crucial one is to output the audio to your car's speakers through its internal amplifier. Peak and RMS power ratings are available for this amplifier. Peak power is the largest amount of power that your amplifier is capable of delivering, whereas RMS power is the amount of power that the amplifier will consistently output under normal conditions. Unless you prefer to blast your speakers at maximum power all the time, you should pay closer attention to the RMS rating.
Generally, having high RMS power is good as it gives you more leeway in terms of volume without reaching the limit of the amplifier's ability – which might lead to distortion. More wattage doesn't always mean better audio quality though. It's determined by many factors like the quality of your audio source, digital signal processing, digital-analog converter, equalization, and finally, your car's speakers.
6.Power
These characteristics, however, are not fixed. Most current head units contain audio tuning options that allow you to customize the texture and quality of the output to meet your specific demands. The "Bass Boost" tool, for example, may be used to sharpen the lowest sound frequencies, the "Band-equalizer" feature can be used to regulate the overall soundstage, and the "Time Alignment" option can be used to correct course if the music becomes out of sync.
Furthermore, if you intend to improve your car's sound system by adding additional amplifiers, subwoofers, or other accessories, you should ensure that the car stereo you choose is upgradeable. This may be discovered by counting the number of preamp outputs on the stereo's back end. So, when you buy the stereo, make sure you have a suitable number of preamp outputs. Those preamp outputs also include line voltage labeling (2V, 4V, and even 8V and 16V in certain models) - the higher the line voltage, the less noise in the speaker output. This is why a stereo with high voltage RCA preouts should be considered.
7.Budget
As the saying goes, everything has a cost. You must strike a balance between what you desire and how much money you are ready to spend on it. There are several reasonably priced vehicle stereos on the market, but you may need to stretch your budget a little if you truly want to take things to the next level. As a result, before you start deciding what you want and don't want, you should set a budget.
You'll have a clearer view this way, and you'll be able to assess your alternatives. After you've eliminated the stereos that aren't within your budget, you can focus on choosing the greatest stereo within your budget.