Buying Your First Android Car Screen: A Beginner's Guide
Buying Your First Android Car Screen: A Beginner's Guide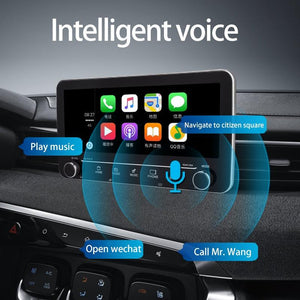 With so many brands and models to select from, purchasing your first android vehicle screen might be overwhelming. However, suppose you simply had a taste of the feature-rich device in a friend's car and decided it was about time you bought your own.
'Android vehicle screen' on Google and the internet will bombard you with so many various models that you will be confused about which one to acquire, what to look for, how large it should be, and so on. We did the homework for you, and by the time you finish reading this post, you will undoubtedly be smarter in making that critical purchasing decision.
Display Type and Dimensions
Ironically, when it comes to automotive android screens, the principle of 'Bigger Is Better' does not apply. A double-din screen is available in a variety of screen sizes ranging from 6 inches to 13 inches. It is essential to get one that fits snugly in your car's standard head unit slot. Don't forget to look at the display kind. A full HD IPS display with a capacitive touch screen is ideal for this purpose.
Processing Capacity
The performance of an android vehicle screen, like that of a computer or a standard android device, is heavily reliant on the processor's power. The more cores and faster the clocking speed, the less latency and faster your automobile screen will work. A quad-core CPU with a clock speed of at least 1.3GHz is a decent place to start.
RAM and ROM
It should go without saying, but always check the RAM capacity of your car's android screen and choose the one that best suits your needs. Getting higher digits is encouraged if you want to multitask. While most automobile displays have external storage ports, having built-in storage is a plus.
GPS Navigation Built-In
This is one of the most crucial functions that your automobile screen will serve once it is installed. You may utilize maps on the screen with an in-built GPS. Furthermore, powerful smartphone connectivity allows you to effortlessly access Google Maps on your screen.
Google Auto/Apple CarPlay
Using a handheld mobile device while driving is forbidden, and you undoubtedly want smartphone integration on your car screen. If you're an Android user, having wireless Android Auto makes it easy to integrate and use your smartphone's important functions via the car screen. Apple CarPlay does the same thing for iOS users. Fortunately, most automobile android displays have Android Auto/Apple CarPlay functionality.
Options for Connectivity
Any android vehicle screen you buy must have built-in WiFi and Bluetooth connection. Furthermore, WebLink and Phone Link allow you to connect mobile devices to your car screen and operate them hands-free while driving.
Outputs and Inputs
Modern android displays, like a single-din car stereo, include input and output ports for connecting external storage devices, AUX cables, and so on. The rearview camera is one of the most crucial inputs. FM antenna inputs are useful in addition to additional USB ports and audio and video outputs.
Amplifier Built-In
The advantage of having an in-built amplifier in your vehicle android screen is that you can directly send an audio signal from the head unit to the speakers/woofers/subwoofers. Although having a separate amplifier in your car helps increase the audio output from the head unit, installing one incurs additional costs that may be avoided by opting for a car screen with an in-built amplifier.
Are you ready to get your first Android screen?
Hopefully, you are now more knowledgeable about vehicle android displays and can make an informed decision about purchasing your first android car screen.You should check at the selected car android displays and take advantage of exclusive offers on your first purchase. Just remember to consider the crucial factors before making a purchase decision.