Apple CarPlay / Android Auto - The Best Driver's Asisstant!
Apple CarPlay / Android Auto - The Best Driver's Asisstant!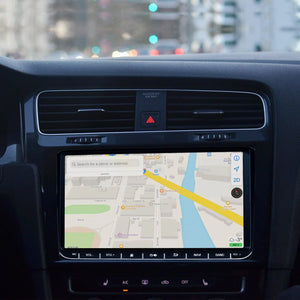 Nowadays, almost everyone owns a smartphone. Some of us can even drive while staying focused on the road. You don't want to be distracted while driving, but you need to use your phone to answer an important call or find the nearest gas station. What if we told you that you no longer needed to be distracted?
Apple CarPlay/Android Auto adapters will allow you to operate your phone via voice assistant or OEM buttons (on the steering wheel, media system, etc.) and controllers, allowing you to use smartphone features in your car more quickly and save time. So, what are those gadgets, and how much money do they make?
What is Apple CarPlay / Android Auto?
Apple CarPlay and Android Auto allow you to use navigation, manage calls and messages, as well as a calendar, and also play audio on the car multimedia system from the connected smartphone. The difference is that Apple CarPlay is a built-in iPhone function, while Android Auto is a technology that requires the application to run on Android devices.
Here are the main advantages of these electronic assistants:
Easy and convenient navigation on the car OEM monitor;
OEM buttons control. You no longer need to waste your time looking for some function on the car monitor. Just use steering wheel or media system buttons for controls;
Siri and Google Assistant voice assistants which help you quickly navigate to the required place or answer an urgent call without getting distracted from driving.*
Audio playback on the car media system;Phone charging.
Please note! *If you do not have an OEM microphone in your car, you have to install an external microphone for hands-free calls and controlling Siri/Google Assistant.
One of the leading and most valuable features Apple CarPlay and Android Auto have is hands-free calls. You can also send messages and play the ones you receive using a voice assistant. Play music, open the calendar or mail using Siri or Google Assistant. Simple and practical in use, especially when you are in a hurry.
Except for the default ones, a user can install other applications from Apple Store or Play Market. Take into account that the list of programs you can install is limited.
How to use CarPlay/Android Auto adapter? 
Some vehicles (starting from 2016 model year) have CarPlay or Android Auto as a standard function according to car configuration (Some vehicles (starting from 2016 model year) are originally equipped with CarPlay or Android Auto). If it's your case, you can can just connect your phone and enjoy simplified controls. But what to do if you don't have these functions embedded in your car? Let's get this sorted out!
In such cases, multifunctional CarPlay and Android Auto adapters will help you activate these functions and use them on the car monitor. In general, these devices are connected in two ways:
A connection type depends on each specific car model and vehicle head unit. Not sure which connection type to choose? Don't worry! Our sales managers and technical support specialists will always help you select the solution and appropriate connection type.
Here you are, a happy owner of the adapter, and you want to test the new device. What to do next? First, connect the device according to the user manual or the connection scheme. Most adapters are connected using Plug&Play method. This means that you do not need to cut the car wires, you just need to connect the cables and connectors as described in the user manual. Besides, while connecting the devices using Plug&Play method, there are no risks of voiding the car warranty.
After the installation, connect your smartphone to the head unit as follows: Android smartphones only allow cable connections, however iPhones may also connect over Wi-Fi. Please take note! Not all CarPlay adapters provide iPhone connectivity over Wi-Fi.
You may also use a universal vehicle activator for wireless CarPlay to connect your iPhone over Wi-Fi instead of searching for a cable and attaching the smartphone. After establishing the connection once, subsequent connections will be automated and undetectable. Please take note! This gadget is only intended for automobiles that have a genuine and operational CarPlay capability.
Once connected, use the OEM buttons or touch screen to choose Android Auto/CarPlay. Congratulations! You may now use CarPlay or Android Auto in your vehicle!