How to Install a Camera, Navigation System in a Car?
How to Install a Camera, Navigation System in a Car?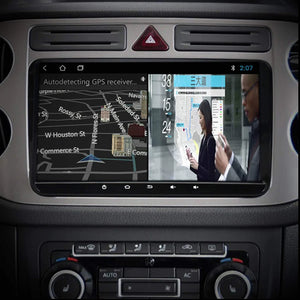 We normally shop based on our budget and wants, but occasionally we purchase a more expensive item without fully comprehending its qualities. But why should we pay extra for features that we will never use?
If you don't want to overspend, you should know exactly what you need to buy and how to utilize it. As a result, we decided to devote this post to describing the fundamental distinctions between the most common automotive electronics systems.
Ways of controlling the connected devices
Furthermore, the majority of video interfaces provide charging of other connected devices. Simply said, the video interface acts as a power manager between the car and the additional connected gadgets. Be careful during installation since the power supply for the visual interface must be correctly organized. If it is done wrong, the automobile battery may be destroyed. As a result, if the video interface offers outputs for external devices, you should use them. However, you should also consider the maximum power of such an output.
In light of the foregoing, it is worth noting that the video interface is a pretty complicated gadget that often necessitates technical knowledge and equipment. It will take some time to install, but you will be rewarded with a vast range of functions.
Please take note! To avoid erroneous equipment functioning and damage to wires or other automotive components, we recommend installing the video interface only with the assistance of competent professionals.
We now provide a wide selection of video interfaces for a variety of automobile models, including Mercedes-Benz, Toyota, Audi, BMW, Volkswagen, Porsche, and others. If you wish to connect a navigation box or many external video devices to the car's OEM monitor, you'll need a video interface.
Camera interface adapters
Camera connection adapters are a type of video interface that has been simplified. Manufacturers employ the same CPU as used in video interfaces, but without any added functionality. As a result, you get a less expensive and simpler version with fewer features. You can link the rear and front vision cameras in particular.
When selecting such an adapter, make certain that it is compatible with the OEM rear view camera. It may appear that there are two identical options for the same automobile brand. However, if you look closely, you will notice that one of them works with the OEM camera and the other does not.
Manufacturers may respond to end-user demands by adding features to their products. For example, suppose you wish to add a rearview camera and Apple TV but not a front camera.
In this situation, you can replace the front-facing camera with Apple TV. As a result, you will need to configure an adapter in another manner. The OEM button on the steering wheel will trigger input from the linked Apple TV.
Camera Input CarPlay Adapters
If you've ever considered installing CarPlay or Android Auto in your vehicle, you should definitely read more about our adapters. Now we'll look into CarPlay adapters, which allow you to attach cameras, play video from a USB flash drive, and reflect your phone's view on the car's OEM monitor.
Such options include camera inputs and will come in useful if you need to install cameras in addition to CarPlay and Android Auto. They provide a Plug&Play connection, making installation considerably simpler and safer.
Some of these adapters have active parking lines and allow you to switch between video sources using the OEM button. Furthermore, while reversing, the backup camera picture will be instantly shown on the monitor.
You can also choose 3 in 1 solutions, which allow connecting additional video devices and cameras, as well as use CarPlay and Android Auto. Find more information about these functions in our article. More to that, you can play music on the OEM audio system from the connected smartphone or USB flash drive.
Conclusion
Summing up, choose the solution based on your needs. For example, if you only need a camera or a single video device - choose a cable for your head unit. In case you need more functionality, for instance, install a navigation box or use CarPlay/Android Auto - choose a video interface or multifunctional adapters. If you are not sure whether you need this or that solution, please contact our sales managers, and they will gladly help you.