Best cordless pressure washers
Best cordless pressure washers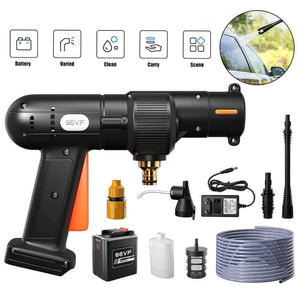 We put six washers through their paces to see which one reigns supreme among cordless cleaners.Three cordless pressure washers cleaning a car door.Most enthusiasts will like cleaning their prized possession. It not only makes the automobile seem good, but it also allows you to inspect for damage and nip any possible problems in the bud. Applying snow foam followed by a jet of water is significantly less harmful to the paint than using a bucket and sponge. However, there are situations when you may not have access to a hose or power.
drying cloth on car bonnet
Fortunately, pressure washers are now cordless and tapless. A new class of battery-powered equipment can transform water from any source into a cleaning jet or foam blanket.
How we tested them
We completely charged the batteries and provided water to the washers from a bucket or the inbuilt tanks, as directed. We then put the jets through their paces on a vehicle, incorporating snow foam if an attachment was available. We examined the battery life, convenience of use, power, and value for money. At the time of writing, prices were obtained from internet sources and included the cost of a battery and charger. Some of the machines' power packs may be shared with other power tools, which can help spread the cost.
Verdict
The majority of us will cheerfully use a cordless drill or other battery-powered item without missing out on mains electricity. All of these cordless cleaners, however, will be outperformed by a sub-£100 pressure washer that plugs into a mains energy outlet and has a water tap. If you don't have that luxury, the Draper is the finest value for money, power, and features for anybody cleaning a car. The Titan comes in second because to its large battery, while the Bosch is a high-quality option with a bit more power.
The washer is by far the easiest to use here. Charge the batteries, insert the six-metre hose into a nearby water source, attach the lance, and you're ready to clean. The nozzle's head spins, like with other mains-powered devices, to change the flow from a blast to a gentler fan. The strongest jet has a great kick to it, but the broader setting is a touch dribbly.
The kit also includes a snow foam attachment, which was surprisingly effective and simple to install. This, along with the total value, is enough to propel it to the top of the list.
We like corded pressure washers and were delighted by this cordless equipment. It includes a nozzle with five distinct 'click' settings, ranging from a mild flow for watering plants to a pin jet. It's not as strong as a mains unit, but it should enough for most car-cleaning tasks.