Can You Replace A Car Radio With A Touch Screen On Your Own?
Can You Replace A Car Radio With A Touch Screen On Your Own?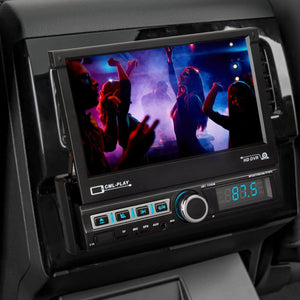 Is your car's touch screen no longer working? Or has it acquired a problem where it does not respond properly to your touch? Because of the labor expense, you may be hesitant to get it changed. If you're here, you're probably wondering if you can change the touch screen radio yourself.The good news is that you can certainly replace a touch screen radio yourself! All you need is a rudimentary understanding of your vehicle's radio system.
REPLACING A TOUCH SCREEN RADIO IS EASIER THAN IT SEEMS change cue screen
Many touch screen radios (like the Cadillac CUE radio) are plug-and-play. When it comes time to replace those parts, all you have to do is unplug the old one, put in the new one, and secure it in place. It's not that difficult. However, it's a good idea to seek out the installation instructions first to ensure that you're up to the task. In most automobiles, the process should be simple and uncomplicated.
USE ONLY OEM OR OE-QUALITY REPLACEMENT PARTS cadillac cue.
Always choose an OEM or OE-quality replacement touch screen if you want your touch screen replacement to go smoothly. We cannot emphasize how critical this is.If you utilize an aftermarket replacement part, you will most likely encounter problems such as:Unsatisfactory fit,Incompatibility with the radio and/or the electrical system of the vehicle,Touch responsiveness is poor.Aftermarket touch screens are not of the same quality as OEM touch displays. OEM and excellent OE-quality touch screens are comprised of durable materials.You won't have to worry about fitting or compatibility difficulties with an OEM or OE-quality touch screen. OEM and OE-quality touch displays are custom-made for your vehicle's make and model. That indicates they're the appropriate size. Proper fitting is the one thing that makes installing a touch screen considerably easier.The majority of aftermarket radio replacement components are not made to match your exact make and model.
Many of them have universal dimensions designed to fit a wide range of vehicles. A universal aftermarket touch screen is unlikely to suit your car without modification.A new touch screen must also be compatible with the vehicle's electrical system in order to function correctly. This may be accomplished using an OEM or OE-quality touch screen. It will include the necessary connections, as well as wire harnesses of the proper length. The same cannot be said with aftermarket touch displays.It's more than just a matter of fit. It's also about how comfortable the touch screen is to use. Touch screens of OEM and OE standards are sensitive enough to respond to extremely light touches. They're also more dependable over time. They do not lose responsiveness like aftermarket touch displays do.
ISS AUTOMOTIVE OFFERS THE HIGHEST QUALITY TOUCH SCREENS AND ISS cue components.
If you need a replacement touch screen for your vehicle, ISS Automotive may offer what you're searching for. Replacement radios and Cue displays of OE quality are available from us. We use OEM and OE-quality replacement parts for remanufacturing OEM touch screens. We've been around for nearly 70 years, so we know our way around automotive radios and touch displays.Please contact us to see if we have a replacement touch screen for your vehicle!