Car amplifiers breathe life into your vehicle's audio system
Car amplifiers breathe life into your vehicle's audio system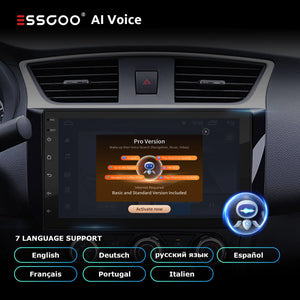 Unless you enjoy listening to delicate stereo music on your vehicle's sound system, you will most likely find it to be weak. That is why most individuals opt to upgrade their vehicle's audio/multimedia system with some form of sound amplification. This can make a significant difference in your listening and watching enjoyment.The primary purpose of your automobile amplifier is to amplify the signal from your head unit as it goes to the speakers. This contributes to a greater sound volume and better utilization of your speakers. They are typically implanted in one of two ways:
installing a vehicle amplifier
Unfortunately, most vehicle front panels do not have enough space to add an amplifier to your vehicle's audio/multimedia system. That implies that internal amps are modest and will most likely only slightly increase your music signal. Many of them will only increase your audio signal by 10 - 20 watts per channel, which is insufficient for serious music fans while driving.
Externally
Those that want a high level of power from their car amplifier frequently purchase ones that attach elsewhere in the vehicle. These include types that may be easily stored beneath a seat or in the trunk of your car.Externally mounted amplifiers are typically more expensive than internally mounted ones but they can seriously boost the audio signal from your head unit.
kinds of automobile amplifiers
You can't just go out and buy the first automobile amplifier unit you see and expect it to do the job effectively. automobile amplifiers are available in a variety of layouts to complement the speakers in your automobile audio system. To cover everything, an essay five times the size of this one would be required, but we will quickly illustrate how an amplifier type fits up with the speakers you have placed in your vehicle.
Car audio amplifiers are available in a variety of configurations. These configurations are determined by the amount of electricity they provide as well as the number of speakers that may be connected to them. They are frequently classified as a mono-channel amp that can only power one speaker all the way up to a six-channel amp that can easily power up to six different types of speakers. Amplifiers in automobiles are normally limited to 6 channels. Before you start looking for a vehicle audio amplifier, you must first determine the number of speakers you want to install and the power required to power those speakers.Adding a car audio amplifier to your vehicle sound system will undoubtedly improve your listening experience.
Your vehicle's vital sound system
vehicle sound systemsThe speakers in your automobile serve as the arms and legs that distribute high-quality sound throughout the vehicle. Speakers, like amplifiers, have unique properties. The different components and drivers (the part of a speaker that converts electrical energy into sound waves) in a speaker indicate the sort of speaker it is. The speakers in your vehicle do not have to be the same type as long as you have the proper base unit or amplifier to make them function.
The following are the most frequent speaker types utilized in automotive audio systems:
These are the most common kind of speakers to put in a car, truck, or SUV. They are popular because they are less expensive than component type speakers and take up less space. In the same device, they have a tweeter (for reproducing treble-based sounds) and a woofer (for generating bass-based sounds).The disadvantage of these speakers is that their sound quality is not as excellent as speaker systems that employ separate components. They are remarkable in that they just require one driver to power both of their speaker sections.
Speakers with Components
These are automobile sound systems that contain a variety of separate speakers. They are often made up of woofer, tweeter, and mid-range speaker combinations. Subwoofers and super tweeters may be included for people who like ultra-high quality bass and treble. Component systems also require unique drivers for each speaker in the configuration, which necessitates a larger amplifier.Component systems provide the finest quality sound reproduction available in a car. In most cases, you can discern the difference between a car with a coaxial speaker system and a car with a component speaker system. A component system's sound quality is truly exceptional.The main disadvantages of component systems are the quantity of mounting space they require within your car and the expense of them. Because of these primary issues, many car owners must employ coaxial-based speaker systems.
Separate Subwoofer
Some individuals prefer to install a specialized subwoofer speaker in their vehicle as well. If you choose to do this, you are most certainly a music lover who requires a lot of high-quality, low-frequency bass handling capacity in one or more of your speakers. When you pass a car that is trembling because the music inside is so loud, it is likely that the automobile has a separate subwoofer installed in its speaker system.When you pair the proper speakers with the correct head unit and amplifier, you may have a great listening experience while driving about in your vehicle.You might also be interested in: Double Din Head Units and Touch Screen Car Stereos.We are here to assist you with your automobile audio/multimedia purchasing requirements.When most individuals start searching for a new automobile audio/multimedia system, they have no idea what they are getting themselves into. With so many various styles and pricing ranges to choose from, it may be a little intimidating at times.This website was created to help ease the automobile audio/multimedia purchasing process by assisting you in making an informed purchasing decision. We even provide links to some of the finest discounts on automobile audio and multimedia equipment available. So keep us in mind while you look for a car audio/multimedia system that meets your requirements while remaining within your budget.