Car bluetooth system
Car bluetooth system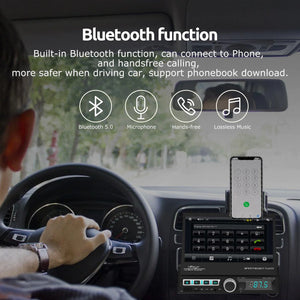 Car bluetooth system of bluetooth technology is from the continuation of mobile bluetooth technology, bluetooth and car bluetooth have similar emission signal, the key function of car bluetooth is the automatic recognition of mobile phone, car bluetooth and bluetooth connection, driving in the vehicle can answer the phone through bluetooth, at the same time also can use the car bluetooth play music.
Car Bluetooth also supports voice adjustment, you can use voice commands to adjust the answer or dial the phone, you can immediately use the stereo on the vehicle to call, very convenient.
The current vehicle use basic are car bluetooth calls, to through the infotainment system operating mobile phone, need to pair two devices, car bluetooth phone can match with very many mobile phone and infotainment system, but at the same time always can only have a phone can be connected with the car bluetooth.
The maximum connection range of on-board Bluetooth is 10 meters. If this distance exceeds, the on-board Bluetooth and mobile phone Bluetooth will be interrupted. When the mobile phone approaches the vehicle and the device is within the effective range, the connection will be automatically restored.Multimedia features of the automobile:
High quality audio and video effects: The original car audio developed from the original mono to dual channel output, from four-channel surround sound to the current DolbyDigital. Audio processors evolved from initial linear potentiometers to analog audio processors and now digital processors. From the pursuit of the sound effect of the car audio itself to the setting of the space sound effect of the specific car system, a variety of car noise collection and noise reduction processing, in order to achieve high quality sound effect. Radio, from the original AM radio to FM radio, from ultra-outside radio to FM / amplitude dual FM radio and now ultra-low medium radio, from analog radio to the current digital radio and satellite receiver (SDAR). The application of each technology has greatly improved the audio effect of Radio, and the reception sensitivity and signal to noise ratio are greatly improved. In this high-quality audio and video environment, the driver gets a comfortable sensory enjoyment.
Comprehensive information system and high safety performance: the car multimedia is no longer limited to the audio and video system, but a mobile multimedia terminal, a mobile car PC (AutoPC). It goes beyond the boundary of time and space, can be in the car entertainment and network communication, and maintain close contact with the outside world, especially in the application of ITS, the car multimedia system will become a comprehensive mobile information terminal, security performance is guaranteed in real time.
the ease of system operation: the functions of car multimedia are becoming more and more, and the operation is becoming more and more complex.