Car Multimedia Basics: How to Build an In-Car Multimedia Experience
Car Multimedia Basics: How to Build an In-Car Multimedia Experience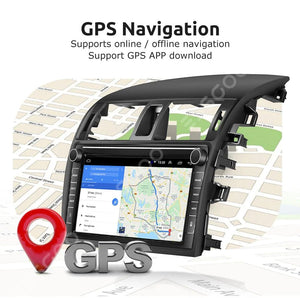 Audio, Video, and Pulling It All Together
There are three basic categories of gear you'll need to look at: audio gear, video equipment, and media sources.Audio gear includes: head unit, speakers, amplifier, sound processor, crossovers, and headphones.Video gear includes: video head unit, flip-down screens, headrest-mounted screens, and portable screens.This article explains how to build an in-car multimedia system. Additional information covers examples of each type of gear.
Don Mason / Blend Images / Getty
There are dozens of different pieces of equipment and gear that all need to work together in car multimedia, but they all fit into three basic categories:
Audio gear: This is the traditional car stereo equipment that's been around forever. You need a head unit and speakers at a bare minimum, and the head unit needs to be able to handle video inputs.
Video equipment: The video component of an in-car multimedia system can take a lot of different forms. Common implementations include video head units, headrest-mounted screens, and ceiling-mounted screens.
Media sources: An in-car multimedia system can rely entirely on physical media, like DVDs and Blu-ray discs, you can go digital, or a hybrid of the two.
The audio portion of an in-car multimedia system typically consists of the existing sound system, though there are a couple differences. Some of the audio components that are typically found in car multimedia systems include:
Head unit:
This is the heart of the system, and it controls everything else. You've probably heard the term car stereo used more often, but the component in your dash that you use to control your car stereo system is actually the head unit.
Speakers:
Great speakers are also key, but the speakers in a multimedia system don't have to be any different from the speakers in a regular car audio system.
Amplifier:
Every in-car multimedia system, and every car audio system in general, needs an amplifier. Most head units have an amp built right in, but higher-end systems use one or more external amps.
Sound processor:
This is a component found in higher-end car audio systems, and it can also come in handy if you want your multimedia system to sound as good as possible.
Crossovers:
This is another component that's found in higher-end car audio systems that's useful in improving sound quality.
Headphones:
Most car audio systems rely entirely on speakers, but multimedia systems can include headphones as well. This is a really useful feature if you have kids.
Headphones can be found in regular car audio systems, but they are much more commonly used in conjunction with car multimedia. Wired headphones require a headphone jack in the head unit, video player, or elsewhere, while wireless headphones can make use of IR or RF signals.
Most of these audio components are very similar to those found in traditional car audio systems, with a few exceptions like the head unit. While a regular car stereo can be used in a multimedia setup, video head units are much better suited to the purpose.
Car Video Multimedia Components
Every car multimedia system needs at least one video component, but they can also have a lot more than that. Some of the more common car video multimedia components include:
Video head units:
This is the easiest way to turn a car audio system into an in-car multimedia system. Double DIN video head units have the biggest screens by default, but some single DIN units also have pretty big flip-out screens.
Flip-down screens:
These displays mount to the ceiling and flip down during use. They're mainly useful to allow all of the rear passengers to watch the same video all at once.
Headrest-mounted screens:
These displays mount on, or in, the driver and passenger headrests. They allow the rear passengers to watch the same video on both screens, or different videos if you have multiple video sources.
Portable screens:
These aren't as highly integrated into the multimedia system, but they're more convenient. Some portable screens can be plugged into an in-car multimedia system and then removed and used elsewhere for convenience. You can also use a tablet depending on the system you're trying to build.