Car Multimedia Fundamentals: How to Create an In-Car Multimedia Experience
Car Multimedia Fundamentals: How to Create an In-Car Multimedia Experience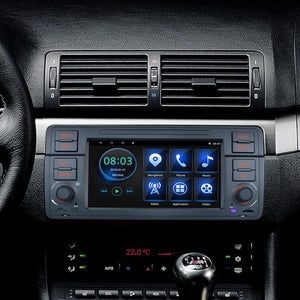 This article will show you how to put together an in-car multimedia system. Additional material includes samples of each type of equipment.In automotive multimedia, there are dozens of various pieces of technology and gear that must all operate together, but they all fall into three fundamental categories:Audio equipment: This is the standard automotive stereo equipment that has been around for a long time. At the very least, you'll need a head unit and speakers, and the head unit should be capable of handling video inputs.Video camera: An in-car multimedia system's video component can take many distinct shapes. Video head units, headrest-mounted screens, and ceiling-mounted screens are all common applications.Sources of information: An in-car multimedia system can be solely based on physical media, such as DVDs and Blu-ray discs, or it can be a combination of the two.
The audio part of an in-car multimedia system is normally comprised of the current sound system, with a few exceptions. The following audio components are commonly found in automotive multimedia systems:The head unit is the system's nerve center, controlling everything else. The phrase vehicle stereo is more often used, although the component in your dash that you use to manage your car sound system is really the head unit.Great speakers are obviously important, but the speakers in a multimedia system don't have to be any different than the speakers in a standard car audio system.Amplifier: An amplifier is required for any in-vehicle multimedia system, as well as any automobile audio system in general. Most head units have an amp, while higher-end systems utilize one or more additional amps.Sound processor: This is a component found in higher-end automobile audio systems, but it may also help your multimedia system sound as excellent as possible.Crossovers: Another component included in higher-end automotive audio systems that helps to improve sound quality.Headphones: While most automotive audio systems depend just on speakers, multimedia systems can also incorporate headphones. If you have children, this is a really handy function.Headphones are available in standard car audio systems, although they are far more typically used in conjunction with car multimedia. Wired headphones require a headphone port in the head unit, video player, or somewhere else, whereas wireless headphones can utilise infrared or radio frequency communications.With a few exceptions, such as the head unit, most of these audio components are quite comparable to those found in typical automobile audio systems. While a conventional vehicle audio may be utilized in a multimedia setup, video head units are more superior.
Components for Car Video Multimedia
Every automotive multimedia system requires at least one video component, but they can have many more. The following are some of the most prevalent automotive video multimedia components:Video head units: This is the most straightforward method of converting a car audio system into an in-car multimedia system. By default, double DIN video head units have the largest screens, however some single DIN devices also feature large flip-out screens.Flip-down displays: These displays are mounted on the ceiling and flip down when in use. They're mostly beneficial for allowing all back passengers to see the same film at the same time.Headrest-mounted displays: These displays are installed on or within the driver and passenger headrests. They enable back passengers to watch the same video on both screens, or various videos if several video sources are available.Portable displays are less integrated into the multimedia system, but they are more handy. Some portable displays may be hooked into an in-car entertainment system before being removed and utilized elsewhere. Depending on the system you're attempting to design, you may potentially utilize a tablet.The head unit is the core of any automobile sound system, but it may also serve as a visual component of a multimedia system. There are single DIN head units with tiny LCD screens or huge flip-out screens, and double DIN head units with enormous, high-quality LCD panels.Auxiliary inputs and video outputs are also required by multimedia head units in order to accommodate extra video sources and distant displays. Some head units are also built to function with headphones, which might come in handy when using multimedia systems.
Sources of Car Multimedia
Every automotive multimedia system requires one or more visual and audio sources in addition to audio and video components. These sources can be almost anything, but the most prevalent are as follows:CD players: Although limited to audio and gradually disappearing from OE dashboards, CD players continue to be one of the greatest methods to listen to music and other audio material in your car.Players for DVDs: A head unit with a CD/DVD player expands your entertainment options and may feature a built-in screen or outputs for connecting an external screen. Although you won't receive a high-definition picture, the inexpensive cost of DVD players and DVDs makes this an excellent alternative for in-car entertainment.Blu-ray disc players: Some head units can play Blu-ray discs in addition to DVDs and CDs.
The image quality is excellent, although it isn't really essential on such a little screen.Head units that can play MP3/WMA files: If you want to be able to burn your own CDs at home, seek for a head unit that can play digital media files such as MP3s and WMAs.Servers for media: If you want to transport a lot of digital material with you everywhere you go, the core of your system will be a media server. Most users may easily ignore this component, but the greatest in-car multimedia systems require some method of storing and serving a vast library of digital music and video.If you're on a tight budget and have an old video game console lying around, it might make a surprisingly good start for an in-car multimedia system. Some consoles can play digital music and video in addition to video games, with the main exception being that a 12-volt power source is required.
Why not take your TV with you when you travel?
 If this sounds fascinating, there are a number of options.Internet radio: Some head units include built-in internet radio, and you can also purchase add-on devices if you don't want to replace your head unit. This is especially useful for lengthy road journeys because you don't have to stop for gas every few hours.For a completely wireless TV experience, consider an unlimited internet subscription, tethered phone or hotspot device, and a subscription to an on-demand television provider in addition to a box of DVDs.An iPod, smartphone, tablet, laptop, or other portable media device can also be used as an audio or video source. Some head units are intended expressly for use with an iPod, while others have one or more auxiliary inputs that may receive external music or video signals.
Putting everything together
Building a fantastic automotive multimedia system may be a difficult undertaking owing to the numerous components that must work together, therefore it may be beneficial to analyze the various components individually. If you construct a superb audio system, it should operate just well when you start adding video components.However, planning ahead might be beneficial. If you're putting together an audio system and want to add a visual component later, a video head unit may be worth considering.In the same spirit, it's a good idea to consider all of the media sources you intend to use while designing the audio system. If you intend to utilize a media server, view wireless TV, or play video games, you should look for a head unit with enough auxiliary inputs to accommodate everything.