Customer Installation Report: Apple CarPlay and DAB Radio Head Unit in Used VW T5
Customer Installation Report: Apple CarPlay and DAB Radio Head Unit in Used VW T5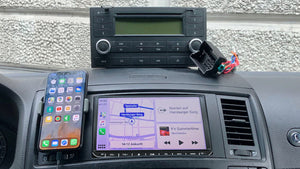 This old Volkswagen is very popular, but it's also a bit out of date, I'm referring specifically to ''big screen time''. So I decided to upgrade my T5 to a smart system car. And it seems that after a lot of information and videos, I found that I can install car stereo by myself, it is just plug and play. So I think it's time for Apple CarPlay and DAB to move into my car. It turns out ESSGOO AR9002 it has very effective and beautiful, but not without obstacles. Live report! !
The first car of my life when I was in my early 38s. I am proud of my old Volkswagen T5 Multivan, born in 2003, with 2.5 T displacement and a whopping 175 hp. In the summer of 2021, it went on a European tour, great journey and memories, and a tribute to "Van Life".
It goes without saying that I love this car and I want it to get better. First stop of the upgrade program: Smart car radio with Apple CarPlay and DAB radio. It sounds difficult, but the process is extremely easy and fun. What to consider and what might go wrong - I'll report this on essgoo.com.
Choice Difficulty: Which Car Radio Should It Be?
To be honest, I had never installed a car radio before and didn't know the wiring in it. The condition was that you'd find an old original VW factory radio on the center console, and both were from 2003, so they're almost 20 years old. Of course, it's limited to FM functionality. It can't talk to my iPhone, and it doesn't have a large color display for navigation.
So it needs an update: I definitely want an Android radio with more features and a big screen. In the end, mine went with the ESSGOO AR9002. It has a 9-inch HD touch display, Bluetooth, Android OS and DAB+ for digital radio reception, and it also supports Apple CarPlay.
Be proud of this car stereo for VW, you will save a lot of trouble, really!
Even more amazing is that its price is only: 168 US dollars. ESSGOO's products are more cost-effective and better equipped than other manufacturers such as Pioneer, JVC, Kenwood or Alpine, and are stylish. What I like most about ESSGOO is its minimalist style, large screen and diverse user interface. (I believe everyone can understand that larger brands are often accompanied by higher premiums, and the value of the product itself is not worth the price. This is another idea of ​​my choosing ESSGOO)
Remove, install, insert, done? Yes!
Angel care: The ESSGOO radio comes with Two Volkswagen-specific connection cable(pick one), two car stereo installation instructions, and other amazing functional cables (reverse cable, USB cable, audio cable, etc.).
Of course, you'll still need some accessories like a screwdriver or plastic removal tool.
The first is to dismantle the old radio. You can use a plastic Removal Tool (available on essgoo.com), or you can get a flat-blade screwdriver and wrap a layer of plastic wrap at the end, or you can get a plastic scraper, which is mostly used to remove the interior of the car decoration.
The second step is the installation and wiring of the new radio, which also takes some time and effort. We can find a lot of installation videos on the website, including ESSGOO itself also provides a lot of video tutorials and after-sales points for car stereo installation. One of the things to pay attention to is the GPS receiving antenna and the USB delay line: the antenna of the GPS receiving should be as close to the outside as possible to ensure signal reception. The USB delay cable is best placed in the drawer on the co-pilot's side. Another amazing thing is the reversing antenna of ESSGOO. There are Bluetooth and WiFi amplification functions here. Make sure to plug it in, even if you don't need a reversing camera.
(ESSGOO gave me a reversing camera, so I installed this little gift)
Car stereo key accessories description and precautions
Can-Bus: The main function is to display car information on the radio of ESSGOO, only in this way can it be called an intelligent car system. For example, door open notification, dashboard display, etc. Also includes images of the reversing camera that is automatically connected when reverse gear is engaged. ESSGOO's package is already included.
DAB Antenna: This is required for DAB radio reception. The signal end needs to be glued to the windshield and then connected to the car radio. Optional on ESSGOO
Antenna Adapter: This is for signal enhancement, such as FM, AM, etc. ESSGOO's package already contains
Apple CarPlay: The function is not introduced much, because everyone can find more detailed information. What I want to say here is that there are two kinds of CarPlay in the car stereo installation: built-in CarPlay and external CarPlay; the AR9002 I bought this time has built-in, which is very convenient; if you have the conditions, you can buy an external CarPlay box with wireless link, the benefits Just missing a data line.
The only thing to keep in mind when buying a car stereo is whether it fits perfectly.
I watched a Skoda car stereo installation video (Skoda belongs to Volkswagen), and finally found that there will be a gap after installation, which affects the appearance. But just email at essgoo.com to buy a suitable frame for about $20.
Thankfully, my T5 was perfect and was able to complete this project without spending extra money and time. ESSGOO products are really great.
Apple CarPlay and DAB functionality: everything is so perfect!
Knowing it works, it's so satisfying to hear the sound for sure! There are about 25 stations in Hamburg DAB Radio, there should be more in other federal states. Gone are the days when there were only hissing FM sounds on the road. DAB is a really good choice, a choice you won't regret.
Of course Apple CarPlay is used more frequently than DAB radio. So the carplay function is the most important. Because this is the first time I use this epoch-making function, I still need some time to get familiar with it. But navigating through Apple CarPlay is really fascinating, with a bigger screen and louder sound, what could be better!
The most indispensable feature is, of course, Siri. Commands like "Hey Siri, call my wife" or "Hey Siri, take me to the nearest gas station" are so useful I don't have to take my hands off the steering wheel.
Impressions of installing a new radio in an old Volkswagen T5
I'm happy that in the end everything worked out the way I imagined it: my T5 is delighted with the chic car radio with the big touchscreen. Of course it doesn't have the high resolution and brightness that comes with my iPhone, it still looks sharp and larger, and responds quickly to finger pressure and swipe gestures. In addition to the digital DAB radio, there is hands-free calling, music via Spotify and navigation via Google Maps. To do this, I connect my iPhone to a USB outlet and charge my phone at the same time. The radio itself costs about $168 and there is no extra cost
The whole process takes 1 hour. It takes the most time to remove the interior of the car, and be careful not to mess up the interior panels.
If you dare to do a little crafting, you'll find plenty of video tutorials on YouTube explaining the installation process clearly. And ESSGOO has given you all the things you need, you can experience the fun of modifying your own car.
The next project is a minor surgery: changing the LED headlights of ESSGOO.