Do you have any queries concerning car stereos?
Do you have any queries concerning car stereos?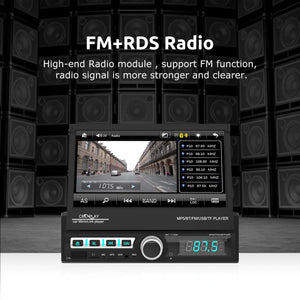 A: Your factory speakers should be able to handle the output from an aftermarket CD receiver, but their performance is limited. Turn on your new radio while the car is stationary, record the volume level at which the factory speakers begin to distort, and avoid cranking the radio up past that point.Of course, if you want the finest sound, we recommend investing in high-quality aftermarket speakers as soon as possible. A new pair of speakers will allow you to fully enjoy the large, rich sound that your new receiver provides.
Q: How much power do I need to get the best out of my car's sound system?
A: Because each automobile radio is unique, there is no secret "wattage formula." As long as you keep within your speakers' suggested power range, boosting power will always add richness and depth to your music. Contrast a spinet piano with a concert grand piano. The compact piano is enough for playing music clearly, but upgrading to a grand will provide richer tone, greater harmonic detail, and more loudness. Simply put, the larger instrument is more powerful.
Here are a few things to think about:
How good are your speakers? The total "power" of your system is directly influenced by your speakers. If you want to power your speakers through your in-dash receiver, efficient speakers (sensitivity of 90 dB or greater) will provide you with more bang for your buck. An outboard amp will provide the best performance if you install high-performance component speakers.Are you going to install a subwoofer? Subs require a lot of power to reproduce the lowest tones, hence they must be used with an external amplifier.Consider your car and how you want to utilize it before making a purchase. If you drive a quiet car with the windows down, you'll use far less power than someone who travels off-road in a truck. Speaker placement, additional road/car noise, noise dampening material, and personal preference are all elements that may influence how much power you require in your ride.
Q: Will a new car radio improve my bass?
A: Great bass is determined by a variety of criteria, including your definition of "great bass." In general, the greater power of a new vehicle stereo will boost the punch of your system's bottom end. If you really want to crank up the thump, try adding a subwoofer with an external amplifier or a powered subwoofer. We offer Crutchfield MasterSheets with full installation instructions for the majority of vehicles.
Q: How difficult is it to install a new vehicle stereo?
A: We specialize in assisting you with the installation of your own equipment. Crutchfield has helped hundreds of thousands of first-time installers place a new radio in their dash and get the job done correctly since 1974. You'll get our exclusive, free step-by-step instructions for your car when you buy a new radio from us. We also provide mounting kits for most cars, which allow you to place your new audio in your dash with a professional look, wire harnesses that hook directly into the factory wiring, and, in certain cases, specific adapters that allow you to maintain certain original features. If we have these parts in stock for your car, you'll receive a substantial discount when you purchase any system.
You may also benefit from our pleasant, thorough tech assistance seven days a week. It's like having an expert watching your back while you work! Read our Car Stereo Installation Guide for more details on installation.Installation kits are intended to allow you to install your new audio in certain vehicles.
Q: Will an installation kit be required?
A: To guarantee that the new vehicle radio fits correctly and looks well in the dash, most automobiles require some form of mounting equipment. These can range from simple to complicated depending on your vehicle. When you get a new vehicle radio from us, you can be confident that we will propose the appropriate equipment. Don't forget that when you buy any stereo, you'll receive a substantial discount on installation kits.We'll wire the harness for you if you choose Crutchfield's ReadyHarness option.
Soldering was once the preferred procedure, but most people now prefer crimping the wires. Posi-TwistTM connections are our preferred approach. They are much simpler to use than crimping and produce a strong, solid connection. More Posi-Products, crimp tools, connectors, and other accessories may be found in the car audio installation tools area of our website. And if you buy any stereo from us, you'll receive a substantial discount on these tools and connections.We're ecstatic about our new ReadyHarness service. We'll create the connection for you for a charge, resulting in a durable, professionally wired harness that will save you time during installation. You may need other adapters, like this antenna adapter, when installing your new stereo.
Q: Will I need any further adapters for my car?
A: Depending on your car and its choices, you may require extra wire adapters and interfaces in addition to the stereo's wiring harness. An antenna adapter is a popular and affordable adaptor that you may require to suit the various varieties of antenna sockets available on different automobile models. Many late-model automobiles may require specific adapters for factory functionality such as door chimes and warning tones that are incorporated into the original factory radio. You may also have factory amplifiers and other features that require the insertion of adapters such as an iDatalink Maestro module in order to keep factory functionality.As usual, our vehicle picker will walk you through the process of determining what is required. Don't forget to phone or chat with us; our Virginia-based professionals will assist you in learning everything you need to know.