GUIDE TO BUYING A CAR STEREO
GUIDE TO BUYING A CAR STEREO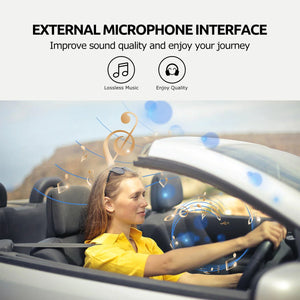 Playlists, radio stations, podcasts, streaming music, and linked services such as texting and phone calls are now routed through automotive audio systems. The vehicle audio serves as the central hub for everything, powering your speakers and linking you to your sources of information and enjoyment as you drive. If your head unit is no longer working or you want to update, there may be a lot of information to sort through.
This vehicle audio purchasing guide will lead you through the important aspects, features to look for, and advice for making a smart choice.
AVAILABILITY WITH YOUR VEHICLE
Based on a few factors, not all vehicle stereos are compatible with all car models. The size of the manufacturing head unit must first be evaluated. Your factory-installed device might be a single-DIN (about two inches tall), double-DIN, DIN and a half, or possibly something much more uncommon. If you install a single-DIN unit in a bigger location, there are normally install kits that can bridge the gap, but the contrary isn't always true.
Second, the depth of the unit must be considered. Because many modern automobiles do not have CD players, the device does not need to go as far under the dash. Obviously, this limits the possibilities that will fit into the factory placement, as a deeper radio will protrude further from the dash console.
It must also be compatible with production equipment. Some automobiles include external amplifiers that require a power source - often given via the head unit - to power the speakers.
CONSIDERATIONS FOR THE BUDGET
In terms of functions, design, screen size, and other factors, budget radios and high-end infotainment head units are vastly different. A replacement head unit can cost as low as $50, but it can also cost more than $400 - much more if you want an OEM radio set.
Consider whether you want to improve the speakers or install an amplifier and subwoofer in addition to the car entertainment. This can significantly raise the expenses you're looking at.
Then there are the expenditures to consider, such as the stereo mount and a direct-fit wire harness, which make installation faster and easier. You might spend anywhere from $100 to more than $1,000 in total, so make a budget and stick to it.
AUDIO QUALITY
The head unit you pick has no effect on the sound your speakers can produce, but it might hinder or assist them realize that potential. Because a head unit is effectively delivering digital information to the speakers, vehicle stereos with superior technology tend to offer more clear sounds, greater tone and balance adjustment, and more channels for adding speakers and amps to go even bigger.
Entry-level vehicle stereos have greater limitations, but mid-level and high-end devices will not sacrifice sound quality.
CAR STEREO FEATURES TO LOOK FOR
What should you look for when purchasing a vehicle stereo? Here are six things to think about:
Radio (AM/FM). This function is essential for listening to local radio stations and programs. Most new stereo head units include built-in FM/AM antennae, however for optimal reception, connect your factory antenna.
The CD player. If you're still listening to CDs, make sure you're looking at units with a CD slot. Choose one with a wide display and a touchscreen interface for simple audio file selection.
Bluetooth compatibility. This capability is vital in current automobiles for streaming music and making phone calls via your smartphone's Bluetooth connection. For extra convenience, look for models with hands-free calling features, and external microphones provide superior calling quality.
Navigation. This function will come in useful if you need navigation aid while driving. Many head units have preloaded maps that may be updated on a regular basis to provide more precise instructions.
Auxiliary Inputs and Outputs. Car stereos also provide auxiliary inputs and outputs, allowing customers to connect additional portable music sources such as MP3 players and tablets through cords.
Apple CarPlay and Android Auto are also available. Smartphone users will appreciate the option to operate their favorite applications via their in-car radio, and these systems also feature superb mapping and navigation connectivity.
TIPS AND TRICKS FOR SELECTING THE PERFECT CAR STEREO
With so many possibilities available, limit down your choices for yourself. Along with ensuring that it has all of the features you want and desire, here are a few pointers to help you select the best one for you.
Determine the size of the display. Get the same DIN size as the original so the replacement doesn't seem out of place - and fits!
Look for one that incorporates the controls on your steering wheel. You don't always have to give up your audio controls on the steering wheel, however you may need to purchase an adaptor.
Consider getting a DVD player. Get a DVD player if you prefer viewing movies in your car, drive-in style. Of course, make sure you're parked before you go.
Examine user feedback. Based on star ratings and reviews, your peers will assist you in identifying the top vehicle stereos.
Examine vehicle compatibility. Shop using your car details to rule out numerous incompatible items.
You'll discover automobile audio equipment, as well as any other automotive parts and accessories, at AutoZone. Do you require guidance or assistance? Our employees are always willing to assist.