Do you know anything about Head Unit?
Do you know anything about Head Unit?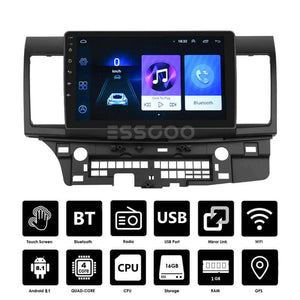 There's a few things you'll want to get straight before shopping for a new headunit for your vehicle. Fitment compatibility, functionality, feature support and ergonomics should all be factored. Below we've covered the key considerations to wrap your head around before laying your hard-earned cash on a replacement.
Secondly there's your list of need and wants. Would you like to add discrete amplification? Must you have the ability to tune into your favourite Digital Audio Broadcasting (DAB) station? Do you want to avail yourself of the added safety and convenience afforded by Apple Carplay and/or Android Auto? Would you like to make use of powerful tuning features like active crossovers, parametric equalisation and time alignment in order to enhance the clarity of your speakers, improve the imaging capabilities of your front stage and correct the phase alignment between speakers in the entire system?
Once you have defined the possibilities in terms of fitment and compatibility with your factory ancillaries along with the features and functions you desire, you should be able to narrow your selection down to a manageable list of option.
If you wanna be able to use compact discs in the car, you'll find solutions here. If you are well past feeding physical media into your dash then a mechless Solution is for you, the single din mechless you'll find here and double din mechless here. Perhaps you have some real estate you'd like to fill with a decent bit of screen area, or would like to create some screen area where currently there is none. Connectivity is key, especially in our increasingly connected world, so a Bluetooth enabled unit is almost certainly gonna be a dealbreaker, so you'll like want to peruse single din bluetooth enabled unit and/or double din bluetooth Enabled units. Of course, if you want to take full advantage of the key advancements in mobile connectivity then there is no way around it, you're gonna want to opt for a head unit supporting Apple Carplay and/or Android Auto. While most Apple Carplay and Android Auto capable head units provide excellent support of applicable apps like Apple Maps, Google Maps and Waze, and this is arguably the best way to go about equipping your vehicle with decent navigation capabilities, you might still prefer to select a head unit with standalone navigation capabilities or a unit with specialised navigation uniquely optimised to be of most use when you're off the beaten track.
What's the difference between single & double din head units?
DIN (German Institute for Standardisation) is an ISO (International Organization for Standardization) definition for dashboard mounted head units which measures 50x180mm. The main difference between single and double DIN head units is their size, with a double DIN head unit occupying twice the area of a single DIN slot. The larger double DIN unit offers more flexibility and scope for things like CD mechanisms and larger display panels or additional features like touchscreen functionality, whereas single DIN units are more compact and may require additional adapters for certain functionality.
Do head units affect sound quality?
While they may not be the sole factor influencing sound quality, they play a significant role and can have an impact on sound quality. Higher-end head units often have better digital-to-analog converters (DACs), more powerful built-in amplifiers, allowing for better sound reproduction. Additionally, some head units support advanced digital sound processing technologies like user configurable time alignment, parametric equalisation and active crossover networks, and playback of high-resolution audio file formats, further enhancing sound quality. However, it's important to note that other factors such as speaker quality and installation also contribute to the overall sound experience. Crap in, crap out, as they say.Can you install a head unit yourself? Automotive can Install it for you!