How can I install Apple CarPlay in my Toyota Tacoma?
How can I install Apple CarPlay in my Toyota Tacoma?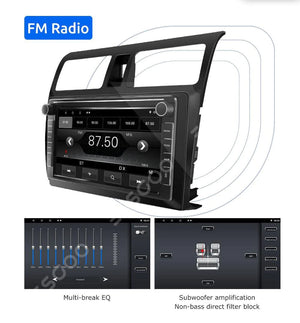 The incorporation of smartphones into Toyota Tacoma apple CarPlay infotainment systems has transformed the driving experience, allowing customers to access their favorite applications, navigation, and entertainment choices while on the road. Toyota Tacoma customers who have a wired version of Apple CarPlay may now experience the ease of a wireless connection by using a CarPlay box. In this post, we'll look at how to utilize wireless CarPlay and Android on your Toyota Tacoma, as well as provide step-by-step directions to improve your driving experience.
What exactly is CarPlay Box?
A CarPlay Box is a tiny gadget that attaches to the wired CarPlay system in a vehicle and allows for a wireless connection. It serves as a link between your smartphone and your car's infotainment system, allowing you to experience CarPlay's benefits remotely.
Step 1: Apply requirements to the Tacoma CarPlay Box
Please keep in mind that the Binize CarPlay box only works with cars that have factory wired CarPlay and that the original car head unit is not an Android system.A CarPlay box is required to begin utilizing wireless CarPlay with Android on your Toyota Tacoma. There are various well-known manufacturers that provide these gadgets, and it is critical to select a dependable device that is compatible with the Toyota Tacoma apple CarPlay technology.
Step 2: Set up the CarPlay Box
The installation of CarPlay Box is quite straightforward once you have it. Begin by locating the USB port in your Tacoma intended for wired CarPlay. This port is often found on the center console or the dashboard. Connect the CarPlay Box to this USB port.
Step3: Connect Your Smartphone
You must wirelessly pair your smartphone after connecting the CarPlay Box to your vehicle. Turn on Bluetooth on your smartphone and search for available devices. A CarPlay box should be included among the available devices. Choose this option to connect your phone to the CarPlay Box.
You may configure wireless CarPlay after connecting your smartphone to the CarPlay box through Bluetooth. Navigate to the "Settings" app on your iPhone and choose "General." Then, press "CarPlay" and choose your Tacoma from the available vehicles list. To guarantee an ongoing wifi connection, use the "Allow CarPlay When Locked" option.
Step 5: Have Fun With Your Wireless Connection
You may now experience the benefits of wireless CarPlay after correctly installing and configuring the CarPlay Box. Simply start the car, and it will wirelessly connect to the CarPlay Box anytime your smartphone is within range. You can utilize your favorite applications, navigation services, conduct hands-free calls, and watch streaming media without needing to connect cords.
The Benefits of Wireless CarPlay and Android
Using wireless CarPlay with Android on your Toyota Tacoma has various advantages. For starters, it eliminates the need for a physical cable connection, resulting in a cleaner and more convenient experience. It also allows for seamless integration of your smartphone and infotainment system, allowing you to operate and access apps straight from the dashboard.Furthermore, the wireless connection provides additional freedom because you can effortlessly switch between different devices without having to connect and unhook cords. This capability is particularly handy in families with numerous users, each of whom may have a different smartphone or prefer a different operating system.
Finally, the Toyota CarPlay Box
Toyota Tacoma customers may enhance their wired CarPlay system to include wireless communication by installing the CarPlay Box. This straightforward installation approach enables for quick pairing and configuration, allowing customers to smoothly experience the benefits of wireless CarPlay and Android. Wireless connectivity improves the driving experience by making it easier to use navigation, make hands-free calls, and enjoy streaming media. Embrace the power of wireless technology by adding Wireless CarPlay and Android through CarPlay Box to your Toyota Tacoma's Apple CarPlay entertainment system.