How do you cope with Apple CarPlay AI not working out of the box?
How do you cope with Apple CarPlay AI not working out of the box?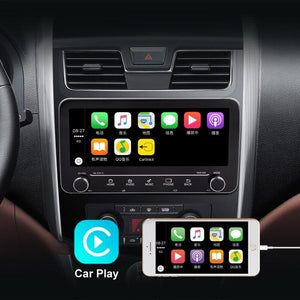 When a huge screen constantly captured the eye, some debate arose, such as whether the larger the screen experience is the better? The CarPlay AI in the box will respond.In only ten years, the size of the automobile screen has increased from 10 inches to 20 inches and even 40 inches, and a seven-seat SUV may even accomplish a screen for each passenger, and even the means to open has evolved into a range of lift, turning, sliding, and gesture control.Apple introduced a fresh update to its newest iOS16 CarPlay website just in time for this year's new product launch season. There are several dashboard designs to pick from. You may also display maps in real time if your dashboard has a bigger screen. Audi and Ford were among the earliest adaptive brands. Meanwhile, Android auto for Android users has also provided a preview of the new in-car Android auto UI upgrade.
What exactly is an AI box?
In a nutshell, AI in the box is a plug-and-play device that provides wireless carplay, Android auto, and an open Android 9 car system decoding box. This box is a significant departure from aftermarket installation, eliminating cumbersome wire harness connections and decoding directly on the basis of the original system, resulting in a completely distinct addition to the original car driving experience.
What can you obtain from an AI box?
CarPlay AI BOX+Wireless CarPlay+Wireless Android AUTO+Full Android 9 system.Don't be shy. Get it!——PNW Customer.I was cautious at first, but I watched some videos of others successfully installing this. It just connected and played in my 2022 Tundra TRD pro. When the notification bar appears, simply press the connect button.To stream material, you must tether to your phone's hotspot or the vehicle's wifi system.Does what it should——Customer John
Take factory radios play video is a nice small bonus. A little difficult to set up, but assistance is excellent.It does what it is meant to do.Excellent for a large screen——Customer Lorraine.I love that my car's large screen can now be fully utilized.Because the Binize AI CarPlay box has a particularly significant usage of the premise, it is only suitable to the original automobile outfitted with wired CarPlay function of the host to regular use.
How do you cope with Apple CarPlay AI not working out of the box?
1 Original CarPlay channel explanation
Factory reset the original vehicle system, then locate and re-check the carplay option.
2 Bluetooth issue
Remove any Bluetooth devices from your vehicle, reset the Bluetooth on your phone, and look for a Bluetooth connection to the box.
3 Connection cable issue
Check that the connecting cable is securely put into the port 4 Box system problems
Upgrade the box system, enter the system upgrade, or force the upgrade, as seen in the video below:
Some programs cannot be accessed or utilized properly, as a result of frequently asked questions:
Because some apps are pre-installed on the system, if you do not manually update the system, the app will be unable to connect to the service provider's server at times, so you should ignore the app icon that comes with the original box system and seek the latest installer from Binize to solve the problem perfectly.