How much do you know about in car multimedia?
How much do you know about in car multimedia?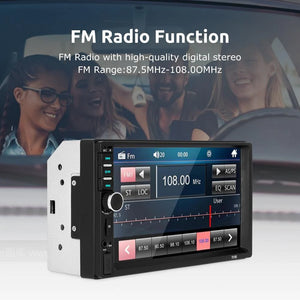 But for " have you used the car multimedia feature?"This is a very real problem, I believe that many owners have driven their own cars for several years, some functions are almost not touched. Take a typical example around: a friend made money to buy his father a top Cadillac ATS-L, the car multimedia is really fully functional, but the old man's mobile phone function can not play, let alone more than a big screen in the car, and my friend's father is an old driver, reversing video to see. Like this situation is everywhere, do not think that they play to understand the car multimedia, in fact, some functions you may not be used or will use.
Speaking of which, today I would like to talk about some common car multimedia functions:
Driving on the phone is a very taboo thing, which is also strictly prohibited by the traffic laws and regulations, so the car Bluetooth phone function was born suddenly. But when it comes to its practical, bluetooth phone a lot of people do not recognize, probably because the phone also has hands-free function and voice dialing function, think even if the phone has these functions, but also need the steering wheel and eye shift, there is still a big safe hidden trouble, so advise you to drive the phone or try to use bluetooth phone and other functions.
However, sometimes I still feel a little silly to make a phone call with the voice dialing function of the car phone.
Car-mounted video function
In fact, the commonly used multimedia functions are also very few, and those that are not commonly used, think up inevitably make people want to laugh. If the most useless car multimedia is the video feature. Why say so, first of all, the driver is very dangerous to drive the phone, let alone distracted to see a movie, if let the co-driver watch, then you are the screen installed in front of the co-pilot, not to mention the back row, such a small screen stretched neck may not be clear.
Of course, it can not be generalized, after all, many luxury cars in front of each seat for entertainment, but really did not experience the feeling of sitting in the back of the car to watch the movie, it is really poor to limit their imagination.
Of course, there are many in-board multimedia functions that are almost unusable, such as Internet access function, intelligent dialogue, fleet networking function and so on. While carmakers struggle to enrich in-car multimedia features, they still beat the pace of smartphones. Nowadays, mobile phones can be used as an alternative to car multimedia and are more functional and more convenient to use.
The functions of the mobile phone almost cover all the functions of the car multimedia, even better than the original multimedia function. For example, the navigation function of the mobile phone is not only more accurate than the original navigation, but also more convenient to update. The most important thing is that the data is updated in real time. Therefore, many car owners choose mobile phones instead of the car multimedia system, just need a car mobile phone bracket can do it.
If you have to say that the mobile phone is not as good as the car multimedia system, maybe the screen is too small. Many car companies also take a fancy to the multimedia system display size irreplaceable position, and wanton to do large display.