HOW TO BUY A NEW HEAD UNIT OR CAR STEREO?
HOW TO BUY A NEW HEAD UNIT OR CAR STEREO?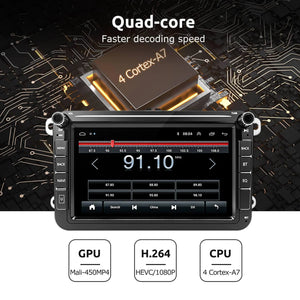 Most vehicles come with Apple CarPlay connectivity built-in from the factory now, using a USB cord to enable the feature on the screen. But only recently have manufacturers ditched the cord and begun to offer wireless CarPlay. Older vehicles – and not that much older – don't have Apple CarPlay at all let alone wireless. But you can have connectivity without buying a brand new vehicle. As car manufacturers have begun to offer it, so have aftermarket manufacturers. At this point, if you're in the market to purchase a car stereo with Apple CarPlay compatibility, you'd be behind the trend if it weren't wireless.
Thanks to recent advances in slimline design and the continual shrinking of electronic gubbins, even those with smaller spaces (typically referred to as single DIN car stereos) can now enjoy the large and reactive touchscreens typically enjoyed by those with much newer vehicles.
So, if you fancy ditching that crackly FM radio and installing kit that happily chats to your iPhone, you need to check out the best car stereos and head units that money can currently buy.
While you're upgrading your vehicle, you can also check out the best dash cam, best car phone holders, and best car seat.
HOW TO BUY A NEW HEAD UNIT OR CAR STEREO
As previously mentioned, there is a new car stereo or head unit to suit most budgets and to fit most vehicles. So long as you have the existing wiring for some sort of stereo device, prices range from around £130 for the most basic unit with Apple CarPlay compatibility, while the most expensive can easily tickle the £1k mark if you opt for built-in maps and other jazzy features.
This, in our eyes, is a little bit pointless, because the whole point of this endeavour is to bring your iPhone into the car, meaning you can hook up and charge while using Google Maps, Apple Maps or Waze to deliver you to a destination - much better than the ageing sat nav rubbish found on many infotainment systems. In reality, you shouldn't have to part with any more than £500 to get something utterly brilliant.
On the subject of fitting, this can be done fairly easily for those with a bit of car-related knowledge, some tools and plenty of patience (check out the numerous YouTube How-To videos if you fancy a spot of DIY), but buy from from Halfords, for example, and they will offer to fit it for you.
This usually takes a couple of hours at the most and the cost around £70, depending on how complicated the fitting process is.
 Who needs a big touchscreen when you can simply attach your smartphone? Of course, fiddling with your device on the move is frowned upon (and massively illegal), so Pioneer offers four dedicated hard key buttons for your favourite app access.
This one-touch access to favoured apps (such as Waze, Google Maps etc) makes it safer to use, while voice commands are arguably the best way to interact with the unit. Above all else, it's a very affordable and clever way of achieving Bluetooth streaming, hands-free calls and neat phone charging on a slim budget.
Sure, it isn't real Apple CarPlay comparability, but it is a very cheap option for this on much tighter budgets.