How to choose a car Bluetooth player?
How to choose a car Bluetooth player?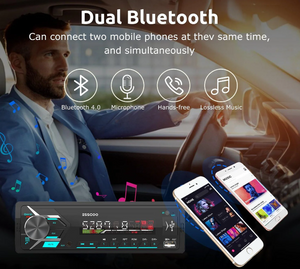 The tips for choosing a car Bluetooth player
The development of the times, the progress of science and technology, and the increasing per capita income prompted the people's living conditions to be more and more considerable, as communication supplies and mobility supplies large areas into the people's homes. Speaking of cell phones and cars, although they have a world of differences, the two products have a certain connection.
The reason why the car Bluetooth player needs overload protection is that when the output current is too large and exceeds its normal output value, the life of the charger components will be shortened or damaged, or even burned due to high temperature. So the car Bluetooth player used in the car must have overload protection measures.
Choose products with an output current of 1A or more
The input voltage of the car Bluetooth player in the market is 12V-24V, the output voltage is 5V, and the output current is about 1A~4A. But some of the "three no" or "cottage" products commonly appear charging the current false label phenomenon. If the use of cell phone navigation is charging, poor quality chargers not only can not provide normal charging and will continue to decline in power.
Choose the products produced by regular businesses
To buy from regular manufacturers through the certification of products, do not buy and use products, otherwise, there is no way to complain about quality problems. Especially can not be greedy for cheap to buy less than 20 yuan brand, the current domestic mainstream brand of car Bluetooth player price point more than 20-100 yuan or so. When buying, remember to buy products marked with Chinese labeling. Click here for Car Stereo Dual Bluetooth USB MP3 Player Sysem With RDS.
Car Bluetooth MP3 use precautions
car Bluetooth MP3 should not be used at high temperatures, especially when the summer car temperature is too high (generally more than 45 ℃) to remember to unplug the car charger, in addition to the usual use should also try to avoid randomly knocking, throwing put, vibration car Bluetooth MP3, otherwise it is easy to damage the internal circuit board.
Do not insert the use of car MP3 before the vehicle engine starts, otherwise, the voltage when starting may hurt the car charger.
Some strong cleaning agents and chemical products will cause serious corrosion damage to the car charger, so the cleaning must be careful.
vehicle off to remember to unplug the car MP3, although many vehicles now have cigarette lighter in the unplugged key will stop the power supply, there are still many cars with are continuous power supply
car Bluetooth MP3 also wants to avoid water, or a long time placed in a humid environment, otherwise, the internal components are easy to oxidation corrosion.