How to Make Your Cars Wireless with Apple CarPlay?
How to Make Your Cars Wireless with Apple CarPlay?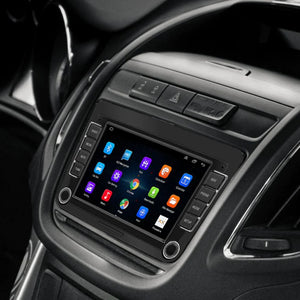 Apple CarPlay now allows you to utilize iPhone apps like Google Maps or Spotify music in your vehicle's center console, eliminating the need to affix your smartphone to your windshield or dashboard. But what if you don't have a car that supports Apple CarPlay? As the name implies, it is your vehicle's internal music system that allows you to connect your Apple devices and use the capabilities as if they were phones. All you need to do is connect your phone over wireless Bluetooth and you can utilize your iPhone apps through the automotive systems.
Option one: Purchase an Apple CarPlay Wireless Adapter.
What exactly is an Apple CarPlay wireless adapter?
The CarPlay wireless adaptor is intended to convert wired CarPlay to wireless CarPlay. It addresses the issue of consumers who wish to connect their automobiles to Apple CarPlay wirelessly and without a tether. It may also convert your car radio system to the Android operating system, allowing customers to install additional apps on the stereo.
Check out the video:
CarPlay originally launched in 2014, and numerous automakers began offering it around that time. This, like other new amenities, was an optional extra for new automobiles. Since then, several automakers have made CarPlay a standard feature. However, as technology advances, CarPlay is now wirelessly connected. In some vehicles, the wired to wireless feature may be accomplished with just a CarPlay wireless adaptor. If your vehicle was constructed after 2014 but has wired CarPlay connectivity, you may be able to obtain it wirelessly by utilizing an adaptor.  
Option 2: Replace the Head Unit in Your Vehicle
If your car is older than 2014, your OEM does not provide a CarPlay update, or the cost of a CarPlay wireless adapter appears to be out of your price range, you might consider changing the head unit. Many head units are now completely compatible with wireless Apple CarPlay and Android Auto, with extra capabilities like as reversing camera or object sensor compatibility sometimes incorporated in as well. However, installing Apple CarPlay in your vehicle is simple.
A modern car radio replacement includes many features that an old car does not have, such as a touch screen car stereo that allows you to view YouTube videos, a well-developed FM radio search function, and the ability to download your favorite navigation program, which operates as an iPad. The most basic capabilities, such as Bluetooth connectivity, allow you to dial a hand-free phone and listen to Bluetooth music, which is far more handy than a traditional, stiff vehicle radio. Some vehicle stereos include a mirror link connection that allows you to display your phone's screen onto the stereo screen. so you don't lose sight of the road because your phone's screen is too small. Similarly, you may use CarPlay and Android Auto remotely in an Android 10 system vehicle audio, making your trip easier and more enjoyable.
Conclusion
Depending on your model, choose how to integrate automobiles with Apple CarPlay. The two alternatives listed above are only examples.