How to Select the Best Car Stereo System?
How to Select the Best Car Stereo System?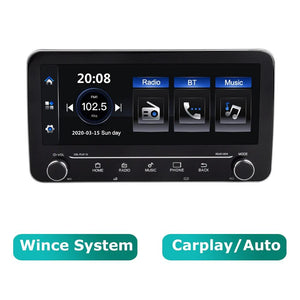 Upgrading your car sound must be one of the most significant decisions you'll ever make. A car radio adds functions, enhances the look of the vehicle, and improves the entire music experience. However, the decision to choose a vehicle radio is more complicated than many people believe since there are just too many options available. Here are five pointers to help you select the best radio for your vehicle.When updating or purchasing a stereo system, the first thing to examine is the audio sources. This is the heart of your vehicle's audio system and is sometimes referred to as the head unit. This head device emits audio, allowing you to hear the music.A classic head unit now has an old CD input. This outdated form of input might cause considerable issues, especially if the CD becomes damaged.
Sources of sound
A well-rounded head unit will allow you to play music from many input sources. You may play from a mobile SD card or connect through Bluetooth to listen to your favorite tunes freely. As a result, get a head unit that can be utilized with numerous input sources.The Sound System: After you've decided on a head unit, the next item to think about is the sound system. You have another option here as well. Stick with the automobile speakers provided by the manufacturer or get aftermarket speakers instead. Do not rely on OEM speakers if you want high-quality sound. They are not strong enough or capable of producing nice sound. You may learn more about the advantages of purchasing new automobile speakers, which we described before.
Overall, before you go out and buy replacement speakers, make sure you take appropriate measurements of the present speakers. If you purchase the incorrect-sized speakers, you will be unable to install them in your vehicle.The core of your vehicle's audio system is the amplifier. If you are depending on the OEM's existing amplifier, it is quite likely that you are dissatisfied with the present audio. Stock amplifiers are notorious for their limitations. They are not powerful enough to run the complete audio system to its full potential. The specialized Car Amplifier, on the other hand, has several advantages. They are a capable system that powers the speakers and woofers and allows you to expand your present arrangement.
Amplifier for a Car
5 Core is an award-winning maker of Electronic Premium Products. A specialized audio specialist and R&D team created our vehicle amplifier. If you want a fantastic sound system, you need a great vehicle amplifier, and our amps can help you get there.Cables and connections: Cables and connectors are also important in automotive audio systems. The high-quality cables and connections give electricity and seamlessly convey the audio wave to the various components. Furthermore, unintentional short circuits might harm your expensive sound system.
Cables & connectors
The best way to deal with this unfortunate event is by relying on high-quality connectors and wires with more tolerance levels.Cheap power wires can result in disruptions like the flickering of sound at high volumes Subwoofers are required if you enjoy bass. Low-powered audio signals cannot be reproduced by traditional speakers. In truth, they are not intended for this purpose. Car woofers, on the other hand, are particularly engineered and constructed to take up low-level audio signals and generate tremendous bass.There are several advantages to installing woofers in your vehicle. However, when looking for the greatest woofers, like with speaker systems, you must also consider the woofers' size. The precise measurement will allow for an easy installation, and a perfect fit will always be optimal for your vehicle and audio system.
Conclusion
By following the above steps, you will be able to choose the right car stereo for your vehicle. We hope this blog post will help you to elevate your vehicle's music experience. If you need further help regrading choosing the right products, you can reach out to us for assistance.