In-Car Video Systems: Mobile Video
In-Car Video Systems: Mobile Video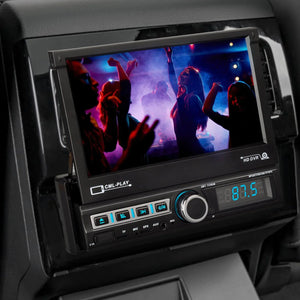 The head unit is the operation's brain in automotive audio systems. It sends an audio signal to the amplifier and speakers. The head unit can also be used as a video source in car video systems, although there are other choices.
The following are the most prevalent video sources:
Heads-up displays: 
Some head units are capable of playing DVDs or Blu-ray discs. These may feature one or more video outputs as well as built-in displays. As a result, a single head unit may serve as a video source for many displays.
Combination units:
Some visual head units are hybrid devices that support both DVD and Blu-ray discs. Roof-mounted and headrest-mounted combo devices are not required to be connected to a head unit. These gadgets may contain video inputs, allowing for the most diverse selection of entertainment possibilities.
Independent video players:
As a video source, a standalone DVD player can be used. These aren't usually placed permanently, and gadgets that aren't meant for automotive usage may not withstand the vibration of a moving car. Nonetheless, it is a low-cost option.
Most automobile video systems employ LCDs since space is limited in cars, trucks, and SUVs. The most basic system is a video head unit with an integrated display, although other choices include:
Head units: Installing a video head unit with a screen is the simplest way to add a car video system. Many modern automobiles include built-in touchscreens for controlling the infotainment system. There are, however, aftermarket choices. The majority of these LCD head units are double DIN, although there are others that are single DIN and have displays that slide out and lock into place.
Roof-mounted screens: Some passengers may struggle to view an LCD incorporated inside a head unit. Roof-mounted screens, on the other hand, are usually visible to everyone in the rear seats. When not in use, these screens fold down from the ceiling and may be stored.
Whereas roof-mounted screens alleviate the visibility issue, headrest LCDs allow different people to see different material. These displays are often linked into a video head unit, and some have DVD or Blu-ray players.
Units that can be removed: Roof-mounted displays and headrest LCDs both need some installation effort. Removable units, on the other hand, are secured to a headrest. They may be transported from vehicle to vehicle or placed temporarily in rental automobiles.
Options for In-Car Video and Audio
The audio options are straightforward:
An existing audio system: Audio can be routed through an existing audio system. Other visual sources can be linked to the current audio system as well. This is dependent on whether or not the head unit includes auxiliary inputs. Another method for reusing an existing audio system is to broadcast the sound using an FM broadcaster, which the current head unit can detect using its radio tuner.
Wireless headphones:
If a car video system has more than one user, getting a couple sets of wireless headphones is the ideal solution. If the driver does not wish to be distracted, these are also handy. Some headrest panels and flip-down LCDs incorporate wired headphone output ports.
Roof-mounted devices and headrest LCDs may incorporate built-in speakers. Speakers are commonly seen in removable combo sets. Built-in speakers are a low-cost alternative, although they may not work if many units are utilized. Even if both devices are using the same audio and video sources, the sound may be slightly out of sync.
Car video systems aren't just for watching DVDs
Other advantages of having a vehicle video system include the opportunity to view movies while driving. If you have a cellular connection, you may utilize in-car video to view live or time-shifted television, play video games, and stream video from a mobile app or web browser.
Using screens that enable you to bring in whatever you want is the key to unleashing the possibilities of in-car video.