Is It Difficult to Replace a Car Stereo?
Is It Difficult to Replace a Car Stereo?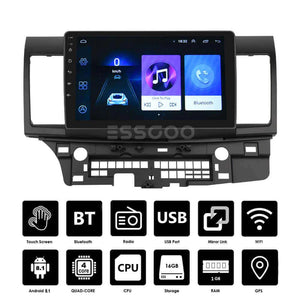 There's nothing fundamentally difficult about installing a new head unit in your own car or truck, but how tough it is depends on a variety of things.Some automobiles are just simpler to work on than others, and the relative difficulty level will also rely on factors such as your own experience and how quickly you learn new skills.The final issue is that, while anyone may theoretically install their own head unit, whether or not it's a good idea is another thing completely.If you're considering installing your own vehicle audio, we'll go through all of the potential issues, offer some helpful solutions, and even refer you to a hands-on walk-through so you can see how the process works from beginning to end.
While replacing your own head unit, you may encounter three major issues:Trim and dashboard components that are difficult to work with: Few automobile radios can be removed from the dash without some finagling.Some are more difficult than others, and if you're not careful, you can wind up destroying sensitive trim components.Problems with the new head unit's fit and mounting: If you buy the wrong size head unit, it will not fit. That is why it is critical to get the correct size head unit as well as the appropriate mounting kit if one is available.Confusion about wiring: Although there are some very typical wiring color combinations, you may encounter circumstances where it is unclear what is supposed to connect to what. This is especially true if your radio has already been replaced.
Managing Trim and Dash Components
First, let's look at the issues that might arise with trim and dash components. This is the first stumbling block you're likely to encounter, albeit it's more of an issue with certain vehicles than others.If you're fortunate enough to possess a vehicle with minimal trim, center console, or dash components that impede with removing the head unit, you may relax. If you're not so fortunate, you'll want to think about it carefully before committing to replacing your head unit.Searching the Internet for a "exploded" schematic of your dash or center console will give you a better understanding of what you're up against than simply glancing at it.If you're not accustomed to reading these schematics, they can be perplexing, but if you find one that fits the make, model, and year of your car, you'll be able to see exactly which trim pieces must be removed to obtain access to the head unit.If you decide to proceed, remember to work carefully and gradually, and never force anything.Some trim and dash components are fixed in place, while others just snap in, so if anything won't come out easily, double-check for screws and bolts before breaking things.For illustrations of how trim items can get in the way and need to be removed, see our guide to installing a vehicle radio.
Troubleshooting Fit and Mounting Issues
Replacement head units that are the wrong size, original head units that aren't shaped appropriately, and trim parts that don't line up correctly after you've done the project are all potential fit and mounting concerns.Before purchasing a replacement head unit, and especially before attempting to install it, ensure that the new head unit will fit.The simplest approach to ensure that you choose a replacement head unit that will fit in your vehicle is to opt for one that is the same size as the original.For example, if your original head unit is double DIN, you should have no trouble replacing it with an aftermarket double DIN head unit.You'll need a vehicle stereo mounting kit if you wish to replace a double DIN head unit with a single DIN aftermarket device.Of course, nothing is ever that easy. If your vehicle has a nonconforming head unit, you'll need to acquire a dash kit that's particularly made for it. This complicates the operation slightly, but it's still really simply a question of removing the old head unit, installing the dash kit, and then inserting the new head unit into the kit.
Installing a New Head Unit
Wiring in a new head unit is sometimes the most difficult portion of the procedure, particularly if you have no prior familiarity with electronics or wiring. If that's the case, using a wire harness made particularly for your car and head unit will make the procedure much easier.These wire harness adapters make installation a breeze, as you simply put one end into your factory harness and the other into your new head unit, and you're ready to go.If a wiring harness adapter isn't available or you're already familiar with wiring, connecting your own wires is actually rather simple. To begin, seek for a wiring schematic for your car that illustrates what each wire is for.If that isn't an option, you may use a few simple tools to figure out what your OEM vehicle radio cables are for. If your new head unit doesn't come with a wiring schematic or even a legend printed on it, most aftermarket head units use a single wire color scheme.
Installing a New Head Unit Tools
A few simple tools are required for installing a head unit, including:If you intend to conduct your own wiring, including self-identification of OEM wires, rather than utilizing a harness, you will additionally require:You'll also need one of the following ways for connecting wires, as well as the necessary equipment and materials:When you've gathered all of your tools, you're ready to begin the installation procedure.Check examine our instructional, which is linked earlier in this post, or look for a walk-through video that teaches how to disassemble and reassemble your specific car. That sort of footage is usually available on YouTube, however you'll have greater luck if your vehicle is a popular model.