Recap: Sunday's Car Audio Competition In Greensburg USA
Recap: Sunday's Car Audio Competition In Greensburg USA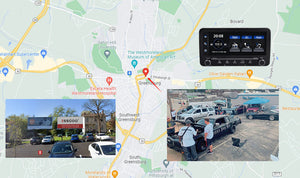 Car audio - a niche and professional's hobby that celebrates cars with high-performance audio systems.

In the words of ESSGOO engineer Xavier, "My car has a trunk full of amplifiers, and there's no room for Coca-Cola and bread."

On Sunday, May 29, 2022, car audio enthusiasts from all over the region descended on Greensburg looking to stand out in the battle to see who can sound the loudest.

There are many activities of this type, even all over the world. Xavier often meets several people with the same interests on Facebook, and he will discuss with them in detail, and get quite good feedback, and further optimize ESSGOO's Car audio system. (The above 'car audio enthusiast event' was also launched on Facebook)

Enthusiasts are more concerned with the quality and fidelity of the stereo system, where the subwoofer dominates.

"It depends on how many subwoofers you have in your car, how much power and equipment (e.g. a single din car radio)," Xavier said, "and make as much noise as possible before 8pm or you'll have to talk with the Greensburg police." Of course, Car audio enthusiasts are also very polite and will consult with the local police and nearby neighbours to make sure what can and cannot be done

Participants of this type often come from all over Pennsylvania, as well as eastern Ohio and West Virginia.

At least so far, June 13, it's been great until the end of the game, the ESSGOO team has had no issues and everyone is having a good time. "


Join it and become a car music lover
Interested friends can subscribe to our channel and follow our social platform, more car modification information is waiting for you.
ESSGOO is a gathering place that really loves car music modification; let more people realize the charm of car music modification. Entry-level equipment is already ready for you, the transform is now.