Regular Bluetooth Stereo vs apple carplay and android auto
Regular Bluetooth Stereo vs apple carplay and android auto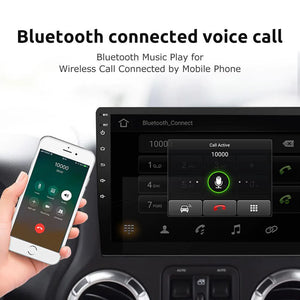 Boasts one of the largest inventories and a comprehensive range of aftermarket vehicle entertainment systems, including Apple CarPlay and Android Auto. However, some of our customers aren't convinced which is better. Let us now dispel a few of these falsehoods.Bluetooth and Apple CarPlay/Android Auto are not synonymous. Bluetooth is a short-range wireless technology that connects your phone to a receiver or music system. In comparison, Apple CarPlay/Android Auto provides a more comprehensive connectivity. You will have more access to your phone's functionalities.So, what are the main advantages of Apple CarPlay and Android Auto over standard Bluetooth?
Voice Command Capability
We're all aware that texting and driving is a massive no-no. Even holding your phone to answer a call requires you to take one of your hands off the wheel. Using your phone while driving is risky no matter how you look at it. Another reason we like Apple CarPlay/Android Auto. You may use voice commands to handle everything from messaging to answering phone calls to seeking other routes. There is no need to push any buttons. This keeps your hands on the steering wheel, which leads to safer driving behaviors.
Integration of the dashboard and the phone
As previously said, one of the primary benefits of Apple CarPlay/Android Auto is the complete connectivity with your phone. This implies that the majority of the apps and functionality accessible on your phone are now available on your vehicle's touchscreen. For starters, it eliminates the need to fiddle with your phone while driving. Everything will be presented clearly on your touchscreen panel, with bold symbols and simple display options. Podcasts, audiobooks, Spotify, iHeartRadio, Pandora, Amazon Music, Google Play, and more apps are available on the go.
Maps that are more accurate and intelligent
We're all familiar with how ordinary maps function. You must manually input an address and pray that the path provided is not obstructed by traffic, construction, or accidents. However, the mapping technology in Apple CarPlay/Android Auto provides superior, smarter maps. You'll have access to all of the addresses in your email, text messages, contacts, and calendar, to begin with This simplifies the process of inputting destinations even further.
Personalize the alerts
Maybe you want all those social media and SMS alerts while you have your phone in your pocket. However, things can be different in the automobile. Apple CarPlay/Android Auto allow you to disable all distractions using car-specific settings if you wish to. You may choose which alerts you want to get and which ones you don't. All standard settings are restored after unplugging.
Upgrade Right Now
Now that you understand the benefits of Apple CarPlay/Android Auto over Bluetooth, all that remains is to install a new audio that has this game-changing function. If you're looking for "car stereos near me," San Diego vehicle Audio City is the place to visit. We install stereos, speakers, and subwoofers from the industry's top brands in cars. Contact our specialists if you want to upgrade to a radio with Apple CarPlay/Android Auto capabilities, and we'll show you various products for your exact car.