Tested ESSGOO Carplay and Android Auto Player: Cheap and Easy
Tested ESSGOO Carplay and Android Auto Player: Cheap and Easy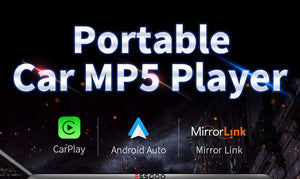 External Carplay and Android Auto Player is an inexpensive and quick-to-install solution for in-car Carplay and Android Auto tuning.
This is an internal test and Update: Convincing Whatsapp integration and multiple wireless links.
Features: Carplay and Android Auto are available for every vehicle, whether it's a truck or a car
ESSGOO Carplay and Android Auto Player is a 7-inch touchscreen device that syncs with Apple CarPlay or Android Auto in the vehicle when switched on. This version also supports Mirrorlink. You can display images from the reversing camera and support wireless Apple CarPlay or Android Auto on the Carpuride.
Conclusion: Inexpensive Retrofit Option With Basically No Defects
First of all ESSGOO products are generally convincing in everyday use. The only downside to this product at the moment is that only the cable is annoying. But there's nothing to complain about in terms of usability, and Siri also works flawlessly. The screen is easy to read even in direct sunlight. As long as you have a power outlet, you can add Apple CarPlay and Android Auto to any old car, even a classic car, in a minute without tinkering​​​.
Advantage
Relatively cheap among products with similar functions
Quick and easy commissioning without conversion or disassembly (labor costs can also be left over)
Flexible placement in the car
Good Carplay and Android Auto
High availability and wide practicability
ESSGOO team test: 6 months of continuous work, still working

Shortcoming
External equipment, so the cable is exposed, affecting the appearance
The suction cup is strong and difficult to disassemble
Absolute advantages: Quick installation and plug-and-play
Compared to most other retrofit solutions, the advantages of ESSGOO Carplay and Android Auto Player, such as: No need for any maintenance skills, no need to dismantle the existing car radio, simple plug and play. Therefore, there is no risk of damaging anything in the car, scratching the surface or even causing a short circuit. And no expertise or dexterity is required. Just follow the link instructions, link a Bluetooth or hotspot to use Wireless CarPlay or Android Auto.
Another highlight: Wireless, Wireless Link CarPlay and Wireless Android Auto
As an obsessive-compulsive and line organizer, too many cables in the car are very bad for my mood, and I can spend a little more money for one less data line. If you have the same living requirements, wireless link is undoubtedly the best choice.
Cons: Takes up a little space, occasionally creaking
No product is without flaws, and an honest engineer shouldn't cover up a product's flaws: first, compared to the built-in car stereo, the cables are exposed and take up space is a must. Because if you replace the car stereo head unit, the cables are all inside, and it doesn't take up extra space. Whereas ESSGOO Carplay and Android Auto Player require suction cups on the windshield or tape on the dashboard.
From unboxing to use: In minutes
Find a good spot on the dashboard or windshield to make sure the display doesn't obstruct your view. Of course also make sure you can reach the monitor and operate it well. The first connection requires the mobile phone to connect to Bluetooth and WiFi. After success, the iPhone will be automatically recognized and Carplay will be launched by itself. In addition, you can also use an Android phone to link to Android Auto. The two beautiful functions are wireless and can be linked after getting in the car, which is very convenient.
After the car is powered on, the device will automatically turn on and link to your mobile phone. This process is as simple as a Bluetooth link.
Another convenience is that ESSGOO Carplay and Android Auto Player have many kinds of sockets, including USB, TF card, AUX and so on, which is really convenient.
It should be, it is
1. If you are using the navigation and music apps at the same time, the music will become quieter when turning or other navigation prompts sound; the music volume will be automatically adjusted to normal only after the navigation voice ends.
2. The sound output is also very good, it can well match the car speakers in Europe and America, and the power output is stable and normal.
3. Carplay and Android Auto Player have the usual multi-screen view and are genuine in-vehicle systems that fit well with the driver's usage habits. And can run multiple software at the same time.
4. It's a good touchscreen: The touchscreen responds quickly and silky enough to finger operations. Easy to read even in direct sunlight.
Success 01: Whatsapp and messageIntegration
If a Whatsapp arrives on the iPhone while driving, a corresponding message will appear on the ESSGOO screen and a tone will sound. You can then start reading Whatsapp with a Siri command or with a tap of your finger. This worked well in testing, and Siri's speech acceptance was very accurate, even when the radio was on or the music was loud. .

Success 02: Large memory, offline maps can be installed
You can avoid poor network signal or phone data traffic problems by navigating with Google Maps and downloading the required map data to ESSGOO Carplay and Android Auto Player (can be installed on USB or TF card) via WiFi, then use the map offline.
Easy and cheap modding Carplay and Android Auto: that's it and that's it.