The Benefits of a Touchscreen
The Benefits of a Touchscreen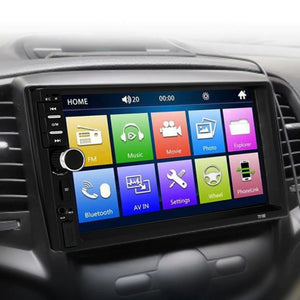 Adding CD or cassette decks to your dash has historically been the focus of car sound improvements.Later on, this evolved into the incorporation of USB and Bluetooth capabilities.Modern drivers seek to recreate the convenience of media, navigation, and communications from their cell phone onto the dashboard using a touchscreen in the age of smart technology.
Customizable Area
Single-din media unit is standard in all automobile dashboards. A widely recognised technical standard produced in Germany in the early 1900s standardized the space for stereo control. The DIN is used by the majority of automotive radio vendors and manufacturers.As smart features become more integrated into automobile system management, more vehicles are being constructed with a Double DIN head unit rather than a single. This 74" area is reserved for the touchscreen that will replace the radio.  
Car touchscreens are available for single and double DIN units. Installers have three options for mounting them. The majority of these touchscreen receivers support Apple CarPlay and Android Auto. These projects the menu from your smartphone onto your display, keeping you safer on the road and your hands off your phone. Touchscreens are simpler to read than a single mono line display that takes forever to scroll through a media title and requires many button presses to adjust a setting. Most features may be accessible through voice command with Apple's Siri or Google Assistant when your smartphone is linked to your stereo.Most models allow you to change the backdrop and layout of the screen, which Apple CarPlay and Android Auto do as well. The ability to set Do Not Disturb while driving, hands-free calling and navigation, and dark screen backgrounds leads in less time fuzzing with the dash or looking at your phone and a safer journey.
Advanced Functions
Most automobile stereos have music tone controls for bass, midrange, and treble, as well as balance and fade. Touchscreen receivers may provide additional equalization choices to help you get the most out of your speakers. Some models can do car diagnostics as well as alter temperature controls.Since 2018, most vehicles have come standard with backup or rear-view cameras. A touchscreen is required to examine the breadth of your camera footage without having to twist around in your seat if you're adding this feature to an earlier model vehicle. Back-up cameras, when combined with on-screen parking and/or spacing guidance, often provide a broader field of vision. A contemporary car audio may provide several camera inputs, allowing you to connect extra factory or aftermarket cameras to produce side views.
Safety Advice
A vehicle touchscreen offers a novel way to monitor and manage auto systems, but it takes a few minutes to set up before you can drive away. So you're not distracted on the road by a new gizmo. Most touchscreens do not allow you to access settings menus or keyboards while the car is in motion.Adjust the screen settings and customize the display as desired. This includes backdrop, illumination, and auto-dimming capabilities.Practice the functions you use the most. Try turning the display on and off, make a hands-free call, change the volume. See how your steering wheel controls work with the new unit.