The benefits of installing a touchscreen radio in your vehicle
The benefits of installing a touchscreen radio in your vehicle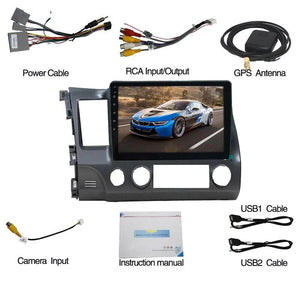 Assistance and convenience on display
What is the appeal of touchscreen stereos? This essay will go through the advantages, cool factor, and safety issues of huge stereo screens.Why would you install a huge touchscreen radio in your car? Fantastic aesthetics are a terrific beginning point, but a big screen stereo can provide so much more. You can view all of the information you need at a glance, allowing you to get your eyes back on the road more quickly. You'll also have access to expansion options like as smartphone connectivity, navigation, and extra cameras.
The most common design space-saving, 2"-tall receivers with flip-out screens are double-sized (4"tall) in-dash receivers.the fast developing category of "floating" touchscreen receivers.However, it is all about the screen real estate and what it can display. The wide display and touchscreen controls make it simpler to use the stereo. Let's go through some tips for making the most of your touchscreen receiver.
Excellent display with a huge screen and phone support
It's far simpler to view a wide screen as your receiver's display than the single-line displays of standard vehicle stereos. You can immediately check what's on TV, who's on the phone, and where you're headed.Many of these receivers have Apple CarPlay and Android Auto features, which simulate your smartphone experience directly on the receiver's touchscreen display - ideal for keeping your phone out of your hand.
For added security, install a camera (or cameras).
A backup or rear-view camera may assist your touchscreen stereo become a helpful tool for remaining safe when backing up and avoiding accidents. Its broad field of view shows much more of what's behind you than a mirror, including places that your vehicle's body obscures. Many contemporary stereos now include various camera ports, allowing you to integrate factory cameras or add aftermarket cameras for regions such as your side view, all of which are displayed on the touchscreen display.
GPS navigation on the screen
Are we almost there? Touchscreen stereos with GPS navigation provide tremendous convenience and help. If you don't want to pay extra for built-in navigation and future map updates, seek for a touchscreen radio that supports Apple CarPlay or Android Auto. Both of these alternatives rely on your smartphone to access navigation programs like Waze and Google Maps. They look fantastic on the huge display of the stereo.Whatever you pick, the sophistication of a touchscreen receiver makes it entertaining to use and quite useful. To determine which stereos will suit your car, use our easy vehicle picker tool. And our Advisors are accessible by phone or chat to assist you in selecting the best touchscreen receiver for your needs.