The Best Dual Din Head Units
The Best Dual Din Head Units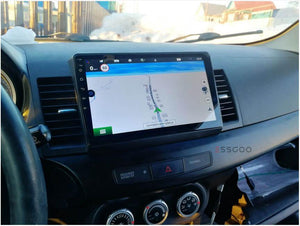 One of these incredible solutions may be used to upgrade your double din car sound.You have a more desired configuration with the best double din head unit compared with the smaller single din. Not only do you get a bigger display, but you also get a lot more functionality. A double din radio also adds value and a more current appearance to your car.We looked at a lot of double din head units to identify the finest of the best. We favor models with the newest technology, Bluetooth, and plenty of features, but we've also included a couple that will match any budget.
What exactly is a Double Din Head Unit?
Din literally just means "size." Because your single din head unit is the size of a regular vehicle radio, the double din is twice as large. It makes no difference what brand you choose; the double din stereo should all have the same size - 178mm x 100mm. You won't have any problem shifting out your systems if you already have a double din radio installed.There are several varieties available, yet they all follow the same design. They frequently include huge displays and technologies that allows you to sync your smartphone. You'll discover a large selection of them at various pricing ranges, making it simple to purchase what you need.Without further ado, here are our top ten best car double din head unit choices.
Overall Favorite
When you think about automobile audio, you immediately think of Pioneer. Because Pioneer is a market leader, it is logical to choose one of their models for your double din unit as well. This AVH4200NEX is a higher-end configuration that has its own internal amplifier with 14 watts RMS + 50 watts x four channels.It also has a built-in Bluetooth connection so you can enjoy hands-free calling while staying focused on the road. This system supports two phones and allows audio streaming, so prepare your music. Other important features include a CD and DVD receiver as well as NEX.
This is a network entertainment experience with access to cloud-based services.This unit includes a seven-inch motorized display and works with SiriusXM to provide you with sports, traffic, and weather information. The only thing this device lacks is navigation, but most people use an app for that anyway.The 6.8-inch display on this high-end JVC double din head unit is outstanding. They decreased the border and added external buttons to maximize viewing space. Then they install a screen that works flawlessly regardless of the lighting environment.
It comes pre-installed with Android Auto and Apple CarPlay, making pairing with your mobile quick and easy. There's also a USB connector packed in for speedy charging on the way to work. Of course, due of all the extra features, you may expect to spend a premium for this item. Having said that, there aren't many expensive stereos that provide this much variety.Many customers have remarked on the superb audio quality. It also has a CD and DVD player, something many of the other alternatives lack. You won't find a double din head unit with as many options in this price range.
Double Din Head Unit Buying Guide
If you want to get the greatest double din head unit, you must first know what you're searching for. We've reduced down the features you should consider before making a purchase. These let you know you're on the correct course.This may be the most important feature of your head unit in general. While peak wattage is important, it is not as important as RMS wattage. This is due to the fact that this factor has a significant impact on the sound quality regardless of the audio you play.RMS wattage is the general power going to your speakers. This wattage aids in determining power over longer time periods and a wider volume range. You'll find that higher RMS wattage occurs more frequently than higher peak wattage.This is especially important if you have a large setup. Even if your head unit does not power your speakers, the audio signal must still flow to the amp that does. The pre-amp determines your amp's capacity to accomplish this.The stronger your signal, the higher the quality of the signal sent to your speakers. A weaker pre-amp signal produces distortions and reduces audio quality.
Mobile Phone Compatibility
compatible with smart phonesSmartphone connection is vital in this day and age. You can effortlessly mirror your screen, navigate your phone, and more with Android Auto and Apple CarPlay. The majority of consumers desire this capability for audio streaming and hands-free calling. Even if you don't believe you'll use it today, it's better to invest in your future requirements now rather than later.
The Output Channels
Your factory stereo most likely does not have a lot of output channels. Any upgrades become more difficult as a result. If you want subwoofers or numerous channels for adding speakers, you should consider this before making a purchase.
Camera Input Reversal
Viewing footage from a DVD to a camera is preferable when your double din head unit has a huge screen. This feature is not available on all stereos, although some do as the vehicle begins to back up.System Administration System AdministrationThe majority of users choose an Android operating system in their double din head unit. That's because it has a superior user interface that many people are familiar with. It also enables tech-savvy users to make changes and download a range of programs.
Installation
If you intend to install the double din stereo yourself, make sure you get a system that is straightforward to set up. It's pointless to wreck the fascia above a vehicle audio. Read the reviews to find out what other customers thought about the installation of the greatest din head units.
The Advantages of Upgrading Your Head Unit
When you look at the pricing of modern double din head units, you might ask what the point is. There are several advantages to think about.Media StreamingMedia Streaming - When was the last time you turned on your radio? It's likely that it's been a while. Without a doubt,That was common before media streaming, but now we can listen to all of our music anytime we want. Bring it all with you and listen to it on a new double din head unit for hours of fun.Maximum Safety - The multi-functional double din stereo helps you to be less distracted while driving. Voice activation and hands-free versions keep you focused on the road rather than fumbling with electronics.Superior Sound - The greatest double din head unit will elevate your audio to new heights. All of the outputs, hardware, and current software combine to provide an experience unlike any other.It's enjoyable - Having a double din head unit is enjoyable, and it also makes you appear more distinguished. Don't overlook the cool element.
Installing a Dual Din Car StereoA double din head unit is fantastic since most of them are straightforward to install. This is especially true if you already have a similar size in place. Because they are universal, you can simply switch them out. This also does not necessitate the use of numerous tools.Each double din head unit comes with its own set of instructions and methods for removal, so read them well. It should take you anywhere between thirty and ninety minutes. You will also require the following tools:Plug in the wiring harness, GPS navigation antenna, and antenna cable once everything is ready. Match up all of the colored wires and use cable ties to create a clean appearance. Then, insert the double din head unit into the dash sleeve and secure the faceplate. Test your unit to check that the installation was successful.