The Best LED Headlights in 2023
The Best LED Headlights in 2023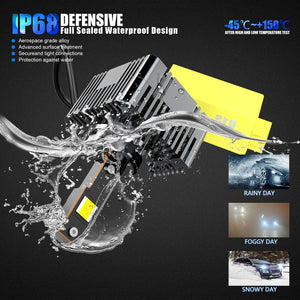 Bright headlights are a necessary (and legally mandated) instrument for night driving, efficiently lighting wildlife, debris, and approaching vehicles, and managing bad weather and storms. Installing LED headlights in your car is an excellent approach to guarantee that the road ahead of you is brightly lighted. In fact, the Insurance Institute for Highway Safety (IIHS) ratings strongly weight headlights in its safety assessments.
BMW audio system Headlights are classified into three categories. The fundamental system—the headlight bounces light off a mirror behind the bulb—is halogen, which is common on most automobiles. Warmer, yellowish light is less luminous than blue or white light. Because their lifespan is close to 1,000 hours, they must be replaced more regularly, although they are reasonably affordable.
HID bulbs, or high-intensity discharge lights, have white beams that reach further and last longer than halogens but are more expensive and less robust. These emit light by discharging a gas.LED, which stands for light-emitting diode, is the third style. LED headlights are brilliant white and significantly increase visibility at night. They are the most efficient, operate at a lower temperature, and often last 20,000 hours, or 2.3 years. LEDs are also the most expensive alternative. There are aftermarket adaptations available for automobiles that do not come standard with LED lights or for older vehicles that require careful installation and tuning to ensure there is no glare for oncoming traffic.Here are some of the best LED headlights you can install yourself, with an emphasis on LED headlights for high and low beams, as well as fog lights, available for a variety of cars and pricing points.
Before you buy LED fog lights, low-beam headlights, or high-beam headlights, here are a few things you should know: Understand your vehicle: Some LED headlights may not be compatible with your vehicle's OEM housing, so make sure anything you choose is compatible with your vehicle. What used to fit a Toyota may now suit a Honda or Jeep.Power: Lumens are used to quantify the total brightness of a headlight, and the higher the number, the more powerful the light source. Local laws: Some states restrict headlights based on color or power output. Before purchasing a new pair of LED headlights, check your state's rules.
What Are the Advantages and Disadvantages of LED Headlights?
If your vehicle's factory headlights are halogen bulbs, upgrading to LED headlights may not be a wise decision. While an LED headlamp will most likely fit into your headlight assembly, the housing surrounding the lightbulb is built exclusively for halogen headlights that generate light in a near-360-degree beam. LED lights generate a significantly narrower beam, often less than 180 degrees. So, even though LED lights are significantly brighter than halogen lights, you may obtain a smaller light spread in a halogen bulb housing.Having said that, we read several evaluations from drivers who switched from halogen to LED headlights and were satisfied with the results. If you decide to attempt replacing halogen headlights with LED headlights, keep your old bulbs in case you wish to convert back.