The Dangers of Car Audio and Why You Should Seek Professional Assistance?
The Dangers of Car Audio and Why You Should Seek Professional Assistance?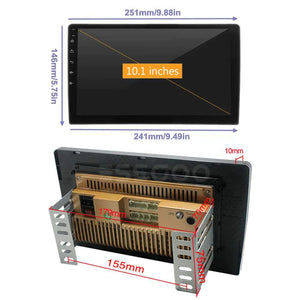 You spend a lot of time in the driver's seat of your automobile as a car owner. Most drivers want the greatest audio system for their car, and an update is the way to get it. Many automobile owners hire professionals to install audio system enhancements, while some do it on their own. Do-it-yourself automotive improvements may be disastrous if not done correctly.
If you bought a new automobile, it most likely came with a radio. A standard stereo can improve your driving experience, but an upgrade can take your music system to the next level.You may have to try to improve your vehicle's audio system yourself. Perhaps you enjoy similar DIY tasks, or perhaps you've heard from a friend that an at-home update is easier and less expensive.
Safety is essential
You might badly damage yourself if you are not adequately qualified to install sophisticated electrical equipment. When dealing with large machinery or electronic equipment, it is always necessary to keep electrical safety in mind. Electric shock, electrocution, and burns are some instances of significant or even lethal injuries.
Audio equipment is difficult to use
Installing audio equipment is not as simple as plugging something into an outlet. Audio equipment and modern cars are extremely complex, which is why most people will turn to an expert. There are so many components that work together - frequencies, wiring, voltages, etc. - that these are often too complex and the equipment is quite sensitive, and one small mistake can ruin the entire project.
The cost can be higher
Many people believe that doing the upgrade themselves is a cheaper option than relying on the services of an audio technician. This is rarely the case. Most audio upgrades require specific, high-quality tools that can be very expensive.
Apple CarPlay and Android auto are modern features (hardware and software) designed for safer, smarter driving. With it, you don't have to push any buttons or do anything that takes away from your focus, and you can still focus on the road while using it. Basically, by connecting your phone to the car, you can use the voice recognition system and communicate with Siri or Google Assitant. While you're driving, you can use the Assitant to let it know what you need, whether it's to open a map, change a song, make a call, etc.While most car manufacturers now offer this feature in most of their models, there are still some trims that don't include it. However, both can be installed as long as you have a large touch screen in your car. If you don't have that and own an older car, there are still ways to get the luxury of having an assistant.
Seek professional help
It can be tempting to perform DIY upgrades to your vehicle, but if you're not entirely sure what you're doing, you should consider other options - for example, seeking the help of a professional vehicle technician.A professional installation service will give your car the upgrades you want through precise installation and in-depth knowledge of your audio system and vehicle. They can perform the upgrade safely and efficiently in a timely manner and can answer any questions you may have about your audio system.