Toyota Head Units
Toyota Head Units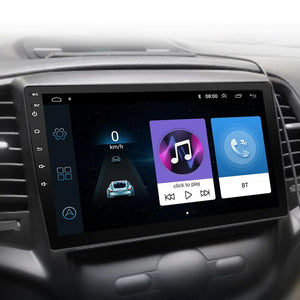 Aftermarket Toyota head units are Android infotainment systems that provide more sophisticated features and options than factory-installed head units, such as a bigger touch screen, additional connectivity options, and cutting-edge technology to improve your driving experience.
Modern technology: Aftermarket Toyota Android head unit is more technologically advanced than factory-installed device, which may not have been updated in several years. It has additional capabilities such as Apple CarPlay and Android Auto, which allow you to access your phone's applications and functionalities through your car's infotainment system.
Improved navigation:
If your Toyota's original navigation system is outdated or does not provide the level of detail or accuracy you require, an aftermarket Toyota head unit can provide better and more up-to-date navigation features, such as real-time traffic and weather updates, as well as more detailed maps like igo, sygic, waze, and google maps.
Better aesthetics:
It also enhances the appearance and feel of your Toyota's interior, as many devices come with adjustable options for screen backgrounds, button colors, and other design features. This may offer your Toyota vehicle a more customized and trendy appearance.
Improved usability: The Toyota Android head unit has a more user-friendly interface than the factory-installed one, making it easier to access and manage your vehicle's music and entertainment system.
Aftermarket Toyota head units may be supplemented with extra components such as amplifiers, subwoofers, and other audio equipment to build a personalized sound system that suits your individual needs and tastes.
Overall, an aftermarket Toyota Android head unit offers a variety of benefits, depending on the type and features you select. It is critical to conduct research and select a unit that is compatible with your Toyota model and year, as well as one that suits your individual demands and preferences.
About the Car Audio unit for For Toyota Camry 2006 - 2011
We have a professional technical team to provide free technical services.
All products have passed strict quality tests before leaving the factory to ensure high quality.
Before ordering, the buyer can leave a message to Customer Service and confirm whether the frame or cable is suitable. Make sure no buyer is wasting time providing customers with the best shopping experience.
Notice of Toyota head unit:
Please check the size and adapter before buying. If you have any questions, you can take a picture of your car dashboard and send it to us.
Rear Camera(Included)
Automatically switch to reverse image when the car is in reverse gear, it could work as a parking assistance.
DSP (Digital Sound Field Processing)
Digital sound processor with 16 Equalizer adjustments for better music. It's not only a sound, but it's a high-quality stereo system.
Steering Wheel Control
Support Car Steering Wheel Control: quickly switch your songs/ volumes/ calls with your SWC Function.
Important Note Before Buying
When choosing an aftermarket Toyota head unit, it's important to ensure that it is compatible with your specific Toyota model and year, and that it is installed by a qualified technician to ensure proper functionality and compatibility with your vehicle's other systems.
You can contact us to get a compatible Android head unit for your Toyota model, and we can help you to install it.