Best Double Din With Backup Camera
Best Double Din With Backup Camera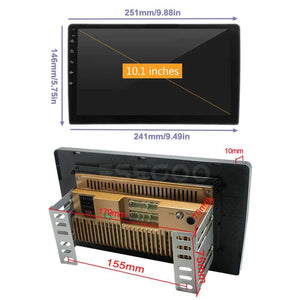 A double din with a backup camera may be the ideal solution for a vehicle radio update that provides convenience and safety. However, there are a few aspects to consider before making a purchase. First and foremost, confirm that the double din is compatible with your vehicle model. Next, make sure the backup camera has a good quality and a broad viewing angle so you can see well while reversing. You should also evaluate additional features like as Bluetooth connectivity, GPS navigation, and audio selections to ensure that the double din matches all of your requirements.
To pick the greatest double din with a backup camera
You must extensively examine your alternatives. Look for vehicles with modern safety features, like as collision alerts, which can prevent accidents. To safeguard your investment, see if the double din comes with a guarantee. Reading customer reviews is also a good idea to check how well the product operates in real-world circumstances.
Are you weary of continually checking your mirrors when reversing because you're afraid of striking something or someone? Do you want to listen to music while driving but don't want to risk your safety?
If this is the case, a double din with a backup camera might be the answer. Continue reading to learn which models provide the best value for money as well as the highest degree of convenience and safety.
The Voice Control CarPlay and Android Auto Double Din Car Stereo is the latest addition to your car's electronics. This unique technology connects your smartphone to your car's display and allows you to immediately access its services, such as making phone calls, listening to music, receiving messages, and getting navigation instructions. With its voice control technology, you can conduct hands-free phone calls, navigate, and listen to music while driving, assuring safer driving without distractions.
Double din radio with backup camera:ESSGOO AR1001(This page has stopped updating, but the product is constantly being optimized and upgraded.)
The main screen size is 250(W)*145(H)mm/9.84*5.71inch. It also comes with a fixed metal sheet for easier installation. Installation size: 180(W)*75(H)*70(D)mm/7.09*2.95*2.76 inch.
This Car Head Unit is neutral as a whole, which can be consistent with most models without a sense of disobedience. The screen is a 10.1-inch high-definition capacitive touch screen, 2.5D IPS glass full touch buttons.
ESSGOO AR1001 comes with a patented high heat dissipation backplane and material, even if the temperature of your car is as high as 75℃, it can run smoothly.
This Car Receiver supports dual-system mirroring links: Android 4.0+ (supports Wifi connection) mobile phones can display the machine interface, and the machine can also display the mobile phone interface for mutual operation; ios (iPhone 5s+) supports one-way connection, and the mobile phone can screen to the machine You can also use the Apple Car Play function.
ESSGOO's Stereo Radio can both have an external driving recorder and a reversing camera at the same time: automatically switch to the reversing image when reversing, and automatically record when driving. Make your driving and parking safer and keep you informed about the road conditions
GPS navigation & BT call: You can download navigation from the app store, use Google Maps when you are online, and download the "here we go" free offline map when you are offline; you can use the map perfectly, go wherever you want, and never get lost again And signal problems. Bluetooth calling allows you to talk hands-free or answer the phone, driving safer