Upgrades for Your Car Stereo
Upgrades for Your Car Stereo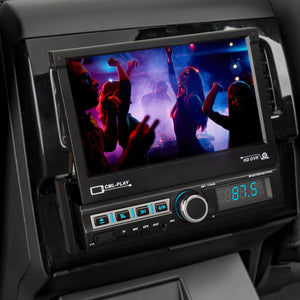 You can always improve your automobile radio. Consider it a method to improve your quality of life. Why not make the time you spend in your car commuting and running errands more enjoyable? Here we show you several choices for upgrading your automobile sound.
The automobile radio is always the starting point for getting good sound. It is the brains of your automobile stereo system. You may improve the performance of the remainder of your car audio (mid-range car speakers, tweeters, and subwoofer) by utilizing a high-quality aftermarket car stereo.
When selecting a new vehicle radio, there are a few things to consider...... built-in built-in amplifiers can't go wrong. It will come in handy when you need more power to produce not only loud but also precise and clear sound. You should also ensure that your car audio supports all of the file types and streaming services that you often use.Additionally, check for the fun additions you've always desired from your vehicle audio. A big display is always useful, especially for navigation, and Apple CarPlay/Android Auto is ideal for effortlessly connecting your phone with your vehicle music.If you need assistance in selecting the best car radio for your vehicle and budget, please contact our experts. We also provide installation, making us a one-stop shop for all things automobile audio.
Important Projects
If you truly want to get your vehicle radio done correctly, you must go beyond simply updating your car sound. Although aftermarket car stereos may perform a lot of work on their own, your vehicle stereo will not achieve its full potential unless the other components in your system are upgraded. When considering about replacing your vehicle radio, here are a few crucial points to consider.
Active amplifier
If you want to be loud - and we're talking, very loud - then you can't go wrong with adding an amplifier to your mix. This piece of equipment provides a nice power boost for your car stereo and can help your speakers reach those high levels without overstressing them.
Advanced coaxial speakers
Let's be honest, your current factory speakers can't handle much. In fact, most factory car speakers have cones made of cardboard (or other flimsy materials). After your car stereo is installed, make upgrading your speakers one of your top priorities.
External Subwoofer
If you really want a booming sound, you'll need a subwoofer that can handle all those low frequencies. If you like tracks with a lot of bass, don't be afraid to invest heavily in those. If you like clean, crisp bass, use a sealed subwoofer box. If you like booming bass, use a subwoofer box with ports.Now that you understand the most crucial components of constructing a high-quality vehicle audio, the next step is to consult with a DINPEI vehicle audio specialist. We can assist you whether you want to just improve your vehicle radio or go all out and construct a completely new system. Contact us today to get your dedicated vehicle radio!