What exactly is a Double DIN Stereo?
What exactly is a Double DIN Stereo?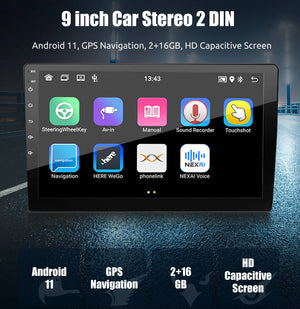 Stereo Double DIN
You may recall a blog post we created to assist the less tech-savvy among us in understanding the distinctions between single DIN and double DIN stereos. We're afraid we didn't do enough to answer the popular search query 'what is a double DIN vehicle stereo?' therefore we're going to try again.After all, we should know the answer given that we carry and sell hundreds of double DIN vehicle stereos each year.   
What exactly does DIN stand for?
To begin, 'DIN' is an abbreviation for the German standards organization, Deutsches Institiut für Normung.  
What exactly does Double DIN mean?
In layman's terms, 'Double DIN' or '2 DIN' is a measurement designation. It's a common size for a car stereo, radio, or head unit.  
Why was Double DIN implemented?
Because hundreds of different automobiles of varied types are made all over the world, the Germans created 178mm x 100mm measures as a common standard to make things more efficient. There are single DIN devices as well as double DIN vehicle stereos, which are practically double the size. This was presumably done to allow for additional power, performance, and features like as digital screens as technology improved. Although this standardisation provided an exact width and height measurement, a depth was never obtained.  
What is the appearance of a Double DIN vehicle stereo?
Obviously, the styles and designs of double DIN vehicle stereos have evolved over time in tandem with the technology available and the demands of the times. Our Double Din car stereos are universal fit, so no matter what make or model car you have, it should simply slip into the prescribed slot.
What characteristics does a Double DIN stereo have?
Nowadays, the most recent double DIN vehicle stereos on the market meet all expectations. Most now have a huge, digital display that is frequently HD ready and touchscreen.This is done to highlight current features like as built-in DVD players, navigation, screen mirroring, and game play. Select any of our Double DIN head units and browse the individual specs and features to learn more about the newest innovations.  
The four main reasons for purchasing a double DIN stereo are as follows: Entertainment  With the rate at which technology progresses, Xtrons allow you and your automobile to stay in contact and avoid falling behind. Many older automobile radio systems lack the flexibility and functionality to work with contemporary gadgets and demands.For example, with Xtrons Double DIN stereos, no additional wires or equipment are required to connect and listen to your music. With Wifi, Bluetooth, 4G, USB, SD, and HDMI connectors, there aren't many things an Xtrons vehicle radio can't accomplish. Outside of the entertainment amenities, there are other safety advantages. Having real-time information supplied to your head unit from your car's computer allows you to monitor and detect any problems. Extras such as the OBDII Scanner tool and the TPMS can be added to offer you a greater knowledge of your vehicle's performance.
Furthermore, reversing cameras and trip recorders can be linked to avoid accidents or for security purposes. Aesthetics The current visual appeal can boost any automobile interior with variable background displays, adaptive color lighting, and the velvety finish only a smooth HD screen can deliver. Not to mention the sleek and elegant design of each unit, as well as its fixtures and fittings. Performance  The Android operating system is used in the majority of our Double DIN stereos. Android frequently updates the performance of their units, the most recent being Android Oreo 8.0, as shown in this unit; previous to that, we built universal head units using Android Nougat 7.1 technology, as seen in this unit.The biggest change is that the current model has an extra 2GB of RAM. In any case, they are both powered by strong Octa-Core CPUs, providing for seamless transitions when accessing a variety of functions and apps. Overall performance is excellent, and it can exceed certain desktop PCs.  Thank you for the double DIN.For the time being, that's all there is to double DIN stereos. If we get any new information, we will notify you. Please contact us if you have any further questions about Double DIN or any of our goods or services.