What Exactly Is Android Auto and Apple CarPlay?
What Exactly Is Android Auto and Apple CarPlay?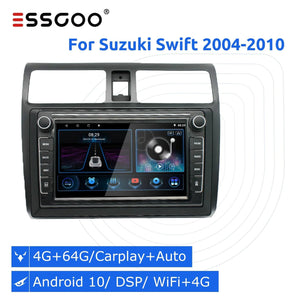 Don't miss out on our in-house experts' latest news, reviews, and videos. Receive notifications in your inbox.Android Auto is a feature in modern automobiles (and certain aftermarket car stereos) that allows you to manage and watch some Android smartphone-based apps, including moving-map navigation, through the dashboard's media system.
Apple had an advantage over Google owing to previous iPod integration deals with automakers. Apple CarPlay, a comparable smartphone-mirroring function that works with iOS devices, was introduced in 2014. Android Auto (abbreviated AA) evened the score in 2015, offering virtually the same functionality as well as Google Maps and Waze. Apple broke them down and integrated them in 2018, after relying only on Apple Maps since the debut of CarPlay.
What Kinds of Apps Are There?
The ability to mirror navigation applications on the dashboard display is perhaps AA's most essential feature because it offers capabilities that the car would not otherwise have. In contrast to "native" navigation normally installed into automobiles, AA may give in-dash turn-by-turn navigation utilizing maps that are constantly up to date and complemented with the most recent traffic data.
The rest of AA's capabilities revolve mostly around reducing distraction from other apps by providing control via the in-dash entertainment system and voice commands, the latter via a speech-recognition button on the steering wheel. Any car radio with Bluetooth audio streaming can play phone-based audio, but you have to manage it through the phone, which might be bothersome.
AA has hands-free phone support as well as voice-to-text (and vice versa) technology, allowing you to hear text messages read aloud over the stereo and answer without taking your hands off the wheel or your eyes off the road. This does not eliminate the mental distraction, but it does reduce the danger of violating rules prohibiting cell phone use in vehicles, which in reality may be construed to imply you aren't even permitted to touch the phone.
The majority of the other features supported are streaming-audio services such as Pandora, Slacker Radio, and SiriusXM Radio, which AA displays on the dashboard with Android-like icons and menu structures. Additional messaging applications have also emerged. The most recent list may be found here.
How Do You Make Use of It?
A car equipped with AA often has a setting that must be enabled before it will detect a compatible phone, which is any Android phone running operating system 5.0 ("Lollipop") or above and on which the AA app has been downloaded. Simply insert your phone into the car's USB data port, and the phone and perhaps the car's display will prompt you.
Because it is a mirrored system, what occurs next may and has changed over time with smartphone app upgrades. Whereas it used to take many screens to activate AA for the first time, you're now only one button press away from doing so. When you connect to the same phone again, AA normally starts up immediately and the interface appears on the dashboard screen. (In our experience, the speed with which this occurs depends on both the automobile and the phone in issue.)
AA automatically connects your smartphone to the car's Bluetooth for music streaming, but a USB connection is also necessary for more demanding data transfers, such as navigation. Wireless Apple CarPlay has begun to emerge in select German premium vehicles, where it transfers data through Wi-Fi. Though Android has its own version of the same feature, it is confined to aftermarket head units and select Google phones as of its March 2019 introduction; we have yet to see it in a new car. As of its debut, wireless AA requires a Pixel or Nexus phone with Android 8.0 ("Oreo") or higher, the AA app version 3.1 or higher and a USB cable for initial setup, according to Google.