What fun things can Apple CarPlay do?
What fun things can Apple CarPlay do?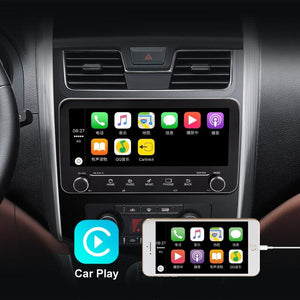 With the newest iOS release, Apple has updated its Do Not Disturb settings, allowing users to enter Focus mode while driving. To limit your alerts, go to Settings > Focus > and turn the switch next to "Driving" on. While this feature is enabled, you will also be able to select who you allow calls from and who you send auto reply text messages to. Simply touch the "People" option under "Allowed Notification" to add or delete persons who can receive calls.
Messages will be shown right on your screen via several of CarPlay's communication applications. When individuals try to contact you, you may put up automatic messages in the "Options" area to let them know you're driving.
Is it possible for CarPlay to read emails?
The Speaking Email CarPlay app reads your emails to you and offers options for archiving, marking as read, flagging, and deleting.
How can one obtain Messenger for CarPlay?
Facebook Messenger is one of the messaging applications that work with CarPlay. Simply download it from the App Store to increase the amount of apps available in the automobile.
Personalize your dashboard.
Is it possible to split the screen using Apple CarPlay?
Your screen could only display one app at a time on prior iOS versions. You may now split your screen between two or three programs at the same time. For example, you can see driving instructions, manage music streaming, and monitor future calendar appointments all at once. Tap the home button to choose between three modes, displaying your most recent app in full screen, numerous applications in split-screen, or the home screen to access all of your apps.
Is it possible to add applications to the CarPlay screen?
CarPlay makes it simple to change the icons on your screen. Go to Settings > General > CarPlay on your phone to add, hide, or rearrange any default or third-party applications from the home screen. Tap your car to see your screen as it appears on your dashboard right now, then press and hold icons to add, delete, or rearrange them.
Is it possible to screen mirror with CarPlay?
Several navigation, communication, streaming, and entertainment applications from your phone can be shown on the screen of your car, however Apple CarPlay receivers are not real screen-mirroring receivers.
Make use of Siri.
With iOS 14 or higher, you can interact with Siri without it obstructing your view of the dashboard. When you call upon the voice assistant, it will appear as a small swirling ball at the bottom of your screen. You can say things like "Hey Siri, send a message to ____" then record an audio message, review, and send without even using your hands. Running late for an appointment? Ask Siri to share your most recent ETA with someone so you don't have to fumble through your phone while driving. Siri can also read new text messages aloud as they come through. Open Settings > Siri & Search > Announce Notifications and turn on the switch. Tap CarPlay and enable "Announce Messages" so that you can simply tap the message when it pops up on your screen to have Siri read it to you.
Check your calendar.
Simply go to the home screen and press the Calendar button, or ask Siri to show you your calendar, to see your scheduled appointments for the current day. You may then touch on an event to get additional details and even make a phone call if your meeting has a phone number.
Play some music.
With iOS 13, the Music app's interface was overhauled. Album art is now bigger and shows on the right side of the screen, but music controls remain accessible via the touchscreen. This makes album and playlist navigation much easier. In the Now Playing app on the home screen, you can also see complete details on whichever song or album is now playing.
Is it possible to integrate YouTube to Apple CarPlay?
YouTube Music is one of the CarPlay-enabled streaming applications. You'll be able to utilize CarPlay if you have the app loaded on your iPhone.
Get precise driving instructions.
One of the most important Apple CarPlay functions that users utilize on a regular basis is navigation. While various navigation applications are CarPlay-compatible, Apple has upgraded its Maps app to deliver more information to drivers. Along with basic instructions and an estimated time of arrival, you may now view the speed limit, 3D buildings, and eateries or petrol stations along your route.
Adjust your settings.
CarPlay has its own Settings app where you may set or disable features such as Siri Suggestions, Driving Focus, and Album Art. Go to Settings > General > CarPlay and choose your car to see the various applications and settings available.
Can you create a dark mode for CarPlay?
You can switch between light and dark color schemes in CarPlay, and you can even program it to automatically modify the backdrop color between day and night. You may also change the background on your home screen.
If you're thinking about upgrading your receiver, Apple CarPlay has several features that will make driving safer and more enjoyable. There are many options out there, so do your research to choose the receiver that is right for you.