What You Should Know About In-Vehicle Infotainment Systems?
What You Should Know About In-Vehicle Infotainment Systems?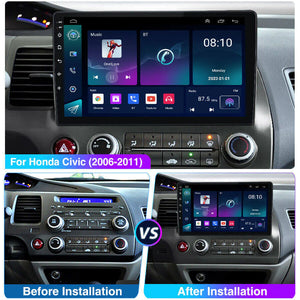 Automobile manufacturers are progressively creating autos with integrated infotainment systems - systems that deliver a combination of entertainment and information for a better in-vehicle experience - in response to the growing demand for elegant, safe, and smart vehicles. Learn about the numerous functions and components that work behind the scenes of an in-vehicle infotainment system.
The whole automotive sector is working to create novel technologies that will allow better connection options, increase vehicle safety, and improve in-car user experience. The "In-Vehicle Infotainment System" is one of the fundamental technologies that serves as the focal point of all current automobile systems, integrating their operations to be managed and monitored from a single central unit.
A Modern Automobile Solution
Modern in-vehicle infotainment systems incorporate all smart automotive technology, such as ADAS systems, V2X networking solutions, telematics devices, smartphones, sensors, and so on, to deliver a superb driving experience. Modern in-vehicle technologies genuinely lend a luxury touch to automobiles while also providing the driver with an interactive experience. You may now obtain real-time traffic reports and call/text your loved ones while listening to your favorite songs or viewing peaceful YouTube movies. Let's get further into this blog.
You've probably heard the word 'infotainment' if you're in the market for a new automobile. Infotainment is a combination of the phrases "information" and "entertainment." Thus, an infotainment system in a car is a system that provides both information and entertainment content/services. Furthermore, infotainment systems are built-in automobile computers that incorporate a variety of tasks ranging from digital radios to built-in reversing cameras.
The IVI is a collection of vehicle systems that provide entertainment and information to the driver and passengers via audio/video interfaces, control components such as touch screen displays, button panels, voice commands, and more.
According to industry researchers, the worldwide vehicle infotainment market will produce $20,720 million by 2030 and increase at a healthy 8.32% CAGR. So, let's study a little bit about these cutting-edge systems.
What is an In-Vehicle Infotainment System?
To provide entertainment and information to the driver and passengers, in-vehicle infotainment integrates with many different in-vehicle and external technologies.
The following are the primary components of an in-vehicle infotainment system:
Integrated Head-Unit: An in-vehicle infotainment head unit is a tablet-like device with a touch screen that is positioned on the vehicle's dashboard. The head unit, with its user-friendly HMI, serves as a flawlessly linked control center for the infotainment system.
Automotive heads-up display: An vital feature of high-end infotainment systems, automotive heads-up display displays the vehicle's real-time information on a transparent screen integrated into the vehicle's windshield. Heads-up display reduces driver attention and supports him with vital facts such as speed, navigation maps, electronic digital cluster (information from the vehicle's OBD port-II), temperature, entertainment choices, and so on.
High-end DSPs and GPUs for multiple display support: Powerful automobile processors developed for modern IVI systems power today's infotainment systems. These automotive processors may show material on numerous screens (e.g., Head-up show or Windshield, Connected Smartphones, Head Unit, and more) and provide drivers and passengers with an enhanced in-vehicle experience.
Operating Systems: Vehicle entertainment systems require operating systems that can enable connection, convenience features, and downloadable software applications in order to integrate new capabilities into the system. Android, Linux, QNX, and Windows are the market leaders in the infotainment area.
System of information and entertainment
Connectivity Modules: GPS, Wi-Fi, and Bluetooth modules are used in infotainment systems to link to external networks and devices. These modules assist in the implementation of services like as navigation, internet access, and smartphone integration with the infotainment system.
Proximity sensors, gesture recognition sensors for sensing ambient light, camera sensors, and many more in-vehicle sensors interface with infotainment systems to give driver and passenger safety information.
Digital Instrument Cluster:
High-tech infotainment systems have shifted car cockpit designs away from static displays of in-vehicle gauges and toward digital instrument clusters. Digital instrument clusters feature digital displays of the vehicle's typical analog instruments such as the speedometer, RPM, odometer, and so on.
How to Obtain Google's GMS Certification for the Most Recent Android Devices?
Control Elements: All of the current in-vehicle infotainment systems' features may be accessed and operated via the head unit's touch screen panel, button panel, steering wheel controls, and voice commands.
Support Vehicle Functions: Infotainment systems support vehicle functions like parking assistance and lighting features (DRL). Park Assistant notifies the driver in case of any obstacle in the vehicle's path and helps to maintain a safe distance from the obstacle. Parking assistance system is equipped with a rear view camera and video feed from the camera is displayed on the system screen only when reverse gear is engaged.When driving in a dark area, DRL (Daytime Running Lamps) may be turned on/off via the infotainment system.The digital instrument cluster comprises of digital displays of typical analog instruments such as the odometer, speedometer, RPM, and others.Automotive Sensors Integration: This component includes gesture recognition sensors, proximity sensors, and camera sensors that work effectively with the infotainment system to provide the driver with safety-related information.
Platforms for Infotainment Systems
As the need for highly customized in-vehicle infotainment systems grows, automotive solution suppliers are focused on building feature-rich, adaptable, and powerful processors. In order to provide an immersive in-vehicle infotainment experience, CPUs in automobiles must support a high degree of processing and intelligence.
In a networked environment, advanced infotainment processors allow for the integration of numerous HD screens, the execution of driver assistance functions, and the support of in-vehicle entertainment. A powerful CPU adds great performance, HD color display, high resolution, and low power consumption to an infotainment system.